---
Welcome to episode 213 of the Global From Asia podcast! We have quite a treat on the show as many listeners have asked to hear more about Chinese Amazon FBA sellers, and this one will definitely come through with that request.
I am doing our little intro here in Port St Lucie Florida – getting off jet lag and doing some much needed family time. And it is hard to keep up as my wife Wendy was denied entry to USA, embarrassing and insane, right? Will also be holding an intensive day and a half workshop – China Business workshop – in Miami Florida later this week Feb 8 and 9 check out the details at China Business Workshop dot com slash Florida.
Ok, now on for the show – Patrick Zhang is rocking it on Amazon FBA! Starting in 2013 – the year we started this GFA podcast – he came back to China and started what is now StarMerx Amazon FBA e-commerce company. Raising money last year and now up to 10 million us dollars a month with over 200 staff, we are honored to have him on the show today.
Topics Covered in this Episode
About Patrick

Patrick Zhang

Founder of StarMerx

Top seller

Top Seller of Amazon, eBay, Aliexpress, Wish, Walmart, Lazada, Shopee,etc.

Education

Ph.D.of Computer Science, University of Massachusetts, USA

Experience

3-year in Microsoft USA and 1-year in Amazon-USA as software engineer and data mining engineer. In 2013, he returned to China to start a e-commerce company, now StarMerx has a monthly sales of more than 10 million dollars. By the end of 2016, the company got financing of RMB45 million.
People / Companies / Resources Mentioned in this Episode
√ He was presenter at our first Cross border Matchmaker
√ Watch the video interview on our GFA TV series
Show Sponsors :
Today's podcast is brought to you by Aurelia Pay. I use them for sending money to my Chinese supplier from Hong Kong – it is a cross border payment solution between China, Hong Kong and South East Asia. So when I need to make a payment to a Chinese supplier, I just hop in to place a remittance, pay to their HK bank account, and Aurelia Pay settle RMB within the same business day! Check them out
Episode Length 25:52
Thank you Patrick. What is really cool is during the interview he told me he read a bunch of my blogs when he returned to China in 2013 and was figuring out Shenzhen. That is awesome to hear, and glad my 10 years plus of blogging has helped people even like Patrick.
So what do you guys think of this series? We also have the video (GFA TV) version of this as well – which you can find on globalfromasia.com/tv/ or our Youtube channel. I'm still learning about video blogging and marketing – it is a challenge for sure.
Thank you for listening to Global From Asia – this is really just the first of many Chinese e-commerce and FBA sellers to come.
Download Options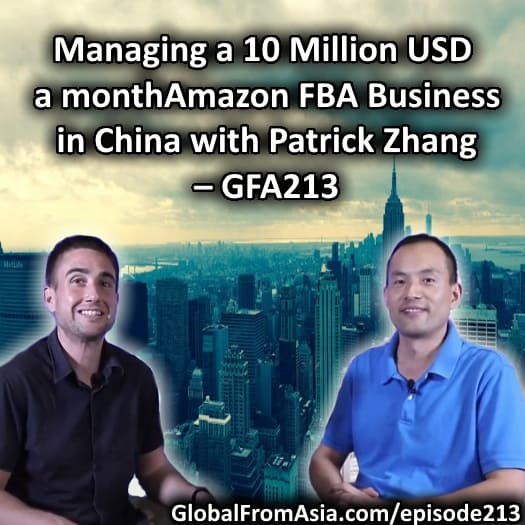 Podcast Transcription
Here's the full transcript of Patrick Zhang interview.
Podcast: Play in new window | Download
Subscribe: Apple Podcasts | Android | RSS