Coming to a trade show in Hong Kong or China to source products? That is a popular time to take your first trip over to Asia.
It worked well as a first exposure to China for me back in 2007.
It should help you out in deciding the best time to come over.
Are you prepared for your first trip to a Chinese trade show? Let's dig in
Trade Show Schedule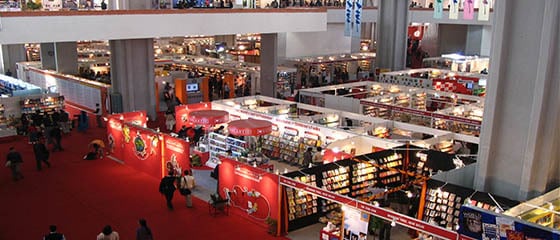 Before we get into preparing, let's cover the basics.
These trade shows happen twice a year, in the Spring (April to May time frame) and in the Fall (usually October) seasons. The main 2 trade shows are the Global Source show in Hong Kong, and the Canton Fair in Guangzhou.
There are 3 phases for each: phase 1 as electronics, phase 2 as gift and home goods, and phase 3 as clothing and fashion and miscellaneous. The trade shows last for about a month, with each phase lasting for about three to five days.
Hotels Will Cost More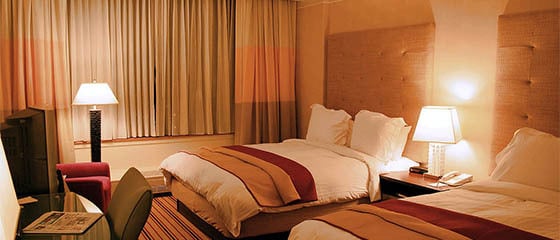 You should arrange your accommodation in advance any time you travel international. This is especially true during these peak trade show seasons. As everyone from around the globe is flying in, hotel prices shoot up. I'd suggest getting them at least a month or more in advance to try to lock in reasonable rates.
Related Post: Hong Kong Business Traveler Guide
I have learned to be more prepared during these trade show seasons. Even as now a "seasoned local" I forget that I am traveling around South China during trade show season. I will get in a jam where there aren't hotel rooms available or prices are triple normal rates.
Bring Boxes of Business Cards
You may not use your name cards much when you're in America or Europe. But in Asia, it is the first thing people take out when meeting someone new, in a business situation that is. Heck, maybe even in a personal or family situation you can whip out your name card.
There are a couple ways to handle the cards when you give and receive them.
1. When you present it, use 2 hands, and face the words towards the receiver. No need to bow (believe that is Japan culture to bow when presenting the name card). In China, you should take care and treat these cards like the person themselves. That means, present your card to them with the words facing them, so they can immediately read them upon receiving.
Also, you should "handle them with care" and read the card when you receive the card. Look at their name, title, company. Find something maybe to ask them as an added bonus.
Final point, you should not stick it in your back pocket or toss it in your trade show bag. Instead you should show them that you will "take care of the relationship". Put the name card case in your front pocket or slip it into your front pocket of your shirt.
I've been in Asia so long these become like second nature. And now I'm even annoyed when a first time Westerner visits and treats my name card like a brochure and sticks it in their back pocket.
Pro Tip: These trade show booths are big investments for a factory. They therefor maximize ROI by taking your name card and adding you to their email list. When putting your email address on the name card, it would be wise to have a "special" email box for these trade shows. This is so you can separate all these incoming emails post-trade show from your "normal" day to day business operations. Maybe a forwarding address or your general info email box?
Read Attendee List As Soon As Possible
Even before you go you should try to get a list of all the booths. Or at least understand the basic layout of the trade show. Booths categorized by geographic region as well as product category and type. So if you're looking for kitchen utensils in China, look for a squared off section of booths or rows that have all your heart can desire.
If you're not able to do the homework beforehand, get a paper map when you register at the front. Circle down areas at the trade show where you want to go. Make an "attack plan"!
Why all this pre-planning?
These trade shows are massive and can take days to cover. You have to choose which areas you want to focus on. This is where focusing on a specific product category or industry is key. When I was early on doing product sourcing, I was searching for every kind of product under the sun.
Related: Podcast with Deepak Madnani. He gives tips and insights on how you can choose a product category for your import and export company.
If you're with a group, I recommend staying together. This is so you can help each other negotiate and keep tabs when discussing with a sales agent at a trade booth. More on that later.
Ask Your Current Suppliers Which Shows They're Attending
This was key when I first came to Asia. I told all the suppliers I was buying from, or looking to buy from, that I was coming over.
You can learn a ton about which trade shows are good to go to, which places to visit. It also opens up your mind a lot when you start mapping out where these factories are. When I tried to figure out how many hours on a bus it would take from one factory to another (sometimes 12 hours) I was so scared! I smiled to find out they would both be at the same trade show 2 rows away from each other.
Sure, meeting them at a trade show is not the same as visiting their factory. Depending where you are in the relationship, you may also want to arrange a visit to their factory.
But by preparing and coordinating with these factories while you're still in your home country, you can get tons of travel tips and ideas.
Why am I putting this as a specific point?
So many buyers (foreigners) I know don't build a relationship with the factory. Instead they treat it as a buy/sell relationship and don't get to know them more. By having even a small relationship together, you can get great tips and tricks about your travel to China.
Take me up on this tip and "chat it up" with your factory sales rep or factory owner. They will be more than willing to help you plan out your trip.
Potentially Have An Interpreter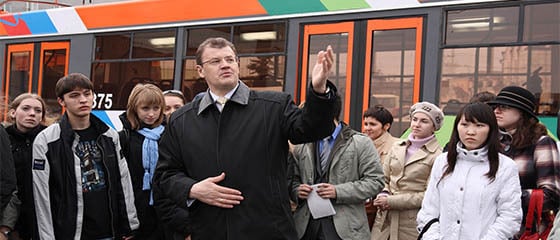 How is your Chinese speaking skills?
Even after seven years here in China my Chinese language skills isn't good enough to bargain with a factory and have business conversations.
So when coming to trade shows in China, do you need an interpreter?
More and more factories have English speaking sales representatives, and even the factory owners have invested a lot in learning English. So that is helpful. Yet there will be times in the negotiations when they will switch back to their native tongue.
Having someone in your team that also speaks Chinese and understands your business needs and your side of the bargaining table will help stay ahead.
Related Podcast: Overview of Interpreters and Translation Services in Hong Kong and China
So if you can budget having a local interpreter come with you to the trade shows, it can help in those tough negotiations. In my early days, I remember feeling pretty awkward when a factory owner and his sales rep would chat back and forth in Chinese in front of me. They'd discuss about the deal and I had no clue what they said. Knowledge is power in these times.
Have Another "Set Of Eyes" With You
Coming to the trade show with "another set of eyes" (Another Person) takes a lot of pressure and overwhelm off. Especially on your first trade show. There are so many signs, booths, advertisements, brochures, maps, and handouts that your mind will overwhelm you.
Assign one person to keep track of the time and the itinerary (as you checked over the various sections and booths before coming to the show). The other person is keeping track of which products to source and searched and which factories and products to seek out. Or any other combination of roles and responsibilities.
Having a combination team at the trade show will more than double your output if you do it correct. Do you split up or stay together? Depends on the expertise in the product line of each person? Will each person know enough on the product specifications to get feedback from the factory? If not, maybe one person could go down a row ahead and scout out which booths are worth stopping by.
Or, if you stick together things can get better when in negotiations. One person is the main point of contact for negotiating with the factory, and the other person watches and listens to the factory sales rep. I'm not an expert negotiator. Yet I know having another person with you to feel out the underlying tone of the conversation and other details that the main person in the conversation may miss.
Write down all this feedback in one notebook, with both people's feedback. When you go home after the show and review these notes, you can filter through all the noise much faster.
Have Comfortable Walking Shoes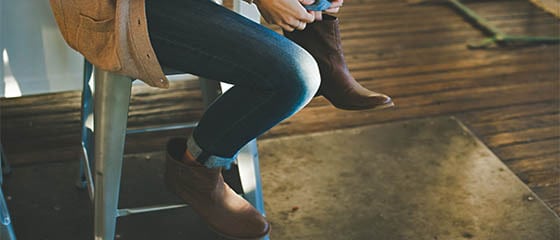 You will be on your feet a ton! I have been using a Xiaomi Mi Band (Fitbit) to track my writing and when I go to these trade shows my stats are through the roof! You will walk at least three miles if you are serious about finding and networking with more factories.
As much as I love my flip flops, not a good idea to take on a trade show trip. Good soles, I even get extra inserts if I prepare enough in advance will save your feet.
You may want to dress to impress, with a suit or at least business casual, as this helps leave a good impression as a quality buyer to the factory. While I do think that is a good idea, I would also think to get at least some "sport" version of a business casual shoe.
Fashion should not go before comfort at any time in my opinion. But especially true during times when you'll be on your feet for days on end at a trade show.
Bring Roller Bag Luggage Bags
I remember my first couple trade shows and thinking these people were crazy, did they just come off the airplane? I would see buyers with the luggage at the show.
Did they just come from the airport?
Or are they leaving to the airport after the trade show?
Nope, they came to the trade show with an empty roller luggage back and would slip in the brochures from all the factories they talked to. At the end of the trade show, it is jam packed with all this, paper! They would just check in this separate bag on their flight back to their home country.
Boom!
So I have done this as well when I'm serious to gather as much information as I can about a product line or a new industry I am researching.
Sure, the trade shows give you some free bags to carry on your shoulder, but these get tiring. Lugging them around all day just slows you down!
So come prepared when coming to China for a trade show, and bring an extra, empty, roller bag on your flight.
Come With Full Details Of Your Product
You can waste tons of time at a trade show. You want to get some ideas of new products, or some ideas on a new product line you want to start to sell.
But to maximize the trip, have the product specifications with you. I know, you're nervous you might get copied.
You don't have to take out this "money" folder of all your specifications to every factory booth you meet.
Be selective.
Start a simple conversation with the sales rep, see if they can do the basic product type you're talking about. See if you feel comfortable. Or, tell them you'll come back later in the trade show. Pick 3 to 5 factories you want to show your specs to, and circle back to them later that day or the next.
What should be in the specifications? The more the better of course.
CAD Drawing
Material List (Bill of Materials)
Temperature Requirements
Other product specific items (more the better!)
Heck, bring a physical sample or prototype is the ultimate. You can always email spec filed after the show. But holding a physical sample at the booth is something that requires "in person" events.
Be weary of showing it to too many booths. Factory owners are always interested in seeing new ideas at trade shows. So if this is a new idea, it's best to keep it to yourself until you're comfortable.
Coming to a Trade Show in China Is a Great Experience
So what do you think? Coming to the trade show, or did this post intimidate ya?
Hope you make it over! I believe picking dates for my first trip to China around the trade show season helped me supercharge my networking. It sped up my China business "adventures".
Want to Read My China Business Adventures ?
If you like this article and others on my blog, consider checking out my book "Destination China" on Amazon Kindle. Its a mix of my personal experience coming to China and setting up with tips and tricks for each phase of the process.
Checklist of Items

So you're overwhelmed after this post, so let's recap.
If you need to come to China and other parts of Asia, you may as well plan it around the trade show season. This is because you can merge a lot of meetings with suppliers.
The tradeoff is that travel and accommodation will be more expensive, so plan in advance to keep costs low.
Business Cards

Bring lots of business cards, and maybe make them special for the trade show season.

Map It Out

Research and map out the trade show as much as possible before going

Prep with Suppliers

Talk to your suppliers and see which shows they're attending and where in the show.

Translator?

Consider bringing an interpreter, depending on how much negotiations you plan to do.

Bring a Friend

Bring a business colleague – two sets of eyes are much more helpful at these overwhelming shows.

Shoes

Bring comfortable shoes – it is tons of walking and you'll be getting your fair share of exercise.

Roller Bag

Bring a roller bag to collect all the brochures and pricing sheets.

Know Your Product!

Know your product as much as possible, bring specs and samples. You flew all this way, maximize it by having clear information for the factory to check and give you pricing and mass production feedback.
So there you have it! Catch you at the show. I'd love to hear your comments, feedback or any other tips to share with others.