---
This week's show – a new sponsor- GFA partner yearly sponsor – Cross Better Logistic. Our seller division has been using their service for a while – and also has quite a wild LEARNING session to share about that whole ordeal – AFTER this amazing interview – so stay tuned – lets go! 
About Cross Better
Cross Better provides full container ocean shipping service from Thailand/Vietnam to USA and Canada (experts in Canada). Then For Amazon customers they use their warehouse in LA. Their main business is ocean and air from China to USA and Canada. Cross Better can provide full container shipping from China to USA and FBA logistics (they also have warehouse in Ningbo/Shanghai/Dongguan city).
Topics Covered in this Episode
Introduce Mark

Being a seasoned expert on logistics, can you share your experience and background in the logistics space for viewers today?

The Rollercoaster of Logistics since 2020

We met in Shenzhen at my going away party – thanks for that, and we had shared stories of the hassles we all have gone through in the cross border trade industry since covid in early 2020, can you share some of your experiences and highlights from this debacle?

How has the logistics industry evolved since 2020?

Is it for the better, or for the worse, for the industry?

How have sellers evolved?

What can sellers do to improve their profitability? Any tactics some of your clients are using to lower their shipping prices or improve their deliverability?

Air vs Sea

For our own brand at Excalibur Brothers, most sellers in the Blimp Program are going with ocean freight. Just the costs are too outrageous still to do what many did pre-covid by shipping smaller quantities by air. What are you seeing in the space – air or sea?

An affordable Air shipping

Mason service is a carrier Cross Better logistics recommends. Only 11 days from Shanghai to LAX, 15 usd per KG right now.

What About the Amazon Global Logistics (AGL) Elephant in the Room

Wasn't sure to even mention it today – but think it is best to discuss head on- what are your thoughts of Amazon growing and expanding into the logistics space with their own Amazon Global Logistics? We chatted about this at the dinner, I'd like listeners today to hear.

Mike's Experience working w/ Cross Better

What can sellers learn to improve

Ecommerce is HARD – it is the intersection of logistics / B2B combined with marketing B2C and bridging these 2 worlds to sell products and make profit. Do you have tips – especially from the Chinese seller side, that listeners in the international community can learn from to improve their business?

About Cross Better - how did this company get started?

What are the main services of Cross Better?

And how can Amazon and ecommerce sellers benefit from using the service?
People / Companies / Resources Mentioned in this Episode
Episode Length 01:27:01
Thank you so much for your time today, Mark. It has been a pleasure to work with your company.
Download Options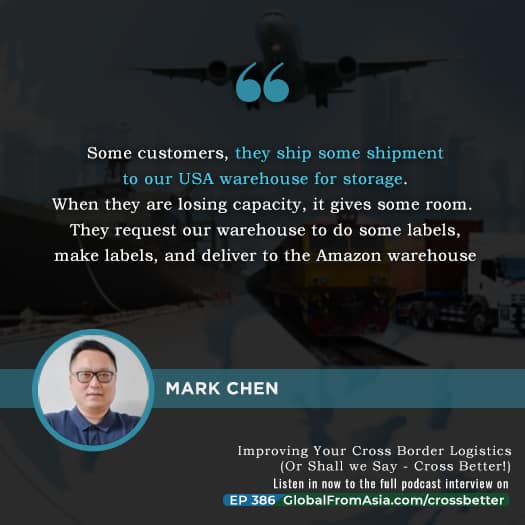 Show Transcript
[00:00:00] All right, Episode 386. You ready for this Faith? Story going into cross border logistics with Cross Better. Welcome to the Global from Asia Podcast, where the daunting process of running an international business is broken down into straight up actionable advice. And now your host, Michael Michelini. Wow, this is so exciting because we have here a special guest and you know that 
[00:00:30] this is from Cross Better. This is with Mark, and we are so happy to have him.  You know, you've been partnering up with him and there's a lot of good things happening with the partnership with Cross Better and having this interview, it's quite exciting for everyone to see, What are you going to do with Cross Better? Sure. So, So people watching previous shows might have seen a little, our sponsored ad of Cross better, they're, they're a year long sponsor, just 
[00:01:00] confirmed. Also, shout out to Mercury Bank. Well, online financial solution in case is the technical term for Mercury, but they're also a partner with us on, in a yearly basis, been renewing and keeping the show going. So if you like this show and you wanna support our show, definitely check out these services. So Cross Better. Does logistics focused on China or other parts of Southeast Asia. Mostly to the western world in Canada and the US primarily. They actually, they have a specialized service in 
[00:01:30] Canada. I haven't used that, but you know, I always hesitate to promote services that we haven't used ourselves and that, you know, we can't vouch for.  So, I've been lucky enough to work with them for one of our seller accounts. We have a few different seller businesses in our, our portfolio, so we are working with them and I think Faith knows we are prepping. There's a little bit of drama before we found their service in the us. So that'll take a 
[00:02:00] while.  I think at least 10 or 15 minutes or maybe more so after this interview. Faith and I, Faith learned the story too, how we started working with Cross Better and the Nightmare, the logistics nightmare before. There's a lot happening. I know we're talking before this intro and again, I'm super excited about this one.  What matters now is that Mark coming in, being, being there to just alleviate the pain and just, just get going. It's already 2023, just around a quarter. Yeah. 
[00:02:30] We wanna make sure we're jampacked on that area, . Exactly. Yeah, exactly. Actually. So he's a very experienced logistics person and his English is good.  He's of course, he's a, all his experience is doing China logistics, export, and he, I learned some new things and I think a lot of listeners today will learn some new things. You know, he works on a lot of Chinese sellers. They wanna work with more international sellers, you know, from around the world to help them. And I think this is one of these secret, some secret services. 
[00:03:00] A lot of times when you ship something, you just ask for a quote. Look at the price, but he broke it down a lot today. Faith, he goes like, what is the different parts? What choices you have to maybe get a better price or a faster service? Cause even in like LA there's like multiple different ports.  So he was explaining this and I was really going pretty, you know, I mean maybe it sounds boring, but for sellers it's pretty fascinating cuz you're going through some of the different intricacies and differences you can do with, with 
[00:03:30] sending your product by ocean and by sea. And there's even a newer service I learned about that's cheaper than normal air, but of course more than ocean.  But about halfway in between the speed because ocean is slow but cheaper and air is faster, but really expensive. So there's a service right in the middle that he talks about that I, I learned about. So we got a lot of stuff coming. And Faith is absent today in the interview. It's just me and Mark.  You know, 
[00:04:00] it was okay. It would've been better with Faith, but we survived. We survived. So we we will dive into this show now, I think. Absolutely. I was I was on travel mode. I was in Boracay at that time. Oh yeah. Any photos, any? I do have. I do have. I was with my friends. It was about less than a week, and I just got back, exact show day I needed to come back.  I'm actually still traveling, so that's why I'm not there. 
[00:04:30] But I know having to hear all of your stories about the interview, I think there's a lot of people's going to be very interested, especially the sellers. I agree. Yeah. Yeah. Let's, I totally agree. And what, what, what can you say about Christmas coming now?  Yeah, I mean You know, Thailand doesn't really celebrate it, so I'm not not like, you know, the Philippines loves Christmas. It's a very Christmasy place. China bans Christmas, so I haven't really had Christmas. Really? Yeah, they 
[00:05:00] banned Christmas in China. So when I was there, there was no Christmas, you know in 2020 during Covid and in, in my in my wife's hometown, there was a I couldn't even find wrapping paper for a present. It's normal Mall day, like December 25th is like a normal day, December 24th, normal day, and I'm. I'm like walking through the mall and I see some a little, you know, I see a little a little something like sticking out like this, you know, like a little tassle. 
[00:05:30] Okay. There was like a hidden box of wrapping paper at a shop for people that needed it.  It was like a secret spot for wrapping paper . I found it in the mall, like they were selling it. Probably could have gotten in trouble because it's illegal, but I got some illegal Christmas paper and had gifts for my kids. Yeah, I mean, yeah, the same in Thailand. I don't think it's that big. It's not a celebrated here, but you know. It's pretty different here in the Philippines.  We start Christmas in 
[00:06:00] September. It's that. It's crazy. It's that crazy. And we are actually very excited about it, especially Christmas Eve preparing for Christmas, especially Christmas frees. And there's a lot of brand Christmas tree, lightning lightning here coming in for around, let's just say, First week of December.  There's a lot coming in here, here in our park here and also here in our mall. Here in where I live. Yeah. There's a grand opening of the lights of the Christmas tree in it. Amazing. It's pretty exciting. 
[00:06:30] And there's a lot of mascots. It feels like Disneyland, amazing. Yeah. Like they're running around here.  Just a quick march. It just, I remember already Christmas. I remember Eastwood. Do you know Eastwood? Yeah. BGC Is it BGC or it's near? I don't, Near near. I think so. I think my friend has some real estate there and I was staying there and I remembered a Christmas It, That place is cool. It's like a little bubble, Eastwood.  You know, you, it's like 
[00:07:00] a circle, right? It's kind of closed off. There's only like two roads in one, you know, And then it's like walking all around and there's like huge Christmas trees and, and and and stuff there. I remember. Yeah. You know, I remember it was 2010. Faith, you know, that's how old I am. I remember the number on the huge LED lights, numbers, you know, cuz it was New Year's Crazy.  Crazy. It's 
[00:07:30] already 2023. We're so excited about it as well. And I know also on not only Christmas, of course we do have our company retreat and I'm excited about it. Yeah, we're doubling down. Doubling down. I mean, it's gonna be like a lot, We're investing a lot, you know, flights and, and accommodations and food. And I think you want some Korean barbecue. What's it called? What's that called? It's Samgyupsal here in the Philippines. But you call it Korean barbecue. That's what I call it. Yeah. But 
[00:08:00] yeah, I mean, and then KTV. Yeah. It'll be fun. Yeah. Here and everything. I think Lj's going to sing . Yeah, I saw a video. Hey, lj, shout out to you.  I love your voice. We should put it in the clip here. Al should us back. Now, you can just show it.  She's pretty good. What I can say. Only that. That was nice. Yeah. Lj's 
[00:08:30] talent. All right. Well, I think let's jump into the interview and then in our blah, blah, blah session, or our outro. I'm gonna go pretty deep. I'm not gonna expose the other company cuz it's not in good terms and there's outstanding invoices.  I'm gonna talk about prices and compare prices, so let's let you know. That'll be an interesting one too. But let's listen to Mark CEO of Cross Better and his ex experience and insights. I took a lot of notes on this one, so let's, let's enjoy. All right, let's enjoy this's one. Tune in. 
[00:09:00] Listen, make sure to get your notes ready. Yeah. And this is another podcast for you coming for Mark with Cross Better. Let's. Let's do it. Are you looking for a cross-border logistics company From Asia to the east and the west, then look. No further. Cross better logistics is a solution for you. From ocean shipping to air freight, from factory to 3PL warehouse, Amazon, FBA, and Walmart.  Cross better logistics is an experienced service 
[00:09:30] provider for  e-commerce sellers and B2B traders and 3PL trade. As a GFA partner level sponsor. Let them know we sent you and they'll take care of you. Check them out at www.crossbetter.com today. All right, thank you everybody for choosing to listen to a Global From Asia podcast.  We have a special guest and also one of our sponsors here at and Partners here at the Global 
[00:10:00] From Asia Community. New one. Mark Chen, General manager at Cross Better Logistics or Casia Global. Thank you for being here, Mark. Oh, thank you Mike. Nice to meet you. Yeah, yeah, yeah, yeah. It's great to have you on the show.  We, we we did get to meet in, in Shenzhen before I came to Thailand. We had a nice, a nice lunch together. Yeah. With, with your team and some of our team like to show the photo. We'll show the photo of that. I took a nice 
[00:10:30] group photo. Yeah. Thank you.  It was a nice meeting and we've been preparing for today's show for a while. Like logistics is very troublesome right now, right? The Global Logistics, Amazon warehouse. So we're gonna, we're gonna share with listeners today some strategies and some tips. But before we get into the show, can you introduce yourself to listeners, Mark, you're you have a lot of experience, 
[00:11:00] even as a general manager at Cross Better Logistics and also in your previous history.  Yeah, and I'll introduce myself. I'm John. I work in the logistic from the 2006 and doing the shipping carrier, handling shipping, at coasta. Or, and until I leave the coastal in the 2017 and I'm joined the, and you 
[00:11:30] can touch the eCommerce.And the eCommerce I found that it is different, the traditional logistic, because traditional is only the, But eCommerce, they up in the traditional.  So we, I have many ledge solution in the eCommerce and traditional because I, I have the 2017 I worked and focused, 
[00:12:00] I focus in eCommerce just even in currently. I, I think we, we have many experience to, to, to have some seller to they have faced the problem. Yeah. This past, past two years. And because maybe I can share some, my experience Or, and how, why, why, why. And from the 2020 The logistic become crazy great and super difficult for 
[00:12:30] all the sellers. And the other difference these days we make because it remove the carrier terminal trucking traces, warehouse and consumer, main difference. That's al. Yeah, Yeah, yeah. So, so definitely lots of experience. Just to re give you, just to pick some highlights, 2006 you started in logistics industry and 2017 you've been focused in the e-commerce part of logistics, which is very 
[00:13:00] helpful for us today. And then, like you said, since since 2020 with Covid 19 and the whole pandemic, it's really put a lot of, I mean, I'll say like it was never really so easy logistics and e-commerce, but it made it so much more difficult the last couple of years. You actually is a very, the logistic, maybe some, maybe some guys do not do this job. They said, 
[00:13:30] Oh, logistic is very, so easy. I. No any have the condition to, but, but actually it's not right. It's not right form. For the technic, you know, said that space issue, for container issue, the checking strategy, traces, strategy, power, teaching many, many things. Host status, supply change is very upset for everyone. And because 
[00:14:00] for some who do the eCommerce, the logistic, the company, if they have not a lot experience in the traditional logistic, they cannot settle all these matter is better. For example, for we have the, we have a sign, you know, that for the USA Trade we have FMC to move to monitor the carrier, to consume the frauding. Actually for our 
[00:14:30] company, we have FMC Bank to sign carrier country with carrier such. Code, code, air green, ocean or this is directory, this is, is important for us, which make the decision we can make deal with carrier directory. Got it under to the other for that. Too many issue. Have the take this, discuss this carrier to fix some fix location 
[00:15:00] and every service lane, maybe I talk to every, how many SKUs do we need you can provide to me.I tell customer we have not by this one product. Another two second, we know this story like which terminal the is better is better or is worse for trucking to pick container? Maybe some we, we have in the past two years we learn many 
[00:15:30] seller that the container arrive at the whole Long Beach or LA and then they came into the close air andina at takes two or week, two weeks or three weeks, even one month. So they, their product cannot connect on Amazon, they have the no product shortage. So their listing is drop or down. Yeah, because. Because though that we know we are firm with the 
[00:16:00] terminal because you know that and Long Beach or, but actually have the many terminal in this port. Maybe the APM terminal LBCT Terminal. APM APM terminal in the port different terminal have a different situation. But we, at least in the past, around 60 years, we can talk customer, You can choose this service lane 
[00:16:30] and right this terminal. You can arrive any, come into the coast there and the container. Can you how, how long can be up on the container and to my warehouse and then deliver to the, to the motion. This is our, this how we talk to the, our consumer customer, our say how to. From the port, how to choose this source length. And the second we have 
[00:17:00] our warehouse in, in area and house warehouse, have the around 50 trucking, we say trucking, including the terminal or into the last 53 ca to catch to the field hours away. And over there our warehouse five, five, 5,000 screen, we can take away all our warehouse to Amazon eCommerce from the 
[00:17:30] 10-14 years, 10-14 years.  So they have all of the fifth, they are maybe experience and they know how to, to handle the, the shipment to, to cut down the time and to make the shipment can to Amazon on time. This is our survey. Another, another problem is that we have set, we have a warehouse in the in the limbo 
[00:18:00] in the Shanghai, in the central and the shaman.  You know, that in the past two years, due to Covid, China have forced to this maybe the cargo follow after this due to covid. Maybe for example, in the last, in the last year in the already stop working, we have take action. For example, we take our, we pick our container from 
[00:18:30] Hong Kong and go to and in the southern warehouse, the love the streamer and the Shipman return to the homeland on both the ware.  So to the. Or another is the shipment is the removed to the limb and the limb to do staffing and working and handling. This is our take many action to do to solve sellers' problems because some sellers said that the coastal 
[00:19:00] or the air trans time is strong, but maybe we can provide Matson. Matson service. Main service is around 11 days, arrive at the Long Beach and can pick up the container from the Monday because right time is Monday.  So Matson is very quickly. This is, is maybe another solution to the seller because we can save the air 
[00:19:30] the coast to the, you know that Matson is very fast is the faster in the area. Got it. So in the, in the, in the past two years, we take many action to shop, to solve sales and many issue in the US side. This is, I think is very, very, you know, that the way is, is growing up very crazy along to the, to tto the , but you know, that 
[00:20:00] all consumer instead at home, they have buying shop shopping in the, in the shopping at home. So the many, the demand is very grow quickly, carrier and free forwarding to know, know that this demand is very strongly so the space is very meaty, but the demand is very, you know, that one location. 10, eight to 10 container eight to 10 booking to need a booking. So the rate very 
[00:20:30] sharply is becoming very high, but, but however, until this moment, the raise kind knowing more and that, because the demands is, is to turn down now. Know that that's all, that's all mine. Got it. Yeah. Wow. Yeah, that's a lot. I, I took a lot of notes and I think if it's okay, Mark, I think some of the viewers or listeners might not know some of these terms and definitions, so I might, I might take some parts of what you said 
[00:21:00] and, and break it into, break it down and, and ask some more questions.  What, what is FMC you said about, that's like at the beginning you were saying about FMC management? It is around for the 2001. You know the 9/11 issue? Oh yeah, yeah. The two yes to from the two zero FMC manager, the carrier. Three 
[00:21:30] forwarding and cap every, every, every need to get the space for the carrier. She must be have the FMC license. Oh yeah. FMC license. So carrier can sign country, sign country. We need to report rate to FMC. How much the rate the situation to FMC. FMC need manager. Manager things this, this 
[00:22:00] is different with the other. Yeah. Got it. And then one, you were talking about terminals and service lanes at the port.  So I, I'll be honest, I'm not familiar with that myself, and I think others might not. So can the seller choose, or you would advise the seller about what terminal, I guess you would say, like LA. Of course we mentioned LAX. I mean, of course this were actually, we'll talk about my experiences too, working with, with 
[00:22:30] your, your service which has been great. So Great. But yeah, most people send to LA right? Is that still, is there different terminals inside of LAX that people can ship to? Yes. Yes. Maybe we talked to the LA or LB Port, right? Yeah. Long Beach. Yeah. But yeah, Long Beach or Los Angeles. But actually the tall have many other, have other, they have buy to come by the port maybe. The port, 
[00:23:00] we have the, for example, for the lx. Where else have the, at least have the, I think that have the street terminal? No, no, no, no, no. Terminal, four terminal. Wow. Our top four terminal, like WBC terminal, ETS terminal and TTI terminal APM terminal. You know that top pole is the, is terminal convertor port.  But for the Long Beach, 
[00:23:30] you know, they have the LBCT, Matson terminal and the PC terminal and the tt it difference, it's different. The port is only the, is the core for the, for this terminal. But actually, Different terminal operate by different carriers? No. Got it. So who has the choice of doing that? I guess logistics.  I mean, the seller. I, I've never heard of that. I, 
[00:24:00] I've used different, I've been doing this for many years. I didn't know I could, I I just know la I didn't know like he could choose the terminal. So it's a, we'll talk about carriers in a minute. I, I think that would be also worth talking about, but maybe, maybe we talk a little bit more about terminal.  So then who chooses what terminal? The carrier or the seller? The logistics provider? No. A choose by logistic, logistic combining of 
[00:24:30] sea to choose this terminal carrier have set up the sales link to call this terminal. Really? They have the recreation sales link. But to the seller is not have the many experience in the terminal.  He's very on their logistic provider to select this post service link to them, it is the terminal because the logistic terminal in ucc, they know this, this sort link 
[00:25:00] for which terminal and the terminal is better or worse. This is that some, some have said that if they have the logistic permit, maybe their logistic manager is family. With this, the, the terminal issue, maybe they can nomination you. You like use this. So we have to follow up their instruction to run this service link to. Got it. Got it. Okay. That's really 
[00:25:30] helpful. Mark. I, I think, you know, I think, I think a lot of sellers aren't familiar with this. I think most sellers just pay the logistics and, and they don't know and they just hope it comes, They know, they just hope it comes as as possible.  Most don't understand these choices. Yeah, so this is very, Yeah. In the past, the different, different terminal and the different folks. Maybe you see some ocean v the triple then one time, but actually at the terminal, the terminal is very 
[00:26:00] worse. The additional destination to charge you. But you have told you two total charging, maybe the also expensive, the total free is the lawyer, then the post.  Got it. Yeah. Got it. Yeah. There's all, you know, I think me and many other sellers, we just see all these different charges, right? We don't, there's like there's so many different fees in the logistics that we don't, I, at 
[00:26:30] least I don't always know what every single fee is. Yeah. It's not just the ocean freight.  There's, like you said, like the terminal fee. So each one has different rates and there's congestion and there's delays. So yeah. This is, this is help, of course, you should choose this before it's, it must be choose chosen before it parts, right? I mean the, Yeah, that's book, that's part of the booking at the beginning of the shipping, Yeah.
[00:27:00]  Yeah. For booking at the beginning. And then, then you, you request the service. Trans and how, how long you can accept the, the time to the warehouse or in some other Walmart or the welfare platform. Yes. You new in the, in the usa you need the tracking model or the US model. Like there, there. I understand. I understand. And then 
[00:27:30] you were talking about the carriers. I think a lot of people don't know about Carrier. I mean, I think they see Evergreen. I see Evergreen everywhere. Oh, on the truck. Yes. There's Costco. You mentioned Matson. I don't even know Matson, actually you were saying me. Matson. Matson is I, I can introduce the carrier the information for that from the, We have two businesses from China to the to the USA and the Canada. Only around 
[00:28:00] two Street, three Alliance. Alliance. Real Alliance is two M. Two M is master and msc Master. And MSC is two two s. And another alliance is OA is the Ocean Alliance is including the cold EMC cma and the O c. Yeah, this is the OA alliance. And another is a 
[00:28:30] tht. Th is including one o E one, one M career carrier and Germany carrier HPL. Yeah. And another is a Yamin Taiwan's Taiwan's carrier. Ya. Yes, sh is around, at least for Matson. They do not, it doesn't belong. Sh 
[00:29:00] is the in the carrier. Got it. She's the, she's the Matson have the many US governments, should she take care for years, Also two business, the USA Army, Navy. Okay. USA Navy. Yes. So, so Matson is the fast. Matson is said that the appetite is not focus in the Pacific, they focus the air customer. Got it. Transplant is very far, 
[00:29:30] and they are arrive. The long is on time to know anything. So Matson is special carrier in this, in this lab. So, So talk about carriers more.  I didn't hear you say ever. I mean, I just, I don't know. I think Evergreen, I see them everywhere. Their logo on the trucks. I mean, I heard they're, they're like, I heard they're so rich. I heard they got so rich from the Coronavirus. I heard our article, 
[00:30:00] they gave huge bonus to their workers. They had so much money.  I heard the carriers are making so much money from Coronavirus. I I heard. Yeah. They they make the rates really high to make more money. Yeah. They just increase. That's what I hear. Yeah. Actually in the past two years have due to this Covid. This many carrier money, even one years the profit and 
[00:30:30] the total one year total Profit Is the, at least the 10 years cannot reach. Yeah. Yeah. Even some you find that even some carriers perfect. Perfectly higher than the apple might go soft. Yeah. Perfect. I've heard the same. It's so crazy. I've, it's, you know, that, you know that from the, to Long Beach in the past before to the covid, is around 1,200 and to the 
[00:31:00] 1014. But, but you have the, and the last year the is crazy to the 2000 20,000. So, so carrrier is earn some big, big money. Yeah. You last year have give the huge bonus. Yeah, yeah, I heard that. Yeah. So, so that I said that this is not very healthy 
[00:31:30] for, for this industry because the, the cost too high make the, make the all something is higher than, So the consumer is the, you know that Exactly.  So, Oh, go ahead. Go ahead . Yeah, so, so I think maybe in the, this year and from this year specific will become normal 
[00:32:00] and normal. Even some be loyal, that loyal. And before the week, because the demands almost disappear. I, I send that true day. And the, and traditional customer, like Walmart cost, said that the inventory is super high. They need to clear the inventory and then machine, and then we consider to place the new order to the virtue in the Asia. 
[00:32:30] Got it. So I hope, I hope it's okay. I'm asking questions we didn't prepare, but yeah. Can the seller choose the carrier and the, or did, could I, could I can say, Hey, cross better, I want to use Matson.  Could I ask you to do the carrier I want to use? Or what does, Normally I think most sellers don't know this, or they just go to the logistics company and say, Can you help me ship Ocean ship to LAX or, 
[00:33:00] you know or New York, you know, New New York, or wherever I can sellers ask for, Specific terminal?  Or should they, or should they just ask, I guess, logistics company, like Cross Better should tell the seller what they think is the best, or what do you think is the better way? You save the CFI best way, I guess. I think a lot of sellers do see, because ocean air is so 
[00:33:30] expensive now. I don't even use air.  Barely use air, for example. Yeah. For of the chest sea is the, is the mostly trip in mean the Air Sea and the ray, the sea seas the mo check. But for the, if some, if some sellers remains very urgently, they. Ship to them, Ship to the USA If the change time is run around when, when 
[00:34:00] we, I will suggest to take air, but if the, You can assess change time is the 14 to the 18 can suggest you use the Matson, Use Matson, use Matson service.  Is the light slow air service data? Yes. In the, in China, many sellers, they, they, they do not consider too much air because air is is also very 
[00:34:30] expansive. It's just So last air freight is over 100 by per kilo and all that? Yeah, exactly. Yes. We promote and make some service. seller because the seller request the transit time is around 14 to the 18 to degree to margin.  So Matson can instead the air to save someone. You know, there is, Matson is five kilo is around the 
[00:35:00] 15 po kilo to 20 per kilo. But you, you, you know that the air freight rate still is 46 or 48 per kilo. Kilo. Got it. So yes, you can save around 50%. Close for the same. Yeah. Yes. We promote, we, we re use the, the used the Matson.  Matson is very stable and you can, the is huge. You can save all, save more, 
[00:35:30] more. That makes sense. Yeah. This is really, this is really helpful. Thank you so much, Mark. Yeah, I, I, yeah. You know, for overseas Western, you know, international sellers don't know as much maybe as some Chinese sellers, so it's really good to understand this.  So, Matson, Yeah, so it's like a third option, like you said, it's kind of mix, It's, it's cheaper than normal air, but it's, it's still more expensive than ocean. Right? Obviously Ocean is still the cheapest, but ocean, Ocean takes, I don't know, one or two 
[00:36:00] months, maybe. Depends, maybe two months. Really? Yeah. But, but actually Matson, no, two, one month, two months.  Matson only is the 11, 11 days to arrive, to arrive Long Beach from the truck, from side to Long Beach. Only need 11 days, 11 days. You know, they have that air, maybe some air every day, data capacity is very limitation, you know, that due to the Covid
[00:36:30] right, Maybe some shipman come to the warehouse, maybe airport, the capacity is full and we have have waiting for the in the warehouse to run until the next fry coming into the airport. This is a waiting is also need. Take some time to onboard the understand. So the main, most of China, say in the past two years, used the Matson. Used the 
[00:37:00] Matson very more than the air freight you say cost?  Yeah. Yeah. This is really helpful. It's really helpful. Thank you, Mark. And then you're saying about Warehouse, to clarify the other, I think it's my last question about what you just shared. I share a lot of information. So the Warehouse is, like you say, you have your warehouses in Ningbo, Shanghai, Yuntian, or Shenzhen, and then you have warehouse in LA and Canada.  So that would, that would, because of that, it makes it easier for the seller. They could put 
[00:37:30] it in your warehouse in, in Shanghai. And you had just to kind of say like, maybe Ningbo is better. You could, you could, instead of sending through Shanghai, you could move it to Ningbo and then send from Ningbo to LA.  Or if it's in Hong Kong, you can move it to Shenzhen, Yuntian to send out. So you're using your different warehouses to allow the seller. To have better options for shipping. Good. So let me explain to you. 
[00:38:00] Yeah, let's, let's learn more. I wanna hear more how it works. You, you know, you know that many seller have the many vendor in the different area, some in the Ningbo, some in the Shanghai or in Shenzhen in, and we set different warehouse in a different sea to order than our, I thinking, is just to save the cost for the safe.  If the, the, if the fair locate the Nimbo, you can
[00:38:30] deliver your shipment MA warehouse. Yep. I will staff the, I will, I will staff the can in the limbo and Rwanda can on board the limbo park to the LA save money. Save. This is our set. Many warehouse in the China, different area, all the major important. The city in Shanghai is very important. You know, there many of the issue from this terminal 
[00:39:00] and Shanghai,  even the chairman and the Hong Kong, this is our warehouse. This so, so should, should the seller keep inventory in China, like at your warehouse? Is that normal or should it only send what they wanna ship, you know, like extra stock with in China and then send by Matson? Smaller quantity or 
[00:39:30] how, what's normal?  Like what's a good way, you know, if they have. To ship, you know, and then it can't fit it all on Amazon. We're gonna talk about that. But maybe, maybe the question maybe the question, maybe the better question mark is I could say it like, with I p limits in Amazon, now we're dealing with it at one of our brands. I, you know, we're working together, it's great, but we have the i p limit, so we cannot send to Amazon directly everything. So should the seller, 
[00:40:00] what should do, you know, I think is the question. They have a container they wanna send to Amazon. What should they do? For example, Amazon have the p also KPI for AER and limit the capacity of for every account. Some customer, they, they ship some shipment to our warehouse, to our USA 
[00:40:30] warehouse store for storage. So when when they are they emotions, capacity, it helps, helps some room. They request our, our warehouse to, to do some label and make label and it to the, and the W warehouse such as O D G B A, this service mean if they, the human cannot deal with, with the Amazon 
[00:41:00] warehouse directory.  Yeah. Need our areas to the chancellor, chancellor warehouse, maybe story some or two months because we have the providing some free time. And then if the Amazon, the, the capacity increase the capacity to them, they inform apps. You, you need to make like some some level. Take label and then to go to the, Yeah, our warehouse.  To 
[00:41:30] the warehouse to that. Sometimes maybe China say, also take this as now this, but, but this area is nots, not much request, like this kind of service. Okay, got it. I mean, but also the, the Amazon is expensive for the storage, especially in Q4 right now. They charge a lot more in the q4, so it might even be better to use your, like warehouse 
[00:42:00] anyway.  Right. To save the cost rights. We, we know that from the areas, the October to the, maybe to the next year, February s warehoused. The expensive is the double or triple or the four times for sale. Some sale, we will count the venture level and then they request some and they will, they 
[00:42:30] also request some store, some shipment in my warehouse.  They will count the invent level. Some shipman is very sharp. Maybe the pat is difficult quickly. Sure. Maybe take, keep my order once in the one that I through to Fridays to request me to make label and then with their Amazons arrive warehouse to 
[00:43:00] image, to arrive to why this high expensive in the warehouse.  This is maybe China's China, China sale may take some action. The action, just action to, to turn down their course, especially in the court, in the, in the, in the October to the next year. February this time high. How you answer first? Yes. Yeah. 
[00:43:30] Okay. Okay. This is all sounds really helpful. Mark. We talked about this in our lunch together in Shahe and Terrace.  Remember the a, you know, Amazon Global Logistics, agl, you know, I know they're your competitor. I know many logistics don't like them, and I think, you know, rather than us not talking about it, I think it's good. I just talk about it. What do you think of agl? And what do you think is the recommendation 
[00:44:00] to sellers?  You know, I mean, they, I mean, I don't know. What are your thoughts of it? You know for the agi this is very interest, interesting topic for us. Agi, the, you know, that agile is depend platform. Their cost is, is cheap there. Apps, especially in the last year, their cost is very, but, but the service is not 
[00:44:30] unable, unstable.  Cause hgl, they, they also see some, see the sales shipman. And in the US side, this container is the transfer to the three party logistic to handle the delivery. But have, have a big issue that Amazon , they have have one function. This is combined the 
[00:45:00] warehouse, if the treatment is located by Amazon Street for hours, but use the Amazons just the chicken brand, you know, the chicken hand to log in three warehouse stream, log in one warehouse. But however, the low, you must keep the must be giving the to handle. But however, in the USS side, they have no own custom clean custom 
[00:45:30] clearance trucking company or others. You, you, they have faced some big problem is the war and huge power. However, they are handle this capacity. They connect. And he this high, huge one, , maybe face the chest time is very long.  Last year, one China said that they have used margin justice from the shipman, from the China in to the L G 
[00:46:00] B A. The the time is is three months. Time is three months. Yes. But yes, also this guy to import this, that, So we, we have a three party, also a big freezer for Yes. New is trip. And they can, they can, they can log warehouse.  Which is, which is, which is 
[00:46:30] convey for the three just companies. But you know that if the more and more the sugar just can earn some perfect from the Muslim. This business more and more, ship seller give some treatment. , we have main challenges from logistic. They cannot give the best service for the seller.  Deliver on time and and information. And the seller can control their tumor. And 
[00:47:00] some, some seller use Imagine logistic, because they do the larger product they have to use. Oh, yes. And in order state cost, you know that if the 100 patents use three rail one is the, and I mean, it's one, one is the MDW two, One is the a, a, You know that this is a very long time.  More expense will just post a for sale. But the sale in 
[00:47:30] the set, they have used just the login warehouse service, but it's not very house. For this market. We have five many, even apparently from the warehouse, the for the warehouse, we deliver us to warehouse because the huge award come to the Amazon warehouse.  Many, the ship container is drop the, Yeah, no. To unload the ship. This is a big issue. I think that, 
[00:48:00] So it is not, not very well for the, Asia like again, I'm gonna, Thanks for your honest feedback. I mean, it's, it is scary for the industry, but I'll say one thing. I don't use 'em because I'm, I don't want Amazon to know everything about my business.  I don't, I think a lot of sellers should be nervous because if you use everything in Amazon, they see your supplier. They can see, 
[00:48:30] they can see all your data. They, Yes, it's dangerous to me. And I don't want Amazon to know my supplier and my, Maybe you see the, I also , maybe you save something just expensive.  Right. But all your information Yeah, they have everything. Inform your trans vendor. Exactly. Information. Your sku, yours. Yeah. So 
[00:49:00] important. Why that? And and maybe they find the, your, That is very our best. Maybe they have control your Exactly. Yeah. We, we know that. Imagine Amazon is not logistic companies, tech, technology company.  You all give them, they can control your ship to deliver date because logistic is also controlled by them. Yeah. This what, But I 
[00:49:30] think no seller cannot have, can consider these issues. You know, that we have. I sometimes I. Talk to my seller dad. The best seller is the truth. But for retailer, The, the seller is the true path for the best seller.  And the small seller is in. It's true, in it's scary. It's if you, 
[00:50:00] yes, you, you know that Amazon retailer use the same as the fulfillment service, as the third, third party seller in the Amazon. Yeah. Yes. Yeah, I guess that's worth talking about. I guess this, like you just said, the small sellers are having the most trouble.  It's, it's in Corona, you know, I think with the pandemic and the, and the problem, Yeah. It makes the small seller go, like you said, go byebye. Like they're, they're struggling and it's really hard for 
[00:50:30] the smaller seller. And then even, like, you got, even Amazon competing with you, the logistics, the costs, like it's, it's very it's very, you know, that Amazon have, also have a, have own retailer sell something. Not like, not either other things. You, you, you keep the oil transport to much, you will face long time, long time. 
[00:51:00] Agreed. Agreed. Yeah. So I, of course, sellers or listeners can do whatever, you know, make their own decisions, but I, of course, of course we wanna help, you know, your logistics and even others. But I, I don't really wanna give Amazon everything.  I don't think every, every Amazon seller should give all our data to Amazon. And Amazon Comp is your competitor. They sell against you. They learn, I don't know, I don't know if you've heard this, but I have sellers, they, the Amazon will say, You need to send us your 
[00:51:30] invoice from your supplier to, to, to know your supplier.  But then they, Amazon, China Shen office calls the, the supplier and tells them to sell on Amazon directly to go direct to Amazon. So, yes, it's so dangerous. I give too much information to Amazon. And it, it is, it is your story. I, I have. In the past two years I heard some the best singer tell me that.
[00:52:00]  Some, some guy tell, tell them that. Amazon. Tell them. Do you like we come to our vc . Yeah. For, for the retailers? Yeah. Yeah. Vendor Central. Very central. Yeah. Vendor Central. So they basically become the supplier, not the seller. Yeah, it's yeah. So I think we should be aware that Amazon is not our, is of course we use them to sell as a platform, but they're, they're dangerous 
[00:52:30] too.  They could , they could that, you know that The third part is seller in the platform. The sure is over 65% more than the, more than there are margin. So, The, the share. So I send them maybe the follow up, which is the popular . Maybe the retailer PO because say vendor. Yeah, 
[00:53:00] yeah. Some, some, some. My friend told me that they also some receipt this fall.  Oh no. Well, thanks for sharing that insight. So you know, we're getting, we're wrapping up. Thank you so much for your time today, Mark. You know, I'm also work. We're also not, I mean, I'm also, I have some brands. I'm a seller and we're, it's been a pleasure to work with your company. We just, we did some shipments with you and you're also helping in our, in LA warehouse. So I really thank your company for your 
[00:53:30] support because it's with some problems we had actually. So it's been great to to work with, with you and and many noticing the improvement, like the communication and the explaining. Yes. Sweet. Cause I think a lot of logistics companies don't explain what's happening.  They don't educate the seller and the seller doesn't know what's happening. So I appreciate the way your team has been communicating well, so thank you for that. Yeah, you, you are welcome. 
[00:54:00] It's our job.  Maybe my team is that maybe we solve your issues mostly and then that's just Okay. Yeah. My, my team is a lots of experience to solve any difficulty warm platform like that. Maybe, maybe , we show in the, in the platform. Yeah. Its okay. You have any other 
[00:54:30] request service in the usa? Human in the Canada. Canada? You know that? In the Canadian. Canadian we have also owned warehouse in. Yeah, actually we could talk about that a bit.  I, I, I personally don't have much. I know some friends that sell in Canada, but Yes. I'm not familiar myself. Is it, it's similar. It's much smaller, right? No offense to Canada, but it's a smaller market. But is there, what's some of the, to Canada 
[00:55:00] market also small, but have around the 40 minute 40 million people. But some, some say that they do the, they have the Canada, the sale, the, the part, the of the PATA is higher than the usa. Oh, okay. Some, some, yes. Some also is Canada not to, not do not need, takes more time to do promotion in the margin, in the margin 
[00:55:30] platform. Okay. We are that like, like sale is very stable and consumer in the consumer is is better.  So it's nots better than s USAs. I, some, some seller do, do up Canada market is be good than the USA. Interesting. So I know they have the cross border, like you could also sell to Canada from the us but it's better to hack to have the stock in Canada and be 
[00:56:00] a Canada seller. Yeah. Like to get better product sales.  Some the from Canada maybe have the, from the USA because they have the US station, maybe they, Oh. And also can have open more the Canada account and they sell. Okay. Okay, great. And So cross better.com is your English website. We will link it up on the show notes and we also have 
[00:56:30] some, some contact form if people wanna fill out the form for the requests.  And it, it will go to your team. Yes. What's the normal process? I mean, for some new seller that is here, what, what should, what's the best way for them to work with your company? You can our website Auto v Connect apps. Sorry. Sure, no problem. I know you're busy. We're we're wrapping up now. Yeah.  We'll, we'll put this on the show notes to 
[00:57:00] it at our, our on the interview@globalforasia.com slash cross. Better. And thank you so much, Mark. It's been a longer call. I know you're so busy with logistics. Thanks. Okay, Keep on that. Yes, we'll keep in in touch. Bye bye-Bye bye. Bye bye. And thank you to our sponsor, our returning sponsor, mercury.com online bank.  Well, it's a real bank, but you can totally online for us. Our Blimp program participants are going through this as well. Thank you Mercury. Travis is great there. It's been on our show, it's been in our 
[00:57:30] events. We're gonna have another event where we will have them attending as well. And if you wanna get a little bonus for you and us, if you sign up and do some special circumstances, you can go to globalfromasia.com/mercury.  Also, a video tutorial that we use, even for the Blimp people, use the same exact video to learn how to use it. Hope you can check it out totally free. Why not? It's you there. Thanks, Mark, for that amazing interview. I I learn a lot and I know, I think Faith's excited about this section of my drama.  She's, 
[00:58:00] she's noticed I've been busier and more stressed lately. Right. Faith. You've been very stressed and very busy. I've been always catching up with you here, Mike. How are you? Always busy. Always doing a lot of logistic things and I wanna tap into that . I it's also, I think before we, before I could type to you clearer, but I broke the keyboard lately, so there's a couple of stuck buttons actually, I, I had to get, 
[00:58:30] I had to get an external keyboard cause I smashed my keyboard, but I, I don't want to carry it that all the time. Yeah, I guess we all have some rage sometimes, but yeah. So let's, let's share about it. I'm not gonna expose the seller or the service provider, but I will say it was a friend is, I'm hoping to still be a friend, trying to still remain a friend.  But the story is, this is, we have three different brands we're selling on Amazon right now. Since co we've been really 
[00:59:00] doubling down on building out brands. And being a seller and being back in the arena of, of the Amazon gladiators. So this one we were working on, it's a bar product brand and it's multiple containers sending from Thailand to to to the US or LA.  But we kept delaying because the ocean was so expensive to send. Okay. So expensive. Like talking like $25,000 for one 
[00:59:30] ocean container, 40 foot to go to the us. So our partner and majority shareholder and investor. Just to put it even out there, we're a, we're a 30% owner in this business, you know Chadstone owner, parent company of global from Asia is a 30% owner.  The majority owner is the factory owner in Thailand as the investor and the product manager, actually he should, they should be in charge of the logistics honestly. But somehow I thought they didn't know how to import 
[01:00:00] into the US so they asked us or me to help. So over the last two years, two and a half years since summer 2020, They've been asking, you know, we've been basically waiting for shipping to go down and he had the product made in the warehouse, in his factory warehouse in, South Thailand.  It's a beautiful place. It's beautiful area, beaches and everything waiting. He was almost, Here's this real story. We almost gave up on this brand. It's 
[01:00:30] like maybe summer 2022. This year. We're still keeping in touch, keeping the account active on Amazon. He's like, Mike, man, if we can't get this going, I might just repackage these to some of my customers and sell them.  So I, my friend, which we're having an issue with right now and is on the rocks, he's like, Hey Mike, I'm opening up a new warehouse in Las Vegas. Us. It's cheaper, 
[01:01:00] It's closer to the. You know, to the Asia, right? Rather than East Coast. Cause I was considering East Coast fulfillment and the mistake was we didn't discuss the price , you know, he's like, I'll take care of you.  I'm starting this up. You're starting that up. I, you know, we'll help each other out up, you know, Of course I wanted to promote 'em on this show, on this podcast. Right. Maybe we could have done 
[01:01:30] a promotion together. Right. Faith, I, I, I, So I tell, I tell our factory partner on this brand, Hey, we got it. Hey, I got some quotations on shipping.  It's coming in a lot cheaper. I think it was $12,000 for a container to send, which is still a lot. But we just wanted to get started. We wanna try to get one for Christmas, right? Fourth quarter. So we go for it. We pay the, we pay for a container. Actually another 
[01:02:00] friend involved, he's actually upset with me too about this, a logistics provider, and we send it to LA, normal, normal flow.  We use a customs broker. And then the issues came when it was arriving at port and then the logistics drove the container, right? Contains like a, you know, you see 'em even in Manila or everywhere. They're those long no windowed like trucks that have products, right? So they brought it to the 
[01:02:30] warehouse.  This is September, maybe end of September, 2022. And they say, You ready to unload it? He's like, Just leave it. So there's something called a drop fee and there's a drop, but. Normally, or sometimes the goal is to get all the products out of the container within two hours, so you don't need to pay for the container to stay there.  But I, I never 
[01:03:00] was fully clear of the reason, but I'm assuming there's a labor shortage on his company to get all the products off the container. They're floor loaded, not palletized. So I think it was overwhelming amount of things for him and his company to do. Again, he's a new third party logistics.  It's a new warehouse. So I think that was the reason for the delay. Is there questions do you have for your clarifications? Maybe? I kind of said a lot. No, it's 
[01:03:30] pretty a lot, you know there's a lot coming in for you, especially when it comes to this error and this issues. Just wanted to ask and I, I think our views will love to ask as well.  Was the price point stated already beforehand partnering up or what happened to it? How did the partnership go in the first place before having this happen? What really happened in the first place? I mean, of course I got a shipping price on the container, but he wasn't involved in shipping a container.  He's 
[01:04:00] acting as just as the warehouse. But the, I guess the big mistake is we didn't get a rate card or a pricing from him in advance, but honestly, I mentioned, if you remember I said Las Vegas, the beginning of this chat and moved to LA because he says, Hey, I'm opening in LA Fulfillment Center, It's closer and you could save some trucking fees cuz I'm not, maybe you're not familiar, but LA is close.  Of course, if you're in the same city from the poor, it's less driving, less truck. So we could get a little 
[01:04:30] bit cheaper than trucking it for, I don't know how many hours, two or three hour drive to Las Vegas. But yeah, short answer of that. I mean that's the main lesson is I didn't get a rate card or price from him in advance.  But another one of our friends is also in this situation with him and didn't get a rate card. But I guess the mistake is it's, I've known him since 2009, maybe even earlier, like 
[01:05:00] before I was in Philippines watch, like I said, with the New Year's Christmas stuff, I met him in China before I was in Philippines.  So it's at least 2009, maybe 2008. And you know, that's the big mistake. Also my, my, my wife Wendy's saying that's why you don't do business with your friends. That could be a second lesson, right? First lesson is I didn't get the price up front. Second lesson is maybe, I don't know how I feel about that, about doing business with friends, but, but but no, I mean, that's a big 
[01:05:30] mistake cause I didn't get the price up front, so, Started to escalate because it gets into October and the logistics company that shipped it, the container's still there, and they're saying every day that it's there, you're charged a lot of extra fees.  And there's this fee and there's that fee. Basically the fees, extra fees on top of that $12,000 we paid to sea shipping $10,500 
[01:06:00] they want from us because the containers stayed there for about three weeks before they got unloaded. So that logistics company's bug bugging us for the settling that he's saying, Don't worry about it.  They're charging you too much. Don't worry about it. And. Of course our 
[01:06:30] investor and partner, majority shareholder and factory owner in Thailand is obviously seeing some of these emails now, everything asking me, what's going on? Why are we not getting the products live in Amazon? It's been three weeks, it's getting into middle of October.  What's going on, Mike, who is this guy you trusted? What's happening? So I'm stuck in the middle and I'm going to my friend and I'm saying to him, Can I, I don't really wanna bug you. I'm, I'm not saying his 
[01:07:00] name or company. I don't wanna bother you. Can you please just let me talk to, you know, yell at or push your team, your, your worker, your manager, some point of contact besides you so that I don't need to have this conflict with my friends. I want to have a conflict with maybe your company. I don't want to have a conflict with you. I, I never got a, there is a email and a phone number, but it was. It never really made it to I 
[01:07:30] was communicating with their others than him in the team on this side. And I was even trying to get, like, you know, Christian, I was trying to get some of our team to talk to their team.  And then I, I didn't wanna, I didn't wanna have a, I didn't wanna get into a, a dispute, but of course, we're getting into mid-October. It's a new brand's got container, you know, talking about a hundred thousand dollars value of product. So, you know so 
[01:08:00] basically our investor and mind partner is saying, Mike, what, what's going on?  I'm really, I'm losing sleep. I can't, you know what, the Amazon's not going live. Nothing's shipping. I got no tracking number, not hearing anything back. They just steal my products, our products, the you know, so this is where we I knew of Cross Better. We had been working on some other projects, getting 'em onboarded and to go Asia sponsorship.  And luckily I asked them, they 
[01:08:30] mostly wanna do the shipping, but they would still help us out with the, the, the warehouses. As, as we know, they, they do LA Warehouse, Canada warehouse. They have warehouses in China and they can help even from Thailand. So basically what happened was I had to send, I asked, they drove there with trucks to take the stuff outta his warehouse.  And of course you could imagine the hassle of 
[01:09:00] doing something like that, right? I mean, so we, I, I, I told him, I didn't ask him. I says, you know, next day or two there's arranging a pickup of another warehouse company to pick up the goods and move them. And then he asked about the invoice or what about the payment?  And I said, Can we just settle that after? So he didn't, didn't respond to 
[01:09:30] that point, but he allowed the them to come and pick up the goods. And then the craziest part of this faith is they knew how urgent Cross Better knew how urgent it was for us to get, We had a shipping plan maybe you're not familiar, the shipping plan is basically telling Amazon you're sending something.  But it was three weeks old. So I was like, they basically took that and delivered it to Amazon in two days, within two days, Christian and our team. And everybody's like surprised It's already getting checked in, in Amazon two days when we're waiting for three weeks. 
[01:10:00] Of course, at that point we're like, I can't wait for three weeks to get products from your warehouse and, and to Amazon warehouse.  I can't do business like that. So you. We didn't have so much conversations while that moving a product was happening and I was just planning to maybe settle up some of the payment after. And you know, I, I did intend to pay, even though I'm getting his $10,500 overage charges from the c shipping company. I didn't know how much he's gonna charge me. Of course, we're gonna pay 
[01:10:30] cross better for all of this too. So all of this was happening all at one. Yeah. So, so then the product started going alive on Amazon of this brand. And then the craziest thing was they sent me photos and, and videos from Cross Better team in la And then what was crazy was, again, especially 
[01:11:00] Wendy says I gotta make sure everything's what happened.  Like, why are some of these products not showing up? We asked Cross better. They said, Oh, we gotta go back there and get the rest. Can you call them up and arrange us to pick it up tomorrow? I'm talking, like I said to them, I'm like, I know maybe you don't understand, but it's not like it is. Call 'em up and say, Hey buddy, can we come by again tomorrow?  It's very like a big hassle 
[01:11:30] at this point because there's a lot coming. There's three weeks of delay and then another delay of every single day. Just getting the goods. It would take too much of time and your investor would just be pissed off. Well, he already canceled. Likely happening at this point. I need to see the, I need to see the products on Amazon now.  Like, well, no, they were going there, but some were not there. Mm-hmm. . Cross. Better said they'll come back and pick up more. 
[01:12:00] Got it. But I guess I misunderstood and I thought they had gotten all, So you're supposed to tell 'em in advance. You can't just show up to a warehouse with a truck. Right. Because if, if they're not there, you waste, you know, cross better would still waste their time and need to charge for that, even if there's not ability to pick it up.  Cuz they took driver and a car and they went out there, It's like an hour drive from one part of LA to another and back. So they're not just gonna go there and hope somebody answers the door and lets 'em in. So 
[01:12:30] I, I just said, this is very, very awkward for me to contact him right now and say, Can we go back?  It's like a sensitive point. But then I did and he says, You gotta settle this invoice. I said, I understand it was the intention, but still haven't sent it. He's like, Yeah, we gotta prepare it. So, you know, cross better is like, okay, we'll just wait for you. That was last Monday. So it's been, it's been it's Friday, the next 
[01:13:00] Friday, so it's like a week and a half.  This Monday I, you know, I said, Hey, hey buddy, it's been a week. Did you get that together buddy? It's been a week. You know, I got a lot of stuff to do and I kind of wanna get this moving to the next, Oh yeah, it's ready, but I think it's a little bit high. So I'm negotiating it down for you on your behalf.
[01:13:30] And you know, I said I do appreciate that. If there's any way you could accelerate that process, I would appreciate it greatly. Very much. It would be very much appreciated. Oh, if you want it faster, I can just send this one as higher. I'm just trying to do you a favor and get it lower, and I say, Yeah, I could wait a little bit more. Yes, 
[01:14:00] thank you. Still never got the invoice. We're we're doing some Friday shows going out next Tuesday, Wednesday, a couple days ago. I, I had him up. I said, How about, how about a call buddy? Let's just do a call. You know, we're, this relationship is very, very much on, on ice , but all right, let's do a call. Did he agree though?  Yeah, no. He says, Let's 
[01:14:30] hop on a call. We did a call on WhatsApp and he's walking the dog, his dog, you know, it's, I've tried to get better. I took a week at Temple last year, and maybe it's a year end or again, some stressful situations, but I've gotten better. So I'm trying to not, you know, I'm trying to keep it professional and he's just explaining how hard it is to get people, good people in 
[01:15:00] la there's a labor shortage.  It's a lot of stress. I say. I understand. I just wish you could communicate to me more maybe about these delays and you know, let me know if I, I just not hearing anything is one of the, one of the least helpful things. Right. So we're talking and that's when he told me so about the invoice, I said, Oh, so how much, Yeah, the team 
[01:15:30] calculated it to be $20,000 and I think that's a little excessive and so I reviewed it.  And you know, we're also friends and I can't make too many special accommodations because I have other partners in the business, but I could get it down to 13 or 14,000.  And I just paused, man. I'm on WhatsApp, you know, my phone sitting on a, sitting on a chair in this 
[01:16:00] room here. I don't even think I said anything for like a few seconds. I don't even, No, I said I, I don't got, I don't got 13. I think I said I don't $13,000 to, to send you. I also got an invoice of for overage charges of $10,500 for three weeks.  The container was sitting there. He's like, Oh yeah, that one's bullshit. You don't need to pay that one. Okay. 
[01:16:30] He's like I helped you with that one cuz I delayed the first container so that we can get all the products so you don't have to pay them and just don't pay them. That's what he said about that overage charge from that logistics, which is actually also a friend that's very upset at me right now and says I have until this Monday to give him a plan of how I'm paying that or else I don't know or else, but you know, so yeah.  And cross better's trying their best to help me 
[01:17:00] finish the product. There's about 30% of two containers still at this warehouse. 70 percent's at cross betters, well not 70, but there's some at Amazon, three shipping shipments. There's like, but there's some of, some of what we think are, some of the best products are still, we think at the old warehouse, but we don't know because there, you know, it's a lot of products. You can imagine it's two containers. And so we actually asked Cross Better to pay extra fees for 
[01:17:30] them to break up all the boxes and count everything. They're counting everything for us right now, fees, so they can tell us the inventory of what they have versus what we think they have versus what we think that Warehouse has versus what we think Amazon has.  Okay. That's what's happening since yesterday. And back to the phone call, I said, I kind of think like that seems like a lot. He's like, LA is expensive, you know, labor. 
[01:18:00] I'm like, Yeah. I mean, I mean, I can understand that there's high labor and shortages, but I still think that's excessive. He's like, Okay, get me some quotes.Show me other companies costs and then we can talk next. So that was like Wednesday, Thursday we had him counting at the new warehouse. , and I've been asking around friends, I even asked Cross better, Do you know how much cross better charges for 
[01:18:30] that service? How much is that? So the fees are receiving the product like the container and it's floor loaded.  It's not palletized. I don't know if you understand what I mean. It's like stacked up in a container. It's not on a pallet. Do you know what a pallet is? I think. Okay, gotcha. I, So it's hard. It's more difficult because palletized means they can take a forklift and go, you know, pick it up, take it off the truck. Yeah. But these, you have to take off and palletize or take off and move. Got it. So it's a little bit more work to 
[01:19:00] do a floor loaded container than a palletized container. But a floor loaded container means you can fit more product because pallets take up space. Do you understand the difference? I'm just saying I agree. Yeah, I agree on that. But it costs more to unload it because it's more manual on the receiving. I agree. So the receiving, the, the fees cross better told me to receive on their LA warehouse. Well 40 foot container floor loaded is $600. $600 times two 
[01:19:30] containers is $1,200. And that's compared to the 20,000 that we are talking about. Just so I look out, as far as I can understand, that is the diff that is a similar, same or very close service. He says the new, the old warehouse says they also organized it and you know, move, put it into a space in the warehouse and there's like a month that it was there or whatever. So maybe there's some storage costs I haven't seen in, He's actually never 
[01:20:00] still sent me the invoice. I still haven't seen the invoice until now. So, and I asked another company and they are a little bit more, but they charge $750 for a floor lo floor loaded 40 foot container. And I'm trying to get some other quotes, but actually this is Wendy's idea was to bring us up on this show. And maybe we can even hear from others how much they pay. Maybe you can, we can crowdsource this so maybe others in the community can can let us know 
[01:20:30] how much they pay wherever. But you know, it's true. West Coast US is more expensive than East Coast US I think faith, you understand, right? West Coast is like LA mostly Los Angeles, California. East Coast is like New York, Florida, you know, like New Jersey, Pennsylvania. But the problem with East Coast from Asia, I think you all understand the map is this farther. You gotta go through the Panama Canal. Yeah. You 
[01:21:00] know, and then up into New York or maybe Florida. So you're paying more for the ocean shipping, but your labor is lower for them to do these things. So anyways, I'm, I'm kind of still you know, I don't wanna ramble, but I wanna make sure I cover it. So, right now I got a logistics company angry at me about a $10,500 overage charges for the drop fees of $750 to leave the container, plus a daily rate. And I 
[01:21:30] have a, a friend trying to still remain friend with a $20,000 or a friend discount of 13 or $14,000 discount I mean total price, not discount friend rate compared to a 1,500, $2,000 normal rate that I can get in the market. And and 30% of the products from our launch is still in the old warehouse. And an upset partner, 
[01:22:00] shareholder factory owner that I've got a good relationship with, upset, canceling, sending more products That's kind of what I've been dealing with Faith. So that's the story. It's a big one. It's a big one. There's a lot going on, but I mean, I'm very happy that I just mark stepping in at this point and being of help with Cross Better and, you know, compared again, what's, what's really stuck in my head comparing the price point, right. It's too much, right? 
[01:22:30] And like, yeah, so I haven't, I haven't presented it to, well, no, I did send him a couple WhatsApps in text form, but tomorrow I think, you know, faith, I'm, I think you're a workaholic too. That's why you're awesome. But I'm gonna work this weekend, as always, at least mornings. So I'm gonna write up a blog post for this called global information.com/logistics nightmare. And I'm gonna write this whole thing out for everyone. I'm gonna blur out sensitive information. I'm gonna show prices and I'm gonna talk about
[01:23:00] the process. And then and then maybe I'll send him a blog, but maybe I won't, maybe I'll just send him a, but I'm gonna send him a little bit more organized. But I sent him in text format that I'm getting quotes about 600 to $800 per container for the, that service. Okay. So he hasn't replied to that, but that was like eight hours ago and it was late for him in in la. But but maybe I can negotiate it lower. Maybe he says it's his partners and blah, blah, blah. But maybe if I can show him multiple different 
[01:23:30] logistics companies that have a significantly lower rate that maybe he can start to be able to use that to show his other partners and his company that that's unreasonable amount and that it's also he, because of his delays unloading it. I have, I'm getting chased for $10,500 in overage fees from the logistics company. It's getting bigger and bigger, the amount that you need to pay just because of 
[01:24:00] that certain delay that your ex-partner, like on the logistic side's really hard at this point because there's a lot in your, I mean, in your hands, like you need to take care of and you can't just move forward and just forget about that. There's still a delay, there's still a thing. There's also something you need to pay. It's a pain in the head, honestly. But it's a good thing, you know having here what we have with the cross better. Yeah, cross better has been really helpful so 
[01:24:30] far. And while we are working with them in other ways and, and some of our other community and, and partners are working with them, this has been a really good exercise to to, to get to know them. And they've been really well communicating. Of course I talk to 'em on WeChat. So we have a WeChat group and they've been sending photos and it's like real time communications, of course, emails as well. And you know, I'm also trying to help them learn how to work with international English speaking people. Cause they mostly work with Chinese sellers. 
[01:25:00] So that's one reason they're working with us is to get more exposure and experience working with international sellers. And they were, but I feel like they're really doing well. I mean, the most important, even if your English isn't perfect, if some of 'em are shy to speak English they're joking and WeChat groups about their English, it's not about, it doesn't be perfect English. It's just you're, you're ex you're just sharing the information with the client or the counterparty of what's happening. You know, I, I think 
[01:25:30] that's what I was trying to get out of the, the old warehouse was updates and communications. Cuz if I don't have any, anything I. Yeah. So anyways, we're, we're, Maybe we should wrap this one up, but I mean, maybe I'll have more, if people want curious to read this in text format, I'll, I'll write it from start to finish in a blog format with images at I say dot com slash logistics dash nightmare. And then maybe it'll have a link for you to submit, maybe we'll make it a 
[01:26:00] form. We'll have a couple forms. Also, if you wanna work across better, we'll have a form to work with cross better that will go to them. And maybe you can even ask our help to connect with them on WeChat or other places. And so we'll have a bunch of different resources so people can can submit and we can share. What do you think? Faith? Is that a wrap? I think that's a wrap. We do have a lot of discussions on that area and I, I mean, it's pretty much. I think 
[01:26:30] one half, or I mean one third of it. It's not the full story guys, just to let you know. But as you can see, that is our main issue. But again, we're so happy that this is all going on. Progress. Mark, thank you so much. Also with Cross Better being here to help my results, honestly, a good thing. Because without market we'd have pros. Better. We really don't know. Yeah, we wouldn't, It honestly was kind of worked out in that way. And they, they've 
[01:27:00] noticed that too. So yeah, thanks. Cross better. It's, it's really been great. Our team, like Sally, you know, and Christian been talking to them well and, and being able to also communicate with them without me in the middle, cuz I'm, as you know, my head's gonna explode so I don't have to be in the middle of that conversations and the communication's going well. So it's really great. Thanks, Faith. And everybody for listening. Absolutely, and I hope you really enjoyed the podcast with Mike and with Mark, and there's a lot of things that, I hope that your notes 
[01:27:30] are on labs now. There's a lot in your notes while you should study it to learn, and we'll be waiting for your blog. Okay, Timer, I'll be reading that. Right? Thanks. Thanks All right. Thanks, Faith. All right. We'll see you guys in the next episode. Bye bye for now. Bye. To get more info about running an international business, please visit our website at www.globalfromasia.com. That's www.globalromasia.com. Also, be sure to subscribe to our iTunes feed. Thanks for tuning in.
Podcast: Play in new window | Download
Subscribe: Apple Podcasts | RSS