---
Don and I met in the PRD (South China) community as he was moving from Guangzhou to Shenzhen – and like me – ended up in Thailand. He's still lucky to be in Thailand right now, I'm here in China – and he has been working hard on a new crowdfunding program. We are fortunate to have him share with us today some of the latest tips and insights for those looking to crowdfund in this new "generation" and decade.
Topics Covered in this Episode
Intro Don

The Old Crowdfunding days

On GFA we haven't had a crowdfunding topic for a while – and back in the day we had shows in 2014 to 2016 talking about strategies – what has changed?

Choosing Kickstarter or Indiegogo?

For me, I have heard Indiegogo is more product focused while Kickstarter has moved more into artistic products?

PL Amazon sellers getting into crowdfunding

What are some strategies – many do this "PL" private label – have their own brand – but the game is getting harder now would you say?

Having an existing product line of "normal" products - coming out with a "hot one"

So let's go deeper into this, say I'm selling products well and have a good brand and want to go to the next level – come out with a groundbreaking product.

How groundbreaking should it be?

How unique? I think many sellers want to kind of "spin" a product to get the benefit of a crowdfunding campaign and boost their brand. Possible?

Team and time needed

From a current Amazon and ecommerce seller team, do they have the people in place usually? Or is there new talent and skills one should get to go into crowdfunding?

Setting Goals and expectations

So what is the normal KPI and goal someone should set when launching a crowdfunding campaign. What are the benefits, both tangible and intangible? I know it depends on the product, market, etc – but some ideas?

And your new course

Really excited to hear about your new course. I know you have been working on this for quite some time. Can you share some more. And we have some special investment opportunes for GFAVIP members as well as listeners.
People / Companies / Resources Mentioned in this Episode
Episode Length 53:58
Thanks again, Don, for giving amazing value and for sharing a lot of information in this podcast alone. It was awesome and intense. Hopefully it inspires and motivates our listeners. Don't forget to check out the masterclass that Don will be putting together for our GFA members.
Download Options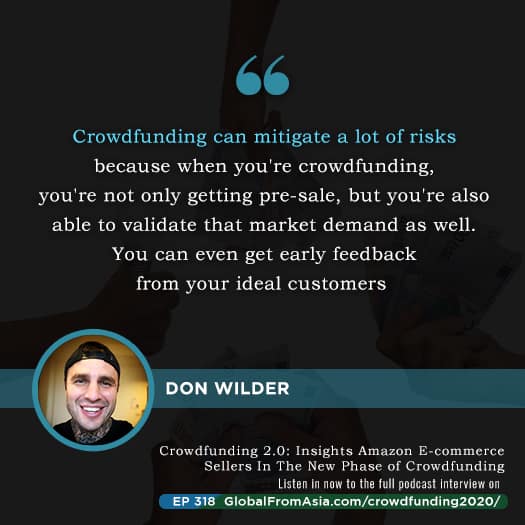 Podcast: Play in new window | Download
Subscribe: Apple Podcasts | Android | RSS