---
Meir is back! So happy to get him on and this is a 2 part series. Getting the right product is a big challenge and project. It is done right off the bat to get started on e-commerce and often is the road block many new sellers face and never overcome.
We have had great discussions already on this e-commerce gladiator podcast series – but there is so much more to talk about. Meir has modules of this in his courses and it could be a whole podcast series in and of itself.
Meir, I can't thank you enough for the inspiration of the Para Living Inc. Full disclosure for the show, he is an advisor and equity partner with 5% equity in our new FBA business. While I blanked during the live TV show recording – I can't thank him enough – in July I was all fired up to push business and life to the next level. At his home with our kids playing together, he suggested why not make a public case study of an FBA business and have the podcast listeners and blog readers apply to be a partner.
That idea sparked me to write a massive blog post inviting people to join and get involved and the birth of Para Living Inc.
Topics Covered in this Episode
How to choose the right product or niche when starting a new e-commerce business?
Choosing the right product is challenging task, every e-com seller knows this stage when looking for products to sell. It is a quest of countless hours of browsing sourcing websites like Alibaba and marketplaces like Amazon or eBay.
In my opinion there are some questions you have to deal with before starting this process.
BUSINESS MODEL

What is your business model? Are you going to be a wholesaler ? Do drop-shipping or develop your private label brand? Personally, I prefer to focus on building brands so this is where I could share my best practices and tips.

Passion or Business Trend? Steady or Up and Coming?

Next questions would be: Should we sell something we have passion about or anything that can make money? Should we sell a new product or a product with track record and stable demand? Should we sell a trendy product or a niche product with long life cycle? In order to answer this question firstly you have to understand that there is no one right answer and it depends on various different factors but the most important is what is right for you.

Factors For Decision Making

Some of the factors to consider are: What is your budget? What are your strength points? Are you a marketer? Operator? Creative/designer? Do you have access to some suppliers or products? What are your intended selling channels?

Ways to Find Product Opportunities

There are many ways to find products, it could be something you need and then look for and develop a niche around this need. It could be through a research on Amazon by browsing categories and best sellers or using tools and it could be a coincidence, it happened to me once, someone gave me a gift that appeared to be a great opportunity.

The Numbers Game & Process

Although the first stage of this process is the product research, choosing a good product is not only a result of thorough research, it is a game of numbers. If you'll launch enough products in your niche you will probably have one or few best sellers. That's why you have to rely on effective process.

Meir's Research Process

This is the order of my research process:
Niche Level Research – This is where i check every aspect of the niche or category, big brands loyalty, niche sales potential, main players, special regulations.
Trend Level Research – What are the hottest trends in this niche and what is evergreen? For example: if my category is men's fashion or accessories and my niche is wallets, a trendy product would be carbon/nfc/rfid card holder.
Brand Level Research – What is selling on the market right now? What is the weaknesses or strength points of the current supply? Reviews? Risk (returns)?
Product Level Research – Costs? Design? Differentiation Potential? Potential Products Line?
People / Companies / Resources Mentioned in this Episode
Show Sponsors
Please show support of our GFA media sponsors as they make this podcast possible to be free!
√ Supercharge your sourcing with Global Sources
Episode Length 33:51
Meir Simhi is back! He is our partner, our inspiration, our advisor for this very series – and we are back getting him on after kicking off the series in episode 1. This time he was on with us the topic of product selection – which he said is the hardest part of e-commerce and right at the start – so we must brave through it.
Tune in next week for part 2!
Download Options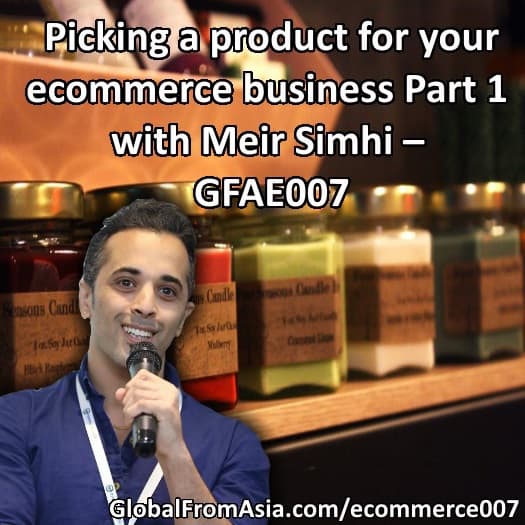 Podcast: Play in new window | Download
Subscribe: Apple Podcasts | Android | RSS