---
We are here in Hangzhou city China today at the Alibaba campus, and sitting with Lorenzo. Dude, you are doing some awesome things and I'm happy to have seen you taking action in business and life. We added him on as a partner in the Amazon FBA business Para Living Inc as we need someone with his hustle and position. Today we are talking to him about the Yiwu market, strategic Hangzhou, and how we are going to make things happen in hyperdrive!
Topics Covered in this Episode
Introduce Lorenzo

Why Hangzhou?

So you have some products you're researching

Pretty well developed and sourced, we decided to add it to the portfolio as a new brand.

What is Yiwu Market

A quick one for those who don't know.

Your trips to Yiwu

Sorry I can't make it with you this trip – I'll be back for sure! So how far is it from Hangzhou here?

Our QC partner Insight Quality is there in Yiwu market

MOQ (Minimum Order Quantities)

So these are factory reps? Or traders? Or a mix of all? What is the order quantity you need to place?

The order flow

So you have been visiting the market, and comparing to Alibaba and Global Sources – how is it going?

Going even on the National Holiday

So China is basically closed next week for National holiday – Oct 1 – 7 – but you're still going to be there and hustling – you say the markets are open. Exciting

So let's do an Yiwu Trip!

Let's make this happen and take a trip. I'll be back for sure. We made a page on the blog at globalfromasia.com/yiwutrip

The long term strategy

We are going to be dominating this market, dominating niches. Already took your brand concept and have been building it out and confirming it – we will share once we have the product ready. But let's take action and keep on adding products.

Making systems

I explained the systems to Lorenzo at a cafe here in Hangzhou, Meir inspired me but I am also using a ton of systems for the GFA podcast and blog as we have so much content and a whole team behind here who is helping to produce this content. Same with products -need to make a system such as a spreadsheet, and google docs, and keep the flow running steady.

Let's do this Lorenzo

I'm excited
People / Companies / Resources Mentioned in this Episode
Show Sponsors
Please show support of our GFA media sponsors as they make this podcast possible to be free!
Episode Length 36:29
Ok, we are pushing this into hyper drive – Roland is back to Europe over the weekend, Cadrian is digging into data and also helping more on the internet marketing side and we have Jack in USA sending some products into Amazon FBA – retail arbitrage style – just to get this rolling. Now Lorenzo is here in the heart of less electronics – more home goods of Zhejiang province and we are switching into fast gear.
It's also been fun hearing from listeners and getting some input and directions on which way we should be going. Some have been noting how democratic of a leader / CEO I am. I just want to let everyone as a partner have their say.
Let's keep pushing forward everyone!
Download Options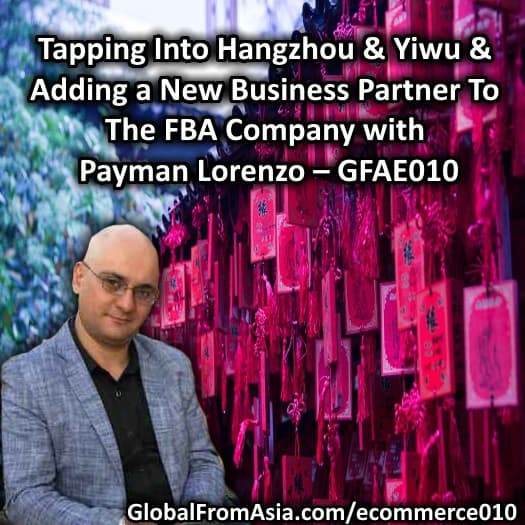 Podcast: Play in new window | Download
Subscribe: Apple Podcasts | Android | RSS