Transportation Options to Cross the Border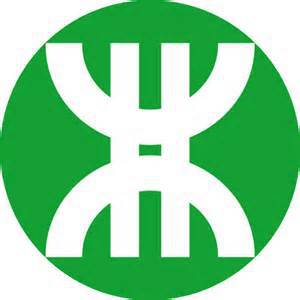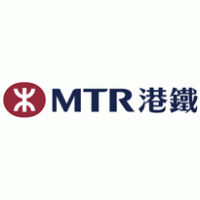 Of course the most convenient and easiest way is the subway system. You don't need to worry about schedules since they run all day.
Hours of Operations: The subways on both sides do not run 24 hours a day. The MTR opens at 6 am and closes at about midnight (depends which lines, but as a general rule of thumb aim for 11 pm to be safe).
Borders that have MTR access: The MTR goes to the Luo Hu (Lo Wu) and Futian borders (Lok Ma Chau) and is on both sides.
Costs of MTR to Downtown Hong Kong: It varies on which stop, but generally about 25 to 35 HKD.
By Bus

There are so many buses it is hard to cover them all here. There isn't a "public city" bus that goes across the border, or even a private bus that crosses the border, but there are tons of buses on the border to choose from.
Coach Buses
These are similar to Greyhound buses in the USA. They are pretty comfortable with newer buses with capacity for about 40 people. They have numbers and signs on them with staff standing in front of the bus ready to collect your ticket. You can buy a ticket only at the ticket booth for they do not accept cash at the bus. For the most part, the majority of buses go to Shenzhen Bay and Huanggang borders as they do not have subway stations. It seems the city planners are trying to even out the clusters of people.
Tip for Shenzhen Bay Buses
You need to buy coach tickets on the China side, they will not let you buy them after crossing the border into Hong Kong.
Popular Departure Spots in Hong Kong for Buses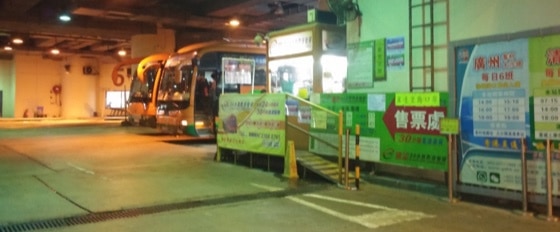 The tricky part with a coach bus is finding the places to get them on the Hong Kong side (it's easy on the China side as you take it from the border). Here are a few common spots I go to catch the coach to Shenzhen:
Wan Chai next to immigration tower. There is a massive bus station in Wan Chai for these cross-border buses. But for the most part these only go to Huanggang. Sometimes they go to Shenzhen Bay, but don't count on it.
Wan Chai CTS (China Travel Service) tour guide station. This is a retail shop outside of Wan Chai MTR exit A4 (take a left and about three shops down) that hasn't been running as often the past year or so. They normally go every hour or so to Shenzhen Bay.
Prince Edward MTR station, exit C2. 363 Portland Street. Go straight one block and you'll see it on the corner to the left.
Jordan, Kowloon – behind the International Scout hotel, 24 hour bus to Huanggang, (Behind hotel on Austin road and Shanghai street)
Kowloon MTR station – There is a bus from the ICC across the bay that will take you to the Shenzhen Bay bridge. Saves you that half-hour taxi ride from Huanggang and back to Shekou once you've crossed. The bus leaves from the "Cross Border Shuttle Bus" station from inside the Elements shopping mall in the bottom of ICC (the tall building at the tip of Kowloon Bay).
Sheung Wan – Macau Ferry Terminal. In the basement of the ferry terminal there is a bus pick-up station in the back by Trans-Island. Buses leave every 30 minutes from 7:30 am to 8 pm. The bus nearby the Macao/Shekou ferry building for 45 hkd in Shueng Wan to Shenzhen Bay. Last bus 8pm
Full Schedule and pick-up stations: Check out the Trans-Island Bus schedule
Cost of a Coach to and from Hong Kong: About 45 to 55 HKD depending on which border and how "deep" into Hong Kong you go.
By Train
There isn't a "train" between Shenzhen and Hong Kong, it is the MTR or subway system, but there is a train to and from Guangzhou, from both Hong Kong and Shenzhen.
From Guangzhou to Luo Hu station: I have taken this a few times to get to the Canton Fair and the US embassy. This leaves very often (I believe every 30 minutes). I can't find a website about it in English, but the rate is about 100 RMB. I will update this post as I go again, or you can leave a comment and I'll update it.
From Guangzhou directly into Hong Kong (Hung Hom MTR station, Kowloon) costs about 200 HKD one way. A very nice, professional train I might add.
By Ferry (Boat)
This is a common one I take: the Shekou Ferry Terminal. It's way out on the western part of Shenzhen in Shekou, so many think it isn't too convenient of a location. But the nice thing about this ferry is you will always get a seat, and the border line is limited to this boat (and maybe a couple others), so the line is never too outrageous. Scroll down to the Shekou Ferry Terminal section for the full details on this one. I don't believe there are other boat options to go across the border, unless you have your own private yacht!
By Helicopter
For the super baller! You can take a helicopter from Shenzhen to Macau for 5800 HKD (or 4600 RMB) and from Hong Kong to Macau for 4100 HKD (or 3700 RMB). I have this one on my bucket list for sure–and I have seen Instagram photos and videos of it from friends. It looks awesome! The Shenzhen location for the helicopter is Shenzhen Bao'an International Airport, and for Hong Kong and Macau it is at their ferry terminals. It takes 15 minutes! Pretty fast, wouldn't you say? And if you fly at night (nice!) it is a bit longer at 25 minutes. photo coming soon…
By Car
There are quite a few ways to get to and from the border by car. Let me outline a few of them here, it can get extremely overwhelming.
By Taxi

Of course you can take a taxi to the border on either side of Shenzhen or Hong Kong. Rates vary, but here are some estimates for some common landmarks:
Shenzhen Bay to Hong Kong Airport: About 300 HKD, which can be split by the passengers, so if there are two people it is the same price as the SkyLimo.
Shenzhen Bay to Shenzhen Airport: About 130 RMB.
Shenzhen Bay to Central: Haven't done this one before, but think about 400 HKD.
Huanggang to Central: About 400 HKD.
LuoHu to Central: About 350-400 HKD.
I will add more as I learn about them, and if you have some, please leave a comment below and I'll continually update it.

Note on Color of Taxis
In Hong Kong green taxis are for outside of the downtown areas, and red is for downtown locations. You will see two lines. Shenzhen also has this policy, but you won't notice it unless you are at the airport.
Update (Oct 27, 2014) My friend Jack Perry just told me you can take a red taxi from Central up to Shenzhen bay border.
By Skylimo

SkyLimo is a term used for an eight-person van (up to seven passengers) that can be picked up either at the Hong Kong airport or at certain Shenzhen borders to take you across the border and to or from the airport. I have taken this multiple times since it is pretty convenient. Just get in the car outside of a border in China and you get dropped off directly at the Hong Kong airport. Costs 150 RMB and runs from 7 am to midnight every day. The Hong Kong airport has a page about these services that you can check out for the latest information on it.
Update: I took the Skylimo from Huanggang border to the Hong Kong airport and the cost was 120 Chinese Yuan. So seems a bit cheaper from here than Shenzhen Bay. After crossing the China side of the border, it took about 1 hour to drive through HK border and then to the Hong Kong airport.
By Cross Border Car Service
Want to support our blog and updating of this HK border post!? Then please consider using across border car service we cooperate with. We have a  strategic alliance with a cross border car service – check out the car service here.
By Easiway
Easiway, created by Easi6 Limited, is an app that allows users to
1) book professional chauffeur-driven six-person rides traveling in Hong Kong and Guangdong area and
2) book tickets to hop on shuttle (or coach) buses and vans running on 24 lines linking Hong Kong and Shenzhen.
You can either travel door-to-door on your schedule stress-free or save a seat on the shuttles in advance. The buses may be full, especially during rush hours, and you have to wait for the next one. The app and its CS team supports English so you don't need to worry about not being fluent in Chinese.
By Uber
Does Uber offer cross-border service? I believe that they are seriously considering it but don't believe it is online yet. Uber, for those who don't know, is a startup that allows you to order private taxis from a mobile app. I have been taking Uber more and more and it is on both sides of the border in Shenzhen and Hong Kong. Some of us think it is a life saver on the China side when the taxi line is too long, but you should speak Chinese enough to communicate to the driver your exact location (the mobile app's map is off in China), but it can really help you out when you're stranded.
Important Note: You need to make sure your phone number on your Uber account is active (turned on) as the driver will call you to find you. My friends and I have sometimes been in the middle of switching phones and can't figure out why the driver isn't calling.
By Limo or Luxury Car
I have taken a Mercedes from Shenzhen to Hong Kong airport on a business trip–that was pretty high class! I wasn't the one paying and don't have experience ordering, but a simple Google search and there are plenty of these services for those with the budget. For example, I found Hong Kong Limo Service with tons of options for various luxury cars to take you to and from Hong Kong and Mainland China. Travel in style, but I think it would be at least a couple hundred US dollars to take any style of their cars across the border.
By Illegal Cars (Unlicensed Taxis)
I am about 95% certain you will be solicited by an illegal driver at almost all of these borders upon exiting on the Shenzhen side. While many will say it is dangerous to take an unlicensed taxi but sometimes the taxi line is hours long. I would say you need to be very careful if you are going to take an unauthorized car. Also you should know how much the normal taxi fare would be as they will almost always charge you more than the normal rate.
By Bike
Last, but not least, you can take your bike! I have personally taken my bike across the Shenzhen Bay border and then put it onto the B2P public transit bus and then rode it around in the New Territories. There are quite a few people taking group bike trips either on the Shenzhen or Hong Kong side, and I am certain they take it across the border. The bike I took was a foldable bike, so need to check on a full-sized bike. Subways in Shenzhen allow folding bikes, but I have taken a full-sized bike down into the subway once and was chased down by security. After some discussion, they did allow me to take it onto the subway as long as I took off the front wheel. Luckily it was a quick release front wheel so it wasn't too big of a problem. But you may not be able to do this.
By E-Bike

I have been taking this more often lately as the taxi lines have been extremely long. There are private e-bike entrepreneurs who will let you hop on the back of their bike for a fare. Again, like illegal taxis, these are not authorized or licensed drivers, so use at your own risk. I took one a week ago and a police officer at the Shenzhen Bay border approached us and scared him a bit but let us go anyway. The rate should be cheaper than a taxi, but normally they know you have limited choices as they can also see the long taxi line. Rate is about the same as a taxi (again, it's best if you know the normal taxi fare when bargaining).
Join Our Border Crossing Wechat Group
Heading to China? Then you probably will download and use Wechat app! We recommend you add us (globalfromasia) and then tell us that you want to join our Wechat group, all about border crossing, for real time help! Scan the QR code to add us.