Looking for a hotel at the Hong Kong airport?
Don't want to take a taxi and get lost looking for a hotel in the city?
If you were like me – you had a 26 hour layover and wanted to get some quality sleep while also not having to be bothered with taking trains, taxis, buses, or many of the other AMAZING transportation options in Hong Kong.
You just want to walk to the hotel straight from the HK airport.
And that is what I did on this 26 hour layover, I stayed at the Hong Kong Regal Airport Hotel – directly connected to HKIA.
Watch As Video
Please note – there are 5 Regal hotels in Hong Kong – if you are looking for the one in the airport- make sure you specify when booking online.
Reaching the Regal Airport Hotel from Arrival Hall

Now, there is a booth / station with other hotel options in the arrival hall of the Hong Kong airport. You can approach them and ask how to get to the airport one – that is actually how I learned there were 5 hotels in HK under the Regal brand.
They were very nice and handed me this map to walk to the airport hotel: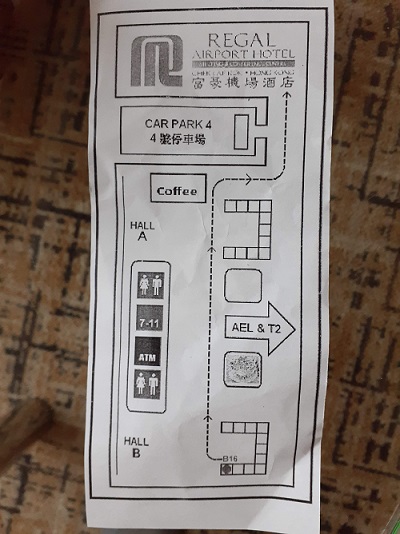 Keep In Mind – You Need To Go Through Customs
The hotel is outside of the restricted airport area. This means you need to leave the checked-in area and go to the arrivals hall to go in the hotel.
I did this, and simply re-entered the airport for my connecting flight (26 hour layover is plenty of time to leave customs and re-enter – especially when you are 5 minute walk from the airport!)
Well Laid Out Rooms
I had an executive suite – with an amazing view of the airport and the bay and mountains.
Not much more you can ask for
Indoor and Outdoor Pool / Spa
Once I checked in, I headed on over to the third floor for the pool. Ask when you book your room if it is included in your room charge or not – they needed to check my room to see if I had it or not (luckily I did).
There is a sauna inside as well, full lockers to hold your gear while you take a dip in the pool. There are also "air jets" to give you a mini massage on the pool as well as a hot spa area on the indoor pool.
Much needed after a long flight.
Breakfast Area
What hotel would be complete without a breakfast. It is also served late – up at 6:30am and until 11:00am you should have plenty of time to grab a bite to eat – jet lagged or not.
And An Easy Trip Back to the Airport
I'm not sure about you – but I always get nervous when I have an upcoming flight. Not that of safety, just that fear that I am late, or I have the wrong flight information (sadly I have to admit I have mixed up dates before), or other issues and delays getting to the airport on time.
This is the biggest bonus for staying at the Regal HK Airport hotel – you can simply walk – without even going outside – from the hotel to the airport, and ensure you have everything you need with you.
Enjoy Your Layover in Hong Kong, Reduce Stress
Sure, there are other options with a longer layover in Hong Kong International airport – you can curl up at an airport lounge, find a comfy chair in the waiting areas, or take an Airport Express train or taxi to nearby hotels.
If you want a hassle free, and full service hotel with all the frills – The Regal Hotel at HK airport will fit the bill.
The History of Regal Airport Hotel Hong Kong
About The Regal Airport Hotel
Fun facts I learned about the airport hotel in a meeting with the marketing department, July 2019
1170 rooms. Much more than typical hotels in Hong Kong that have 400 – 600 rooms.
Typical guests stay on an average of 1.2 – 1.3 nights (basically 1 night only) – as they are traveling in and out of Hong Kong airport and only need 1 to 2 nights.
Typical guest is a transit guest (for layovers) or those staying overnight due to a late night flight or early morning flight and don't want to rush to the airport.
Also a lot of guests are there for trade shows (Global Sources Show, etc) at the Asia World Expo. Busier time is September, October, November.
Also guests often travel to nearby tourist attractions such as:
Disney (20 minutes away)
Big Buddha
Old Fishing Villages
Cable Car
This year, 2019, is the 20th anniversary of this hotel.
The original "airport hotel of Regal" was at the old HK airport at Kai Tai airport. The airport flew very close to the ground and buildings could only be 12 stories high max.
About the Regal Airport Network
There are 25 hotels in Hong, China and overseas including those upcoming hotels. Hong Kong has 12 hotels including Regal Airport Hotel Hong Kong and their new one upcoming hotel Regala Skycity Hotel Hong Kong (2020)
Xi'An China also has a Regal airport hotel.
They discuss that the big difference from other hotels is the size of rooms and the frequency of guests staying.
Another big reason for more guests to the airport hotel is the new Zhuhai Bridge that is connecting Macau, Hong Kong, and Zhuhai, China – the Greater Bay area will make the HK airport and this hotel even busier.
Those who want to go downtown can do so with a 24 minute Airport express train, but those who want to stay near the airport and relax with a quiet place to sleep can stay at this Regal HK airport hotel.
Amenities
The third floor of the hotel is full of things to do.
Spa, over 20 spa rooms and suites
2 Spa Duplex Suites, 3 Spa Suites, 5 Spa Cabana Rooms, 11 Spa Deluxe Rooms
individual spa rooms some with private balcony
indoor and outdoor pool
fitness room with all sorts of machines
Restaurants
There are 6 restaurants –
* All day buffet / cafe.
* 2 Chinese restaurants – 1 cantonese (dim sum and Chinese tea) and 1 Shanghai restaurant
Also Has Business Conference Rooms
A Grand Ballroom , pillar free, for business meetings.
A conference area for up to 1500 people sitting in theater style
80 tables for a meeting, dinner, or wedding.
High-definition LED wall (9m X 4m) for the built-in stage, and 270-degree 3D Projection Mapping Technology to adjust the atmosphere.
Executive Lounge to watch the planes landing
A fun place to watch planes land.
There are many flights land in the airport and the lounge welcome many VIPs and celebrities
A fun flight simulator "game"
And of course enjoy food and drink in the executive lounge
Also a center for the 70,000 employees of this airport hub island.
New Regal Hotel – Regala Skycity Hotel
Regala Skycity Hotel (2020): Scheduled to open in 2020, this large-scale international Hotel is situated in SKYCITY of Chek Lap Kok, a short stroll away from Hong Kong International Airport.
The Hotel provides 1,210 guestrooms and suites supplemented by state-of-the-art ancillary facilities.
The Hotel is also close to several major transportation infrastructure in Lantau Island, such as Hong Kong-Zhuhai-Macao Bridge, Tuen Mun-Chek Lap Kok Link and the Three-Runway System, offering great business potential derived from its impeccable strategic location.