As the banks get more and more challenging in Hong Kong, many people are making sure that they have a good standing at their current banks. Treasure these relationships. But what should someone do at their business to ensure their bank account stays in good standing? Today we'll cover some tips for keeping your HSBC HK bank account, and any business bank account globally, in good standing.
Good Standing, Why?
Some of you may wonder why you even need to read this. You have your business bank account already opened, why would there be a problem?
Well, just appreciate you haven't received a letter like below: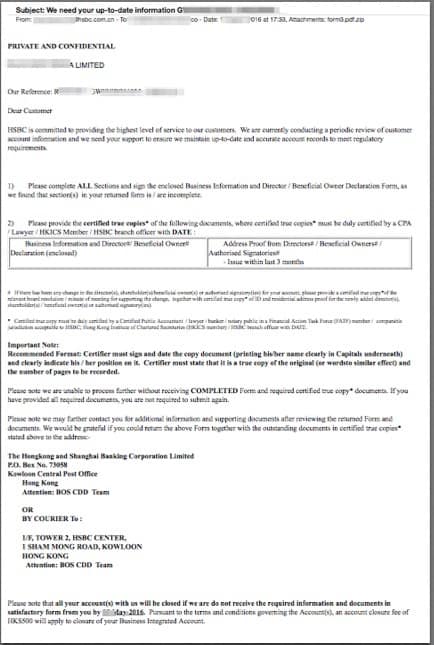 This is a HSBC letter inquiring for more information about the client. They are asking, basically, to re-verify the account and ensure this business and its directors are "legitimate" in the eyes of the bank.
If you receive this letter, you have a few months to prepare it – but don't wait until the last minute. Take this bank letter with the utmost importance and complete all steps and collect all items they are asking for.
Didn't get this letter? Count your blessing, but also read these tips on how to avoid getting one.
Don't Pay Suppliers in Risky Locations

While your bank account works for sending money around the world, you should use it with caution. Don't send money to restricted countries as it could raise flags.
Yes, this person or business may be completely legitimate. But the banks are freaking out right now as the regulators are breathing down their necks. If you're sending money to high risk countries, and the bankers or regulators start running reports in the backend on who is sending money there – you may get a red flag and a letter.
Keep invoices and proof of the business transaction for every transaction. While banks currently aren't asking for this, if ever an issue arises you want to immediately show them the proof of the transaction.
Again, you're probably resisting this and saying its your business and you can send your money where you want. Well, life isn't like that anymore. Banks and regulators may interpret some of your activity as suspicious and it can turn into a can of worms.
If you need to send money to high risk locations, consider using Western Union or Money Gram or Bitcoin. Try to keep it separate from your business account.
Keep a Healthy Balance

The minimum to avoid a monthly fee at HSBC HK is currently 50,000 Hong Kong dollars (about $6,500 USD). The fee is 200 HKD a month ($25 USD) if you don't maintain this balance. Sure, you may simply not have the funds in your business to keep this minimum deposit, I understand the entrepreneur hustle.
But if you are below this minimum, you are not in the bank's best interests. Sure, they get the 25 bucks a month fee from you, but you're still considered small potatoes. Banks see clients now as risk on their books. Sure, money is good. But you are also a liability. If you start sending money to illegal organizations or selling questionable goods, watch out! Regulators have made it clear that the banks are also responsible and financially responsible. Therefore, if the banks run reports for which clients are holding low balances, they may start to get picky and decide to simply close certain accounts.
Over the past few years, my various HSBC reps have told me about the thousands of letters sent out. These go to account holders who are not active with their account and hold smaller balances.
Using "Money Making" Banking Products like Letters of Credit (LC)

So the banks currently don't make much money from small business clients. There is the:
Bank account opening fee
The monthly fee (25 usd a month if less than $6500 balance)
The bank wire fees (TT) of about 13 bucks per transaction for international. 7 bucks if within HK. And free if HSBC to HSBC
The petty small "carry" they make on the balance of funds in your account (interest rates are at a record low)
So you should try to understand banks aren't making much. If you talk to your HSBC rep, many times they will ask if you're doing a product based business, import and export, why not use their LC (letters of credit) products.
This is another way of paying your suppliers instead of a TT (telegraphic transfer) and the bank makes more money on it. I won't get into the technicalities of how a letter of credit works in this guide post, but basically for the purpose of "keeping your account" in good standing with the bank. Think about it, if you're giving the bank more fees, then they are happier.
You may want to talk to your HSBC rep about this if you're buying from suppliers and open to trying different ways to pay them.
Get Life Insurance

This one you'll laugh, but it is true. HSBC makes a lot of money from its insurance products. There are a few different ones, but the main one they will sell you is life insurance. I have gotten a few policies now, so the bank probably loves me, as well as the commission paid out to my HSBC reps.
The insurance products have changed a bit over the years, some are 5 year, some are 25 year. Monthly premium payment option or yearly. In USD, HKD, or others.
While you may think this is a waste of money, you will get the amount you put in back after a certain time without a penalty. You have a 30 day "Cooling off period" after you signup in case the sales rep pushed you too hard.
While of course the bank would deny this is a factor in your account opening or your account's long term standing. I would have to say that they have to look at this "money making product" as a positive sign when running reports on their client's account statuses.
Keep Your Transactions Business to Business
Here's one that you may not be following too closely. Make your business bank account payments go to other business accounts. Yes, a lot of us may have contractors in other countries and pay them with our HSBC HK account and it has been working.
At the minimum, still collect invoices from these contractors and use that as an instruction to make the bank transfer. While the banks aren't requiring that now for payments, it is still good practice to have paperwork matching each transaction you make in your bank. That's for your bookkeeping and audit purposes too. I have a feeling that soon enough we'll need to upload a invoice document to HSBC online banking when making a payment. The banker may verify the receiver and the reasoning before releasing the payment.
Make Sure Your Contact Details Are up To Date

While many of us are "Digital nomads" living out of a backpack and working on a laptop in a different coffee shop each day – banks don't like that. They like a stable address in a respectable part of the world. When you open your account, you should have had a stable address that shouldn't need to be updated too much.
But if you update your contact information, keep it in the "First world". Yes, I know a ton of you are living in Thailand, sipping coconuts on the beach doing your Amazon FBA business domination. But banks are conservative. Now more than ever fearful regulators are going to audit their clients accounts and blame the banks for not doing proper KYC (know your customer) and slam them with huge fines for these violations.
So help the banks out. Keep your address at a first world location. And keep it current. Maybe you keep e-statements for everything and you don't think it matters. Well, if they ever do need to mail you a letter and it bounces back to them – that will raise a red flag for sure. Who knows what they'll do if they can't reach you.
I guess if they can't reach you, they will freeze your account. Then you'll suddenly wonder why your ATM card isn't working and give them a ring. That will be a horrible phone call and I can online imagine your feeling when they say your account has been terminated and you need to come to Hong Kong to claim your funds.
Where Your Funds Are Coming From (Source of Funds)

Just like where you are sending money, where you get your money is also being scrutinized more and more. Have clients in high risk countries paying you large sums of money.
While you may chuckle when you think of the Russian mafia deal in a warehouse wiring you a big chunk of money – it isn't a laughing matter. Banks are now under more scrutiny than ever, and if regulators feel banks are "Being too easy" on transactions that should be higher risk – you are going to be out of luck.
So while you may say you're getting paid for marketing services from a Slovakian ball bearing distributor for English Google Adwords enhancement, the bank may get nervous when a large amount is deposited to your account.
Frequency and Size of Transactions

Again, it's all about the activity in the account. Is anything suspicious.
What is suspicious?
Maybe a million dollar transaction out of nowhere. While that may not be a lot to the bank in the grand scheme of things – but if it happens when your normal orders are in the ten to twenty thousand dollar size – it could raise a flag.
So what to do if it is a legitimate translation?
You may want to ask the banker in advance, and I've tried to help with this. But the banker said you can't really alert them of a large incoming or outgoing transfer.
So really, you may need to be ready for questions from the bank. It could get stuck in the activity log on online banking, and you'll have to go to a bank branch and explain the transaction. This is where you'll show the invoice, explain who the person is you're sending / receiving money to, and other questions on the financial transaction.
Keep About Your Normal Business – Keep Proper Paperwork


Hope this guide doesn't freak you out too much. The main point is to do "legitimate business" and keep proper records in case questions come up.
Keep your business in good standing too. Do and pay your audit on time, keep your BRC (business registration certificate) paid up to the current year. These government filings also may get reported back to the bank. They are also checking who is the current directors, what changes have happened at the company, and other items.
Your bank account also has an area to report what business industry you're in. While right now, many people do all sorts of businesses in their company. I fear that in the future as banks tighten up. They may scrutinize the transactions and wonder why you're doing service based business when you report to them you're in import and export.
Be prepared, and keep things above board.
How about you? Any letters from HSBC HK or other banks? Did you keep your account open, or was it shut down? Other tips – please let us know.
And if you're too shy to leave a public comment here – we have a private forum where you can share in a safe and private community of other Asia based business owners.
Best of luck to all!