---
This week's guest on the show is going to be a speaker at the Cross Border Summit – Mike Hartman.
He's an American, living in Romania and taps into all the technical talents in the community there and is scaling tens of thousands of products on Amazon and on Shopify. He talks about how to make money, maximize profits, diversify and gives some of his insights…quite a bunch of amazing value including software tools, tactics and strategies, which a lot of us probably never even thought of. Let's tune in.
Topics Covered in this Episode
Introduce Mike Hartman

American in Romania building Amazon FBA and POD shopify sites and brands.

Using Amazon As a Safety Net

Starting his growth on Amazon, but also expanding on Shopify/ third party shopping carts. 2 Seven figure shopify stores

Balancing Diversification and Shiny Object Syndrome

How Mike has balanced going multi channel but also focusing for sales and profit.

Last year, 10,000 SKUs

This year, 30,000 SKUs. The journey.

Originally managing a BSR 7 Product

But now feels better sleeping at night with 40,000 SKU instead of big hit products and using FBM

Development in Romania

Having programmers help automate and build systems to reduce human error.

Groups products

How to find the right mix of products, categories, advertising kits.

Tools used, API, data trusting

Zontools, Century Kit, Bind Wise, Black Box, Helium10 and various tools being used.

Apple Launch Season

Finding Niches, the thought process of trends, deciding to jump into accessories, DJI Mavi, etc

Render Rig

His team rarely touches product, 12,000 custom images in 4 days (6 images per product, 2000 listings). Remapping of flat files and category balancing and negotiation with Amazon.

Market changes and Trump's Tweet on Vape

Marks being changed, vape accessories dead, summer being rocked, and what is the future.

His speech at Cross Border Summit

What he will be talking about and how to connect with him.

Connecting with Mike Hartman

How to find him online and what to expect in the future.
People / Companies / Resources Mentioned in this Episode
Episode Length 40:36
Thanks so much for coming to the show Mike and sharing your insights with those who are making it and of course you have a full talk and share at the upcoming Cross Border Summit. Thanks Buddy and see you in a couple of weeks!
Download Options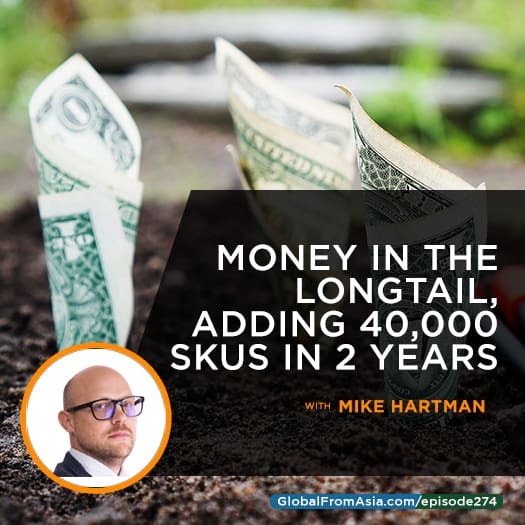 Podcast: Play in new window | Download
Subscribe: Apple Podcasts | Android | RSS