---
This week, episode 181 of the GFA podcast. Moving back to America after life and career in Asia. Travis Darrow has a ton of experience in Asia and I connected with him so many years ago when Twitter and Foursquare were the coolest social media platforms (yes, that was a long time ago!) Travis has been back to America a couple years now and we got him on the show to share how it feels to go through the reverse culture shock. I'm wondering if this day will happen to me, or I'll be in Asia until the day I die. I selfishly asked some questions I am curious to know myself, but also feel other listeners considering a move like this would want to know as well.
But first – we got another review on iTunes! Let's read it off:
Must Listen to Podcast for Doing Business in China — 5 stars
– by Lawster101 from New Zealand on Jun 2, 2017
If you looking to do business in China or move to China this is the one podcast you need to listen to. Having been there for over 10 years Mike interviews a variety of guests from importing, exporting, hiring Chinese employees, Amazon FBA, cross border payments and setting up Hong Kong companies for tax advantages. This is your go to weekly digest in doing business in asia.
Thank you lawster, from what the Apple Gods tell us, iTunes reviews are a great way to help the show be found more in the podcast app, so taking a little time to go to ratings and reviews on your itunes app in your computer helps me out a lot, so thanks in advance.
Also we are having a ton of events – this past Thursday we had a GFA meetup in Shenzhen, China – one this Thursday in Saigon, Vietnam – and in July one in HK and SZ and other cities in the works – even Shanghai in September and Miami Florida in talks for November – check them out at globalfromasia.com/events
Ok, now, let's tune in to this week's interview – Travis sharing on reverse culture shock of moving back to the states after years in Asia!
Topics Covered in this Episode
Intro Travis

How did you first get to Asia?

What was your plan going into it?

Short term / mid term / long term? Did you prepare for your return to America from the beginning? Many people, myself included, say we'll just come for a few months to get business sorted then go back to our home country or another country. What was your idea?

Deciding to Return to USA

What were the motivations on doing so?

Preparing to go back

What did you setup to get it moving back – how much time did you give it – what was the evolution

What's the conversation like

So, at least for me, a lot of times I'm afraid to move back because I don't want to be seen as a failure. Like I couldn't make it here so had to go back to America. How did you explain this to your family, friends, colleagues

How has it been being back?

What was it like – at first – and over the last 2 years has perspective or feeling changed?

Plan to come back to Asia?

What's your goal – will I see you back at Lao Beijing Restaurant in Shenzhen anytime soon?

Costs - dollar for dollar

How is real estate and education in USA and China and other parts of Asia?

Tips for others considering returning back home

What is the thought process, or some tips you can think of that listeners should think about – or me even.

Connecting with Travis

How can people reach you
People / Companies / Resources Mentioned in this Episode
Episode Length 32:25
Thank you Travis! I know that have been a bit emotional to share so I appreciate it.
Next week we have Amazon Europe – germany to be specific – up next! Also some time for our GFAVIP members to interact live with guests – to learn more about our private membership, check out gfavip.com – cheers and see you next week
Download Options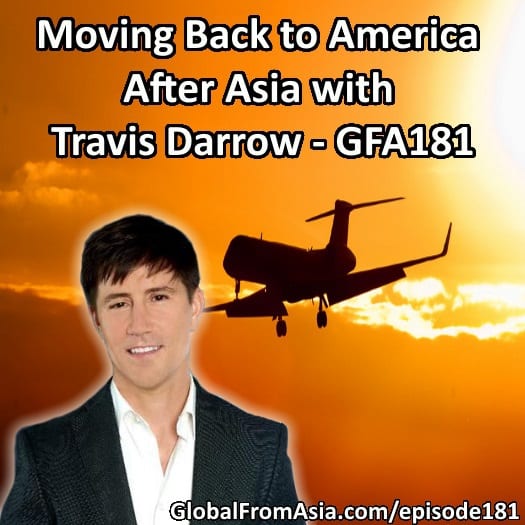 Podcast: Play in new window | Download
Subscribe: Apple Podcasts | Android | RSS