Podcast: Play in new window | Download
Subscribe: Apple Podcasts | Android | RSS
Love accounting and invoices and paperwork? Dealing with expensing and receipts for your business, in or outside of Hong Kong – welcome to Global From Asia episode 83
Hope everyone had a great May day holiday, and welcome to Global From Asia episode number 83 – for those not familiar – May 1st is a public holiday in China – the Chinese national labor day. The pool finally opened in my apartment complex, may have to take a swim in there when it is jammed full of kids, though if i keep waiting for that day it may never come!
So today's show we're going to be talking about dealing with receipts and invoices for your business! I know this can sound really dry, but i think it is a bit stressful for business owners to know what they need to do in this situation. I have to give a shout out to Rene – he's a regular listener and supported me by buying my Hong Kong supercharged Guidebook – and in emails he suggested we get Receipt Bank on the show – and introduced me to Michael Wood, the founder of the Receipt Bank company to give us all some tips and tricks on dealing with receipts.
Also, in the show notes I'll include a downloadable PDF of some Hong Kong government websites and clips about the policy of paper or paperless for a Hong Kong Limited company, so check out globalfromasia.com/episode83 for that link
(here's the link)
Get info on HK's policy on paper vs e paper
now onto today's show:
Topics Covered in this Episode
Intro Mike from Receipt Bank
Managing receipts, I cringe when I hear this.
I think I'm not the only one cringing when I hear about receipts, what are your tips to get things under control?
Let's first make some definitions – what is a receipt? I think of a piece of paper I get when I go to a restaurant and pay my bill. How do other type of "papers" fit in such as invoice, purchase order, contracts. As sometimes, at least for my business, there is overlap.
If someone hasn't been too good at keeping up, what do you think is the best way to catchup – not to say I am behind or anything 😉 but maybe some listeners just have stacks of paper receipts and email inbox full of email receipts from domains and hosting packages. Is there any hope of some of us
Our listeners are doing global business – not just USD – this adds additional stress and complexity – what dimensions do you suggest someone add to their workflow.
how often should someone balance their receipts?
For an entrepreneur or SME company, what is a typical workflow for receipt dealings
Is there a way it can be outsourced to a virtual assistant?
What if the paper is lost?
Also I am not sure if you are aware of the Paper storage requirements for receipts in Hong Kong – I see some mentions that they accept digital only – what is your understanding of it
So on a more fun note – Whats the story behind the business how did it get started?
How can people reach out to you
People / Companies / Resources Mentioned in this Episode
Episode Length 31:41
Thanks Michael for coming on the show, I hope that made some more people like me rest easy on taking control of dealing with our business expenses and receipts.
Here is the link for that paper I wrote on Hong Kong's policy on paperless receipts for limited company's:
Get info on HK's policy on paper vs e paper
I really appreciate everyone for tuning in – we have some great shows coming up and I still haven't decided which one to put next week, we have some travel tips when visiting Hong Kong on business, some health and business insurance how tos, Braintree merchant account experiences, Hong Kong founder stories. Just tons of great stuff.
If you have a suggestion for the show, a topic, a style, the way I say my corny jokes – even if they aren't the nicest ones I will listen and I will do my best to improve the show!
Enjoy the rest of your week!
Download Options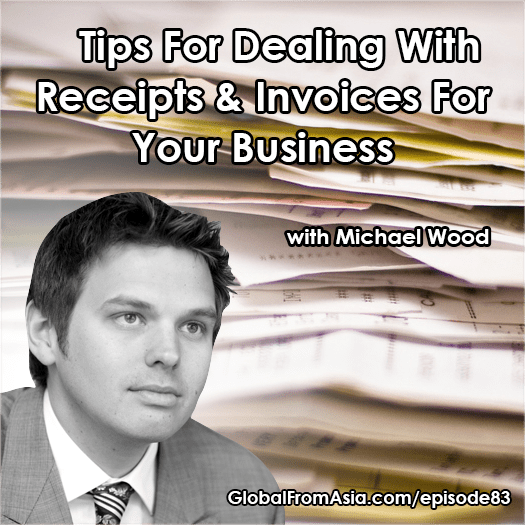 Listen in Youtube: