Michelle Zhou, co-founder of WanBExpress Logistics in Shenzhen, China, I had the pleasure to meet back in 2012 at an eCommerce industry event. At the time she was with Deal Extreme and had just moved back to China after over a decade in the United Kingdom.
Fast forward to today, and she has built up quite an empire. I had the pleasure to re-connect with her and visit her company.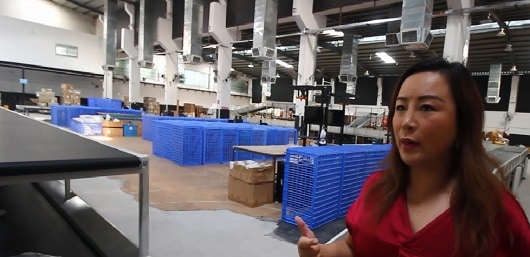 The Journey
But before we talk about the success, let's discuss the journey. While she is doing great in business now, there were hardships along the way. She ventured off on her own at Deal Extreme and started a few ventures. Many of them in this logistics space which she put a lot of time and energy building – unbeknownst to her she had the wrong partners. One business venture had a UK partner who had been giving her pricing higher than he was giving customers! For years she was cooperating with this partner thinking they were equally sharing the profits only to find her cost price was not actually that!
Yet she kept on, as an entrepreneur, we face these kinds of tragic moments but we need to keep moving forward. She partners up with a technical co-founder, Leo, who she had met during her DX days. With his technical knowledge and her business development skills, their joined forces built up WanBExpress.

What Makes It Different From Others?
They are focusing on technology. You can have your goods shipped from various drop ship sources in China to their warehouse in Shenzhen, and they use a smart "belt" system that will sort and combine various destination countries to bundle your shipment with others going to that country. This allows everyone to share in the shipping costs from China to that end destination country, which can then be broken down and split shipped to your end customer.
In addition to technology, it is also speed, with 7 calendar day delivery time to the countries they ship to. You will also receive a tracking number from their logistics company that helps you as the ecommerce seller provide tracking to the end doorstep.
Check out this video tour of WanB's facility and see for yourself how technology plays a vital role in their operations:
The final part I liked, and those who drop ship know – is the ability to relabel the packages. Drop shipping from China you often are at the mercy of the supplier to remove their label and marketing materials – but never can truly confirm if that is the case or not. By shipping to WanB's facility, you can have them package and relabel the goods so that you can rest assured the customer is getting your tailored experience.
Equality In The Workplace
The culture is another thing Michelle focuses on. As many companies, there is the front office sales and technology department in one building and then the warehouse and logistics in another area. But she brings them all together for various company parties. One example is a company party was themed King and Queen, and everyone came dressed up in royal outfits. This wasn't just the front office, but also all of the workers in the packing center.
One part that really got my attention was she provides free housing for the staff. As many have traveled to Shenzhen from their hometown in a province far away, they haven't rented their own living space. While this isn't special only to this logistics company, she did upgrade all the rooms to have air conditioning. One of the facility workers approached her and thanked her. He was working in Shenzhen for decades and said this was the first time his employer had air conditioning in his dormitory.
Treating all people in her company as an equal has helped build morale and create a positive work environment.
Download the WanB Express English Slide Deck
Curious to learn more about their offering – check out the powerpoint (as PDF) here.
Check Them Out
It was a real pleasure to catch up with Michelle after so many years. It is also great to see more female founders in the cross-border e-commerce community and I look forward to seeing her and her business grow.
If you want to know more about WanB Express, do check them out.
Reviews
0

out of

5

based on

0

reviews.
Overall rating: