---
Great to have you back on the show Meir! In our last podcast together, we were just kicking off the first cohort of the Blimp (Brand Licensing Improved) Program and it has been an intense half year.
Time flies when you're having fun! 
So we have a lot to catch the GFA community up on, and today we will recap and share about the opening of the next program and webinar slot.
Topics Covered in this Episode
Introduce Meir

For those who don't know, Meir Simhi is a global e-commerce entrepreneur from Israel, came to China in 2007 (same time as me) and has launched and scaled a long list of brands, softwares, and services. We've been working together on many projects and now he's focused on helping brands and entrepreneurs leverage brands to grow more effectively using his Brand Masters system.

Discuss The First Brand Licensing Improved (BLIMP) Program for Cohort 1

So for the last half year – thank you Meir – for mentoring and overseeing our first group of sellers working with the Excalibur Brothers brand to get them going. How do you think it went?

Sharing about the first listing and experience

It felt great to finally get Francis rolling. Still a lot to do, and we are aligned for growth long term – the ASIN is live, and we can discuss this experience in the interview.

Ways Those in the Program Can Grow

So we really want to continue to see cohort 1 in the program continue to grow – not simply launch. That is the beauty of this program – it is aligned in all interests. We have been giving them more chances and opportunities to grow their listing.

What are Even More Ways Those Who Already Launched can Grow

In cohort 1, there are a few directions these sellers can go. Let's discuss (grow more sales on current ASIN, add new ASIN with the current brand, license under other brands, start their own brand).

Opportunity for Cohort 2 (Why this program Makes even more sense)

Now we are opening up the program for the second cohort. We have a waitlist and have been getting requests from people on how to join – which is exciting. So let's reiterate why we see people joining this program.

The steps they will take to take ACTION

My favorite part is this is not just a training session, but it is a service and it is a result. People come out of this with a business – a seller account, a listing, inventory, and a future growth trajectory. Let's discuss what the track is for cohort 2 (which should be a faster accelerator).

What we will discuss on our webinar

In just a couple days after this podcast goes live, we will have a webinar together again. I enjoyed the one we did last December a lot. Let's discuss what we will talk about.

Thank you Meir

Glad to be your friend and working with you on this program. So much opportunity – it is a huge amount of things we have already accomplished but just the tip of the iceberg – and the Blimp is only just getting up!
People / Companies / Resources Mentioned in this Episode
Episode Length 41:09
Thank you Meir for sharing. It is always a pleasure and thank you for always sharing your strategic insights and business models.
Download Options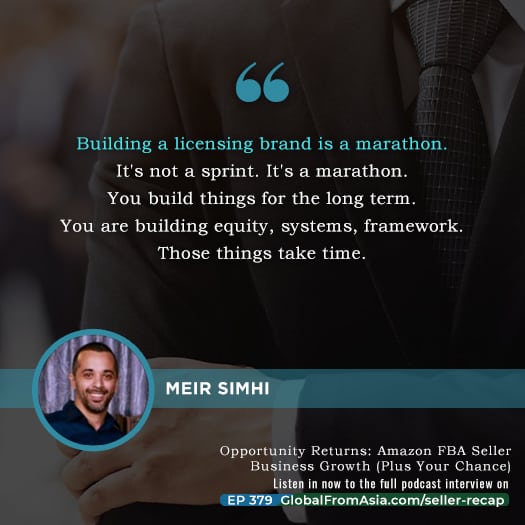 Podcast: Play in new window | Download
Subscribe: Apple Podcasts | RSS