---
We are moving forward! We got that shipment out before Chinese New Year and it really made us get things to get over that hump of sourcing and not selling – to now getting into marketing and sales mode – finally.
We made the shipment before Chinese New Year. Seriously there is a lot of pressure to get shipments out for this massive Chinese holiday, and with battery reports, learning who to use for shipping, Yiwu, Shenzhen, logistics companies, QC companies – we made it happen. Roland pushed through and special thanks for Insight Quality for doing a favor and getting the shipment out on our behalf with their shipping account (they don't usually do logistics service for clients, they focus on sourcing and quality control).
In today's Ecommerce Gladiator, Roland and I discuss the hustle needed to get this shipment out. Its expected to come in end of month and we hope you guys can get involved and help out in various ways too, let's tune in.
Topics Covered in this Episode
Getting that shipment ready before CNY

Always seemed to be some kind of "Catch" but finally it was all prepared and made just in time before the whole country shuts down for Chinese New Year.

Marketing systems

We do have sisitano.com ready and there has been traffic coming from the content. But we need to really get more aggressive on the advertising. Launch strategy – we do want to do it up big, Cadrian is working on the keyword research and PPC, but some can't be done until the stock arrives at Amazon's warehouse Already working on new items and re-orders – even before this shipment has arrived we are preparing for the next order and new products as well, the e-commerce gladiator grind 🙂
People / Companies / Resources Mentioned in this Episode
√ Insight-quality.com
√ Hazmat – hazardous material
√ Msds report
√ sisitano.com
Episode Length 18:46
Thanks Roland – I know a lot of listeners have said we have been taking way too long – but the beginning is always the hardest. And those same people will be begging to get into the company later once it is doing some great revenue numbers with lots of products. This is what separates an entrepreneur from the rest – the struggle at the beginning. This is why I love to call the show the E-commerce gladiator. We are in there with gladiators, and going to come out of it alive and thriving.
Best of luck to all the other ecommerce gladiators listening today as well.
Download Options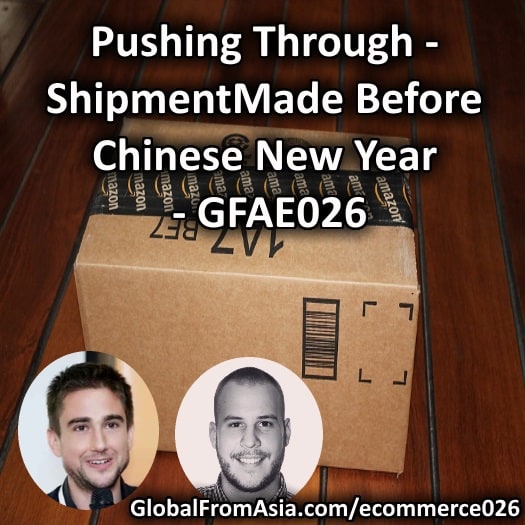 Podcast Transcription
Mike : E-commerce Gladiator episode number 26. And it's every 2 weeks now. We stand to our track of giving updates as to what is happening on business and what we're doing. And we got Roland on the show as always. And he's our trusted partner and COO. He and I have a good conversation, even this podcast helps us keep things in check. So let's get right into it. This is a shorter one. Actually there's been some restructuring. I think we're gonna get a lawyer Edward back on the show, too to give us some insights. While we're learning as a team, I think you guys are also learning. I know I've been getting some great feedback from listeners on the Gladiator Series. We are in the arena. We are keeping you guys up to date as much as possibly can. Thanks again for listening and let's get into it.
Enjoying the Global From Asia podcast. Wanna meet with other listeners, podcast guests, and business experts? Then you're in luck. Every year we have our Annual Cross Border Summit. This year is our Third Annual in Shenzhen, China Cross Border Summit. It's a 2-day conference. Mark your calendars April 20th and 21st of 2018. It's a great time to get together and learn about import and export, Amazon FBA, e-commerce importing into China and global business. So we hope to catch you there www.crossbordersummit.com/2018.
Mike : Alright everybody it's episode 26 of e-commerce gladiator. It's Roland and me, hey Roland how were you doing today?
Roland : Hey everyone, how is it going Mike? I'm excited to be here as always.
Mike : Yeah man, as talking for the show 2 weeks are really flowing by already since our last update. And we are in Chinese New Year as we making release this episode. So you did a great job. We got the shipments at least the one from China.
Roland : Exactly.
Mike : We got it out 'coz basically China's gonna be shut down for now.
Roland : 2 weeks right. Until 25th of February, I'm not sure.
Mike : That's never really exact, some people come back earlier or later. But yeah, it's like a couple of weeks or so.
Roland : I feel like we scream like last week was really busy because of the exact same reason. I mean we had to reach any product that we have done, we have to get it out there. Because if it's not ship by Friday, we're losing another 2 weeks at least. Insight Quality, our quality team help us ship it out as we didn't have time to ship our products down to our logistic service provider. So we just had to go with our quality team, thank you very much Insight Quality for doing that. And another thing is that our other product that is almost ready to be shipped is in Vietnam by our Vietnamese partner. And they're planning to ship at this week as Chinese New Year is in China but they also said that in Vietnam feels the Chinese New Year. People are more relax nowadays. So I hope it's not gonna be a problem to ship it out from Vietnam. So yeah, we'll see.
Mike : Yeah I mean the show goes online Friday, so hopefully by then the shipment's out. But Chinese New Year actually is I think the official day is February 16 as the day goes live on Friday. If you look it up on Google. At least Google said the official day is February 16, 2018. Every year obviously is different. It's based on Lunar Calendar or we follow the Solar Calendar based on the sun not the moon. We did a great job. I know you're really up late, up early hustling. I really appreciate that Roland and we got the battery report in time.
Roland : Oh yeah.
Mike : We talked about that last update. But they get through finally.
Roland : Yeah we found the laboratory inspected our batteries and put an official record out there with all the information that we need for Amazon. It's pretty like certain topics have the hazmat or the dangerous hazard good status on the product once you make a listing. And basically they need 4 days to go through the product, your product and list again and make sure that product is not dangerous. If they think that it is dangerous, they put the hazmat as status on it. Which is like hazardous material. The short version for it. I've been using hazmat probably on standby, it's hazardous material. Things, we had the hazmat status on our battery we had to get the MSDS report which is the Safety Data Sheet for batteries for Amazon to remove it. And it took sometime and it also was expected for us because we're not just prepared I guess. But yeah, we figured it out.
Mike : Yeah I think Meir also mentioned to us to try to avoid electronics, it's also in my previous e-commerce business, I didn't deal much with batteries or electronics because of this, this is one example of it plus, which also think about how long the shelf life of the battery is in the product. Because I think if you leave it in there too long without using it, it expires or will cause a little problem.
Roland : Although since we do FBA, we really don't want to leave that in the warehouse for more than couple of months. We just want to sell it out and give it for reviews and all that. So this shouldn't be an issue right now.
Mike : Yup, which going into, we're switching gears now into marketing and I know we've had some calls talking different marketing people and getting help from people like Zack and other marketing experts. So sisitano.com is the brand for coffee accessories. So this current product is being shipped out for that brand. So we do have some content there. And there's traffic coming and there's email captures. So we can use that but of course seems like worth focusing on social media and of course Amazon PPC.
Roland : Although getting people before starting Amazon PPC works, I just read some articles in forums on this. You will spend a lot more on Amazon PPC if you do not have any reviewers since your target audience is not really set up and your traffic is not provided the same way as if you have at least 5 to 10 reviews already on the product. So we have to have at least 5 to 10 reviews on our product and then to PPC. I mean in order to do to have 5 to 10 reviews on our product, we have to just go and push Facebook and other social media campaigns, you will [blurred] and use the best practices and then do PPC pretty much.
Mike : Okay, make sense. Yeah I mean we'll be, I know people wanna help out and review the products that I know or we know and we will get that going. So, as far as the timeline.
Roland : Sorry, I really want to ask people that want to review our product and tell the opinion on our bundles that we set up. So anyone listening there, willing to do the review for us and try our product. Let us know please, go to Mike or go to me or send us email because we will be reaching out for you very, very soon.
Mike : Definitely. So the time frame, the shipment was just sent out late last week, Friday right before the New Year week started. And this gonna take a couple of weeks so probably end of February is what we're looking at.
Roland : Right, with Cadrian what we're talking about is, it usually takes around 2 or 3 weeks. So I would say that it's after 24th of February, it's gonna get there. In case there is no problem with the labels, with the weight, with all Amazon's requirement, we should have it startup end of February.
Mike : Great. So which goes into our launch so Cadrian has been doing some work on the keywords. But we can't actually do the PPC campaign until the stock is in Amazon for what we're researching.
Roland : Until we have a couple of reviews that I mentioned. We just don't wanna bury the cash you know. Also I think we can mention on the podcast that, the do have the marketing team although we feel like marketing is very important and anyone out there that feels like can provide some value in Paraliving or to Paraliving's life or life of Sisitano. Feel free to contact us and let's discuss on what experiences you guys have. As we want to grow our marketing team as we go forward and we definitely need some hustlers on the team and this could be a different positions and different, well based on different deals. So let us know if you have some experience and you wanna jump in and help.
Mike : Sure. We are open minded. We do have some shares to also negotiate with for new partners. So you can definitely let us know and we wanna have, we wanna have lean mean Amazon or e-commerce machine or e-empire. I like that, too. Awesome. So, the other funny thing is we have our weekly management call and we are already talking about new products which is good, right. I think that's healthy and that's normal and we are always looking for new products.
Roland : I think we can say since we are always transferring, we can tell the audience that the reason is why because we're planning on the first payout and how to do the salaries for the team members, also for the founders and we need some calculations and we see that we want to scale as soon as we can. So well we're pretty much just want to grow. We don't just want to have 1 product or 1 product line out. We want to have as much as we can. Also within the same niche and different niches as well. So we already have upcoming products lined up. We already have some prices for them from the companies as well. Basically, we are opening into second niche in the days. So, we're super excited. We got some structuring in the team and everybody knows their roles. Everybody's going forward and it's just good thing to have.
Mike : Yeah agreed. I think we'll get Edward our lawyer back on the show. I think it will be healthy if we talked about how we can handle, we've mentioned Jack moving on and the other structuring. I think maybe in the future episode maybe the next one I'll see. I'm on the road, I'm in Miami Florida now. But we'll see how it goes but I think it will be a good discussion 'coz we started the company luckily we have a pretty good shareholders agreement in placed that was signed and agreed on everyone. So we do have that in placed. So it gives us the ability or at least something to look at to use because as a lot of listeners probably know it's great to have partners and we need good people on team. So it's important to also have the right agreements and formats in placed. But I know we need to, I think would be great episode to share how partners can move on and how new partners can come on. I think that would be great discussions. So we will do that in upcoming show. Back to the e-commerce, the products. I mean I think we're aiming for August to start paying out some dividends or salaries depending on how we classify that payout but yeah we do wanna start to get some money back for the partners for their hard work. And it'll be a year in August since it kick off anyway. So that's a good goal for us to set.
Roland : Yeah definitely and anyone that is on Amazon and want to start private labeling or selling on Amazon it does not have to be a year to tell everyone. But we're basically in the beginning it get some slow movements where we were just getting to know each other how we work. And right now we are basically launching several product lines and it's all gonna head up front. So by August we're really thinking of not necessarily living off Paraliving but having the potential too. I think we've mentioned it before but I'm planning on moving to China for at least a year in August. And I set it as a goal to live off Paraliving even though I have other funds and companies to make sure that we are getting this goals.
Mike : Of course yeah it's all about setting goals and milestones and yeah of course I mean we have our listeners and feedback. Some people are little bit critical and it's good we need the feedback but I think the beginning is always the hardest in any business and those that are patient and persistent I think is the key to success especially entrepreneurship. So yeah we got the platform now, right. We have our team getting settled in working together. We got products into Amazon. We got new products coming and learning everything. We're getting the right people in place. So I'm really excited and patience actually one of my weaknesses personally. I think a lot of, well I think a lot of entrepreneurs are business owners. You wanna push. We have to make it happen, right. So it's good to push forward.
Roland : Basically I want everything right now. But I want it more than right now. So I just go and work on it for as long as I'm receiving.
Mike : Thanks Roland. So yeah this is a shorter update because my problem is, I'm in the US with my family and my kids in the other room so it's also a New Year so we keep this one short. But thanks Roland for coming on as always and sharing and thanks everybody for listening and like Roland said. We're trying to make this interactive community type project. So we want you guys to reach out to us if you wanna get involved or reviewing or even joining the team on some functions, we're open minded. We would love to hear from you and thanks again for listening.
Roland : Thank you guys and keep listening please.
Mike : (background baby talking) Mile's Chinese is amazing and he's here wanna be a podcaster. Thanks Roland for sharing and we are in the middle of Chinese New Year and things are definitely slower than usual. Because basically China shut down as well as anybody doing business for China is basically on a holiday. I'm trying to have a holiday but I got like kids here without my wife and their jumping on my legs but we will continue to keep this content coming. Thanks so much for listening and again like we said in the show please if you have any ideas, if you wanna help give us some small reviews or if you wanna get involved with business or give us some feedback we enjoyed it. Keep it coming.
Global from Asia E-commerce Gladiator Series where you can follow along the progress of setting up a Cross Border E-commerce business from start to finish. Hear insights of real product research, Amazon FBA, China manufacturing, branding, marketing, and all the blood, sweat, and tears of building a global business from Asia.
Podcast: Play in new window | Download
Subscribe: Apple Podcasts | Android | RSS