Thank you Peter Zapf and Global Sources for inviting me to share at the first ever Smart China Sourcing Summit in Hong Kong!
What I Discussed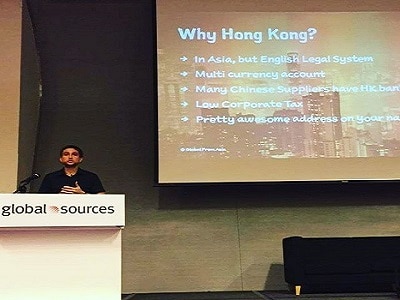 I was asked to discuss about various business structures for your Amazon FBA business. Of course that lead me to talk about Hong Kong business structures.
I was the last speaker on the 3rd and final day of the summit, and I was talking about taxes! So how could I possibly keep everyone awake at the last session on such a dry topic.
Therefore, I worked as hard as I can to add some jokes and case studies, as well as add some wit to there conversation.
You can download the slides here
Got Some Interesting Questions
We had time for questions and answers. Questions raised from how to deal with a US, EU, and HK company to E-Estonia residency programs, to address verification. Some questions I had to bow out and say I can't answer because the speech is being recorded. Got some chuckles and afterwards people asked me if I was being serious or joking.
I'll leave that up to you to decide!
So thanks again Pete and Global Sources for inviting me – and I hope to see you again at the next one!