---
More Vietnam! Today we have Nhung Truong a local Vietnamese interpreter who has witnessed the rapid economic growth and changes in her country over the years. We dive into what she has seen, from her perspective, and get some insights on how to better do business in the booming Vietnamese economy.
This is the third part of the Vietnam series – squeezed in another one as I thought it would be great to have an actual local from Vietnam share her story and perspective. All too often we talk to foreigners about business in a certain country because they speak our "language" more and are easier to approach. I asked some hard questions (for me to ask) such as how local Vietnamese feel towards Americans in today's world since the war.
Also – we make a big announcement for Global From Asia today – we are getting back into e-commerce ourselves. But the spin is – we are looking for you! We have an open calling for listeners to apply to be partners in this new e-commerce venture and will have weekly public updates with everyone on the progress. This way you can follow along on a real business.
More Vietnam Perspective
Great feedback on Facebook from a listener that was too good not to share:
From some of my research into Vietnam because I'm looking at sourcing for Amazon, I've found that Japanese, Korean, and Chinese companies just build their own factories in Vietnam instead of contracting.

I know that Saigon has at least one Japanese owned factory that makes automotive electrical harnesses, etc.

Vietnam DOES have a huge garments industry. But there are challenges involved there as well. Most of the high quality name brand apparel is slated for export only. And the factories tend to be tied up with large contracts and NDA. That's why you tend to find cheap knock off at most of the local shops.

Vietnam is not yet ideal for a small, up and coming private labeler for many reasons.
Finding the manufacturing capacity can be difficult. You may need to import the raw materials. Then packaging manufacturing. You may need to employ and train your own people to actually package the finished product, plus labeling, etc.
And that doesn't begin to address the complexities of logistics, costs associated with exporting.
China makes it all so much easier. However, they got a big head start and can invest far more resources than tiny little Vietnam.Lujin Benjamin
Topics Covered in this Episode
Where you were born?

Born with a plastic spoon – I'd love to hear more about the place you were born and how you grew up.

Noticing change

When did you start noticing change around you?

Seizing Opportunity

What was a breakthrough for you – moving to a big city? Taking a project?

Attitude to Foreigners

You seem very open and friendly to foreigners – is this a common trait with other Vietnamese?

The War

I am American. I can't help but think about the Vietnam War. In my time going through school, we often had to watch movies about the War and it was always scary and disgusting to me. How is this topic brought up in Vietnam with the locals?

The local economy insights

What are some trends you see with the local Vietnamese economy?

The future of your career?

What do you see the future of your work

Recommendations for foreigners

What would you say is something foreigners should look for when coming to Vietnam to setup business?

Working with you

So you do interpretation services, how does it work?
You're also listing on the GFA market – thanks for that!
People / Companies / Resources Mentioned in this Episode
Episode Length 36:19
Thank you Nhung. It was a pleasure to have you on the show and I am glad you were brave enough to do it. I have a feeling this will help a lot of foreigners to better understand a local Vietnamese person's perspective and improve the way we do business there.
Next week – we are back to China manufacturing and product development. It is going to be a 2 part series with Christopher Oliva talking about electronic components, engineering, and making new product design. This one I feel is going to be so valuable for anyone trying to manufacture their own product in China and I really look forward to it.
And some announcements- we are building up the meetups in various cities – check our event calendar for a meetup in your city. Don't see one where you're based? We'd love to have more cities and cooperate with you so apply to be a chapter leader today.
Download Options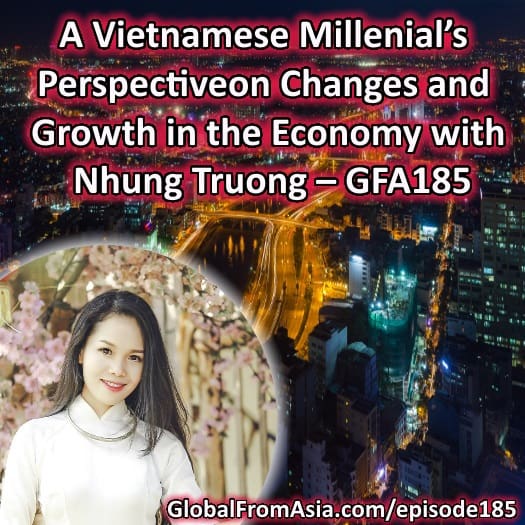 Podcast: Play in new window | Download
Subscribe: Apple Podcasts | Android | RSS