Do You Have a Chinese Visa or Trying To Apply At the Border?
Need a Chinese Passport Visa
Looking For A Fast & Easy Way?
Join Our Border Crossing Wechat Group
Heading to China? Then you probably will download and use Wechat app! We recommend you add us (globalfromasia) and then tell us that you want to join our Wechat group, all about border crossing, for real time help! Scan the QR code to add us.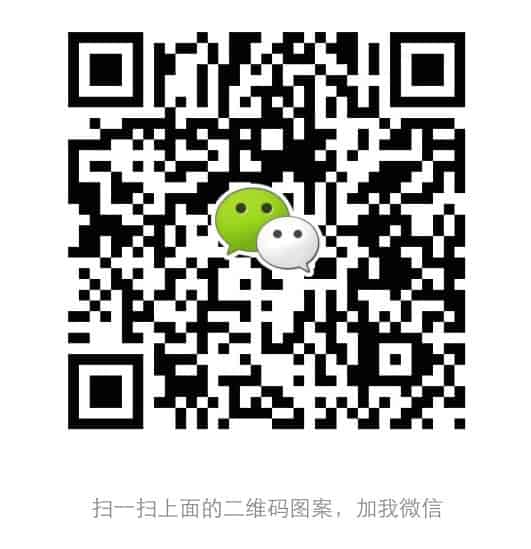 Traveling To/From Canton Fair?
Tons of people are visiting China for the first time during the Canton Fair and other product sourcing trade shows in Guangzhou, Shenzhen, and Hong Kong. Add our team on wechat – globalfromasia – and let us help you get the transportation you need! Read more on Canton Fair to/from Bus service.
Hi, Thanks for your blog. I have a 10 year multiple entry visa 60 days stay, before 60-day limit expires, I thought that I could exit to Hong Kong and re-enter China for a fresh recount. But, since Hong Kong is taken over by China on July 1st, 1997, it's part of China. Thus, I am not sure if it would be a valid exit. Your advice would be highly appreciated.
Misty
Our Answer:
Hong Kong does count as leaving China to get your exit stamp. You can then re-enter Mainland China by land to the border (to Shenzhen) or fly back in.
This is newbie question from me (and probably something you don't need to include in the post). If you have a U.S passport and say you have a layover in a Chinese airport en route to Hong Kong, do you need any kind of transit visa?Jessica
Our answer:
If you're not leaving the Chinese airport, you are fine. You will just have to wait at the international terminal until your flight to Hong Kong (or anywhere outside of Mainland China) destination.
Here's another question that's quite similar to the previous ones:
Hi! Yesterday I went from Hong Kong to Shenzhen and got the 5 days visa on arrival until the 5th of May. Due to an appointment I need to go back to Hong Kong tomorrow, on the 2nd. Am I allowed to go back to Shenzhen then with the visa I already got and stay in Shenzhen again till the 5th? Lisa
Our answer:
Please remember that visa on arrival is for a single entry. Meaning, it is invalidated when the visa expires or when you exit China. As we said in our responses to the prior questions, going back to Hong Kong is already considered an exit from China. Hence, you would need to get another when you go back to Shenzhen.
More Reader Questions
I am the Event Executive of our association. I am currently organising our annual conference which is taking place at the Grand Hyatt Shenzhen in October.

As we are an association based within the UK so a lot of our delegates/members will be flying from Europe and the US into Hong Kong. I would like to share advice and information with them on how to get to Shenzhen from Hong Kong airport. I have seen on your website you have a very detailed page on the Hong Kong/Shenzhen borders and what the best approach is. I wondered if you have this in a condensed PDF document anywhere which I could direct our delegates to once they sign up for our event?

I would really appreciate any help on this and please let me know if you have any additional advice on what we could be doing to make their Chinese experience run as smooth as possible.

Kind regards,

Emily
Hi Emily, we're glad to hear you're holding your annual conference in Shenzhen. You're in luck because we have exactly what you are looking for. We do have the information in a condensed PDF document. Just click on the button below to sign-up to have the document emailed to you. Good luck on your event!
I am travelling from Guangzhou to HongKong Disneyland on a day trip. I am considering two options and would like to have your advice. I will be travelling with two kids, 8 and 3 but no luggage. Option 1 : Guangzhou south to Shenzhen north starting at 7 am reaching Shenzhen north st 7.30 via bullet train . Then take subway to Futian border and cross on foot and on the other side catch a blue taxi Disney HK. Not sure of time taken to pass passport control. Option 2. Is to catch Guangzhou east to Hung Hum station and use MTR to get to Disney . Again not sure of how long it will take to cross Lou Wu border. I will appreciate your view on both options. I calculated the logistics but do not know how long border control takes. I have to travel on Sunday no option. Thanks
Sayed
Please use the comment section below. But remember, we are writing this article as a free service to help travelers and do not have a full time agency to help with these kinds of cross-border travel questions.
Visa On Arrival
This image of the price list below was taken at the Luo Ho (Lo Wu) border by a friend Nick in Feb 2017. I'll try to keep these updated.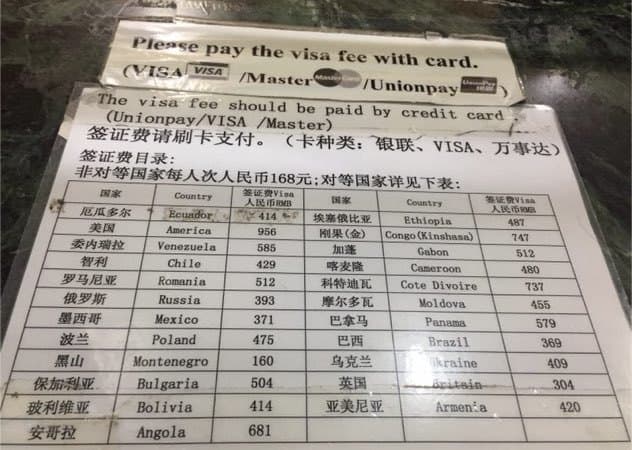 A hot and common topic is – how can I get a visa on arrival. On September 2016, my friend David just entered into Shenzhen and got a Chinese visa for 150 RMB (about 20 USD) for six days – with his Austrian passport. His American associate, Eric, got one as well but instead for about 900 RMB ($150 USD).
This is only possible at the Luo Ho border control point. If taking the Hong Kong MTR, go to the Lo Wu stop. You will leave Hong Kong border, and then go to the 2nd floor on the China border side to apply.
David tried to confirm if he could get a visa on arrival before flying to Hong kong. He asked the Austrian embassy, but they said the policy is always changing. He also asked in Hong Kong airport, and they said it is always changing.
When I asked about US citizens getting visa on arrival last year, for the Cross Border Summit, I was told it wasn't possible.
So short answer – it is a hit or miss. If you can't get it – then you'd need to stay in Hong kong and apply at a visa agency or the Chinese embassy directly. It is a balance of world politics and emotions it seems. Good luck!
We just got an update from Steven, a blog reader about the US citizen visa on demand:
Update June 23, 2017 from an American, Visa on Arrival
Just a quick heads up on the visa on arrival at LoWu border. I was there a couple of weeks ago. Yes, they do issue a 5 day visa on arrival for American passport holders which apparently costs 900 something RMB! That's quite expensive for a single entry! For other nationalities it will cost something between 180RMB to 300RMB I believe.

Thanks,

Steven
Visa On Arrival At Huanggang Border OK
I met Suzie from StringStory.co on her first trip to China at the Huanggang border (July 2017). She was able to get the visa on arrival; no problem with her Australian passport – at Huanggang border. I even got a short video clip
Chinese Yuan (RMB)
Passport (new and old)
Visa application form
China Customs Entry Card Filled Out
China E-Channel (Fast Lane)

Are you a regular border hopping nomad or business owner? In August 2016 the Chinese government has allowed foreigners to get an e-channel. It's for those who are "permanent" in China. Think that is you? Then read our full e-channel guide here.
Hong Kong Frequent Traveler Pass
For those who want to save time crossing to Hong Kong and don't have a Hong Kong ID, you should consider applying for a Hong Kong Travel Pass. You will be able to go to the special Hong Kong resident line rather than the visitor line–often saving a ton of time entering Hong Kong (Note: this is for the Hong Kong side of the border, not Mainland China side). You need to have been stamped in and out of the Hong Kong airport at least three times in the last year, received a letter from a HK resident why you need the pass, and a supporting letter from your business on why you need to cross. The application is Hong Kong immigration form id888 and the fee is 575 HKD. If you want to read the full details of the process, my buddy Marshall wrote up a nice article on it via Hong Kong (HKSAR) Travel Pass – The SECRET to crossing the border quickly!
Update on Oct 27, from reader Lainy: HK E-channel that can be obtained at the HK airport (the free echannel) can only be secured BEFORE baggage claim as soon as you get your passport stamped going through HK customs. You can't leave customs, then try to go back in and get the HK e-channel. I believe the counter is open till 11:30. It took me five minutes to get mine, and it is well worth it!! I only had to prove I entered HK several times over the past year, which I had done from the SZ border and not from the airport.
APEC Travel Card (APTC)

Update: A hot topic in the comment section of this post, you can also get an Asia Pacific Economic Cooperation Travel Card. I applied for it and was approved. It has greatly improved my border crossing time!
So thankful for those who left a comment about this so openly. I wrote a full blog post about my experience called "How to Get An APEC Travel Card.
Keep the comments and feedback coming!
Best Times to Cross

Wondering when the best time to cross is? It's something my friends and I often crowdsource the answer in group chats.
From our findings, I cross the border pretty early in the morning. I like to wake up early anyway, but it is also to avoid the longer lines of commuters. I advise trying to get to the border before 7:30 am, or at least by 8 am, otherwise the regular commuters and tourists will clog up the lines.
The second best time is late at night, after 9 pm. This is because the business commuters and tourists have mostly gone through already.
A note about Mainland Chinese tourists: they often travel in massive tour groups, with jam-packed buses, so if you see one coming and you're heading to the border, run as fast as you can to get to the border before them to avoid having 40 or more people ahead of you at the immigration line. I have also had some luck crossing in mid-afternoon or lunch time, but it can be hit or miss, and sometimes it is too dangerous for me to risk it as there could be some tour bus schedule that I am not aware of.
Worst Times to Cross
Rush hour mornings start at about 8:30 am and last until about 10 am or later. It is also hard to calculate precisely because of Mainland China tourists and shoppers who may be taking a day trip.
Rush hour evenings start at about 4 pm and go until 8 pm or 9 pm.
Weekends: It seems like the whole weekend is a bad time to cross the border. I am writing this on a Sunday morning, and last night I crossed into Mainland China at 10:30 pm from Shenzhen Bay thinking it was late enough to cross, but it still had about six rows deep in the line, for about a 30-minute wait. Not too bad, but for 10:30 pm I would have expected no line. Weekends are unpredictable, but Saturday morning is a huge one to avoid unless you are going there well before 8 am. I went at 7:30 am on a Saturday and it was already lining up with buses.
What Is The Best Border For Foreigners?
After having this border post online for years now, many still ask me "what is the best border for foreigners"? Well, I would still say it depends on where in Shenzhen you live – as the city is such a wide place that it could take up to an hour to get to various borders. Therefore, take transit time to each border into account.
In my opinion, the best border for foreigners is Huanggang Border. It is an old border, but they have separate lines for foreigners – when leaving China. But the worst part is you need to take a bus in between the China and Hong Kong borders, making the trip slower and more inconvenient. On the way from China into Hong Kong, the Hong Kong side merges Mainland Chinese with other foreigners – so the line can be crazy long. The big trick is avoiding tour groups for shopping. Get behind a couple of those buses and we are talking up to an hour wait.
HK Immd Mobile App (Shows You The Waiting Times)
Update: September 2016 – a reader let us know about a mobile app from the Hong Kong government
Hello,

I read "Hong Kong to/from China Border Crossing Guide".

And then I found the (new ?) App from Hong Kong Immigration Department, where you can look after waiting times at all borders to / from China Mainland.

I think it will be a good idea to insert a link in your article.

friendly regardsPeter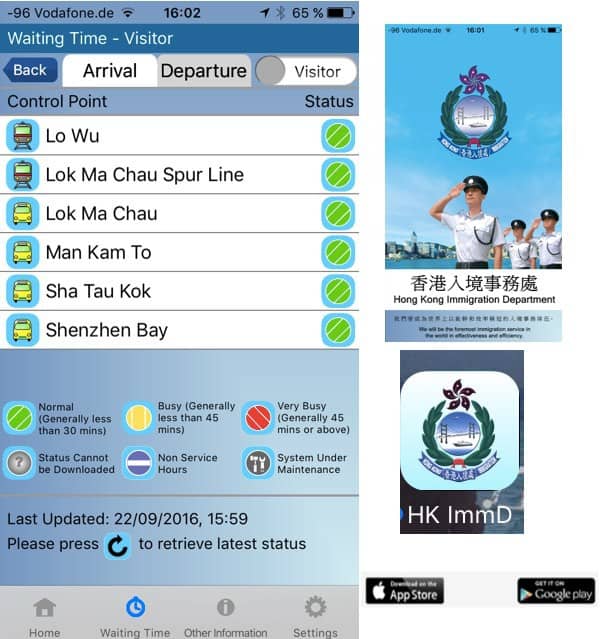 From their webpage about the app, it features:
Hong Kong ImmD Mobile App features information on these services:
* Land Boundary Control Points Waiting Time Enquiry;
* Easy Access YouTube (in China?)
* Electronic Services;
* Online Application Status Enquiry;
* Visa Information;
* Office Addresses and Hours of ImmD Offices and Control Points;
* Frequently Asked Questions;
* Please note: This mobile application requires an internet connection.
So I will be using this so long as I have internet connection there!
Tips for Frequent Border Crossers
For those who cross the border on a semi-regular basis, I advise a few things:
Carry a ton of customs declaration slips, for both the China and Hong Kong side. I carry a small bag in my backpack with these slips that are required for both borders so that I don't have to leave the line to get them at the kiosk. Also many times they don't have any slips left and you need to wait for more. I pre-fill out a bunch of them so that I am ready to give it to the customs official as soon as I am in the line.
Keep 2 wallets. I used to be bothered by switching cash and credit cards when I cross the border, but now I just carry my Hong Kong bag that has my Hong Kong wallet, cash, Octopus card, and some business cards.
Other electrical outlets and misc. border items. Also in the bag are the electricity adapter for Hong Kong outlets. I have a pen (that can be hung around my neck on a string for easy access when at the border line), and I also keep the ferry schedule card in the bag as well as a copy of my passport.
Second phone (or more…). I also don't bother switching SIM cards anymore, so I have a primary phone but I also keep other older phones on me for secondary phone numbers.
Perfect time to catch up on podcasts. I am prepared with podcasts downloaded to my phone to listen to when I get to the border. It is also nice because you may not have stable internet at the border as you're between two mobile networks.
Want to see how I live this regular border hopping lifestyle? Read a day in the life of a border crossing pro.
Transportation Options to Cross the Border
You can cross the border by pretty much any transportation methods known to man. I will go through them and list which border crossing has those options.
By Subway (MTR)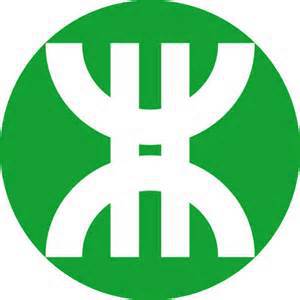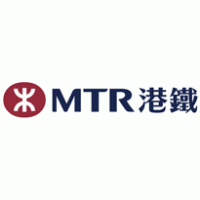 ---
Of course the most convenient and easiest way is the subway system. You don't need to worry about schedules since they run all day.
Hours of Operations: The subways on both sides do not run 24 hours a day. The MTR opens at 6 am and closes at about midnight (depends which lines, but as a general rule of thumb aim for 11 pm to be safe).
Borders that have MTR access: The MTR goes to the Luo Hu (Lo Wu) and Futian borders (Lok Ma Chau) and is on both sides.
Costs of MTR to Downtown Hong Kong: It varies on which stop, but generally about 25 to 35 HKD.
By Bus

There are so many buses it is hard to cover them all here. There isn't a "public city" bus that goes across the border, or even a private bus that crosses the border, but there are tons of buses on the border to choose from.
Coach Buses
These are similar to Greyhound buses in the USA. They are pretty comfortable with newer buses with capacity for about 40 people. They have numbers and signs on them with staff standing in front of the bus ready to collect your ticket. You can buy a ticket only at the ticket booth for they do not accept cash at the bus. For the most part, the majority of buses go to Shenzhen Bay and Huanggang borders as they do not have subway stations. It seems the city planners are trying to even out the clusters of people.
Tip for Shenzhen Bay Buses
You need to buy coach tickets on the China side, they will not let you buy them after crossing the border into Hong Kong.
Popular Departure Spots in Hong Kong for Buses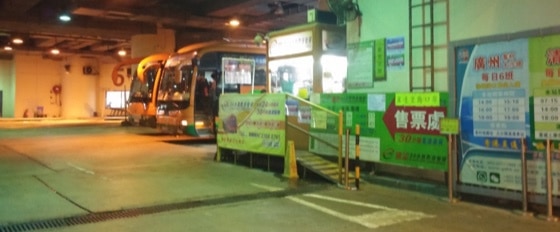 The tricky part with a coach bus is finding the places to get them on the Hong Kong side (it's easy on the China side as you take it from the border). Here are a few common spots I go to catch the coach to Shenzhen:
Wan Chai next to immigration tower. There is a massive bus station in Wan Chai for these cross-border buses. But for the most part these only go to Huanggang. Sometimes they go to Shenzhen Bay, but don't count on it.
Wan Chai CTS (China Travel Service) tour guide station. This is a retail shop outside of Wan Chai MTR exit A4 (take a left and about three shops down) that hasn't been running as often the past year or so. They normally go every hour or so to Shenzhen Bay.
Prince Edward MTR station, exit C2. 363 Portland Street. Go straight one block and you'll see it on the corner to the left.
Jordan, Kowloon – behind the International Scout hotel, 24 hour bus to Huanggang, (Behind hotel on Austin road and Shanghai street)
Kowloon MTR station – There is a bus from the ICC across the bay that will take you to the Shenzhen Bay bridge. Saves you that half-hour taxi ride from Huanggang and back to Shekou once you've crossed. The bus leaves from the "Cross Border Shuttle Bus" station from inside the Elements shopping mall in the bottom of ICC (the tall building at the tip of Kowloon Bay).
Sheung Wan – Macau Ferry Terminal. In the basement of the ferry terminal there is a bus pick-up station in the back by Trans-Island. Buses leave every 30 minutes from 7:30 am to 8 pm. The bus nearby the Macao/Shekou ferry building for 45 hkd in Shueng Wan to Shenzhen Bay. Last bus 8pm
Full Schedule and pick-up stations: Check out the Trans-Island Bus schedule
Cost of a Coach to and from Hong Kong: About 45 to 55 HKD depending on which border and how "deep" into Hong Kong you go.
By Train
There isn't a "train" between Shenzhen and Hong Kong, it is the MTR or subway system, but there is a train to and from Guangzhou, from both Hong Kong and Shenzhen.
From Guangzhou to Luo Hu station: I have taken this a few times to get to the Canton Fair and the US embassy. This leaves very often (I believe every 30 minutes). I can't find a website about it in English, but the rate is about 100 RMB. I will update this post as I go again, or you can leave a comment and I'll update it.
From Guangzhou directly into Hong Kong (Hung Hom MTR station, Kowloon) costs about 200 HKD one way. A very nice, professional train I might add.
By Ferry (Boat)
This is a common one I take: the Shekou Ferry Terminal. It's way out on the western part of Shenzhen in Shekou, so many think it isn't too convenient of a location. But the nice thing about this ferry is you will always get a seat, and the border line is limited to this boat (and maybe a couple others), so the line is never too outrageous. Scroll down to the Shekou Ferry Terminal section for the full details on this one. I don't believe there are other boat options to go across the border, unless you have your own private yacht!
By Helicopter
For the super baller! You can take a helicopter from Shenzhen to Macau for 5800 HKD (or 4600 RMB) and from Hong Kong to Macau for 4100 HKD (or 3700 RMB). I have this one on my bucket list for sure–and I have seen Instagram photos and videos of it from friends. It looks awesome! The Shenzhen location for the helicopter is Shenzhen Bao'an International Airport, and for Hong Kong and Macau it is at their ferry terminals. It takes 15 minutes! Pretty fast, wouldn't you say? And if you fly at night (nice!) it is a bit longer at 25 minutes. photo coming soon…
By Car
There are quite a few ways to get to and from the border by car. Let me outline a few of them here, it can get extremely overwhelming.
By Taxi

Of course you can take a taxi to the border on either side of Shenzhen or Hong Kong. Rates vary, but here are some estimates for some common landmarks:
Shenzhen Bay to Hong Kong Airport: About 300 HKD, which can be split by the passengers, so if there are two people it is the same price as the SkyLimo.
Shenzhen Bay to Shenzhen Airport: About 130 RMB.
Shenzhen Bay to Central: Haven't done this one before, but think about 400 HKD.
Huanggang to Central: About 400 HKD.
LuoHu to Central: About 350-400 HKD.
I will add more as I learn about them, and if you have some, please leave a comment below and I'll continually update it.

Note on Color of Taxis
In Hong Kong green taxis are for outside of the downtown areas, and red is for downtown locations. You will see two lines. Shenzhen also has this policy, but you won't notice it unless you are at the airport.
Update (Oct 27, 2014) My friend Jack Perry just told me you can take a red taxi from Central up to Shenzhen bay border.
By Skylimo

SkyLimo is a term used for an eight-person van (up to seven passengers) that can be picked up either at the Hong Kong airport or at certain Shenzhen borders to take you across the border and to or from the airport. I have taken this multiple times since it is pretty convenient. Just get in the car outside of a border in China and you get dropped off directly at the Hong Kong airport. Costs 150 RMB and runs from 7 am to midnight every day. The Hong Kong airport has a page about these services that you can check out for the latest information on it.
Update: I took the Skylimo from Huanggang border to the Hong Kong airport and the cost was 120 Chinese Yuan. So seems a bit cheaper from here than Shenzhen Bay. After crossing the China side of the border, it took about 1 hour to drive through HK border and then to the Hong Kong airport.
By Cross Border Car Service
Want to support our blog and updating of this HK border post!? Then please consider using across border car service we cooperate with. We have a  strategic alliance with a cross border car service – check out the car service here.
By Easiway
Easiway, created by Easi6 Limited, is an app that allows users to
1) book professional chauffeur-driven six-person rides traveling in Hong Kong and Guangdong area and
2) book tickets to hop on shuttle (or coach) buses and vans running on 24 lines linking Hong Kong and Shenzhen.
You can either travel door-to-door on your schedule stress-free or save a seat on the shuttles in advance. The buses may be full, especially during rush hours, and you have to wait for the next one. The app and its CS team supports English so you don't need to worry about not being fluent in Chinese.
By Uber
Does Uber offer cross-border service? I believe that they are seriously considering it but don't believe it is online yet. Uber, for those who don't know, is a startup that allows you to order private taxis from a mobile app. I have been taking Uber more and more and it is on both sides of the border in Shenzhen and Hong Kong. Some of us think it is a life saver on the China side when the taxi line is too long, but you should speak Chinese enough to communicate to the driver your exact location (the mobile app's map is off in China), but it can really help you out when you're stranded.
Important Note: You need to make sure your phone number on your Uber account is active (turned on) as the driver will call you to find you. My friends and I have sometimes been in the middle of switching phones and can't figure out why the driver isn't calling.
By Limo or Luxury Car
I have taken a Mercedes from Shenzhen to Hong Kong airport on a business trip–that was pretty high class! I wasn't the one paying and don't have experience ordering, but a simple Google search and there are plenty of these services for those with the budget. For example, I found Hong Kong Limo Service with tons of options for various luxury cars to take you to and from Hong Kong and Mainland China. Travel in style, but I think it would be at least a couple hundred US dollars to take any style of their cars across the border.
By Illegal Cars (Unlicensed Taxis)
I am about 95% certain you will be solicited by an illegal driver at almost all of these borders upon exiting on the Shenzhen side. While many will say it is dangerous to take an unlicensed taxi but sometimes the taxi line is hours long. I would say you need to be very careful if you are going to take an unauthorized car. Also you should know how much the normal taxi fare would be as they will almost always charge you more than the normal rate.
By Bike
Last, but not least, you can take your bike! I have personally taken my bike across the Shenzhen Bay border and then put it onto the B2P public transit bus and then rode it around in the New Territories. There are quite a few people taking group bike trips either on the Shenzhen or Hong Kong side, and I am certain they take it across the border. The bike I took was a foldable bike, so need to check on a full-sized bike. Subways in Shenzhen allow folding bikes, but I have taken a full-sized bike down into the subway once and was chased down by security. After some discussion, they did allow me to take it onto the subway as long as I took off the front wheel. Luckily it was a quick release front wheel so it wasn't too big of a problem. But you may not be able to do this.
By E-Bike

I have been taking this more often lately as the taxi lines have been extremely long. There are private e-bike entrepreneurs who will let you hop on the back of their bike for a fare. Again, like illegal taxis, these are not authorized or licensed drivers, so use at your own risk. I took one a week ago and a police officer at the Shenzhen Bay border approached us and scared him a bit but let us go anyway. The rate should be cheaper than a taxi, but normally they know you have limited choices as they can also see the long taxi line. Rate is about the same as a taxi (again, it's best if you know the normal taxi fare when bargaining).

Border by Border
---
Luo Hu Border (Lo Wu on Hong Kong side)
This is a classic border that Hong Kong residents always think of as Shenzhen. It is an old border. It is nice in that it allows you to take the MTR and subway on both sides of the border. To get there you take the metro to the Luo Hu stop on the Shenzhen side or the Lo Wu stop on the Hong Kong side. While I have never done it, I'm told you can buy a China visa at the border here.
Hours of Operation: 6:30 am to midnight
Huanggang Border

Here is the border you can always rely on taking, as it is open 24 hours. I have taken this border in the middle of the night at least a few times, usually after a networking event in Lan Kwai Fung in Central that ends around 11 pm or later. Sure, at that point you could just get a hotel in Hong Kong, but there is the preference of waking up in your own bed the next day to get back on track.
So Huanggang is always your fallback option for crossing in and out of Hong Kong and Mainland China.
Honestly, it is my least favorite border out of all the options, mainly because it is hard to get to (no nearby subways) and also because you have to take a bus between the Hong Kong and Shenzhen border.
All other borders you walk between the borders, but in Huanggang you need to exit one border, get onto a bus in the middle of the border, take it to the other border and enter the region. The best way to get there is to take a bus at Wan Chai next to the immigration tower. It runs 24 hours as well there. From the China side, you need to take a taxi, or about a 15 minute walk from a couple different subway stations. This border is not meant for people on foot, it is built for cars and buses to cross. This is where my dual-plate Hong Kong business friends choose to cross the border.
Hours of Operation: 24 hours!
Futian Border – Lok Ma Chao
The newest and most convenient border in my opinion. It is the only other border besides Luohu that connects to the subway and MTR systems on both sides. I believe this is meant to be the border the government wants the non-car / bus travelers to go to. It is new and wide and clean. The trickiest part is it isn't 24 hours and closes a bit earlier than most of the others. There have been nights out at Coco Park bar street after dinner when we have literally run to the border, only to have the doors locked up at 10 pm or so. They are not flexible at all in letting a few foreigners get in at the last minute.
Hours of Operation: 6:30 am- 9:30 pm
Shenzhen Bay Border
This is one I am constantly taking as I live in Shekou. The government built a massive bridge across the Shenzhen Bay to open this border, and it is meant more for tour buses than subway travelers as there isn't a subway too close on either side. You'll need to take a taxi or bus on each side. If you buy a coach ticket to go to Hong Kong, make sure you buy it on the Shenzhen side; you can't buy it on the Hong Kong side, and need to pay in RMB. There is a SkyLimo to the Hong Kong airport here. I will be a bit more detailed on this border as it is the border I frequent the most and want to document it all.
Getting here from the Shenzhen side: There are a bunch of public city buses, but I normally don't bother. I usually just take a taxi from my home in Shekou, or a taxi from Houhai MTR station (Coastal City), as that is about the closest station.
Getting to Shenzhen Bay Border from Hong Kong: Tons of options. There are coaches (usually I take the one from Prince Edward Exit A). There is also the option to take the MTR to Tin Shui Wai and then go to exit B, down the stairs on that side of the street and taking the B2P bus to Shenzhen Bay border. Another MTR option is to Tuen Mun stop and then the B3X.
Hours of Operation: 6:30 am-midnight.
Shekou Ferry
This is the most convenient, but granted a bit more expensive. One way from Shekou, Shenzhen to Central, Hong Kong is 120 RMB. But there are special rates for groups of more than three travelers (on weekends), and a special rate for same-day round-trip for 150 RMB. The tricky part about the same-day round-trip is that the ferry only runs about five times a day, and the last one is 6 pm on weekends, so you need to have your last meeting by 5 pm and make it quick! I'm always rushing in Hong Kong when I do the same-day return ticket.
Ferry Schedule: You can take the ferry here to four ports. Check here for the full Ferry schedule and map. Also note the weekend schedule is different from weekday.
Central District (technically Macau Ferry Terminal in Sheung Wan): This is the destination you want to go to if you are going to Hong Kong on business. It takes about an hour to get there, and you can schedule meetings right off the boat for the full day, and, if you dare, you can try to do it all in one day and make the return trip back on time.
Macau: Mostly a tourist destination for gambling and sightseeing, bu you can take this trip with business friends and visitors for a day or two.
Hong Kong International Airport: This is a nice one. You can check into the airport from the ferry terminal (if your airline has a check-in counter there; most major airlines do). I have also taken the ferry from Hong Kong airport to Shenzhen when my travel companions may not be able to enter Hong Kong.
Zhuhai: Not the most popular destination. This is a city across from Macau that is in Mainland China. But another choice to go to from the ferry.
Note: Hong Kong / Macau ferry operates 24 hours and runs often. If you do business between Macau and Hong Kong, your life is a bit easier with the ferry.
Hung Hom, Kowloon Station in Hong Kong
This is a bit of a strange border, because it's pretty "deep" in Hong Kong. Hung Hom station is in Kowloon, not too far from Central by MTR. It is a massive train station that takes you into Mainland China, to Guangzhou and even Shanghai, Beijing and other cities. For the full schedule and times, check the MTR intercity through train schedule. Getting there is easy. Take the MTR to Hung Hom and follow the signs to the intercity through train. This is a common spot to go for the Canton Fair. If you fly into Hong Kong, this train will be your most convenient option.
Shenzhen Airport
You can take a bus or subway to Hong Kong or a helicopter to Macau from here. If you are going to Taiwan, there is a special area of the airport you need to go to. I was traveling there with my wife and realized that, and it had a different border and policies as Mainland China and Taiwan have a "special" relationship. If you have a mainland Chinese companion, make sure they have two visas for Taiwan–one is permission from China to leave, the other is from Taiwan giving permission to enter. A bit tricky.
Hong Kong Airport
There are 2 ways to get to Shenzhen directly from Hong Kong airport, which I'll cover separately below. Please note that you can always take the "local" way via MTR or local Hong Kong buses. I won't cover those as they are more complex and longer routes.
By Skylimo

You will learn about this border as soon as you arrive. Very efficient. After going through customs and baggage claim, a wide range of public transportation options come up.
You can take a coach or SkyLimo to Shenzhen from the HK airport. The ticket booths are outside of the checked in passenger zone, and you can go next to the Burger King and there are ticket counters. Ask for the Shenzhen bus. They usually will help you (if you ask) and take you downstairs to the loading zone, which is on the street level of the airport.
I have taken these to both Shenzhen Bay border and Huanggang Border, which one you choose depends if you are going to Nanshan (Shekou) or Futian border.
HK Airport to Shenzhen Bay Border
Looking for directions to Shenzhen Bay border point from HK airport? As we have our Cross Border Summit 2016 on the Nanshan / Shekou side of Shenzhen – many have requested these instructions.
When you land at the Hong Kong airport, exit customs like normal. After baggage claim, exit the "checked in area" and into the public zone. There are bus company stands on the back left corner of the room, or you can ask an airport staff where the Skylimo or Bus to China is. They will point you in the right direction.
They have moved the bus customer service counter to the underground, so you'll take the elevator down just before the Airport Express. Down the elevator take a right and then you'll see the bus terminal. On the right side there are about 10 counters of different companies. The prices are all the same, the main point is you want to go to the correct border checkpoint.
They will approach you and sell you a ticket. Tell them you are going to Shenzhen Bay (Shenzhen Wan in Chinese) and they will take you to their booth. The cost is approximately 150 HKD (about 20 USD). You can use credit card or cash. They'll give you a sticker to put on your shirt as well as a paper ticket. The waiting area is just opposite the ticket counters.
The staff should grab you when they are loading up the next Skylimo. It should run every 20 to 30 minutes. It can fit up to 7 people (1 in the passenger side, and 2 rows of 3 wide). Bags are stacked up in the trunk of the van.
The nice thing about the Skylimo is that you get driven right through customs and into the China side. They will drive through the exit point of Hong Kong, and then drive through the Mainland China side. Once they get you through the border, you will be dropped off at the border. You then need to find your own way to your final destination. This can be by taxi or bus. Most likely you'll wait in the taxi line and then show them the address of your destination.
Please keep a printed version of your address. Your phone's internet may not work, or you may run out of battery! Or if you can't print it, put it on your computer in advance (so it can be accessed in offline mode) and then show the taxi driver the address.
If you're taking the taxi within the Nanshan / Shekou area the fee should be approximately 30 Chinese Yuan (5 US dollars). You will need to have local RMB currency though, they do not accept USD or HKD. You can exchange some money at the border, or at the airport in advance.
This is tricky the first time. Main summary is after baggage claim, find the Mainland tour bus or skylimo (they're in the same area) and then make sure you buy a ticket to the correct border point.

By Ferry
If you are going directly to Shenzhen, you don't have to enter the border into Hong Kong; you can buy a ferry ticket at the airport. But if you have checked luggage, make sure to tell the ticket booth so they will have an attendant fetch it at the baggage claim center and bring it onto the ferry.
I've only used this option a couple times, as it is a bit pricey (believe around 300 HKD per person).
I had to do this when my wife was denied entry to Hong Kong (she was pregnant and Hong Kong doesn't allow pregnant Chinese women to enter). So if you have Hong Kong customs issues, you may either get stuck in the airport, or you may have to take this ferry directly into Shenzhen (granted you have a visa to enter China).
Shatoujiao Border in Yantian
This is a new one I learned doing research on this blog post, from my buddy Andy Blahnik's blog. From his blog post it seems very small and you need to take a taxi there. It's mainly for those who live in the Yantian district in Shenzhen. I'd be curious to hear from those who have used it.
Hours of Operation: 7 am-9 pm
Wenjindu Border
Another new border I learned about from researching for this blog post, found this on Shenzhen Party. It's another border in Luohu district that is only available by car or certain buses. Another one I am not too familiar with but including here for completeness. Would love to hear from those who have used it before!
Hours of Operation: 7 am-10 pm
Which Border Crossing Is The Best?
Now it is your turn! Let us know which border you think is the best and also see what other visitors have picked as well – vote now, free!
Consider Using Our Cross Border Car Service
Want to support our blog and updating of this HK border post!? Then please consider using across border car service we cooperate with. We have a  strategic alliance with a cross border car service – check out the car service here.
In Conclusion
Hope that didn't overwhelm you too much. I count 10 borders between Hong Kong and Shenzhen (Mainland China). Of course, you can also fly directly into China from Hong Kong, and then you would have to enter China customs at that destination's airport and not any of those mentioned above.
As a border-hopping regular, I hope the above gave you some new ideas for better bridging the "China divide".
Please comment below with your tips, tricks, and questions. It has become a pretty active comment section for border hopping regulars!
I also have a PDF version of this post for you to download, so you can reference it when you're on the go and may not have internet.
Popular Question: Can I Just Cross Back And Forth Without Waiting?
We always get questions on this border guide. Here's a common one:
Hi Michael, just found your website. Thank you for the great article. Just have a quick question. Can I exit from Shenzhen from HK and return on the same day on a 10 year multiple entry tourist visa? Thank you!Silvia
My Answer: So happy you enjoyed the blog – yes – sure you can enter and exit both sides for 1 day and come back. Many do this for personal shopping haha.
Thank you for getting back to me. What a relief! I was really worried. Do you know anyone that just exit Shenzhen, walk across the immigration to the HK side and then turn around to re-enter Shenzhen? I'm wondering if you can get away with that.

Your blog is so great and informative. Thank you for doing that. It benefits so many people. You must have put a lot of work into doing it. I know how time consuming and difficult to write and maintain a blog.Silvia
I'll update the blog with this question and remove what you put there – but I recommend at least going a couple MTR stops into HK then turning around – that is what my friends and I say.