OpenCart is an open source application that allows you to manage multiple stores online in one application. This platform is undoubtedly helpful to you in maximizing your efforts in handling your stores with minimal time and effort. With OpenCart, you will experience the illustrative purpose of an online store with outstanding features for free.
In addition to that, the application is also user-friendly, letting you enjoy its essential functions in your way. It is very easy to learn and understand, provided that you have an idea about development, especially if you want to customize your stores and its extensions. OpenCart is an incredible app that aims to assist you in many ways while you manage your stores.
Get To Know Your App
OpenCart is a free e-commerce platform that lets you control multiple online stores throughout the web without the need to manually visit these sites. Additionally, the app is offered free to download so you will get to enjoy its many useful features without the need to provide fees.
Since OpenCart is an open source, you are able to customize the platform in ways that will fit your preference, most especially if you know your way with programming. Although once you download it, you will get the basic set up of online store design, you also have an option of adding extensions that you think will fit in best to your store. The add-ons help in allowing you to achieve what kind of store you would want to have and you can choose from thousands of extensions, where both free and paid ones aim to match your preference.
OpenCart's Feature Offers
Admin Overview
The Administrator Dashboard gives you a comprehensive view of what is happening in your store. It shows widgets such as the total order, sales, customer information, number of people online, sales analytics. If you have a lot of shops open throughout the internet, OpenCart also lets you manage them in this feature alone. This feature also allows you to control users and give them privileges to many opportunities that it can offer.
Limitless Offer
As a free and open source app, OpenCart lets you modify your shop. You can create categories for your products as many as you want and offer an unlimited number of items. OpenCart is readily adaptable to anything you would like to do to your items, even if there are hundreds and thousands of them.
Gives The Best Customer Experience
A great way to help your customers in any way that you can through online is letting them have the option to localize the shop they are browsing. Create Filters and give your client an opportunity to find the items they are looking for effectively. You can set up your store to sell in any currency and in different languages. OpenCart also allows your customers to subscribe to your newsletter, giving them the chance to keep updated with your store.
Everything About Payment, Shipping and Sales
OpenCart is in partnership with many payment systems. Having 36 payment methods integrated with the system automatically, you can still choose among hundreds of them in the marketplace. If you are also planning to sell products in subscription, wants to offer discounts or break payments into smaller bills, you can set up the feature of recurring payments. OpenCart lets you have control over your customer's payments. It doesn't stop with that. OpenCart is also united with hundreds of shipping companies, allowing you to choose the shipping method that you think that is best for your shop.
In the end, you can also get a detailed sales report, and viewed and purchased products. They will be simple to understand, but as you add more extensions for this feature, you will get more information about your numbers.
More To Add On
OpenCarts can provide you with many functions to make your marketing experience the best. With many extensions for different features, OpenCart lets you have them quick and easy. Their Extension Installer enables you to use their add-ons with just a few clicks.
A User-Friendly Platform
OpenCart is as user-friendly as it can be to both sellers and customers. As the app is responsive automatically, it will have no problem catering to those mobile and tablet users. Your theme will still be easy to use and understand whatever device that is in use.
This platform also understands how important it is for your website to reach more audience. That is why having an SEO extension is offered to let your site have a better search engine result. You will also be able to connect your products to Google base or Google sitemap, so you can customize how you want your products in the engine shown.
Strategize A Product Launch

You can now plan a launch for your products with OpenCart. With the latest version of the store, chosen candidates will be able to experience a soft launching of your product. This version will provide you access to new features that are exclusive for those who were selected only.
Having to undergo in this latest update, you will be able to gather insights that would possibly help you when it comes to gathering feedback since you will be able to see the pros and cons and thus, you can plot different more approaches to address the issues that might arise.
Integrations With OpenCart
OpenCart is integrated with many different payment options, giving you the chance to choose which one works for you. Integration happens when two systems are working together as if one to provide the service needed and that's what OpenCart does. This feature makes the payment method convenient and efficient for both customers and product sellers-alike.


The shipping method of the platform is integrated with many shipping companies as well. You will get to customize the shipping, and if you would want to choose from the many extension it offers, you will be able to find the customization that will satisfy you. There are many choices you can select from to make sure that you will be able to cover all the locations that you want to reach.
A Support For OpenCart
Although OpenCart is an opensource platform that's easily manageable and customizable, having the essential assistance in making your store have the excellent features will be able to make you use it its fullest. OpenCart gives an option of having a Dedicated Support that will help you in anything that is needed in your shop to be addressed, particularly in development and programming.
The Dedicated Support team is made up of trusted certified experts, who are also the ones who made OpenCart possible, so they understand this platform in every way possible. They are enthusiastic in giving support and will make sure that you will feel that you are in good hands. They are known for providing best assistance, whether your plan is premium or quote work.
However, if you know your ways in development and codes, you might want to address the issues that you might face yourself. With OpenCart having Community support, you can join discussions, ask questions, and share your experience in handling the platform. There are many topics posted in the Community support that will allow you to understand your issues or questions more, and the good part is you can check them out without giving any payments.
The Price Of Having An OpenCart
OpenCart is well known for being free of download and updates. There is no need to provide and fees to avail the platform itself.
Nonetheless, you can avail premium services that you think will help you in maximizing your store. Even though many extensions are for free, there are some that you need to pay first to be able to use. These paid extensions vary depending on what kind it will be since there are extensions dedicated for payment options, shipping methods, or other more features.
Also, OpenCart offers a Dedicated Support that requires payment. The pricing rests on what kind of support you will get since there are two paid support: One-time Fix and Monthly.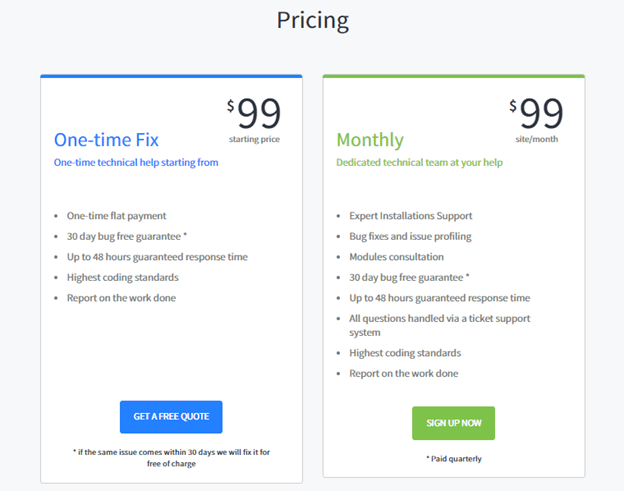 Why OpenCart Is The One
OpenCart offers the most flexible and convenient platform to provide the best service for you and your customers. It provides you with the ability to manage multiple stores into one application.
As soon as you install it, you can start accepting orders. You have the full control in making your store extra-ordinary and perfect for your taste. On top of that, the platform is straightforward to understand and to use, giving you less hassle and more time to focus on your business. With its many features, it is an excellent tool where you will be able to handle any type of store in any industry with any budget.
If you would want to experience it yourself, you can visit OpenCart's website and do the interactive demo of it where you will be able to log in and check all the features. Having to see how it works yourself is the best way to know that OpenCart is the best e-commerce platform out there.
Reference:
https://www.merchantmaverick.com/reviews/opencart-review/
https://ecommerceguide.com/ecommerce-platforms/opencart-review/
Reviews
0

out of

5

based on

0

reviews.
Overall rating: