With its mission to pay vendors, suppliers, and contractors anywhere, at any time, with ease, Veem creates an avenue for this dream to be a reality. This online site takes off the worries of not reaching businesses for a smoother relation and exchange with fewer fees and faster payments.

More Details about Veem
With the leadership of the CEO and founder Marwan Forzely, this website runs through cutting-edge blockchain technology and serves about 60 countries. Their wonderful system uses bitcoin to connect to the receiving business' bank directly. It disposes of the unnecessary use of 'intermediary banks' that will take small fees from your payment.
In its first round of venture capital in May 2015, Veem started with 590 customers. In this round, Veem secured 25 million US dollars to aid in expanding global payments for small business.
Currently, the company has 80,000 customers, mainly due to its adept service that turns the recipients of Veem payments into Veem users.
Services and Features Offered by Veem
Business Payment
The business payment service is the core task that Veem accomplishes. They made international business payments transparent and simplified with optimum rate and no bank wire fees to over 60 country recipients, with top countries such as France, China, and Mexico.
Before availing of this service, you can opt to request a demo from the site. Veem will require you to fill up pertinent details about you and the business you are handling before proceeding with a demo.
To start sending or receiving business payments, you will need to follow four simple steps that will consume about 10 minutes of your time.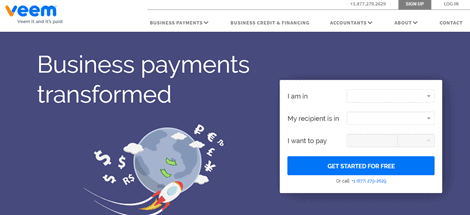 Sign up with Veem (about 20 seconds)

Confirm the email you entered (about 5 seconds)

Login the site and create a payment request (about five minutes)

Update your business record in Veem and get verified (about five minutes)
Information stored, shared, or uploaded in Veem is encrypted with the most advanced data encryption. The site is Comodo certified, and this ensures keeping away cyber threats. Additionally, the company employs a low-risk business model as they do not assume positions in the market themselves.
Currently, Veem does not accept credit cards. You need a bank account to transact with the receiving party.
Multi-rail Payment System
In Veem, a multi-rail payment system combines three payment rails altogether. This system contributes to the convenience and seamless global payment solution Veem offers. Through this system, the sender has more options, more flexibility, and more speed in sending the payment.
Business Credit and Financing
Through the website, you can access and browse different business credit options. Also, there are more than ten offers on loans and financing. This availability makes it easier to find the right business credit and financing for your enterprise.
A sidebar in the site navigation allows you to narrow your searches and to choose the most suitable option for your business credit and financing needs.
Pricing of the Services
Veem provides three monthly subscription plans that your business can avail, namely Basic, Prime, and Platinum. These plans differ in the number of international and domestic payments you can make. Another advantage of the Prime and Platinum subscriptions is the inclusion of a dedicated account manager for your company.

Veem's Partnerships
Veem Channel Partner Program
Veem helps your business to have more delightful transactions with your customers. Having channel partners are a critical part of the success and resources of Veem. Strategic bundling is available for Veem channel partners that includes promotion of products via Veem's marketing efforts, customer referrals, and reduction of costs by combining sales efforts.

Veem Accountant Partner
There is a unique system in Veem for accountants. It is the only integrated global payment system for this group of professionals. Within this system, the accountants can manage multiple clients, reconcile and update payments, and secure payments through multilevel approval.
For businesses in need of accountants, Veem can also recommend partners that offer accounting services.
How to Contact
China (Hongkong Qu, Shanghai).
Below are the contact numbers and e-mail addresses that you can reach to avail their services. Also, you can send inquiries on the package, changes, and cancellation to the e-mail address clientservices@veem.com.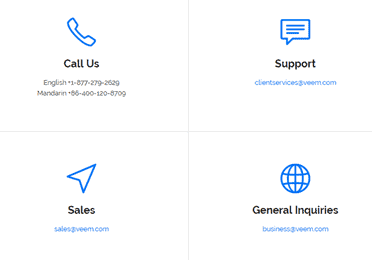 Why Choose Veem
Veem offers its world-class services on credit and financing. You can rest assured that your information is safe through cutting-edge data encryption. Through Veem, there is minimal fees and maximum delivery of domestic and international payments which are crucial for excellent business relations.
References:
https://www.veem.com/
https://www.forbes.com/sites/michaeldelcastillo/2018/09/26/google-and-goldman-back-bitcoin-startup-for-small-businesses/#79c8dead546d
Reviews
0

out of

5

based on

0

reviews.
Overall rating: