Sometimes, what stops any small business from trying to expand is almost always, cash.  You need cash to improve your processing stations or your office, add distribution channels, create new products, acquiring systems, and many others.  This makes expanding a big challenge to hurdle as you have to put in more capital to finance your expansion without compromising your existing operational needs.
This is the reason why businesses turn to banks or other financial institutions which can help finance the expansion and thus, easing the cashflow of the business and avoiding putting it in a cash crunch.
The problem here though lies in the fact that there is no guaranteed approval even if you have given all your financial data for their evaluation.  So, what could be another option?
Meet Reap.
What is Reap?
Reap allows you to pay for all expenses related to the operations of your business via your existing credit cards.  The good news here too is that you can pay through Reap, even if the beneficiary of your payment does not accept credit cards or does not have a Reap account.  All you need is their bank account number and that's it.
You might ask what kind of credit cards is acceptable to Reap.  Well, currently, it accepts all Visa, Mastercard and American Express credit cards.
Why Use Reap?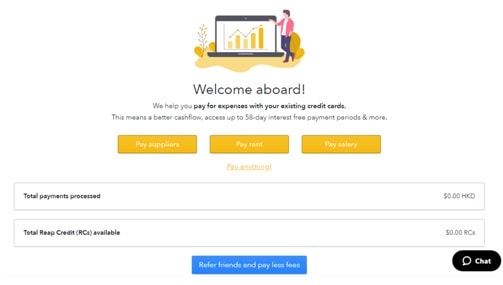 If we analyze it more deeply, the use of a credit card to pay for your business expenses is a financing in its own where you can still hold on to and roll whatever cash you have.  
But here are more things about Reap that we find very helpful to small business owners who dream of expanding to a large business empire:
1. No additional approval necessary
Unlike getting a regular loan from a bank where tons of documents are being required without any guaranteed approval, Reap only requires that you sign up which is actually free.  There are however charges on a per transaction basis.
They would only need a specific document relevant to the type of expense that you are going to pay. 
2. Working capital is augmented
You know how a credit card works.  When you charge something on your card, you will be asked to pay a month later.  In Reap, you can extend this payment period for up to 58 days. Plus, it's interest-free.  So this period will be bridging the gap that your customers on credit, and if they pay slowly,  have created.
3. Payment process will be simplified.
Gone will be the days where you issue checks to monitor your payments.  Payments will be easier now since all you need is your credit card and a good internet connection.  You can use whatever device – laptop, mobile phone, tablets to complete your payment.
4. No other hidden costs
While you may incur transaction costs when using Reap, it would be worth noting that you also increase your savings, the more you use it. You would be incurring transaction fees of about 2.6% or 3.5% depending on the credit card that you use.  But the more you use your card, you also earn more rewards like a cash back bonus, travel rewards that can be priced at upwards to 1%. You can also declare your transaction costs as a business expense for tax purposes. Since you can manage the payment schedule, you can do early payments for possible supplier discounts which can go at an average of 2%.
Looking at this you can see that your savings can already cover your costs in using Reap.
5. Payments can be scheduled
In Reap, you can schedule your payments as you see fit.  You can do one-time payments for services or supplies that you do not see as recurring.  Or, you can automate your payments according to the frequency, as scheduled with your suppliers.  If you already have a future date of payment in mind, you can schedule the same in Reap. Management and monitoring of payables are now made easy.
6. Prompt delivery of payment
When doing your payment schedules, you also have to keep in mind the transaction period within which your suppliers will receive your payment.  You would be glad to know though that via Reap, your suppliers or other payment beneficiaries can receive the funds within 3 business days. They can do so, without any additional cost.
7. Earn rewards points/credits or rebates
To encourage the use of credit cards, issuers offer good rewards or rebates programs.  Ever heard of cash-back bonuses, airline miles and other travel rewards? Depending on which card you use, these are just some of the perks that you can also enjoy if you use Reap in your business.  The more you use Reap, the more you can earn rewards from your credit card companies.
8. Supports all major banks and currencies
You wouldn't have to worry about your credit cards not being accepted by Reap as it supports all the major banks in Hong Kong such as HSBC, Hang Seng Bank, DBS, Standard Chartered, Bank of China, ICBC, BEA, OCBC Bank, UOB and Citibank.
What kind of expenses are acceptable?
Generally, Reap can be used to pay for all personal or business expenses.
Personal expenses include rent, mortgage, children's school tuition, utilities, household goods and services, phone bills, and other personal items.
Business expenses may include office rent, purchase of equipment and other supplies, accounting services, legal services, marketing expenses, insurances, salaries and contractors' fees, taxes and other expenses directly related to the operations of your business.
You can provide the relevant supporting document for each type of expense, such as tenancy agreement for rentals, invoices for goods, supplies, and services, contracts, bills and statements of accounts.
Is Reap a secure platform?
This is a question that will likely be asked especially since you will be using your credit cards and be giving out some vital financial information.
How secure is Reap?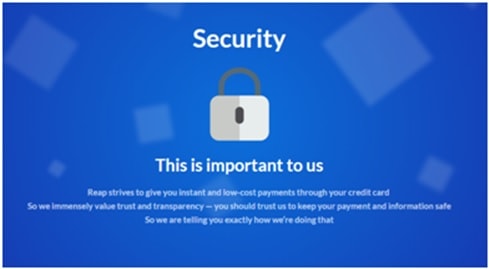 It uses the AES-256 encryption techniques that is among the top ciphers today.  This is used by the major banks around the world since it is very difficult to crack.  So, the credentials that you use to log-in will not be stored in Reap's server or on the cloud.  It will only be stored in the device that you used. Reap also boasts of secure servers that are tightly protected from potential cyberattacks and abuse.
If you worry about the credit card information that you give out, Reap assures that it does not store the full card details as it is managed via a certified payment gateway.  And, transactions go through multiple security layers and compliance checks until your payment can be received.
Take advantage of Reap's Rewards and Referral Program
Do you want to save on transaction fees?  Who doesn't, right? Working like any rewards program, Reap lets you earn Reap Credits that you can use to get discounts on fees when you transact a payment.  You can even get a full discount if your Reap Credits equal to or go more than the fee for a certain payment that you have to make. If it's less, you will just pay for the amount that exceeds your existing credits.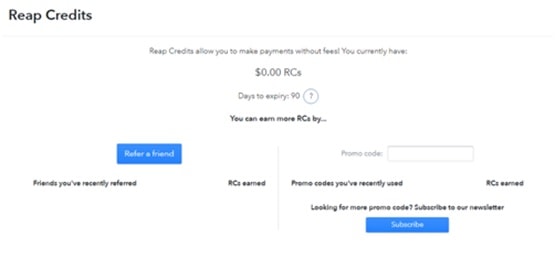 So, how can you earn Reap Credits, you might ask?
The more you use Reap, the more you earn credits.  You can also earn through Reap's referral program. You can refer it to a friend with a personal referral link that Reap will provide through its Free Payments page or Reap Dashboard homepage or after you made a schedule payment.
If your friend completes the sign-up process and makes payments of at least $2,500 HKD, you earn a Reap Credit of $5,000 HKD.  At the same time, your friend can earn $2,500 HKD.
Be on the lookout for promo codes too as Reap regularly sends them. It allows you to make transaction on Reap for free up to a certain Reap Credits.
Reap's missing pieces
The features of Reap are truly remarkable and will definitely bring valuable help to SMEs.  You have to keep in mind though that you have to have enough credit limit to make this work for you.  If you still have to build a better credit track record to take your card's credit limit to a level that will give you better business leverage, only then will this work.
The Reap Credits, while we find very encouraging, cannot be used for cross-border or international payment which is the direction that most of the SMEs are gearing towards right now.  Payments to suppliers, or even, salaries are often made cross-border especially by e-commerce entrepreneurs. In this case, even if transactions of this kind are in volumes, the Reap Credits you earn for these transactions cannot be used for future global payments. Not for now, they say, but will eventually go to that in the near future.  So, domestic transfers are all that the Reap Credits can be used for, for now.
Sign up and reap the benefits of using Reap
Interested now to try out Reap?  If you sign up below and apply promo code REAPXGFA, you can get a $10K HKD Reap Credit that you can use to cover for your first transaction.  This offer is good only until August 31, 2019. So, if you want to reap all the benefits unlocked by Reap, sign up now.
Reviews
0

out of

5

based on

0

reviews.
Overall rating: