Wonder Lister
Looking for an alternative solution? Wonder lister is the best! Easy to use and has a lot of good unique features that provides great convenience to those who wish to migrate from Turbo Lister to Wonder Lister. Problem in importing your inventory items? No need to worry, Wonder Lister does it all. Believe it or not Wonder Lister is so much better than any tool on the planet. Wonder Lister is the powerful yet affordable leading eBay listing tool. An appropriate and affordable eBay listing tool is vital for your eBay business, so choose wisely, a tool must be able to scale not only in terms of functionality but affordability as well as your eBay business grows over time.
Wonder Lister Features that Benefits the Users

Wonder Lister is affordable!

There are offline creation for the inventory items for your business. The offline creation helps you save time and money in the preparation and saving of the listings in advance. It allows you to do this task while offline, and then submit to eBay during the free listing promotions.

The data export is customizable which makes it suitable for importing into any of the eCommerce website around the world. It supports Magneto, Shopify, Amazon, and other channels.

Sales are enhanced with the Twitter integrations. The listings receive an extra exposure through social networking websites.

Your data are stored on the local network as long as you want.

It has a world class technical support that does not give you any cost.

The subscription plan starts at $5 for each month!

It is cassini friendly, this gives you a result of a greater visibility of your listings in eBay searches.

Wonder Lister covers all the things that you need to enhance for your online business. It includes from creating listings, managing orders, and to leaving feedback.

It is compatible with most of the Windows platform– Windows Vista, Windows 7, Windows 8, Windows 10, Windows Server 2008, and Windows Server 2012.

There are exclusive features that are not offered on eBay.

It has an ultra-fast performance! It shows up over 300,000 listings in a grid under 10 seconds. Moreover, it only takes not more than 30 minutes for competitive products.
Wonder Lister is capable in the importing of inventory items from TurboLister

An easy-to-use single page editor

It allows bulk listing and editing

Organized eBay listings of data through folder creation

Automation rules in eBay listings creation

Computes profit and loss on eBay sales

Supports the consignment selling and consignor commission calculations
The following are the specific features of the aforementioned services…
Single page Listing Editor
This feature gives you the ease to create, list, edit, and duplicate the data listings. Moreover, these data listings can be input in Excel style.
Are you hesitant because you do not have any idea about HTML? Do not worry! Wonder Lister offers an HTML Description Builder.  There are description templates that you can insert your own tags.
Wonder Lister is confident with the eBay Business Policies. The payments, shipping and return are handled by them.
The eBay catalogs are defined by user defined (or custom) fields, or eBay defined and custom item specifics.
Moreover, the product variations includes vehicle parts compatibility. There is also a built-in scheduler that easily schedules the auto list and relist to save money.
Reporting
Wonder List includes the following essential data for reporting:
Customize and Print Invoices

Sales Report – With Profit & Loss

Consignor Payout

Pick List
Capabilities
It provides an unlimited number of eBay User IDs

It provides an unlimited number of your staff members connect to a common database

List on all eBay sites (total 22) including eBay US, UK, CA, Australia, Germany, Hongkong, Singapore, India and others

Supports English language for User Interface
Moreover, Wonder Lister offers…
Custom Headline
Subscription Plan Prices of Wonder Lister
Automatic database backups
These backups are definitely a life savior! When there are errors, this can save you from hassle. You can decide the frequency on how your backups are done.
Automation rules
You can base rules on the list and relist you create. Also, your customers are free to leave a feedback.
Social Networks
Wonder Lister integrates with Twitter.
Customize User Interface
Wonder Lister allows you to create your own custom Grid views options, and it allows you to simplify the listing editor.
Bulk Features
There are six bulk features Wonder Lister offers to you:
Bulk Duplicate – Duplicate a listing "x" number of times, edit with ease, save/send to eBay

Bulk Lister – Based on each products' latest listing, list multiple products simultaneously

Bulk Relist – Pre-defined filter displays listings eligible for 'Relist fee credit', which can be relisted all at once

Bulk Edit – Edit several fields of multiple listings simultaneously

Bulk Change Item Specifics

Bulk Change using Search & Replace  
Order Management
Manage your orders through the:
Pick List

Combine sales from the same buyer

Track shipments

Customize and Print Invoices
Consignor Selling
It defines the number of consignors and the unlimited Consignor Payout Policies. Moreover, it uses an automatic calculation of commission based on the policies that you set per listing.
Moreover, you can bulk assign consignors and payout policies to your sales or listings. You can also print your consignor payout report.
User Defined Folders
It offers two user defined folders, namely rule based folder and user managed folder. The rule based folder includes the eBay listings and/or sales appear in a folder based on a pre-defined rule. Meanwhile, the user managed folder allows you to decide the eBay listings and/or sales to place in the folder.
Import
TurboLister exports file that uses CSV without any charges. Thus, import inventory items and listings using CSV file.
Export
Any data export are customizable and suitable for import into the following eCommerce sites– Magento, Amazon, Shopify, and ofcourse, your own website.
Initial onboarding with Wonder Lister is extremely affordable, pricing starts at just $5 a month. Wonder Lister is based on a tiered subscription model.You can simply move to the next tier as your eBay business grows overtime with a very small differential in price and regardless of how large your business grows you can still continue using WonderList powerful eBay listing tool. So better sign up and start your 100% free trial now!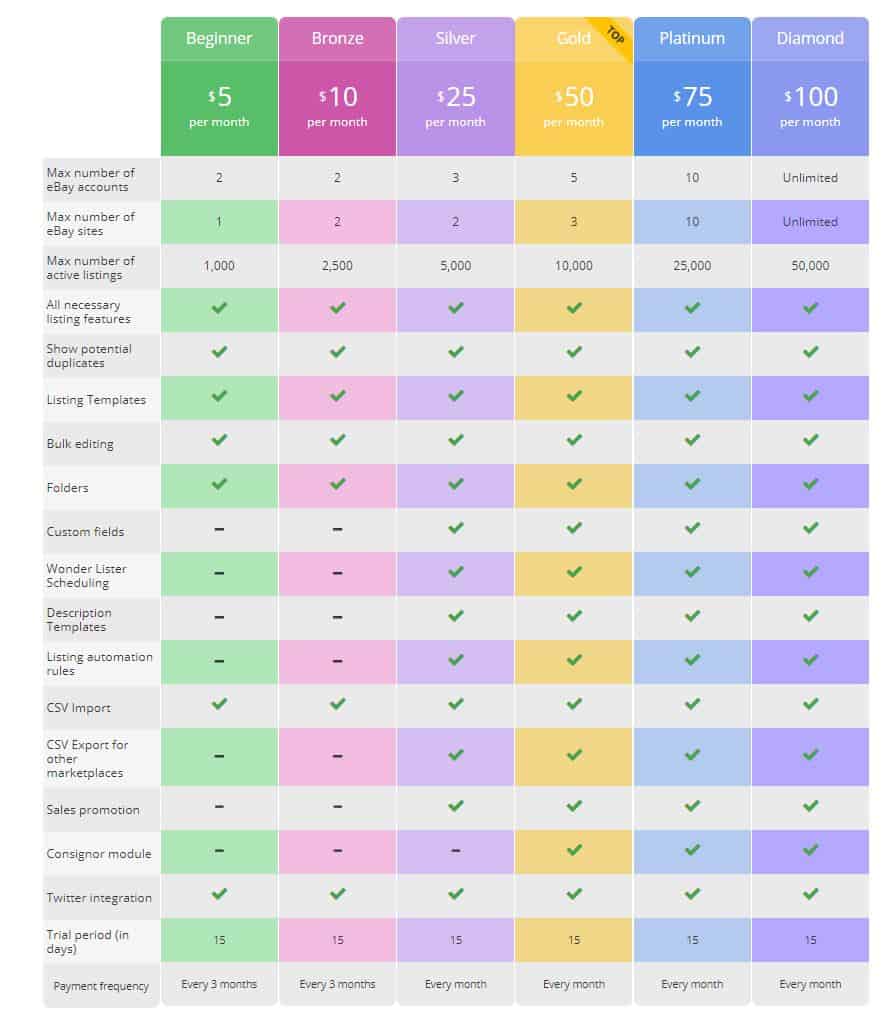 Are your Financial Information safe with Wonder Lister?
Without a doubt, yes. It is absolutely safe. All subscriptions and payments in Wonder Lister are made through Paypal. Paypal is the most trusted payment processor in the world.
Wonder Lister can Help in the Promotion of the Listings and in the Growth of your Business.
Yes! With Wonder Lister's excellent, fast and well designed features your listings will get better exposure to potential buyers, helping you generate more sales. In addition, since Wonder Lister integrates with Twitter, any new listing you created within Wonder Lister is automatically sent to your twitter account thus exposing your listings to numerous potential buyers. Their unique features minimizes the time you need to devote to mundane tasks allowing you to have more time to concentrate in growing up your business.
Reviews
0

out of

5

based on

0

reviews.
Overall rating: