Our Recap and Review
First time for Global From Asia to attend the Affiliate World Asia event down in Bangkok, and thanks to Zack Franklin from AMZ Kungfu for bridging the e-commerce world and affiliate world – we see those 2 industries merging for sure!
We recorded this video at the Dec 4-5, 2019 event and Mike Michelini shows us inside the event – from the booths, to the speaking sessions (both breakout stage and main stage) and also talks to some of the attendees and speakers.
Enjoy!
Important Details of AWA 2019
If networking with influential performance marketers and eCommerce entrepreneurs is your thing, then this event will be a good fit for you. We have provided below some details about the event that can spark your interest.
What is this event all about?
The Affiliate World Asia (AWA) is known as the #1 Performance Marketing Conference in Asia. It brings industry leaders, marketing experts, advertisers, networks, industry brand and agency representatives together to share new insights and innovative ideas.
When and where did this happen?
AWA 2019 was a two-day event, that happened on December 4 & 5, 2019 in Bangkok, Thailand. Centara Grand and Bangkok Convention Center were the official event venue, located on the 22nd Floor of the Central World shopping complex of Sukhumvit, Bangkok.
Who should attend the event?
Entrepreneurs from around the world, whether a beginner or already an expert, are invited to join the event. Those who are into performance marketing, eCommerce and dropshipping are the usual attendees.
Who were the speakers at the conference?
The ones who will take the stage at AWA2019 are performance and eCommerce marketers and experts that will provide a mastermind-level content. They will also share strategies, tips and tactics to scale your business. Learn from over 30 speakers:
NICK SHACKELFORD
Nick is one of the world's influential eCommerce marketers. He is a top facebook ads specialist.
TOPIC:
Inside the mind of Nick Shackelford | PLUS: LIVE Interactive Creative Contest
Anthony Sarandrea
Steven is a top-ranked lead generator in the US. Consistently featured as the top Under 30 entrepreneurs, his specialties include financial services, mortgage, and insurance space.
TOPIC:
Owning the Customer: How I Built a $100k+ per Day Lead Gen Business from Scratch
Dimitri Nikolakakis
Known as Dim Niko, he founded his agency DimNiko.com and does consulting to 7 – 8 figure eCommerce brands and other businesses.
TOPIC:
Scaling Systems: Pressure-Testing $20k/Day Spend on Our Advanced Ad Systems for the Annual Q1 Slam
Savannah Sanchez
Savannah is a Facebook and Snapchat Ad Authority that leads a team at Common Thread Collective, a demand ad agency, in America
TOPIC:
Machine Learning on Facebook: Is It Smarter Than a Seasoned Media Buyer?
Georgina Green
Georgina is the founder and COO of GMT Hub, a marketing agency that specializes in matching apps with the right traffic sources and a mobile app KPI specialist.
TOPIC:
How I Make $200k a Month Promoting Mobile Apps in Tier 3 Geos
ANGUS KONG
Angus is a Facebook ads expert and 9-figure performance marketing specialist who has has achieved over 8-figures in nutra and 7-figures in gaming/sweepstakes/POD.
TOPIC:
Ecommerce Experts: How We Built 9-Figure Ecommerce Empires
Steve Tan
Steve is a 9-figure eCommerce entrepreneur with an extensive experience in eCommerce and digital marketing.
TOPIC:
Ecommerce Experts: How We Built 9-Figure Ecommerce Empires
MATT DIGGITY
Matt is an SEO expert and is the founder and CEO of Diggity Marketing, The Search Initiative and several other agencies.
TOPIC:
The 6-Figure Flip Story: Flipping Your Web Property to a 14x Investment with Affiliate SEO
Joe Burton
Joe is a pioneer of native marketing and thus, established ROI Marketplace of which he is the CEO.
TOPIC:
The Perfect Funnel for List Building with Native Ads
Alex Tshering
Alex is the SVP of marketing for FIGS Inc., a $100+ million company that focuses on medical apparel. He was awarded the 2019 DMN 40 under 40.
TOPIC:
How We Built One of the Fastest-Growing Brands in the U.S. with Facebook Ads
Anna Gita
Anna is the CEO and head of MaxWeb. She has built her business from scratch into a 7-figure empire.
TOPIC:
3 Affiliate Golden Rules to Take You from 3-Figures to 5-Figures Daily
ALEXANDR FEDOTOV
Alexandr is a 9-figure Facebook Ads and eCommerce strategist that manages over $40M in profitable ads spend. He founded Facebook Ads Rockstars and is a Forbes Coaches Council member and contributor.
TOPIC:
Creatives That Serve & Sell: How to Increase Your Relevancy Score Through Consumer Psychology
KEVIN ZHANG
Network with the $20 Million Ecom Rookie of the Year! Kevin is an expert in building infrastructure and achieving scale at a rapid pace.
TOPIC:
How Mastering Infrastructure Enabled Me to Build a $20M Ecom Empire in My 1st Year
JOSHUA CHIN
Joshua is an Ecommerce Email Marketing Specialist who founded Chronos Agency, a leading eCommerce marketing agency.
TOPIC:
How to Take Control of the Holidays with My 6-Step Email Marketing Sales Sequence
TABISH NISHAT
Tabish is a Google ads expert who has accrued his skills and talent through experience and wisdom through online affiliate marketing.
TOPIC:
ROI Booster: How to Enable AI to Significantly Increase Your AdWords Lead Gen Campaigns
HASSAN AANBAR
Hassan founded Bright Leads Media that specializes in helping small and medium-sized businesses with their SEO and email marketing strategies.
TOPIC:
ROI Booster: How to Enable AI to Significantly Increase Your AdWords Lead Gen Campaigns
EARNEST EPPS
Earnest is the CEO of High Ticket eCom Secrets and has over 10 years of experience in marketing and sales. He is also into digital marketing and is a speaker in the international scene.
TOPIC:
How to Optimise Your Google Shopping Campaigns to Increase ROI and Minimise Costs
Heath Wilcock
Heath is the owner and founder of Fold Soup Copy. He is a copywriting maverick which he has been doing and teaching for more than a decade. Learn more about his "improv copy" method in the event.
TOPIC:
Copyliance: How to Write for the Health Space Without Getting Slapped
Phil Schoeffmann
Phil is a marketing influencer backed by more than 20 years of experience as an entrepreneur and 15 years as a digital marketer.
Hen Kinan
Hen is an Affiliate & Viral Content Expert and is a regular at previous AWA Conferences. With years of experience as an affiliate, he's working on a new vertical that will support entrepreneurial affiliates.
TOPIC:
Untouched Verticals: How to Earn $60k in 10 Days Using Viral Content
Zach Benson
As an Instagram Growth Expert, Zach has worked with known influencers to connect with their target audience at scale through his Assistagram.
TOPIC:
How to Grow and Monetise Your Instagram to 50k Followers in 3 Months
STEVEN BLACK
Steven is an Amazon Content Marketing Machine. He does consultancy for different brands and companies, specializing on brand psychology and audience-building via content marketing. He helps other Amazon sellers through his Facebook group, Unstoppable FBA.
TOPIC:
How to Easily Grow Your Brand Army with an 80% Customer Retention Rate
Evan Tan
Known as the $100M Ecom Juggernaut, Evan trains and mentors other entrepreneurs to achieve financial freedom through their businesses.
TOPIC:
Ecommerce Experts: How We Built 9-Figure Ecommerce Empires
Van Oakes
Van is an Influencer Marketing Legend who owns five businesses doing 6- 7- and 8 figures a year. He is behind the success of the Diesel Power Gear, the 8-figure empire, through the use of social media influencers. He received the "Snapchat – Snap Star" award for this work.
TOPIC:
Tap That Ecom App: How I Generated $1,383,031 in Sales in 1 Month
Yash Kotak
Yash is the co-founder and CEO of Jumper.ai, the first automated social and messaging commerce platform. He has over 20 years of experience in building eCommerce solutions.
TOPIC:
Chatbots 2.0 Unleashed: The Future of Conversational Commerce, Driving Sales, & Building Brands
PRATEEK DWIVEDI
Prateek is a CPA & Ecom Maestro who co-founded DOTS, a specialised service enabling global media buyers to enter Indian markets utilising a cash on delivery (COD) model.
TOPIC:
[Workshop] Cash-On-Delivery: Cracking into Untapped Markets in 2020
OM THOKE
Om is an SEO Expert Turned Ecom Maven. He also helps aspiring bloggers and entrepreneurs through online communities bloggers.world and boostrappers.world.
TOPIC:
[Workshop] Cash-On-Delivery: Cracking into Untapped Markets in 2020
THANAPHON ARPHASITTINANT
Thanaphon is known as a Partnership & Growth Development Expert who is also a director of partnerships of TikTok in Thailand, where he is in charge of forming alliances and partnerships with rising and leading brands.
TOPIC:
[Workshop] Cash-On-Delivery: Cracking into Untapped Markets in 2020
Anton Kornev
Anton is the founder of Xesturgy Media and is the Leading Push Expert and a top digital strategist.
TOPIC:
Workshop: Building Successful Push Ads Campaigns, Collecting and Monetising Subscribers, and Strategies to Scale
Andrew Payne
Andrew has been a full-time affiliate and founded a digital agency that focuses on assisting B2B companies with designing and implementing digital strategies to grow sales leads.
TOPIC:
Workshop: Building Successful Push Ads Campaigns, Collecting and Monetising Subscribers, and Strategies to Scale
MUHAMMAD UMAR
Umar is a premier tax expert, providing strategic tax and financial advisory services to digital marketers. He is doing this through Digitas Finance his tax consultancy firm that focuses solely on affiliate marketers.
TOPIC:
How We Saved Affiliates over $25 Million in Taxes Last Year with These Three Techniques
An Offer For Global From Asia Readers
Now, here's a treat for you, our dear readers.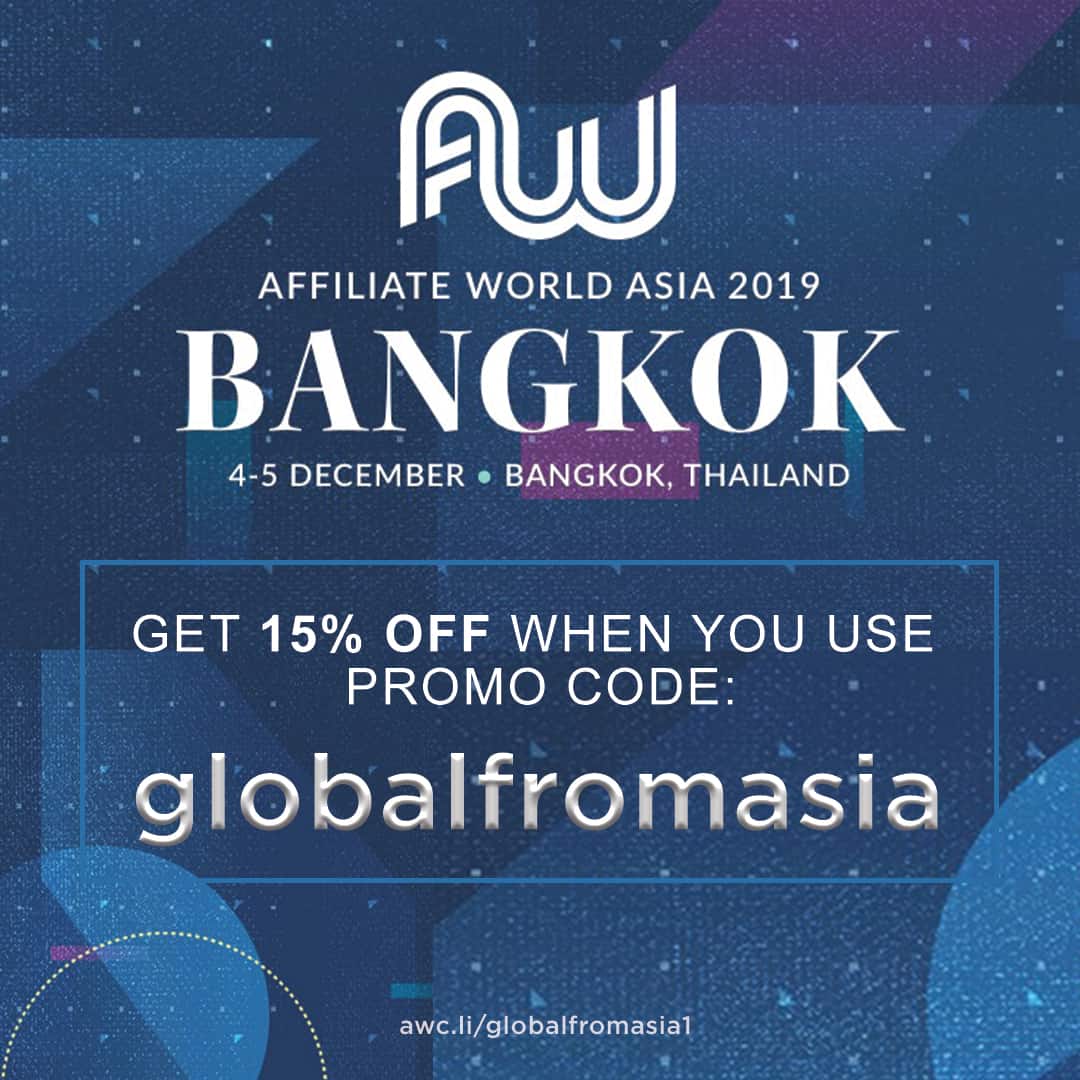 Get 15% off when you use this Promo code: globalfromasia
Reviews
0

out of

5

based on

0

reviews.
Overall rating: