The E-commerce arena became the solution of most businesses to thrive in this pandemic-stricken world. As sellers are working their way up to try and scale their businesses, some sellers are working their way in to the E-commerce world.
In response to the business industry's shift to the online world and help E-commerce entrepreneurs to grow their business, the 7-Figure Seller Summit is back with another online event.

What is the 7-Figure Seller Summit about?
The 7-Figure Seller Summit is still organized and hosted by veteran E-commerce entrepreneur, Gary Huang. Over 30 successful E-commerce entrepreneurs are brought together in this 5-day FREE for a limited time online event.
The objective is to help you, entrepreneurs, learn the 5 Phases of BUILDING and SCALING your business PROFITABLY to 7 Figures so you can maximize your Exit.
When is the 7-Figure Seller Summit happening?
This 5-day FREE for a limited time online event will be held on February 8 – 12, 2021.
Whom is the 7-Figure Seller Summit for?
If you are one who is committed to take action and is determined to scale and grow your business then this may be the event for you. This is also for those who want to start their business or grow their existing business but don't have any idea how to.
Get your free pass here
How will the 7-Figure Seller Summit run for the 5-day schedule?
The event will be in 5 phases, 1 phase a day. The 5 phases are:
DAY 1 – The Mindset and Fundamentals
DAY 2 – Marketing and Branding
DAY 3 – Scaling to 7 Figures
DAY 4 – Profitability: So you can keep more money in your pocket
DAY 5 – Exits and Selling Your Business
What's in store for the participants?
You will get valuable insights from the Masterclasses featuring Liran Hirschkorn, Norman Farrar, Tim Jordan, Sharon Even, Izabela Hamilton, and many more as they share with you how they built, scaled and sold their businesses.
You can also get the 4th edition of the 7-Figure Seller Summit Playbook. This is more than just a summary or a guide to the event but is also a guide on how to grow and scale your E-commerce business.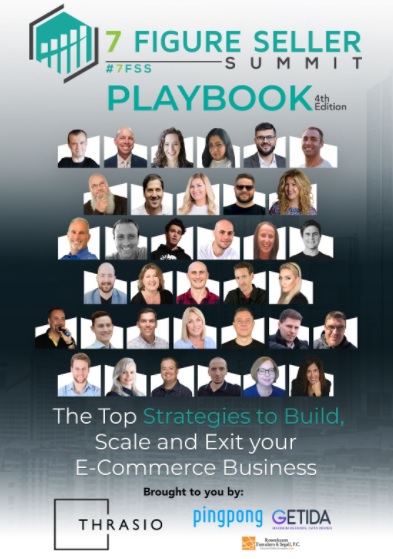 Save your spot in the 7-Figure Seller Summit
With all the things you can get from this event such as the top strategies to build, scale and exit your e-commerce business, you can be on the road to becoming a 7-figure seller yourself. Quoting Jim Rohn, "You are the average of the 5 people you spend the most time with", this has become the running theme of this event. So, save your seat now and spend time with these 7-figure sellers.
Get your free pass here
7-Figure Seller Summit 2020
Looking at those Amazon and E-commerce entrepreneurs hitting at least 7-figures in revenues, you can't help but wonder how they're doing it. You might want to know a tip or two from an expert. All the more a treat it will be if you have over 20 experts share their secrets on how they became a 7-figure seller. That's what the 7-Figure Seller Summit will bring you.
What is this event all about?
The 7-Figure Seller Summit is organized and hosted by Gary Huang, the founder of 80/20 Sourcing. The summit gathers 7-figure sellers in one online event to share how they created, scaled and sold their Amazon and E-commerce businesses. Secrets and insights especially on selling over a million dollars of your products shall be shared by the speakers on the summit. There will be over 20 sessions in a span of 5-days in this free for a limited time online event.
When is this happening?
This online event will be happening on January 20 – 24, 2020.
How will the event go?
What is unique with the 7-Figure Seller Summit is that it is structured in 5 parts where the approach is one main topic shall be the focus of the designated speakers of each day. Hence, it shall be structured in 5 parts:
January 20, 2020 – MINDSET
Learn the habits of these 7-figure sellers and how they manage their time and keep their focus to scale their businesses.
Speakers:
Tim Jordan, Hickory Flats and Private Label Legion CEO and Founder
CJ Rosenbaum, Founder & Attorney at Law, Amazon Sellers Lawyer
Jason Vander Griendt, CEO, J – CAD Inc.
Brandon Dupsky, Owner, OnFair Inc.
January 21, 2020 – SCALING YOUR BUSINESS
On this day, speakers will talk about how you can scale your business from being say, a 6-figure to 8-figure; different strategies on how to launch your products and launch them quickly; how to grow internationally and many more.
Speakers:
John Cavendish, Co-Founder , FBA Frontiers
Alex and Jerry Mills
Nick Katz, The Japan Guy
Gaston Liang, Founder, The LGG Corp.
January 22, 2020 – MARKETING AND BRANDING
You will learn all about marketing your brands through Facebook Ads, Facebook Lives, Amazon sponsored search, AMS and many more.
Speakers:
Zan Shaikh, Owner, Gadget Goose and Bright Vision LLC
Stefano Starkel,Co-Founder, Zon.Tools
John Lawson, Author, IBM Ecommerce Futurist and Ebay Influencer
Robyn Johnson, CEO and Founder, Marketplace Blueprint and Best From The Nest
January 23, 2020 – PROFITABILITY
Speakers will share their insights on how you can manage your cashflow, augment your income and minimize cost so you can operate profitably. You will also learn how to add more value to your business to prepare you should you decide to sell it in the future.
Speakers:
Dave Bryant, Co-Founder, Ecomcrew
Richard Ren, Founder and CEO, amzyunying.com
Justin Chen, Co-Founder, PickFu
Rahul Chawla,Senior Business Development Manager, QIMA
Anna Hill, Founder, CPA, Accounting We Will Go
January 24, 2020 – EXITS AND BUILDING YOUR BUSINESS TO SELL
Learn how to build your business and raise its value with the intent to sell it to potential buyers. Speakers will share the Dos and Don'ts in selling your business; trends in business that are selling now; and what may happen before, during and after the sale or negotiations.
Speakers:
Mike Jackness
Coran Woodmass, Founder & Managing Partner, The FBA Broker
Nate Ginsburg, Founder, SellerPlex
Mike Michellini, Director of Business Development, Alpha Rock Capital
Want to know more about the 7-Figure Seller Summit?
The line-up of speakers and the topics might have caught your interest. But if you want to know more about the online event or if you are convinced and would want to reserve your spot, you can go to the event website here:
Reviews
0

out of

5

based on

0

reviews.
Overall rating: