Looking to spend a few hours learning and meeting new people in the business community? Like the idea of a timer on the wall and having to speed rotate around the room and nab as many contacts as your hands can carry?
Then welcome to the Business Networking Extravaganza!
What's in the Business Networking Extravaganza?
This event is action packed with the format of:
Speed Sharing
A couple speakers share quickly their feedback and ideas on a new and interesting business topic.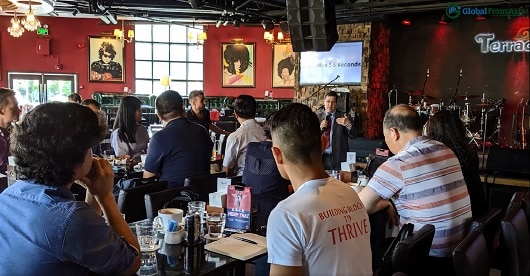 Speed Intros
Make 2 circles and have hyper business card (or wechat) connections.
Longer Connections
Once the speed intros are done, we can choose those we want to talk more with.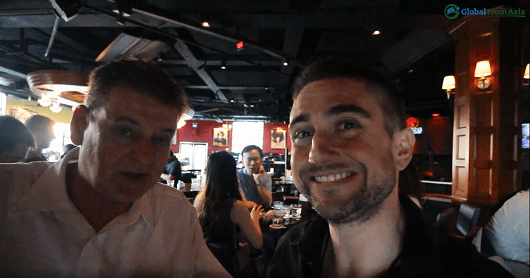 There's more!
On top of the amazing networking and knowledge – enjoy a special discount at the bar or restaurant where we are hosting and have a good time.
Business Networking Extravaganza in Video
You can see for yourself what went down in the first Business Networking Extravaganza in this video:
Example of our First Event
SHENZHEN – SHEKOU
Business Networking Extravaganza!
Saturday Sept 21, 2019
2pm to 5pm
Co-Hosted by: Trustrade, Global From Asia
The Terrace Seaworld
About the Event:
Make valuable business connections in a professional environment.
Join business executives to share experiences and valuable knowledge and make important contacts.
Agenda:
2:00pm – 2:30pm – registration and slow networking
2:30pm – 4:00pm – speaker series
4 speakers will share special knowledge on a specific topic includes Q & A.
4:00pm – 5:00pm – SPEED business networking.
5:00pm – 6:00pm Social Networking
50% discount drinks and snacks!
Event Fee:
FREE for gfavip.com MEMBERS
FREE for http://www.trustrade.biz MEMBERS
NON Members: ¥100rmb
Early bird registration ¥80rmb paid by Sept 20th
Target Amount of People:
100 pax [OK]
About the Event and Organizers
The Business Networking Extravaganza is a joint project between 2 highly influential and established business networks in China.
Trustrade and Global From Asia.
About Trustrade
TRUSTRADE is a Business and Social sourcing network created by Foreigners for Foreigners who want to travel and do business in China.
Established in 2007, they provide the contacts & solutions facing foreigners wanting to do business plus actively support China Tourism, Trade and Investment. Check them out at http://www.trustrade.biz
About Global From Asia
Cross Border E-­‐‑Commerce Business Leaders Community. 全球跨境电商生意人学习和社交的平台
Global From Asia ,established in 2013, GFA has now become the world's largest Cross Border E-­‐‑Commerce
Community platform for cross border business leaders to learn, network, and make business partnerships.
Together we overcome the challenges you face as you Grow your International business.
Check us out at www.globalfromasia.com
[Shake] Registration details will follow soon.
In the meantime mark in your diaries …
Saturday September 21 as an event NOT TO BE MISSED!
Reviews
0

out of

5

based on

0

reviews.
Overall rating: