Finding a sourcing agency is hard, and Source From Asia is the answer to your business needs. With its years of experience, strong team and proven suppliers, Source From Asia can help you run your business, smartly.
Get to Know More About Source From Asia
The company is an English sourcing agency based in Guangdong, China. It's your one-stop shop to help you in incorporating your designs, developing, prototyping, tooling, production, quality control, certification, and logistics.
SFA has more than 30 years of experience in dealing with Asian suppliers, SFA is your number one choice if you are planning to export and look for suppliers. They have built a strong team of individuals that are expert in sourcing, engineering and quality assurance.
Because of their decades of experience in dealing with suppliers, their most significant assets are the trusted network of suppliers with wide-ranging expertise in a vast array of different products and manufacturing processes. With this, you will never have a hard time trying to find quality products and meeting the deadline.
Source of Asia Services and Features
Specification
Considered to be the critical factor of sourcing, SFA will help you in drafting an explicit specification to ensure that you will get what you envisioned. In this way, there'll be consistency in the pricing, quality of the product, the functionality of the operations and that the products are fit for purpose for you e to reduce the risks of the financial impact of the wrong specifications.
Cost-Effective
Source From Asia's services is very cost-effective therefore helping you to save up some money while having a team in China that you can depend. No more worrying if you were able to meet the deadline, SFA would help you with that without spending too much.
Problem Solving
SFA helps you by first benchmarking your current products. With this in mind, Source From Asia will help you in improving the current procedures, policies, and processes that your company have. SFA is confident to deliver what you need, and you will be impressed! SFA is not only cost-effective, but it can also help you resolve your issues and concerns.
Travel Reduction
As a business owner, you may frequently travel to China to oversee the process. With SFA, you won't have to do that often. They will be the one who will resolve the issues in quality, delivery or money issues. SFA will be your team on the grounds in China.
Amazon Sourcing Specialists
Source From Asia are Amazon Sourcing Specialists. Since nearly all Amazon sellers are paying high prices for medium or low quality, SFA can help you in saving some money. Aside from that, with the assurance that you are getting your money's worth, you will also have the best suppliers that can offer you quality and on-going product development.

If you are starting your business and you are using Alibaba or Aliexpress, that can be very helpful. However, have you thought if they are the best for your business? It would help if you were smart in running your business and SFA can help you.

Your Source From Asia Team
The team consists of experts at reducing costs while maintaining or improving quality. With their hand-chosen and personally reviewed based on suppliers will meet your delivery schedules and will ensure that there'll be no important details are missed, and communication will go smoothly.
The SFA team will always be on hand in reviewing your requirements and making sure that language is not a barrier or the cultural differences does not affect your deadline.
Headed by Simon Wilson, a mechanical engineer trained in the field of product development and manufacturing. Based in China since 2000, Wilson is connected to cost saving of supply, sourcing, components to name a few.
How Much Will it Cost You?
With SFA being cost-efficient, you will get your money's worth. SFA will help you save as much as possible without sacrificing the products and services. You can contact them, and you can request for a quotation, and you will get a response from SFA personally to get the quotation process.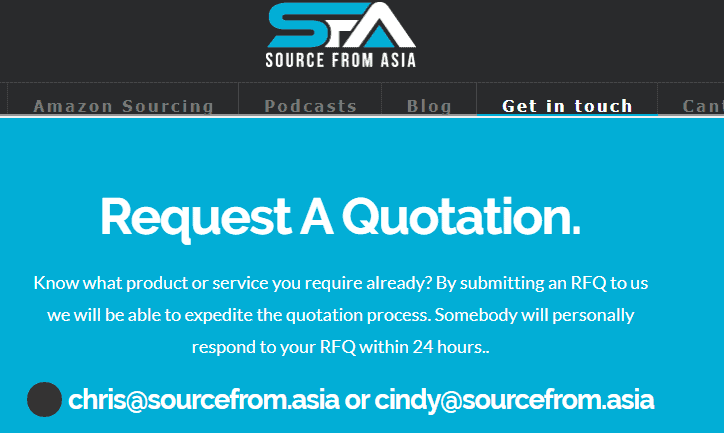 Why Source From Asia
With the demands of sourcing and the high costs, Source From Asia is the best choice for your business needs. SFA does not only guarantee you low prices but can give you the best suppliers to provide you with quality products and services.
The team will personally oversee the process and transactions making you feel as if you are there in China. With the assurance that you can get from SFA, you will never go wrong.
Reviews
0

out of

5

based on

0

reviews.
Overall rating: