Canton Fair Calendar Schedule and Events
The 129th Canton Fair Goes Online on April 15 to 24
---

129th Canton Fair – April 15 – 24, 2021
The 129th Canton Fair, one of the biggest exhibitions in the world, goes online for the third time this April 15 to 24, 2021.
What is the Canton Fair?
The Canton Fair, otherwise known as the China Import and Export Fair, is organized by the China Foreign Trade Centre (CFTC). They are an institution sponsored by the government and is affiliated with the Ministry of Commerce.
The main objective of the Canton Fair is to provide a platform for China's exhibition industry. For more than 60 years, it has brought together exhibitions from various industries. These include construction, advertising, import and export, hotel, restaurant, real estate, and many others.
The current Canton Fair's National Pavilion contains 16 categories and 50 exhibition sections. The categories include:
Electronics & Household
Electrical Appliances
Vehicles & Spare Parts
Hardware & Tools
Lighting Equipment
Machinery
Building Materials
Chemical Products
Consumer Goods
Home Decorations
Energy Resources
Gifts
Textiles & Garments
Shoes
Medicines, Medical Devices, and Health Products
Office Supplies, Cases & Bags, and Recreation Products
And Food.
The International Pavilion on the other hand contains 6 themes.
Companies from both China and international countries are all welcome to join the Canton Fair and seek out business opportunities that can help out with development.
Going Online and Other Considerations
As stated previously, this is the third time the Canton Fair has gone online. Following the success of the first two, the decision to keep this event online will help prevent the spread of the COVID-19 virus while simultaneously boosting social and economic growth.
Once the exhibit starts on the 15th of April, all sections will be open. There are specific zones that will be catering to Exhibitor and product display, trade matchmaking, and cross-border e-commerce.
Provision of essential information, messaging, the creation of negotiation and appointments, and live-stream marketing sessions will be available. These will allow people from around the globe get more in tune with the various exhibitors and make deals that can enhance both company's developments.
Apart from that, there is a special zone that will be dedicated to poverty eradication and rural revitalization. In this special zone, companies can introduce and showcase their products to buyers from around the globe.
Registering for the 129th Canton Fair
Registering for the 129th Canton Fair has never been easier. With the fair being online, registration is very simple.
If you are interested in registering, the first step is to visit the Canton Fair's official website. On the top right corner of any web page there, people will be able to find a "Register" button on the top right hand corner of the screen.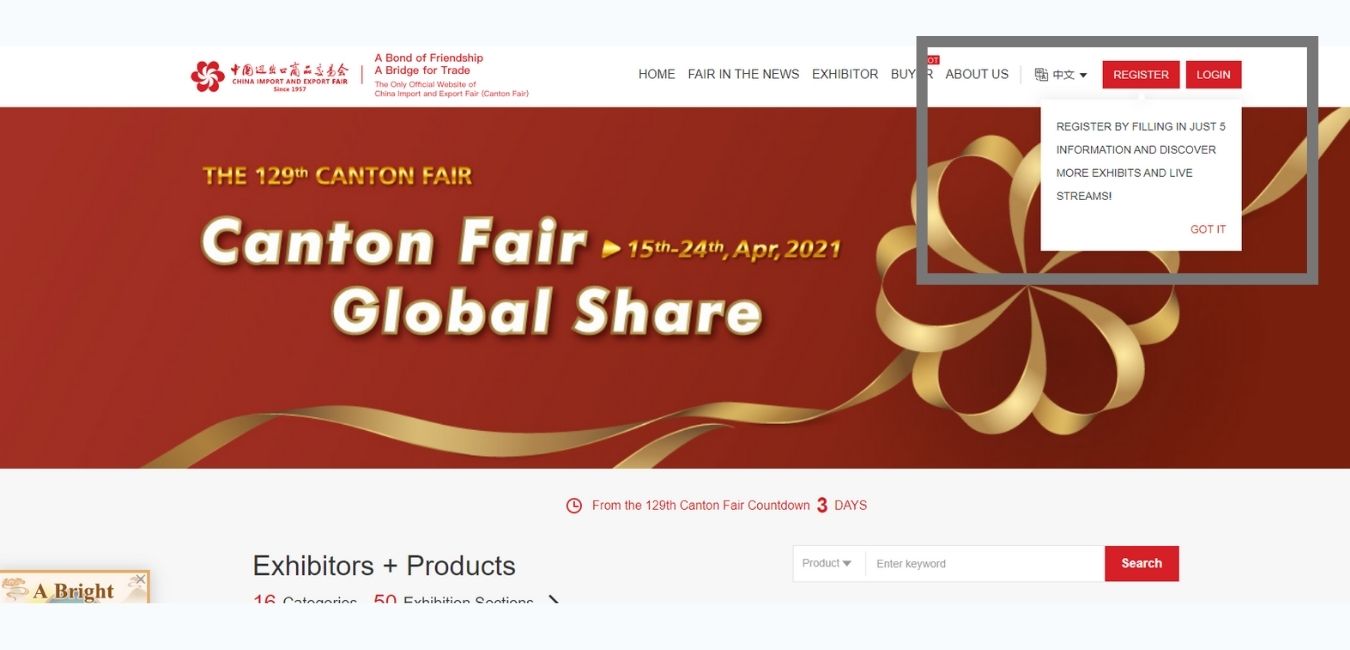 Once you have clicked it, you'll need to select between three registration types.
The first is Overseas Buyer and is for people who live in other countries such as Hong Kong SAR, Macao SAR, Taiwan Province, and many others.
If Overseas Buyers have a buyer badge, they will be prompted to verify it by presenting the name and number. The person's email must also be linked and a password must be set.
If the Overseas Buyer doesn't have a buyer badge, they still have the option to register and check out the exhibits.
Domestic Buyers is the next registration type. This registration type is only for companies that have Chinese Business Licenses. When registering, users who select this option may either create a company or join an existing company.
Those who create companies are required to present a personal ID card, a business license, and a legal representative's ID card among others.
For those who will be joining existing companies, apart from the personal ID card, users must search for their company via its Unified Social Credit Identifier. Afterwards, users must submit their application.
The final registration type is a Chinese Employee of Foreign Companies' Rep Office. In order to qualify for this, a valid registration Certificate of Representative Office of Foreign Enterprise in China is needed. This must be uploaded throughout the registration process.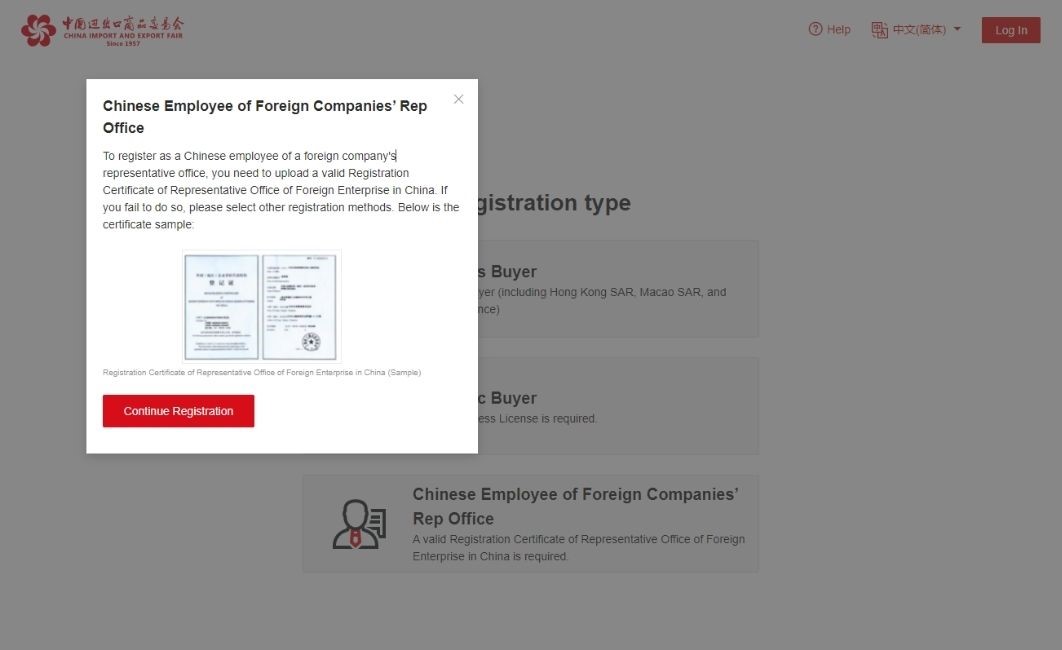 Whatever registration type is chosen, other than the specific requirements of each registration type, users will simply need to fill in a few details to register.
And just like that, you are good to go!
Once the period of April 15 to 24 comes, simply log in and you can start browsing and buying through the fair.
Visit the 129th Canton Fair
For all businesses, the Canton Fair is a great opportunity to look at all items and services that are being showcased across the 16 categories and 50 exhibition sections.
Most important of all, it is an opportunity to seek out win-win situations that bring both businesses or companies one step closer towards success.
As a bonus, the Canton Fair has opted to waive participation fees for exhibitors and cross-border e-commerce platforms in order to offload certain difficulties and keep costs at a minimum.
Make sure to go online and visit the 129th Canton Fair any time between April 15 to 24, 2021.
Check our latest calendar of events for Fall 2018
Coming to The Canton Fair? Don't Just Go The The Shows – Tap Into These Events
Flying from overseas for the bi-annual Canton Fair? I remember my first trek to China for these trade shows back in 2007 – and it was amazing. Back then, though, it was JUST the trade shows (which is a lot already) – but nowadays there are more and more networking opportunities.
You have come out all this way for the trade shows and factory visits, so why not maximize the trip and get some learning and networking in?
Today we'll talk about a few of the growing networking and learning events during the Canton Fair trade show season.
Global Sources Smart China Sourcing Summit
Every trade show season, the team at Global Sources has put together an action packed speaker series event at their Global Source Show. Titled "Smart China Sourcing Summit" it covers topics from Amazon FBA to sourcing and supply chain. All the tools and tactics you need in order to grow your manufacturing business into an e-commerce powerhouse. I spoke at the first one in April 2016 and met some amazing business people from around the world. Each time is growing and is definitely worth checking out.
Use coupon code M50ML is valid for the April Summit ticket purchasers get a US$50 discount
Www.globalsources.com/summit
Enter China Canton Fair Meetup
(disclosure, I'm an equity partner of this membership site) Each Canton Fair the members of Enter China get together for networking and learning. Geared towards "boots on the ground entrepreneurs" this is a members-only event for getting to know others in your shoes, as well as talk to more experienced members about how to grow their product based business from China.
Www.enterchina.co/meetup
Amazon FBA4U Canton Fair Networking
Our Cross Border Summit
(each April trade show season) – Global From Asia's official yearly conference, titled "Cross Border Summit" we kicked off our first one in April 2016 and have it yearly each April. It started as so many of our readers and listeners were traveling to China for the trade shows and wanted to get together that we had to get something going! In between the Canton Fair and Global Sources Show – we host it in Shenzhen to have a quality, English language business event about "going both ways" – that is – importing into China, as well as exporting from China – on the e-commerce / online business way. If you like our podcast and blog, and want to engage with others who also enjoy it, attending this conference is a great way to do so, as well as contribute back to the cause!
Www.globalfromasia.com/crossbordersummit
Want To Know This Season's Meetup and Networking Schedule?
There are other events that come and go during the trade show season, and each round of trade shows, we update a dedicated page with the full schedule and current links to these events and more – check it out at www.globalfromasia.com/cantonfair (higher up on this page, updated regularly!)
Missing Any Events? Let Us Know
We want to include any and all events happening during this busy trade show season. It is so amazing to see more networking and business events spewing from the traditional trade show "hustle". Whether you choose to come to our Cross Border Summit, or choose another, we do strongly suggest putting your "networking hat" on and participating in some events in addition to the trade shows.
We also have some insights on regular events that happen every season or year below: