The first group to take on the 90-Day FBA Challenge just completed their programme. And the results? Majority of the students are about to place their first big order with a supplier. This happened despite the lock downs of different cities and countries because of the COVID scare.
The people behind the 90-Day FBA Challenge also sees a greater opportunity once things get back to normal or even just half of the normal pace of production. A greater number then of the students will be able to get their first or next product launched within 90 days from starting the programme.
What's common in the students of the 90-Day FBA Challenge
You could be on the same page as the first batch of the 90-Day FBA Challengers. Here's what's common in them:
Were total newbies
Had no prior Amazon FBA/E-Commerce experience
Had no idea what to sell
So, if you fit the bill and you want to get a hands-on masterclass where you can learn from the experts at key areas of E-commerce and Amazon FBA business, you can register for the Phase 2 of the 90-Day FBA Challenge.
I want to take the 90-Day FBA Challenge 2.0 referred by GFA!
When will the 90-Day FBA Challenge 2.0 kickoff?
The registration for Phase 2 is currently open until August 14, 2020, Midnight PST.
The Phase 2 will kickoff on Saturday, August 15, 2020 at 12 noon PST.
What the challengers can get out of the 90-Day FBA Challenge 2.0
Unlike other traditional courses where you will only get to watch videos and figure things out on your own, in the 90-Day FBA Challenge, you will experience the challenge on a different level and scale.
The Programme is very hands on, interactive and with a big emphasis on Accountability and offers the following:
weekly calls with students
an active FB Group and FB chat where you can have access to the course creators.
opportunity to give back to a worthy cause that provides technology to underprivileged kids in Thailand.
Register for the 90-Day FBA Challenge 2.0
You can read more about the Phase 1 of the 90-Day FBA Challenge below. But, if you're already itching your way to take the Phase 2, then, e will make it easy for you to take part in it. You can click on below to register and say that GFA sent you!
I want to take the 90-Day FBA Challenge 2.0 referred by GFA!
Phase 1 of the 90-Day FBA Challenge
If you are one of those who wants to seriously pick up the pieces post-Covid19, and start a business selling online, Amazon is still seen as the best place to start. The burning question would be, "how".
This also goes to those who are already on Amazon but struggled for the past few months on how to get their products back on the carts of online consumers. You might also want to know "how" exactly you can do that.
Courses are everywhere but sometimes you can't get past the first module for several reasons. One would be, their kind of boring and can leave you undermotivated. Another is, you are left on your own. Chances are, there's no accountability whatsoever.
Here comes the 90-Day FBA Challenge to help you in your Amazon journey.
What is the 90-Day FBA Challenge?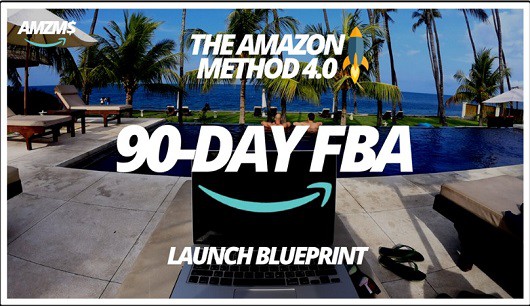 The 90-Day FBA Challenge promises that it is unlike many other courses out there that leaves you on your own with instructional videos, PDF sheets, infographics and what not. Not only that, you get to share the same knowledge with a thousand more who purchased the same course.
This isn't the case with the 90-Day FBA Challenge according to its organizers. Behind this program are two entrepreneurs by heart, Riley and Payman. Both are active in the E-commerce and Amazon FBA arena. And, they came up with this program as a way of paying it forward by sharing their experiences and knowledge to those who needed wanted so much to change their lives.
This is what they say that they are:
Highly interactive
Step by step discussion on finding, selecting, sourcing and launching winning product within 90 days and more winning products after that
Updated insights and knowledge based on their own experience in their Amazon FBA businesses in the current year.
Well-structured course
Daily Assignments to do with complete details on how to do them.
Goal setting with weekly or monthly targets to reach or achieve.
Continuous Masterminding
Accountability Groups
As this is a highly interactive course, then it is not for those who just want to dip their fingers in Amazon and try to see if it's something to their liking. This is for the dead serious about diving deep into Amazon. If you are the latter and already decided at this point to register then you can do so by clicking the button below and when you are asked who referred you to the 90-Day FBA Challenge, you can put in GFA so they'll know who sent you.
I want to do the 90-Day FBA Challenge referred by GFA!
The Core of the 90-Day FBA Challenge
What we love about this program is that it puts added value in you in that, you are not just buying a product, rather, you are buying an experience that can have a significant impact in your life. The program is not merely instructional. It stands on their 4 Pillars which is the very core of the program:
1. Weekly Zoom Masterminds
There is a weekly exclusive coaching being done with the students so they can track what they have done and accomplished so far. Here, updates on the businesses of Riley and Payman are shared.
2. 90-day Launch Checklist
This is also something that is not available anywhere. They provide a 90-day interactive checklist that will take you step by step from having zero idea to launching your product. There are assignments, action steps, deadlines, timelines that are on the dot to really get you to launch your product in a short amount of time.
3. Video Course
The video course has over 30 instructional videos and PDFs. It has 7 Core Modules that we will discuss briefly later. These are available on demand inside the program.
4. Private Members-Only Facebook Group
This group is exclusive for students and the team behind the 90-Day FBA Challenge where they can network, update the others in the group about their successes and challenges, they can ask questions. This is highly interactive where you can get support and answers in a timely manner.
The 7 Core Modules of the Video Course: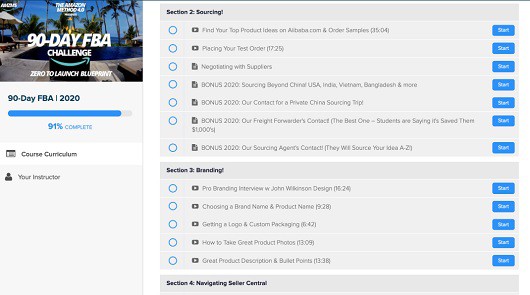 The video course contains 7 core modules that are build up from the previous module. It will take you step by step from scratch until the time you launch your product:
Module 1: PRODUCT RESEARCH SECRETS
Here they share their secret in finding profitable products and how to do a winning product research.
Module 2: SOURCING SECRETS
They'll show you what you need to do to be taken seriously by the suppliers that you find.
Module 3: SELLER CENTRAL SECRETS
They'll take you to the dos and don'ts in your seller central accounts.
Module 4: BRANDING SECRETS
What you can get from this module is how to do proper branding down from the packaging to taking the best pictures to build an actual asset.
Module 5: PRODUCT LAUNCH SECRETS
All secrets will be revealed here when they share all their strategies in their successful launching of their products.
Module 6: PPC SECRETS
PPC knowledge is not to be taken lightly especially if you get it from the experts. They will show you what works in PPC in the year 2020.
Module 7: AUTOMATION SECRETS
Automation can help you not get burned out. In this module they will show you how to automate your inventory, hire freelancers/VAs to help you manage your store, when to scale and grow your business by fund sourcing.
You'll Get Bonuses
Aside from the 4 Pillars of the 90-Day FBA Challenge, you also get to enjoy bonuses that come with the program:
New 2020 Product SOP Checklist
E-book, "How To Build A Rock-Solid E-com Brand for Long Term Profits!"
Cheat Code to Getting Verified Reviews Fast in 2020
Discount on product research tool, Jungle Scout
Their Freight Forwarder's contact
Their Sourcing Agent's contact
The best seller tools
Guide on how to build a massive email list
E-book, Sourcing in the USA and Beyond China
Templates to get More Ongoing Reviews with Product Inserts & ManyChat Follow-Up
Get Ready To Sign Up
Like we said earlier, this is not for the fly-by-night and try-to-get-rich-quick, wannabe Amazon seller. This is for serious entrepreneurs who want to start or grow and scale their own Amazon FBA business. Remember that this is a challenge so you also have to put in the work.
The program is open to a limited number of students so you have to sign up soon to get a slot.
If you want to know more about the program, you can check it out here. But if you are already decided to be part of this exclusive group of winners, then you can go ahead and reserve your seat below and tell them GFA referred you.
I want to do the 90-Day FBA Challenge referred by GFA!