Sellics is the leading All-in-One software tool that is solely dedicated to help with your success on Amazon. It increases the organic traffic of the website, automates PPC campaigns, tracks profit, and more.
This is a powerful and helpful software tool for any business, thousands of brands and sellers trust the products and services of Sellics. They offer a comprehensive tool to Amazon Sellers and Amazon Vendors.
You know, statistics are important. Thus, look at the numbers:
The Return of Investment for the Amazon PPC campaigns reached up to 1.6 times, this is on average of 63% more of the marketing dollar.
When everything is put together—enhanced rankings, customer satisfaction, and PPC campaigns the Amazon business will surely grow. Sellics brought a 42% increase in the revenue.
It may be hard to please everyone, but the customer satisfaction hit 93%. This number has become their inspiration to strive and deliver the best possible experience to Amazon Sellers.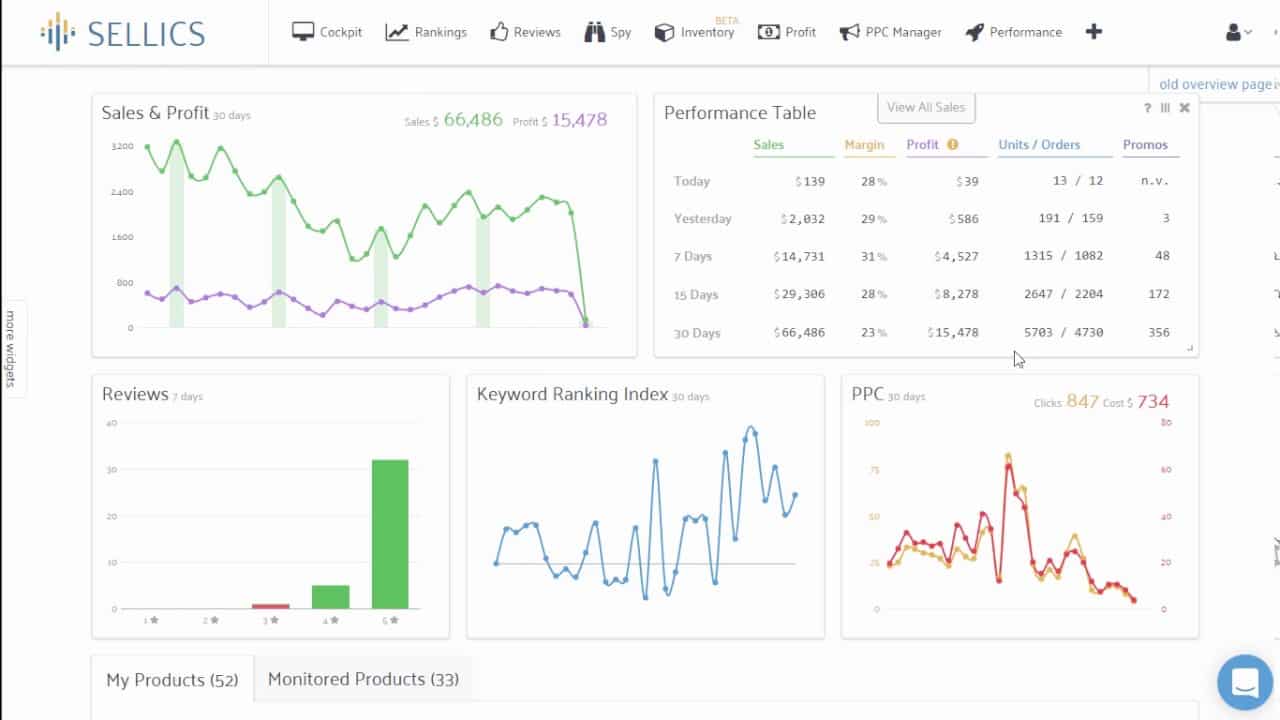 There are TWO editions of Sellics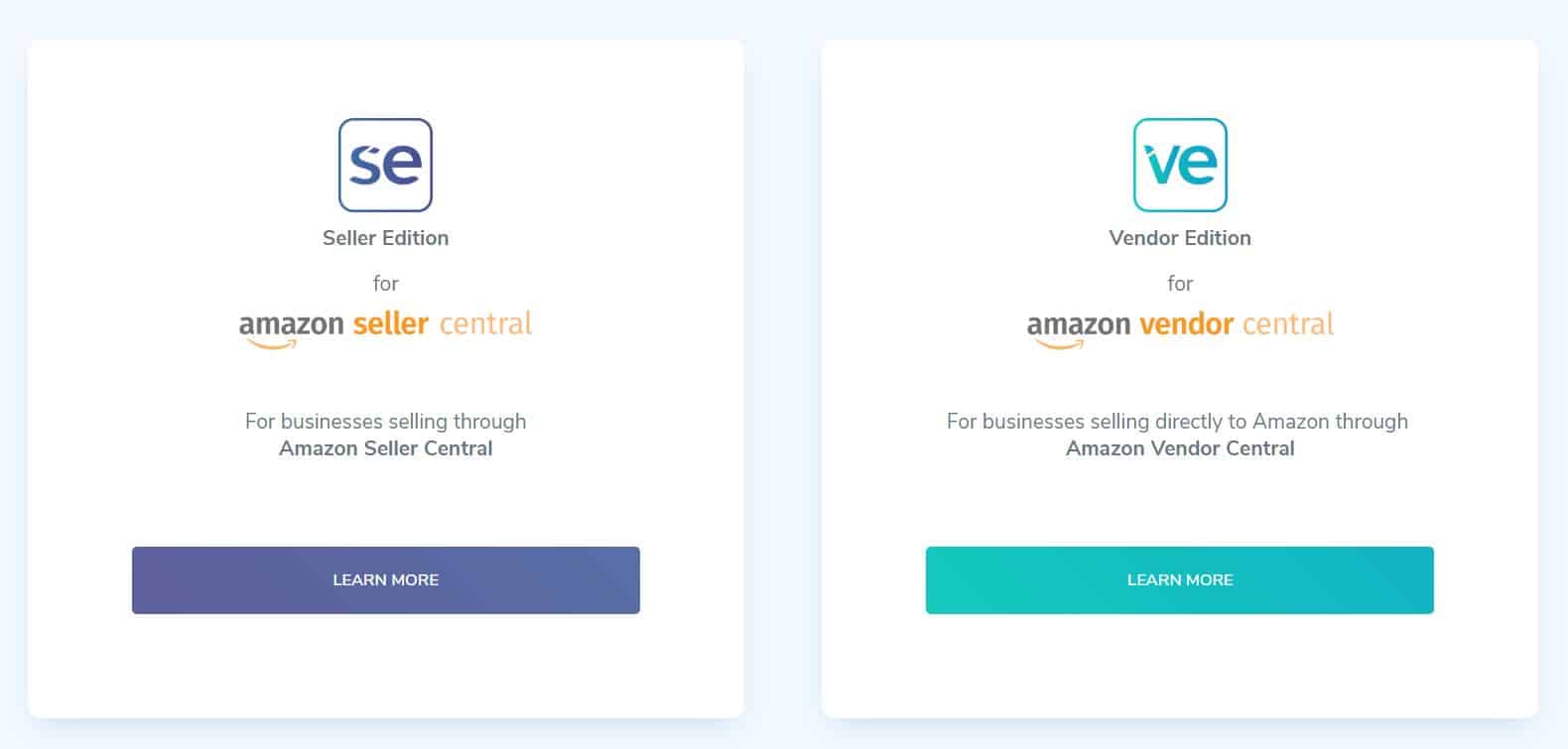 Let us first take a look on SELLER EDITION.
for those businesses selling through
Amazon Seller Central
What is Amazon Seller Control?
Amazon Seller Control is an all-in-one business solution. There are seven features integrated in this software to help you enhance and manage your Amazon business. Boost your Amazon business with just one tool!
What are the features of Amazon Seller Central?
Profit Dashboard:

This feature tracks your business profit in real time. It automatically calculates the real profit on Amazon, all other fees are already deducted. There is no more hassle in calculating large numbers.
PPC Manager:

It automates the PPC campaigns, thus, helps you saves time. The feature focuses more on campaign profitability and Amazon advertising spend.
Amazon Ranking Optimizer:

It allows you to research high volume keywords, optimize listings and track keyword rankings that leads your products on a higher rank on Amazon.
Competition Monitoring:

You can monitor and get ahead with your competitors with their daily sales volume and keyword rankings.
Product Research:

You can expand your product selection by filtering the top best-selling products on Amazon. You can quickly determine the most profitable product as you can filter the estimated sales and number of reviews of the product.
Review Management:

When there are new reviews of your product, you will be notified in an instance. Moreover, it helps you sort reviews by their impact on the average star rates.
Inventory Management:

Your inventory will not run out again! Notifications will be sent out for low inventories.
How much is the Amazon Seller Central of Sellics?
Just like any reputable businesses, sellics wants you to invest in your growth. Prices vary as it depends on the business volume. The business volume refers to the approximate annual sales on Amazon. Let us say, the annual  $1 to $60,000 of business revenue demands $67 a month, a biannual plan of $57 a month, and the annual plan of $47 a month. You can actually save $120 a year with the biannual plan. This given value will still increase.
The Seller Edition includes unlimited keywords, unlimited products, a free mobile application, and all amazon markets.
You can try the 14-day FREE trial! They also accept payments through Credit Card or Direct Debit.
Now, let us discuss the VENDOR EDITION.
for those business selling directly through


Amazon Vendor Central
What is Amazon Vendor Central?
This edition tailors more than your business needs! It is available throughout Amazon USA and Amazon Europe. It can cater bigger teams because of its advanced user management. It also helps you track and organize larger selections of product groups.
What are the features in Amazon Vendor Central?
They help the entrepreneurs on Amazon succeed with their business. This is the right solution for managing reviews, improving listings, optimizing AMS campaigns, and tracking buybox. Here are the four features integrated in this edition:
Customer Feedback
The success of a product depends on the customer reviews. You have to keep an eye on those reviews and respond to the inquiries in no time!
Monitor Customer Feedback
Respond Customer Inquiries Promptly
You can manage the ratings and control the brand reputation you have on Amazon. You can actively engage and build a positive relationship with your customers. You will be notified with the negative product review to help you respond in no time.
Content and SEO
With the improvement of your product visibility on Amazon, it will increase your sales. The optimization tool enhances your rank on the search results of Amazon.
Identify Top Keywords:

Research and filter relevant keywords by Amazon search volume.
Keyword Match for Product Listing:

It is important to build a list of relevant keywords. Avoid losing traffic by immediately determining the missing keywords on the product listing.
Optimize Listing Page:

New keywords are easily transferred to the product listing or backend search terms.
Optimize AMS Campaigns
ROI advertisements are improved through the optimization with the Amazon Marketing Services campaigns. The automated bidding algorithms help your work easier.
Buy Box Monitoring
You can see those third party sellers and determine their progress!
How much is the Amazon Vendor Central?
It is a flexible price because it can be customized based on your needs. It is perfect for international markets, teams, and product selections. Amazon Vendor Central solution starts at $149.
Why Sellics?
Their data analytics is a state-of-the art, why? They are duly updated about Amazon. They constantly work on new features that allows a better and more data-driven decisions that can pave the way to success on Amazon.
Moreover, they have a tight security and privacy. They are fully aware that it is their responsibility to handle your data responsibly to meet the highest requirement.
Also, there are expert amazon supports are friendly and willing to help you with any issues that occurs.
Reviews
0

out of

5

based on

0

reviews.
Overall rating: