ChannelReply provides an integration that can help and enhance the customer service messaging for your Amazon and eBay accounts using the helpdesk you want. It threads conversations and supplies organized data about your customers and their orders.
What are the humble Integrations of ChannelReply?
We all have that moment when our Amazon support gets out of control. We thought the CRM can manage and make them organized, but, it is still the same, jumbled raw data and messy conversation threads. However, ChannelReply has its integration that can help you with this problem.

Amazon Integration
The Amazon Integration helps you with the customer service platform of your account to make it better, faster, and easier for you!
eBay Integration
More entrepreneurs are selling in eBay, we know, eBay is awesome! But, the given help of ChannelReply makes it more efficient.
What are the features of these integrations?
In a single screen, you can offer fast and easy support for all the queries. It does not matter if the inquiry is from your Amazon, eBay, or own website because it still works! It can provide individual logins for multiple support agents.
You can keep track of the conversations through automatically threaded tickets, moreover, information about the buyer and their orders are easily viewed with the hyperlink of the listing.
You do not have to worry about missing out notifications, because it can instantly deliver return requests, A-to-z Guarantee claims and more. What makes this integration amazing is you have the freedom to create canned responses and automated replies. You can use these when you are busy and you have to attend to your customers' queries. Moreover, ChannelReply allows you to collect, analyze, and act on customer service data.
It also helps you manage your team better through assigning tickets, integrating a CRM, and tracking and organizing agents based on their expertise.
What are the available Customer Relationship Management (CRM) Integrations of ChannelReply?

Zendesk Integration
When you have to connect with your customers on any channel, Zendesk will help you cross these channels. Its integrated customer support helps you track, prioritize, and solve customer support inquiries. There is also a guide for knowledge base and smart self-service available for you. Moreover, live chat and messaging or call center software are offered to seamlessly connect with your customers.
Freshdesk Integration
This customer support software is rich with amazing and intuitive features that can help boost your business! You can organize all of your customer conversations in a thread. Issues are resolved faster than expected because your teams can collaborate. Moreover, you do not have to worry about repetitive work because Freshdesk helps you automate to save time.
Desk.com Integration
You will have complete control over on all your applications, data, and devices. It manages and personalizes end-to-end customer experiences.
How Much are the Subscription Plans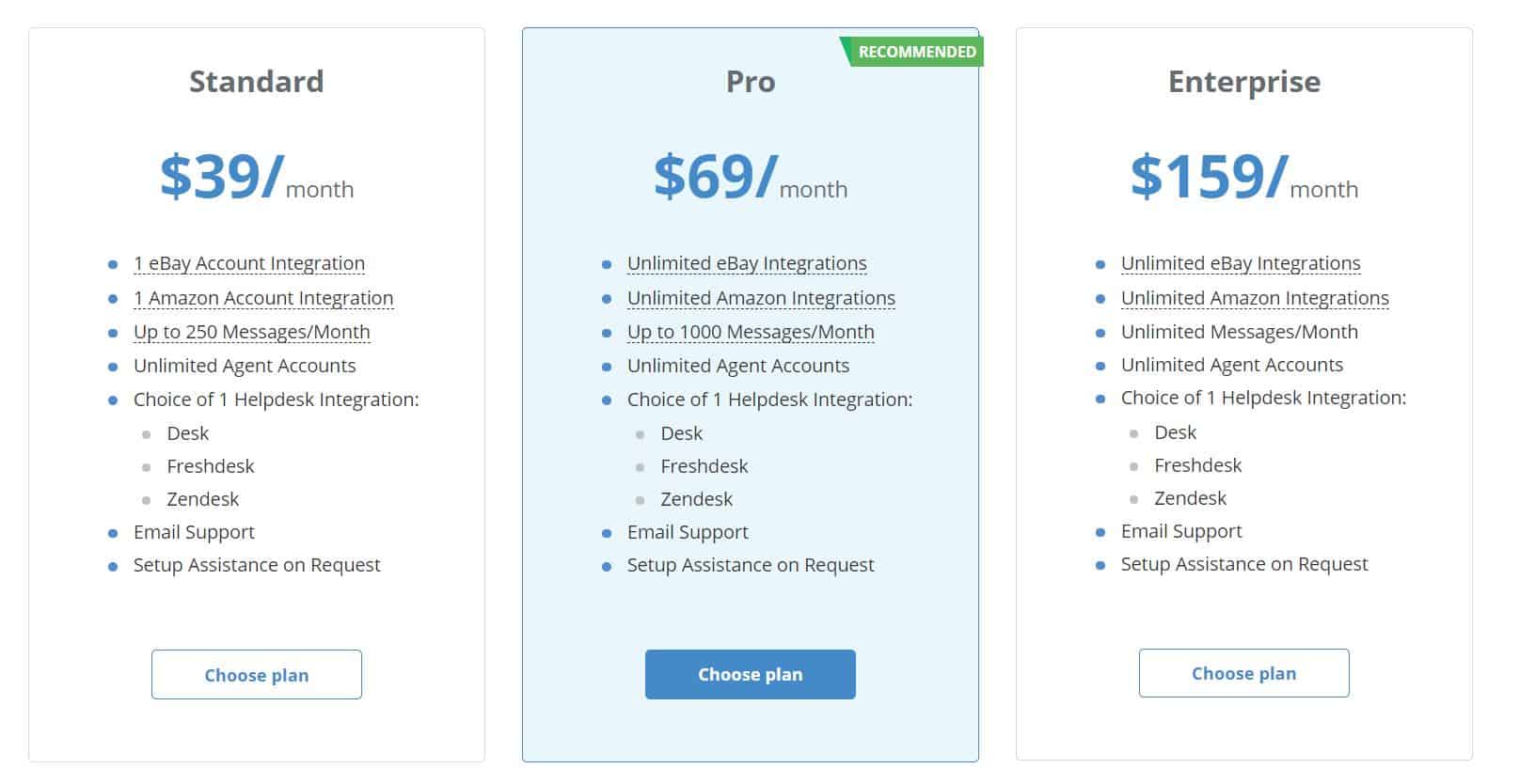 When you have decided to subscribe to a ChannelReply plan, you can choose to have it billed annually or monthly. There are three subscription plans you can choose from, the Standard plan, the Pro plan, and the Enterprise plan. What are the features of these plans? Check these out.
Standard plan
The Standard plan is billed for $39 a month if billed annually, but if you opt for a monthly billing you will have the standard plan of ChannelReply for $49 a month. If you choose this plan, you can enjoy the following features:
eBay Integration with only ONE account

Amazon Integration with only ONE account

Able to send up to 250 messages in a month

Unlimited Agent Accounts

You can choose from Desk, Freshdesk, and Zendesk for Helpdesk Integration.

Email Support

Setup Assistance on Request
Pro plan
Among the three plan subscription, Pro plan is the most recommended for you. If you want it to be billed annually, you will only pay $69 a month, but if you want to have it billed per month, you will have it for $79! Just like the Standard plan, it has Email Support, Setup Assistance upon Request, and one Helpdesk Integration.
What makes the Pro plan different is it has UNLIMITED eBay integrations, UNLIMITED Amazon integrations, and UNLIMITED agent accounts. Moreover, you can send up to 1,000 messages in a month.
Enterprise plan
This is the most expensive subscription, a month of annual billing costs $159, meanwhile it costs $179 for monthly billing. What makes this plan subscription special is the UNLIMITED features. The Enterprise plan has four unlimited features, namely the eBay integrations, Amazon integrations, messages sent in a month, and agent accounts.
You still also have the autonomy to choose what Helpdesk Integration you will choose. Moreover, the Email Support and Setup Assistance on Request are also available.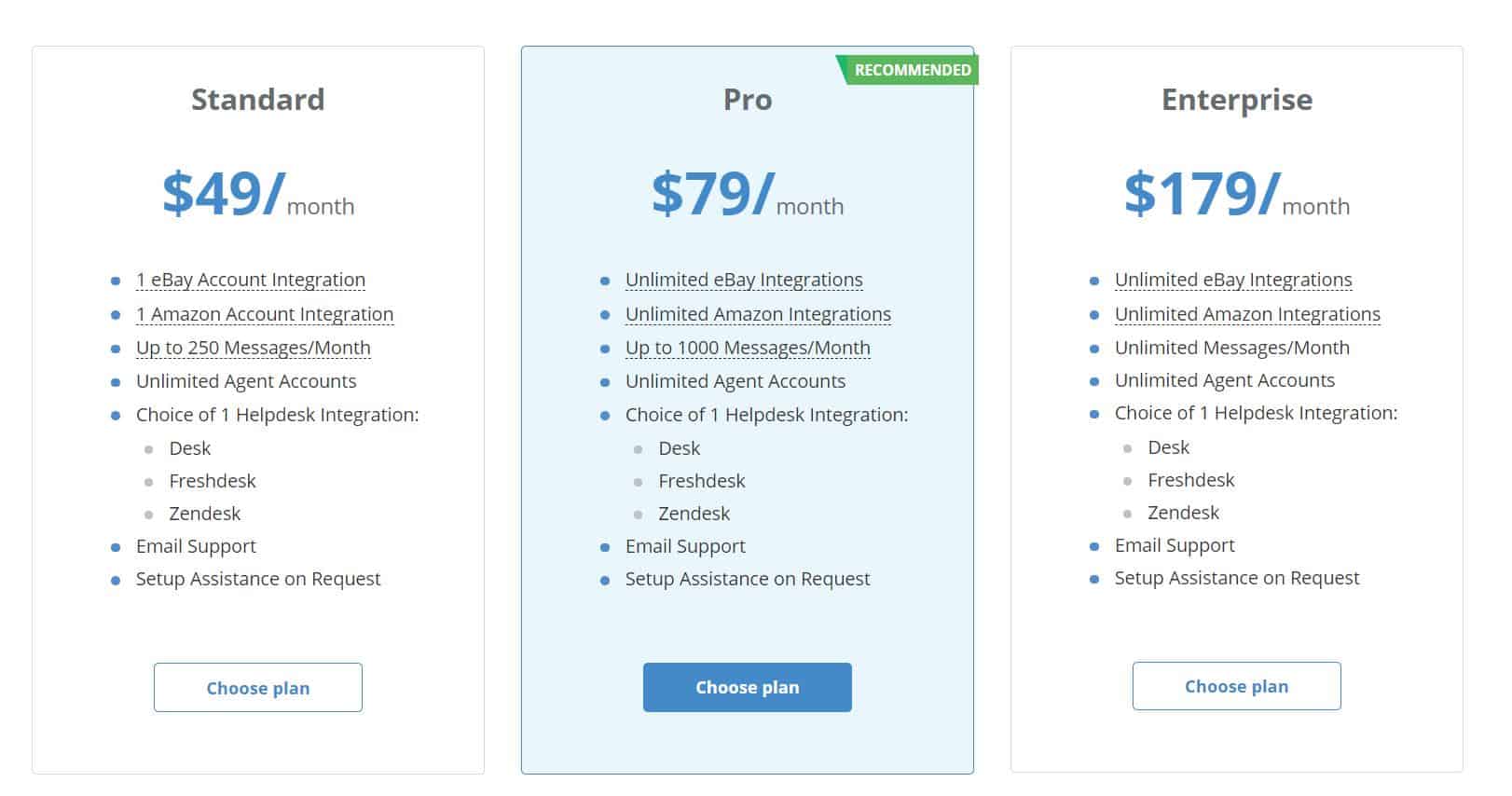 So, why ChannelReply?
It smoothly and continuously integrates the CRM to your account, it is a powerful and customizable solution that helps your business improve. It allows you to create personalized and automated answers to customer queries; it lets you assign customer messages to the most appropriate agent; it gives you the ability to set priority levels for all customer requests.
It only needs three steps to integrate the accounts of your marketplaces and customer relationship management (CRM) platform.
You only have to choose the service desk you'll use as your CRM. Go to CRM settings in ChannelReply, select and integrate the preferred customer service software. You can choose from Zendesk, Freshdesk, or Desk.com.

Once you have changed the CRM settings, connect and configure Amazon and eBay.

After you have connected and configured your account, you activate ChannelReply in one click.
You can try their free 14-day trial, no credit card information is required!
Reviews
0

out of

5

based on

0

reviews.
Overall rating: