For an entrepreneur who is building their own empire on Amazon, JungleScout is the best solution for you. The relevant data to have a successful product is with them. Do not stress everything, you can work on your own pace!
There is no other Amazon tool that can give you an accurate sales estimate than the refine data models of JungleScout!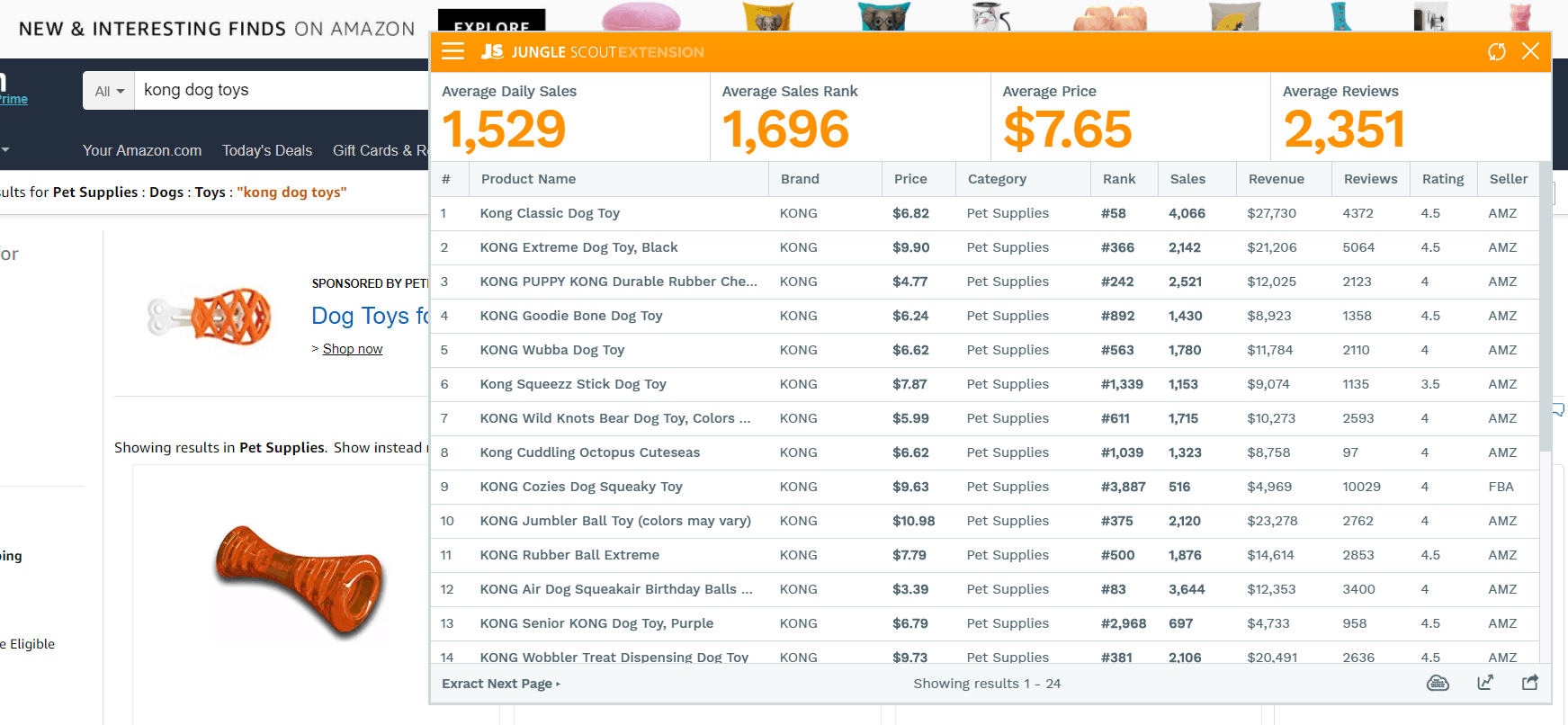 How can JungleScout help you?
They will help you find products! JungleScout presents you ideas from the filtered database of Amazon. It does not matter if you are a first-time seller or a pro in Amazon, this will help you boost your business in time.
An average of 10 products defines a successful seller on Amazon, but you do not have to worry! You will get there. JungleScout guides you in looking for profitable product niches. You will always be a step ahead from your competitors.
A solid and firm data is the base of your business. They offer you a Web Extension and Web App to guide you on your business.
The Web Extension: JungleScout Chrome Extension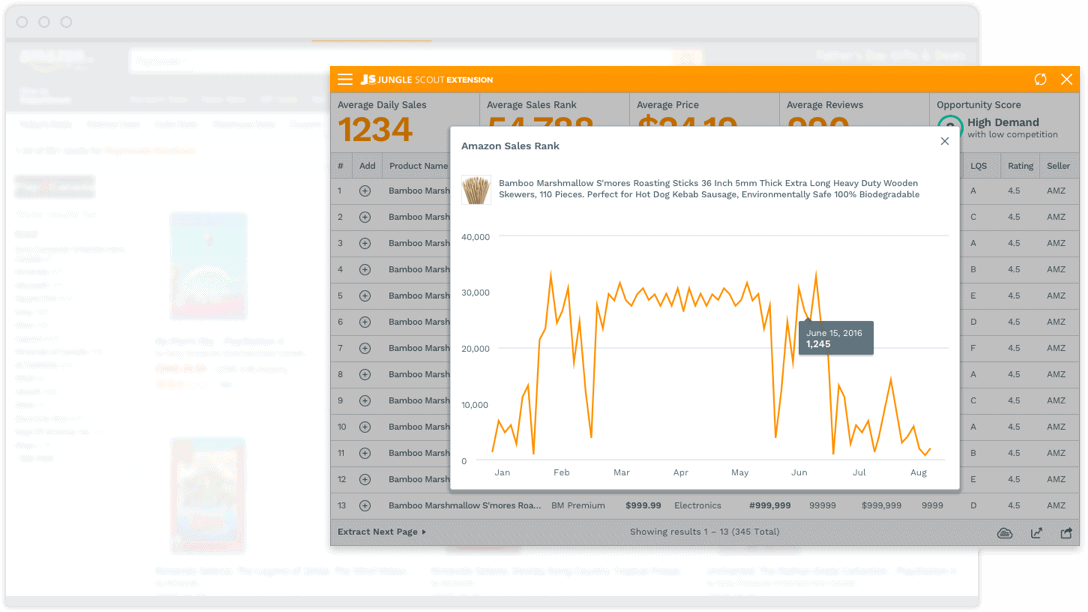 It makes your life easier, their Amazon product research provides an accurate and brilliant ideas. Each product launch leads to a successful product. It supports the following Amazon marketplaces:
USA

UK

Canada

India

Italy

Germany

Mexico

Spain

France
You can browse any of these Amazon marketplace and look for an interesting product!
The Web App: JungleScout App

With an instant, the Web App gives you the ability to scan through the product catalog of Amazon. This is the secret weapon in product research, it provides you endless ideas that can boost your business. It seamlessly organize, collect, and analyze sales data of products.
You also have the power to filter items with their data in demand, reviews, and sales. This will lead you to great opportunities in lesser risks. There are three powerful tools to utilize to manage your business.
Product Database:

This allows you to filter the products on multiple categories with their price, demand, rates, and estimated sales. The database allows you to have a comprehensive product listing without wasting your time.
Product Tracker:

It is an automated tracker that compares the product metrics without using formula or spreadsheet. It has the ability to follow the product price, sales, and rank. You won't miss a thing because it gives you a product breakdown report.
Niche Hunter:

Profitable niches are determined with this feature. It allows you to have product offers and discover new revenues that can enhance your brand reputation. Moreover, the opportunity score of those top sellers are calculated and revealed for any keywords.
Supported Marketplaces
Moreover, JungleScout Web App is supported by the following marketplaces:
USA

UK

Spain

Mexico

India

Canada

France

Italy

Germany
The Competitive Rates of JungleScout Pricing!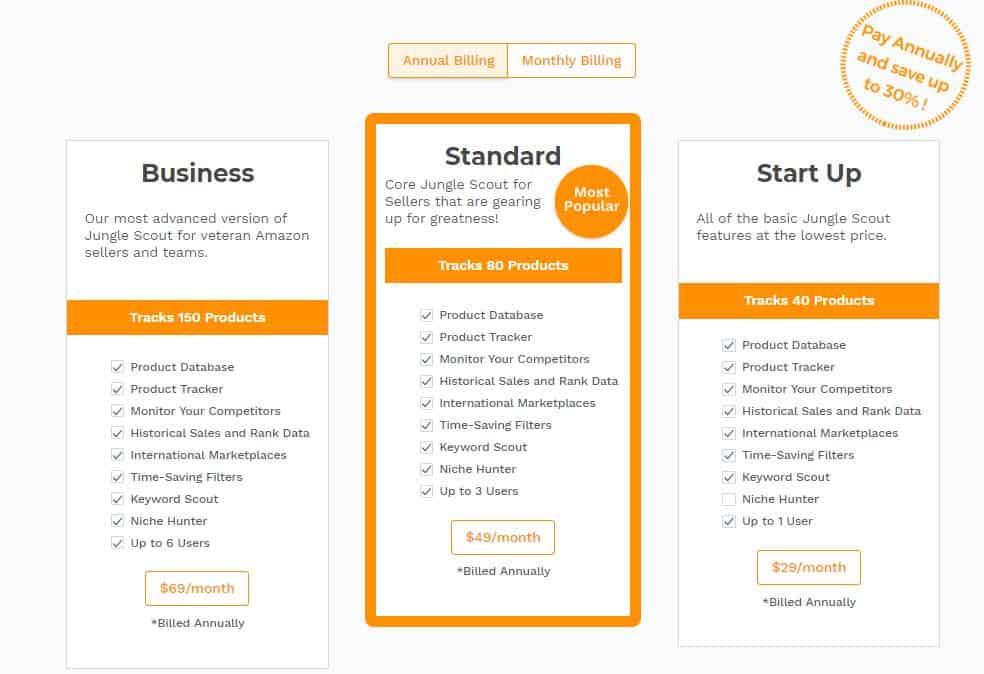 There are two billing options you can choose from, annual billing or monthly billing. However, we recommend you to choose annually billings as it can help you save up to 30%!
Below are three pricing plans for WEB APP.
Start Up Plan
This plan offers the basic features of JungleScout given at the lowest possible rate! It allows you to track 40 products. Moreover, it offers you to have access on:
Product Tracker

Product Databasae

Competitor Monitoring

Sales and Rank Data History

International Marketplaces

Time-saving filters

Keyword Scout
However, this plan only allows one user. It is only for $29 a month when billed annually, and for monthly billings it will cost $39 a month.
Standard Plan: The Most Popular Plan!
The sellers are geared with the core features of JungleScout. It allows you to have 3 users and track up to 80 products. It also has the basic features with an additional access to Niche Hunter. The monthly billing of this plan is for $69 a month, but if you will have it billed annually, it is only for $49 a month.
Business Plan
This is the most advanced plan of JungleScout. Most of the veteran sellers and teams on Amazon utilizes this plan. It allows up to six users and tracks 150 products. Moreover, it is the combination of the accessed features on Standard Plan and Start Up plan. The plan is cheaper when billed annually, it will only cost you $69 a month. However, if you insist to pay it monthly, you will have it for $99 a month!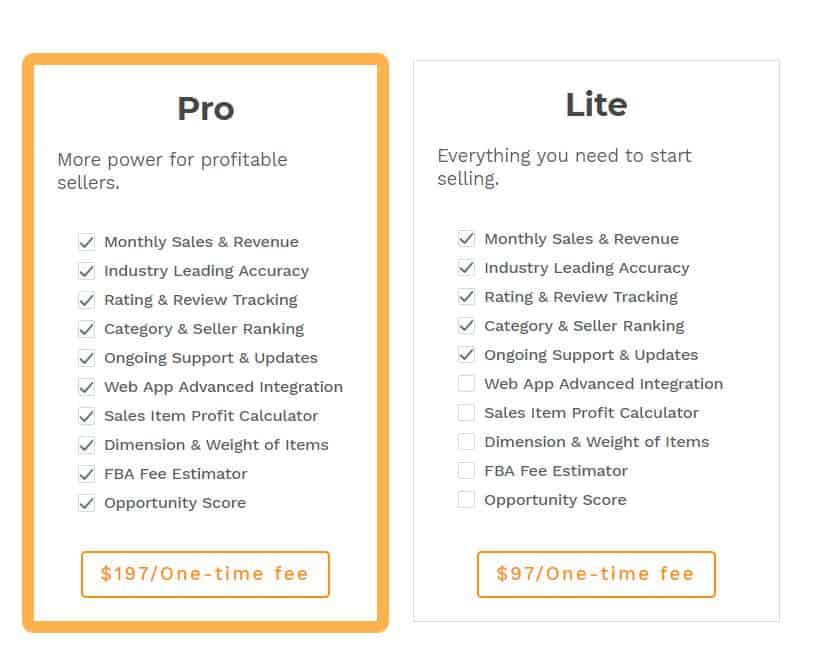 Also, there are two pricing plan for their WEB EXTENSION.
Lite is for those who are still starting to sell. For a one-time fee of $97, it already includes the following features:
Monthly Sales and Revenue

Industry Leading Accuracy

Rating and Review Trackin

Category and Seller Ranking

Ongoing Support and Updates
However, Pro is utilized more by profitable sellers because for only a one-time payment of $197 it has all the features needed. The additional features are:
Web App Advanced Integration

Sales Item Profit Calculator

Dimension and Weight of Items

FBA Fee Estimator

Opportunity Score
Still confused?

When utilized alone, it gives you a brilliant effectivity and efficiency over your business progress. However, when used both it gives you real opportunities that only takes you minutes.
Why not get both? When you have the chrome extension and web app, you have the chance to validate data and reduce the risk. When both of the tools are utilized, it quickly determines the popular niches and products in a low competition.
You can start your product research with the Web App. It will help you scan through a thousand of niches and products. These opportunities can be further investigated on the Chrome Extensions. You can even monitor your competitors sale by adding it to the product tracker on the Web App.
Although JungleScout does not offer any free trial, you can subscribe on any of their plans and get a 14-day money back guarantee if the software does not satisfy you. Get the benefits of the software and boost your own Amazon business!
Reviews
0

out of

5

based on

0

reviews.
Overall rating: