To get a grasp of the needs of your target market, one effective approach that almost always yields accurate results is through getting feedback. Market or customer feedback has played a major role in making business decisions and strategies.
It helps you in determining the direction of your business and the products that you carry. The feedback from your customers is crucial since ultimately, their demands are the ones that you must meet.
Getting feedback can be done in many ways but the most common is through surveys and polls. Traditionally setting up surveys and polls can be too tasking and the results can take many days, even weeks for you to secure. But in today's age of technology, feedback tools and platforms emerged with offers of getting for you, instant market feedback. And, one of those tools that we have the opportunity to try for ourselves is PickFu.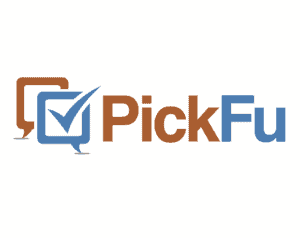 What is PickFu?
PickFu is a split-testing tool that gathers data and feedback almost instantly through a survey or poll. While it is a marketing tool that will be very useful to entrepreneurs, practically anyone can use it and find value in it. Those who have ideas or decisions to make, for which feedback from a reasonable number of respondents is needed, this will be a useful tool.
The common users are authors – for feedback on book design, book title, or which book from among the choices would be the preferred read; app developers – for opinions or feedback on app icon design, the type of app preferred; and entrepreneurs – for logo design, business name, preferred product, etc.

PickFu will be very valuable to people who would want to test their ideas and gather opinions from a sizable number of respondents. They will be assured of unbiased feedback especially since this will be gathered from the panel of PickFu rather than your own audience that will most likely be your family, friends and people you know.
What are the Types of PickFu Polls?
There are 3 types of PickFu polls to choose from, depending on what kind of feedback you need from the audience. We at Global From Asia tried PickFu to guide us in our ongoing discussion whether to rename from Global From Asia to Global From Anywhere. You will find out at the end of this section which type of poll we decided to run.
1. PickFu Solo
This is the type of poll that you can run if you want to test just a single idea. Using our case as an example, this came up as a preview: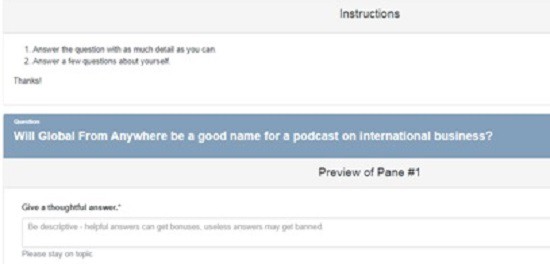 2. PickFu Head-to-Head
You go for this when you want the respondents to choose between 2 or more ideas. This falls as a preference poll where you can test 1 against another. Or, if you have more than 2 ideas, you can test each idea against the other ideas in the set. What's also good about this is that the respondents are also asked by default to explain why they chose one over the other. This is the preview when we chose head-to-head option: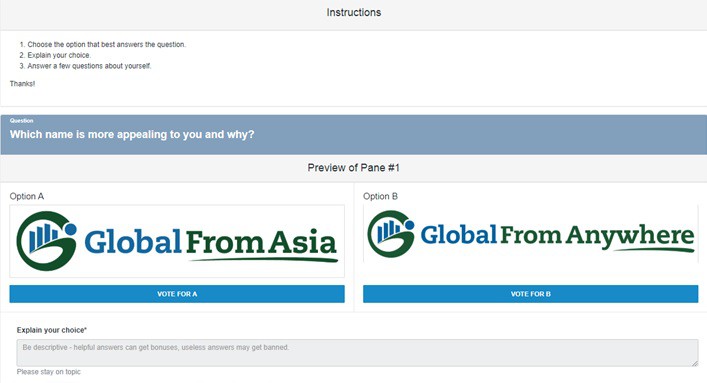 3. PickFu Ranked
This type of poll will work for you if you want to rank your ideas of at least three. What distinguishes the Ranked type of PickFu poll from the Head-to-head poll is the manner of how each poll was conducted.
Under a Head-to-Head poll, if you have three or more ideas, these are presented in a round-robin approach. In the Ranked poll, the ideas are presented side by side in a single poll. A Ranked poll looks like this in preview: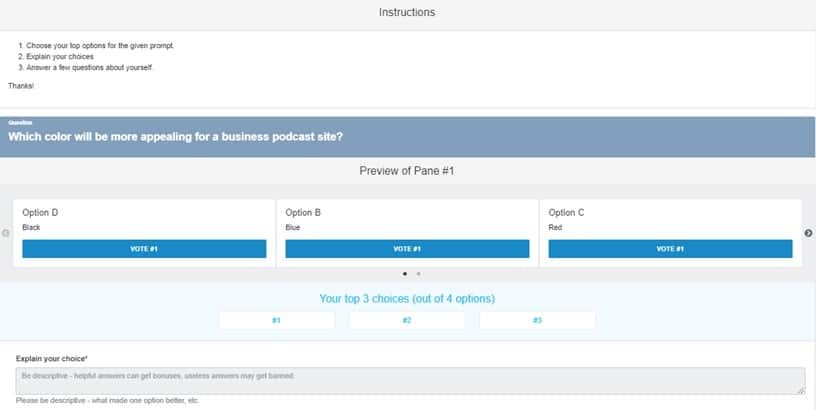 So what type of poll did we run?
Since there are 2 ideas laid on the table, we ran a head-to-head type of PickFu poll.
For an easier reference to the products of PickFu, here's a product comparison straight from Pickfu's website: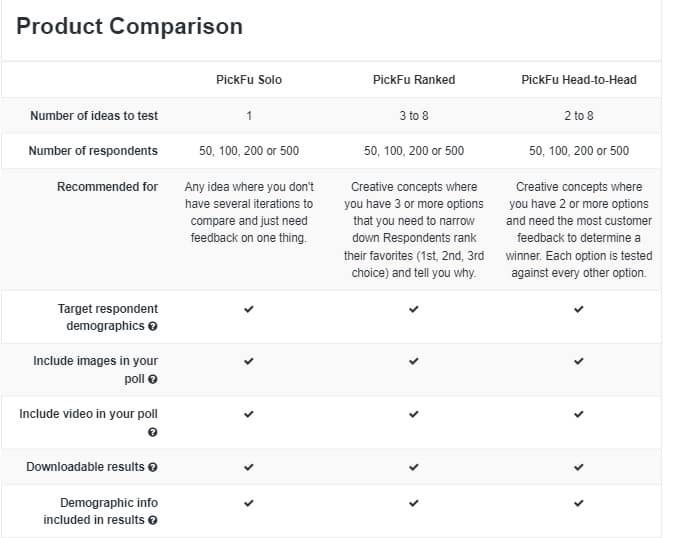 How does PickFu work?
Using as a test case, our own experience in running a PickFu poll, we will show step by step what we did to come up with the poll.
The site has an easy to navigate panel – no complex fields to accomplish and with just minimal info needed. Easy as 1,2,3? Yes, it is. Creating a poll in PickFu involves 3 main steps which we will discuss below:
Step 1 – Create a Poll
Do not be overwhelmed at the thought of creating a poll. In PickFu, it only involves a what-who-checkout process.
First, PickFu will ask what you are looking for. Here, you will choose whether you would want an open-ended feedback or votes & explanations. Then you encode the question that you want to ask the respondents, after, you provide the choices or option.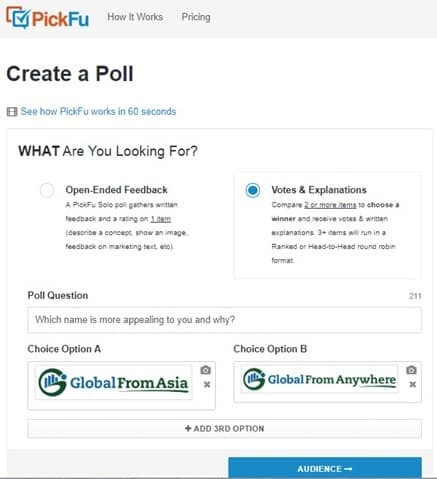 In the second window you will be asked how many respondents you would want. The options are 50, 100, 200 and 500. You will also be asked the kind of audience you want to participate in the poll, whether it's a general audience or a targeted audience. And, you can also get to choose the demographics of your audience.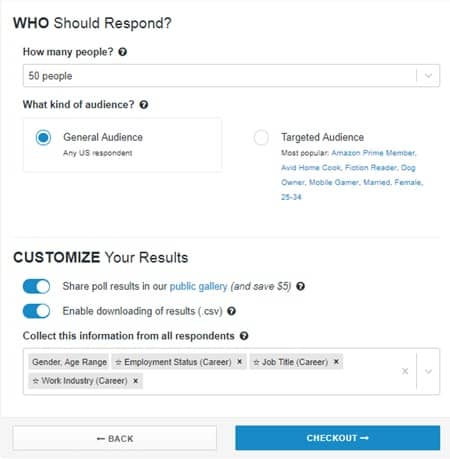 After you have completed the data needed to run the poll, you can then proceed to checkout and pay via credit card the amount due for the poll that you set up. When all that is done, you will then see the poll running and gathering data.
Step 2 – Wait for responses
There's no need to do a follow-up as you can check the status from time to time. You can see that it is running and how many respondents have already answered your poll so far.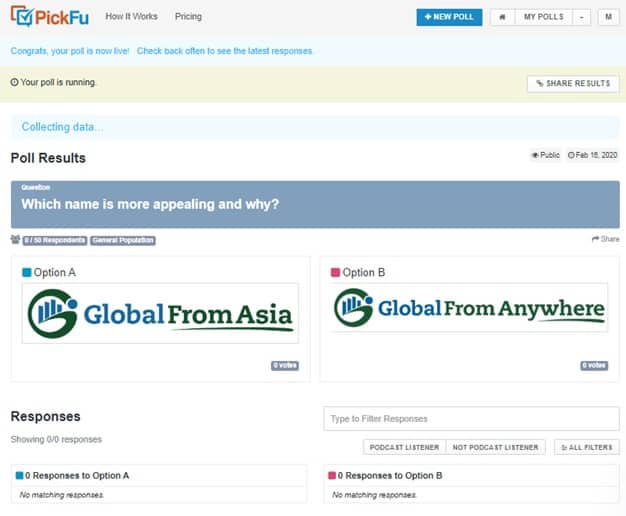 Step 3 – Get Your Results!
In just 27 minutes, we were able to obtain the results. And, as we went for a head-to-head poll, the clear winner was Option B which is Global From Anywhere.
The result was not just limited to determine who the winner was, written explanations and comments were also presented. This was more valuable to know. Not only that, you will also get to view the demographics of the respondents which will further aid you in making your final decision.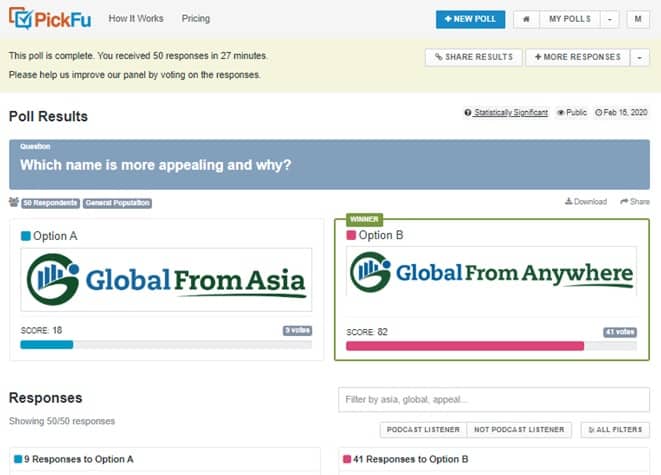 The Results of our PickFu Head-to-Head Poll
Global From Anywhere was the clear winner – 41 vs. 9. We cannot help but gush over the fact that we got comprehensive feedback on our idea in just a matter of minutes.10 minutes into the gathering of data, PickFu was already able to get the responses from 21 respondents.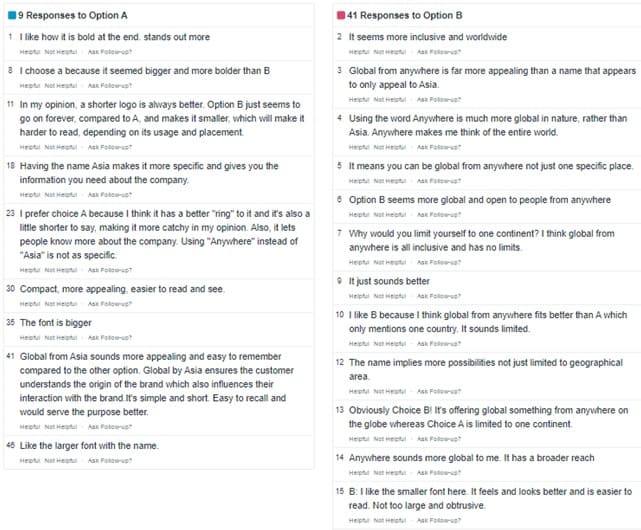 What amazed us more were the written comments that the respondents gave to support their choice.
Here are some of the reasons why the respondents chose Option A – Global From Asia:
"I prefer choice A because I think it has a better "ring" to it and it's also a little shorter to say, making it more catchy in my opinion. Also, it lets people know more about the company. Using "Anywhere" instead of "Asia" is not as specific."
"Global from Asia sounds more appealing and easy to remember
compared to the other option. Global by Asia ensures the customer
understands the origin of the brand which also influences their
interaction with the brand.It's simple and short. Easy to recall and would
serve the purpose better."

"Having the name Asia makes it more specific and gives you the
information you need about the company."


"Compact, more appealing, easier to read and see."


"I choose a because it seemed bigger and more bolder than B."
And these are the comments of those who chose the winning answer that we found really interesting and helpful:
"Using the word Anywhere is much more global in nature, rather than Asia. Anywhere makes me think of the entire world."
I think option "B" is more inclusive and broad than option "A"
"Why would you limit yourself to one continent? I think global from anywhere is all inclusive and has no limits."
Anywhere is much less restrictive than one continent.
I like them both, but I think B kind of evokes the feeling of "no limits" as well as "convenience". When I think of something far away, I worry about shipping time, time differences, cost, etc. Saying "from anywhere" makes me think it's my choice, that it's convenient, and that I'm included somehow.
Choice B (Global from Anywhere) is more appealing as it doesn't lock the business to any one specific world region. There won't be expensive rename or rebranding of the company if it started out as "Asia" and added other regions, for instance. The company also avoids potential impacts and negative connotation to the business like with "Asia" or "China" businesses right now that may suffer decreases in revenue due to people's ill feelings with anything Asia or China right now.

Aside from the comments from the respondents, the results came with a presentation of the corresponding demographics of the audience which can influence a decision. Here are some of the results: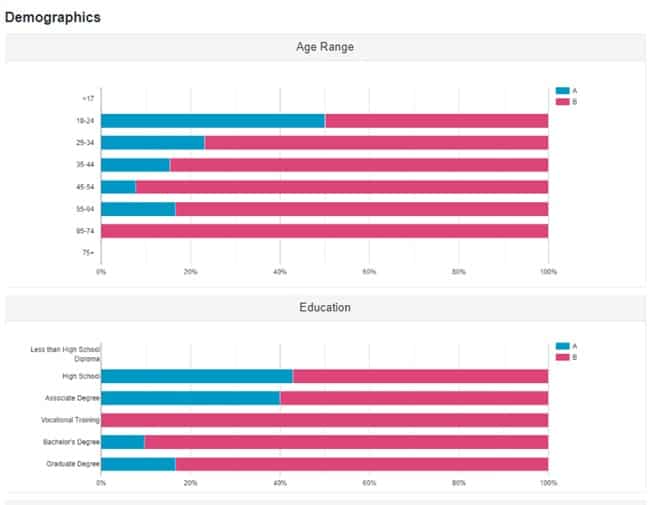 Just by looking at the results, say for age range, we can say that for our target audience aged 25 years above, Global From Anywhere is more appealing. For educational attainment, we can also see that Option B rings appeal to those with vocational training and most of the Bachelor's Degree and Graduate Degree holders.
Since our target market falls into that category, the results can influence our next decision which can be, at this point, to go for Global From Anywhere.
What we love about PickFu
There was so much to love about PickFu especially since we got the results we needed and more.
User-friendly site
The site has no complex process. It was simple and easy to use.
Paid subscription not necessary
PickFu does have subscription plans available. But to run a poll in PickFu, you don't need to have a paid subscription plan. Anyone can run a poll on the site and during checkout, you can complete your order as a guest. You can instantly check the changes in the price of the poll the invoice updates real-time when choosing options and inclusions.
Fast results
It was a refreshing take on the usual survey and poll creation approach in that we got the results in under 30 minutes when before, it took days, even weeks.
Written explanations present
The written feedback is of more value to us. We now know the reason behind the responses. We cannot rely solely on the option that they chose especially when it involves a decision that can change a company's play.
Can specify your target demographics
Even when you chose a general audience, you have the option to specify further your target demographics. As a default, they have gender and age. You can choose other relevant demographics such as work industry, job title, employment status, etc.
Can download a file of your results
With an upgrade, you can choose to include a downloadable file copy of your poll results. You can download it in a csv or pdf file format. It will be good to have a document to go back to for future decisions that you have to make.
The Limitations That We See
We have had such a good experience with using PickFu that we needed to see how it will work for other entrepreneurs. There are only a couple of things that we can think of that may affect your decision in using PickFu:
Cost can go up
There is a minimum cost for a regular poll, meaning all inclusions that were not specified as default have a corresponding cost or price. If you see that you will be using PickFu more frequently, then you must consider getting a paid subscription plan. Not only will you get a lower deal, you can also be kept abreast with promotions, offers and discounts.
Audience is limited to US
The panel of respondents of PickFu is US-based. It was good for us when we ran the poll since our target audience is really US-based. But if you are a business whose target audience is in Europe or in Asia, then the results may not be applicable and relevant. If PickFu can expand its panel of respondents to other parts of the world, then this will be a highly recommended tool for all entrepreneurs.
Try PickFu and Poll Away
If you want to experience getting instant market feedback like we did, try PickFu out. Visit their website and use coupon GFA for 50% off your first poll.
We also would love to know how it went for you. You can share your thoughts in the comments.
Reviews
0

out of

5

based on

0

reviews.
Overall rating: