What is AMZalert?
AMZalert is an Amazon monitoring software intended for Amazon sellers. It is a software dedicated to making Amazon product monitoring a breeze since instead of monitoring your products manually, it does all the hustle for you. AMZalert is an automated, proactive way to monitor your Amazon listings and business. It also offers a bunch of useful features that will make your product/s a step ahead of its competitors.
Bringing a product business to Amazon can be tough. There are a lot of pitfalls and things to manoeuvre through in order for a product to be successful on Amazon. A seller has numerous things to monitor in order to ensure that their product listing will become visible and existent among thousands of competitors. Because of a lot of external opportunities and threats that should be considered when taking one's business to Amazon, it is crucial for every seller to monitor their product listings every now and then. Monitoring your product on the site manually one by one can be so troublesome and it cannot be avoided that there will be things that can be mislooked (e.g. product taken down, suppressed, out of stock or removed from the site) which leads to missing what could be a lot of sales from a particular product. AMZalert is a software designed to find solution to this problem that every Amazon seller has experienced or new sellers is bound to experience, among many other promising features that will make managing your Amazon selling business a cakewalk.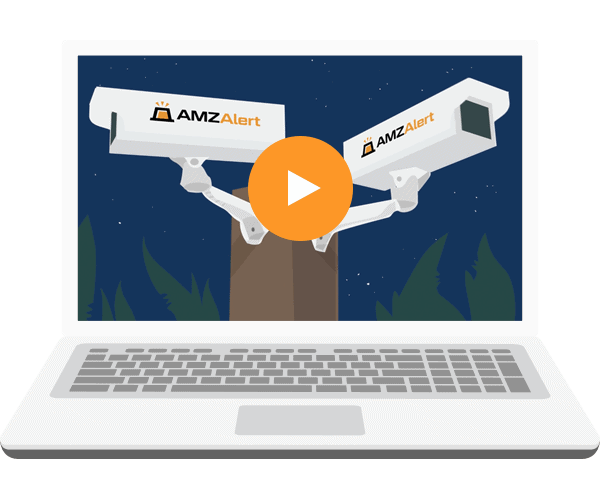 What are some of the AMZalert software features?
Automatic Cease and Desist Letters
AMZalert software provides cease and desist restoration for its users. This feature prevents Amazon listing hijacking. When someone takes over your authentic listing with a counterfeit or a fake item, this will greatly affect your bottom line. This software detects hijacking, alerts you through an automated e-mail notification or text so you could send a cease and desist letter or you can use a template provided by the software. The user can also opt for the software to automatically send a cease and desist letter once it detects hijacking all the while notifying the seller.
What is this for you and your business?
With a very harsh competition in the e-commerce, foul plays are inevitable. Amazon is crawling with hijackers and it is very troublesome if you manually check the site for hijacking directed to your product listing. With this software, you can avoid losing your precious sales from hijackers all the while giving you the sense of security.
Deleted and Negative Review Monitoring
AMZalert software notifies through a text alert or an email notification to its user whenever there is a negative review about your product listing. This way, you can immediately take necessary action. Amazon periodically deletes reviews whether positive or negative, on a product listing without notifying the seller. This will affect your average star rating—especially when the review that is deleted is a positive one. Through this software, you can be alerted when reviews are deleted so you can ensure that your star rating doesn't tank.
What is this for you and your business?
Customers always look at the product listing review prior to making a purchase. If you are a seller, you need a good rating in order to boost your customer trust and in turn, attract more potential customers to your store. With negative reviews monitoring, you can easily mark the review as unhelpful as soon as you are notified or remedy this by making ends with the customer. This way, your rating will not be tarnished.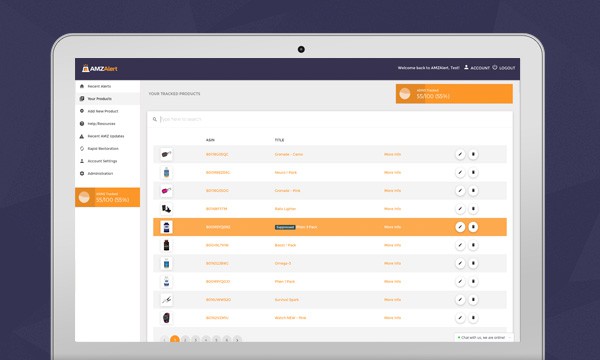 Keyword Ranking Change Alerts
AMZalert software can track rankings of your top keywords with Amazon keyword tool. You will be able to track your top three current keywords or your competitor's keywords that potential buyers search to find your products. You will then be notified if there are any increases or decreases in your keyword rankings. This will help you take necessary action in order to increase overall traffic to your Amazon store.
What is this for you and your business?
Amazon customers usually have a higher purchase intent towards listings that are on top in their keyword search results. Making sure that you stay on top of popular keywords is crucial for sales. An effective Amazon monitoring tool like AMZalert is essential for you to track changes in your keyword ranking.
Best Seller Badge and Rating Change Alerts
AMZalert software can help you track your product listing rankings against other products. Amazon best seller rankings (BSR) is determined by numerous factors such as how well a product within a category is selling compared to similar products. Knowing and keeping track of your BSR is a critical piece of information that you can use in order to stand a winning chance in the Amazon marketplace competition.
What is this for you and your business?
Amazon customers trust sellers with a high BSR. Knowing and keeping track of changes in your BSR and your competitors' will enable you to formulate effective marketing strategies in order to drive sales.
Product Title Changes Alerts
AMZalert software can help you combat against hijackers that are trying to implement product title changes on your listings so your product loses its "visibility" among other listings. AMZalert software can detect product title changes on your listing and automatically alert you through a text message or an e-mail notification. This way, you can take control of your store immediately and save you from all the hassle of manually checking your listings one by one to check if there are any changes in the product titles.
What is this for you and your business?
Hijackers in Amazon intend to implement title changes to your listing, so you lose rankings. These title changes are not notified to sellers, leading them to lose rankings, and in turn, lose potential sales. With this Amazon monitoring software, you will be immediately notified when there are changes in your product titles so you can get on top of it.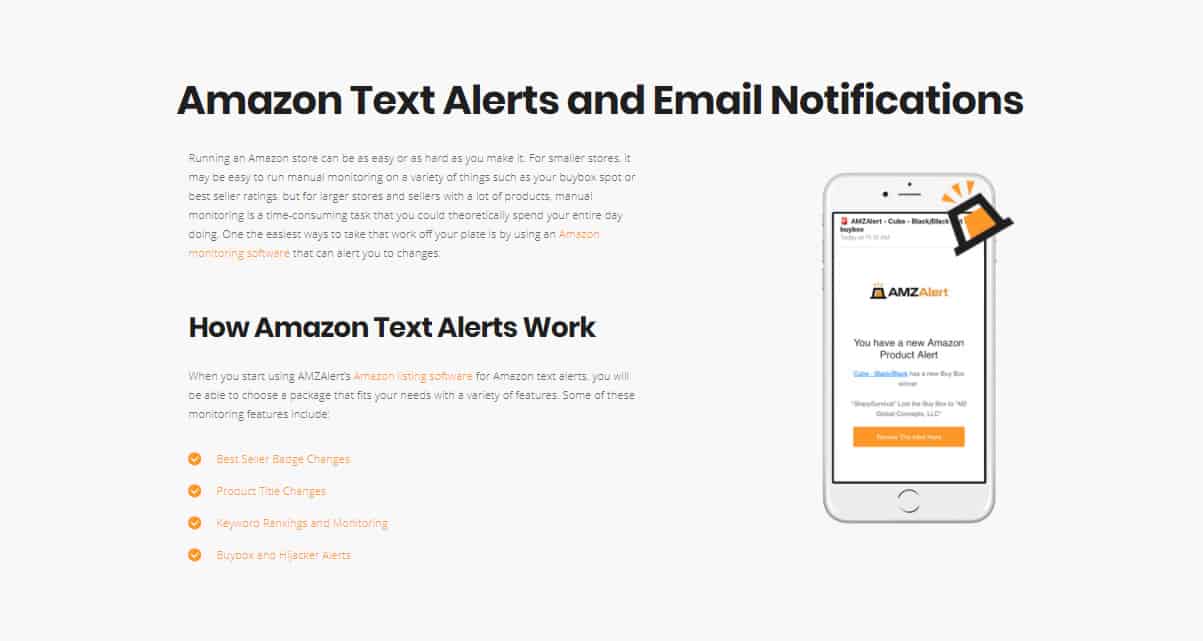 Product Suppression Alerts
AMZalert software can detect Amazon product suppression and automatically notifies you through a text message or an e-mail notification. This way, you can immediately take necessary actions to make your listing active again before it will impact your business greatly. AMZalert software will save you from all the hassle of manually checking your listings one by one whether it is suppressed or not. This is a very important feature an Amazon monitoring software can offer because Amazon does not always notify its sellers whenever they suppress a product listing.
What is this for you and your business?
Being notified whenever your product listing is suppressed is critical in managing your business in Amazon. There are always instances wherein you can mislook a product being suppressed because Amazon does not always notify their sellers when they do so, leading the sellers to lose what could be thousands of sales.
Product Image and Category Change Monitoring
AMZalert software can monitor the images and categories of your products. It notifies you whenever it detects a change in featured image, removal of an image, or change in the category. This will enable you to take immediate action to ensure you don't lose any sales from the change. This software feature is important in preventing hijackers from succeeding in sabotaging your business by trying to make changes in your product image and category to pull down your click-through rate and conversion rate.
What is this for you and your business?
Having an Amazon seller software that can detect changes in product image and category is essential in order to give you a sense of security and avoid losing sales from hijacker sabotages.
Product Price Alerts
AMZalert software has the ability to monitor changes in price points for your competitor or yourself. Whenever a price point change is detected, will automatically notify you through a text alert you or through an e-mail notification. Our Amazon price tracking software can also help track products' prices in other markets conveniently to prevent Reseller MAP violations and other forms of Amazon hijackings.
What is this for you and your business?
Keeping track of price your own price changes and your competitors' is essential in order for you to make sure that you are meeting and exceeding profit margins. Being notified when there are price changes in your competitors' end will help you strategize your own pricings.
Piggyback Alerts
AMZalert software has a specific feature for piggybackers—people who leeches off your listing by jumping onto your product listing and sets up their own. Whenever this happens, our Amazon seller software can detect and then notify the user almost immediately so they can get on top of it and not lose their sales to their leechers.
What is this for you and your business?
This software feature will help you avoid having your sales taken away by leechers. With this Amazon monitoring software, you can rest easy knowing your listing are being protected from scams.
AMZalert Price Package
The Start-Up package of Amzalert starts at $80 per month. If you wish to upgrade the included services on your software you can have the premiere package at $150 per month. The most popular package that has all the needed services is the Elite package at $200 per month.  These are the simple yet affordable prices with no contracts. The Elite package has a free 10-day trial.
Why AMZalert?
We all know that Amazon is the largest ecommerce platform, and there is no doubt that there are dangers in doing business. Thus, the 24-hour monitoring of AMZalert will help increase your sales to 30% to 100% in just a month! The AMZalert monitoring features that helps solve the complex Amazon seller problem are:
Amazon Product Listing Alerts

Amazon Review Alerts

Amazon Sales and Marketing Alerts

Business Automation
Now, what would you do? Sign up now to start the next big leap of your Amazon business!
Reviews
0

out of

5

based on

0

reviews.
Overall rating: