Astrill VPN may be the best option for VPN services for you.

You can connect up to 5 devices that are supported and compatible with Astrill VPN. Moreover, you can avail a business plan that allows 10 to 200 accounts. It has an unlimited bandwidth and server switches. Moreover, it has an unlimited speed, because speed is never compromised with them.
Your personal information and online activities are safe and secure because there are no logs kept. Also, you can freely enjoy your Internet experience with their military grade encryption. You can choose from over 358 VPN servers in 62 countries. It is supported by BitCoin.
Nevertheless, if you are still hesitant with its services, you can try their 7 days free trial. If problem arise, you do not have to worry because they have a 24/7 friendly customer support!

Server VPN and Location of Astrill VPN
There are over 358 VPN servers located in 62 countries. Yes, that is how powerful and dedicated the VPN servers of Astrill. Their servers are physical, connects to high quality network nodes, and provides 1 GB to 10 GB.
Internet speed are never compromised with Astrill. Your country is still not on the list? Do not worry! There are still new VPN servers and IP addresses currently added by their team without any additional costs for you.

Which Astrill VPN plan is right for you?
Personal VPN plan
You will reclaim your security and privacy through:
Connection up to 5 devices

Unblocks restricted websites

Download torrents securely
There are three subscription plans available under personal VPN. It is available for 1 month, 6 months, and 1 year.
A month of Astrill VPN is billed for $15.90 per month. Meanwhile, the 6 months personal VPN plan costs $11.65 per month, instead of paying $95.40 every 6 months, you are now billed for $69.90 every 6 months.
Moreover, the most popular personal plan of Astrill VPN is the 1 year subscription. It only costs $8.33 per month. You are billed $99.90 every year instead of $190.80, that is almost 50% savings!
You can also add extra features on your personal plan. The following extra features are:
Private IP on specific server:

You will have a dedicated IP on your selected server. You will be the only one who can use this server throughout your membership duration. This feature is for $5.00 per month.

Astrill VPN WiFi routers:

A pre-installed router with Astrill VPN software to connect with your other devices. This out of the box VPN starts at $50.

VIP add-on:

It prioritizes speed and reduces the latency for gamers. It also increases anonymity with its multi-hop. This add-on is for $10/month.
Business VPN plan
Astrill VPN wants to protect your company from hackers and spies. How is this possible?
Secure work-related emails:

It prevents third party interceptions with sensitive business communications.
Avoid industrial espionage: Military-grade encryption for ISPs, government, and industry competitors.
Manage accounts for your employees:

A business control panel makes managing accounts easier.
Utilize discreet business intelligence:

The company's location and identity is kept hidden when collecting, integrating, and analyzing competitor's business information.
Secure connection from any location:

Wherever you are, Astrill VPN provides a secure Internet connection.
24-hour Business Support:

Highly trained professionals for Tech and Sales are available to help you.
You are the boss. You can do whatever you want, you can upgrade your plan, add or delete employees.
You can customize your business plan by:
The number of accounts you need.

A year of subscription can range from 10 accounts to 200 accounts. The price starts at $5.25 to $4.62 per account a month, this totals to $629.91 to $11,093.41. The numbers may be high, but it actually help you save around 36.95% to 44.48%.
The VIP data package.

You can choose from 100 GB of VIP servers traffic per month to 1,000 GB of VIP servers traffic per month. Prices range from FREE to $90.00 per month.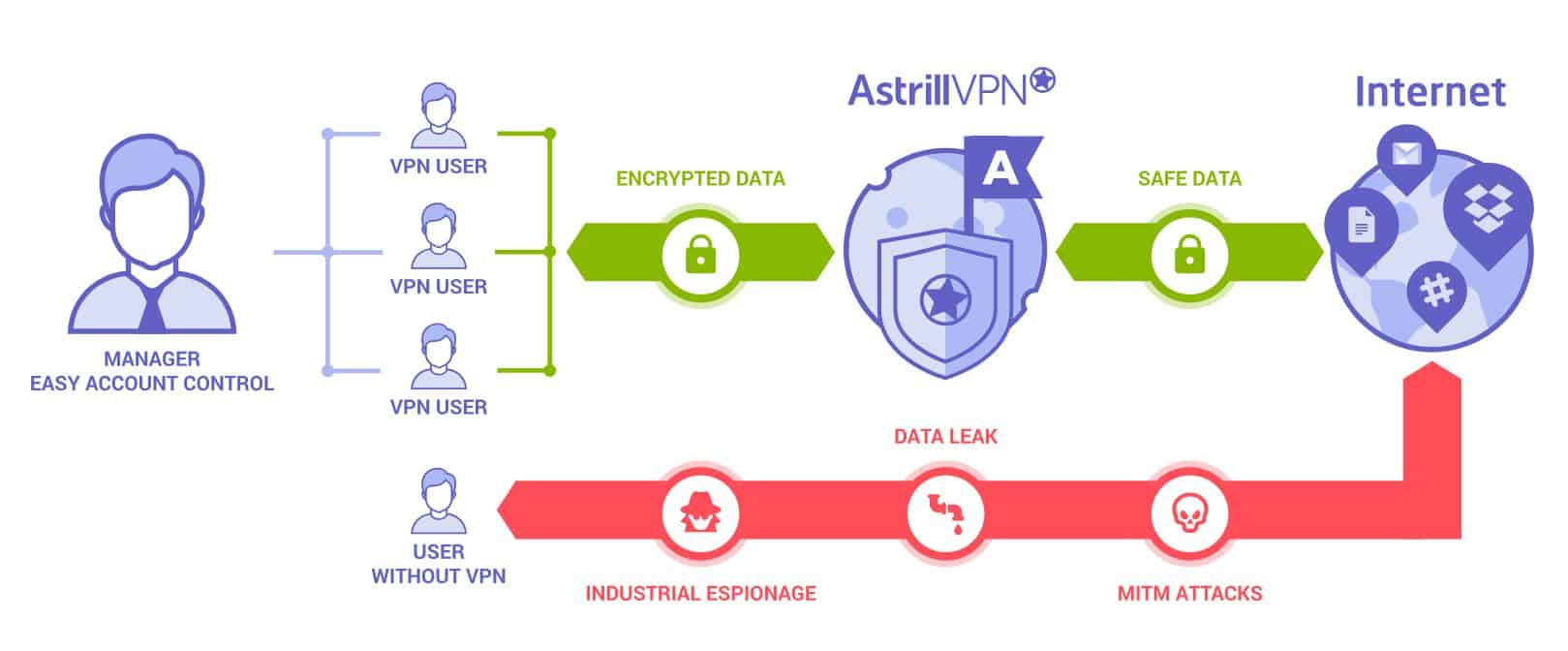 Why Astrill VPN?
Surf Anonymously
Your online information and IP address is kept hidden, you will never be tracked.
Web Security and Freedom
There is a military-grade protection from hackers and spies through the SSL encryption it utilizes.
Unblock favorite restricted websites
There are countries with restricted and limited access to websites. Now, you can unblock them.
Bypass censorship
You can enjoy surfing the web without any limits! Blocked or filtered contents are not a problem now.
Still hesitant with Astrill VPN?
Enjoy the following features for free!
Connection up to 5 devices

Unlimited bandwidth and server switches

Ultra fast VPN servers located in 50 countries

Free apps for supported and compatible devices

24/7 customer support

Available protocols: SSTP, OpenVPN, OpenWeb, StealthVPN, L2TP, IPSec
You can still enjoy the aforementioned features with the 7-day free trial of Astrill VPN!
Reviews
0

out of

5

based on

0

reviews.
Overall rating: