From startups to small to medium-sized businesses all over the world, Chinaimportal is the best choice for you. They offer guides and advices on supplier selection, company verification and on buying from Chinese suppliers.
Starter Package is their flagship product.
Chinaimportal also has a free webinar every tuesday! You have the opportunity to ask questions to their team of experts with anything that relates to Asia importing. It is guaranteed that they will answer all of your questions.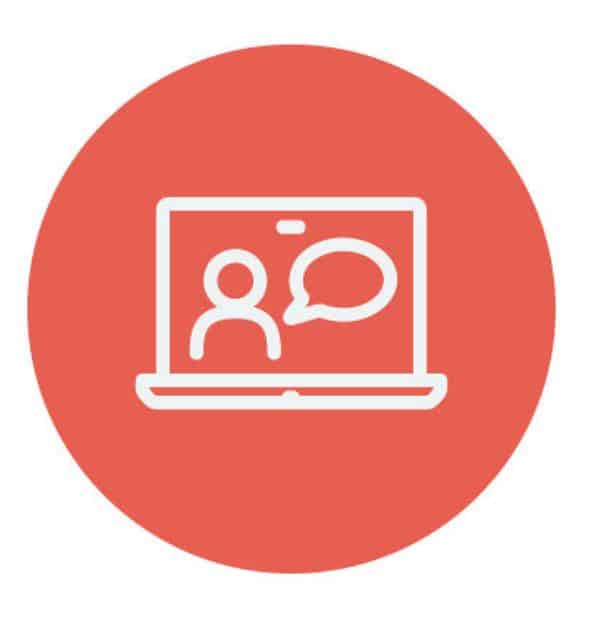 Chinaimportal Webinars
These webinars are for free access. Most of the demos and lecture will only take an hour or two. They will help you through your products, shipping, safety requirements, and trademarks.
If you have questions, you can join their "ask me anything" sessions every tuesday. There are no specific topics, they will answer anything related to sourcing, regulations, shipping and taxes.
You can view their website and look for a time that is perfect for your schedule. Save your spot here. Remember, these spots are limited only.
Chinaimportal Starter Package Described
The Chinaimportal starter package is a set of online tools that allows e-commerce businesses to import products from Asia (not only China), either from their home or from their offices. The following components are provided: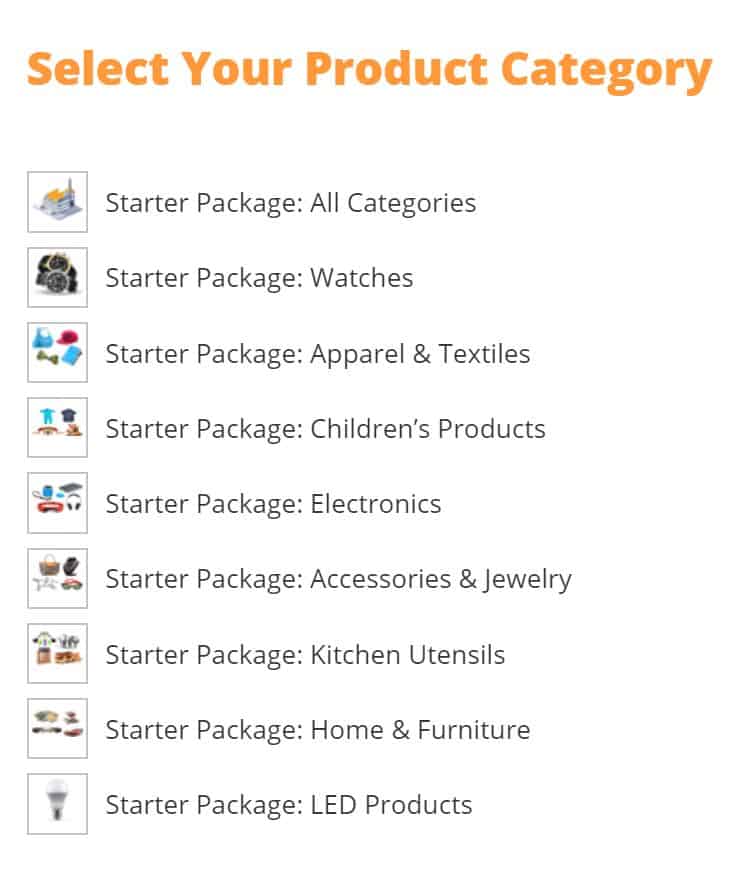 Tutorials, videos, and task lists (to guide you through the process)
Chinaimportal provides digital manual through their tutorials, videos and task lists. They believe that their customers use the tutorials as guide to learn the process, guiding through safety standards, and request support from Chinaimportal staff. Especially when there is a need that arise, such as when you need production and  quality check, shipping and customs, supplier sourcing, product samples, creating product specification and product safety standards.
Online Consulting
Directly on the website, queries regarding buying from China are all taken cared by their experts who are willing to guide you through each step of the process. Just simply log-in, post a ticket with your questions and within 48 hours they will reply.
You can find everything you need from one Dashboard
Payments, book shipments and quality inspections, document template downloads and other important features are found in the dashboard of Chinaimportal.
Their Starter Packages cover the following product categories:
All Categories (General)
Apparel & Textiles
Children's Products
Watches
Jewelry & Accessories
LED Products
Electronics
Kitchen Utensils
Furniture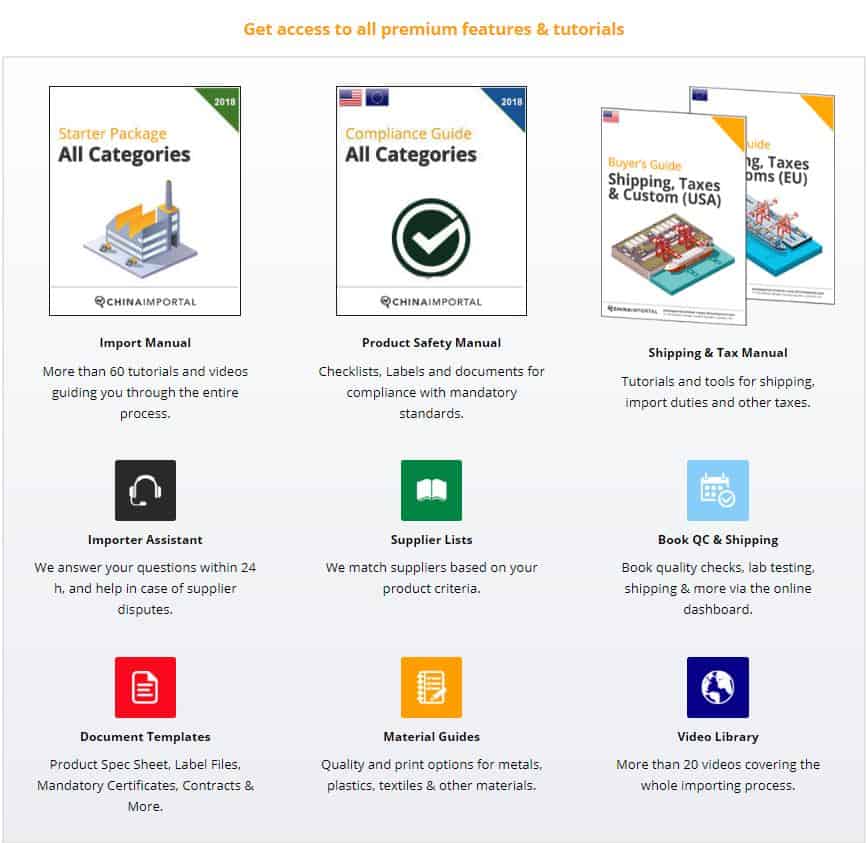 Premium Access and Chinaimportal Prices
It is best that you will have a premium access to all of the essential tools to manage the import process by yourself, from home or office. When you have the premium access to all the features and tutorials, you will have:
An import manual with more than 60 videos and tutorials that will guide you to the entire process.
A product safety manual that includes labels, checklists, and documents that you need in compliance with the mandatory standards.
A shipping and tax manual that will help you with the shipping, import duties, and taxes.
An importer assistant that can help you if supplier arguments arise.
A supplier lists that will help you find a supplier based on your product criteria
A book QC & shipping that is directly available on the online dashboard of Chinaimportal.
A document template that provides you with product spec sheet, mandatory certificates and more.
A material guide that helps you with the quality and print for your materials. and lastly, a video library that contains more than 20 videos that covers about the whole import process.
This lifetime access has a price that ranges from $279 to $1279 USD. There are no monthly hidden charges in this lifetime access.
Why Choose Chinaimportal?
Order Your Starter Package Directly on the Website: You can order directly the Starter Package directly from their website. Access the Starter Package from My Account page and make an order.
Easy Access to a Personal Advisor: Through their Online Consulting system you can avail a direct access to your very own consultant. For guidance and answers to your import concerns just log-in and submit a ticket and they'll get back to you within 1 working day.
Friendly Prices for Small Businesses: Their products range from only US$25 per month.
Leading Partner Network: To ensure that your business gets complete access to their services when buying from Asia, they partnered with leading Quality Control and Freight forwarders.
Knowledge Based: Free articles related to product development and manufacturing in Greater China and the rest of Asia are being published weekly on Chinaimportal.com. Among their contributors are from the United States, Europe and Asia who are well equipped with knowledge on industry quality assurance, product development, logistics and legal concerns. Visitors across their platforms is increasing and their objective is to contribute more progress and to further strengthen their position as the leading online information source for outsourced production in Asia.
ChinaImportal.com Visitors Demographics (February 2018)Americas: 42.66%
Asia: 22.50%
Europe: 23.44%
Oceania: 5.89%
Africa: 5.33%
Other: 0.19%
ChinaImportal was Featured or Mentioned in
Bloomberg (US), Quartz Magazine (US), Global Sources (US), China Chief Executive (China), Qualityinspection.org (China), Lux Magazine (UK), Driva Eget (SE), CEmarking.net (NE), Webretailer.com (UK), GS1UK (UK), Freightos.com (HK), Chinalawblog.com (US), Global From Asia (CN)
Their Websites
International: Chinaimportal.com
Italy: Cinaimportazioni.it
Spain / Latin America: Asiaimportal.es
Germany / Austria: Asiaimportal.de
Youtube Channel
Youtube  channel has already been developed in the second quarter of 2017, now, they are geared towards placing all the existing articles into video content that they will share both on their own Knowledge base and on Youtube channel.
ChinaImportal Customers
They have served customers on all continents in above 30 countries and territories targeting Startups and Small to Medium Sized enterprises.
AMERICAS

EUROPE

ASIA PACIFIC

MID EAST / AFRICA

United States

Canada

Brazil

Panama

Chile

Argentina

Dominican Republic

UK

France

Germany

Italy

Spain

Sweden

Denmark

Finland

Iceland

Norway

Poland

Lithuania

Ireland

Romania

Russia

Greece

Singapore

Hong Kong S.A.R

China (PRC)

Taiwan (ROC)

Malaysia

India

Australia

New Zealand

Indonesia

Japan

UAE

Israel

Bahrain

Kuwait

Egypt

Nigeria

South Africa

Saudi Arabia

Mozambique
Industry Focus
ChinaImportal specializes in consumer products in a wide range of industries such as the following:
Apparel and textiles
Jewelry and accessories
Electronics
Home products
Children's products
LED products
Kitchen utensils
Furniture
Important People
Ivan Malloci holds a Master's degree in Electronic Engineering and a Ph.D. in Control Systems. Responsible in running the platform together with Chinaimportal's web developers.
Fredrik Grönkvist is a Swedish Entrepreneur and co-founder of ScandinAsian Enterprise, in Shanghai. Main content contributor to the Knowledge Base and shared his experience in quality assurance, compliance and product development.
Company & Location
Asiaimportal (HK) Limited
Flat 1-2, 24/F, Bonham Strand Trade Centre
135 Bonham Strand East, Sheung Wan
Hong Kong
Reviews
Didn't have much I didn't already know
★★☆☆☆
"
I really expected it to be more in depth then what it was , and really just coverst he basic which I could find for free on other blogs and youtube channels. Overall not impressed and I did not get my money's worth.
"
Early pioneers in the industry
★★★★★
"
Know the team at China Importal and can say with confidence they have the knowledge and experience to make you learn what you ned
"
ChinaImportal Review
★★★★★
"
I think this is a great platform because you can see everything you need in one dashboard. And also the free webinar is a very helpful.
"
4

out of

5

based on

3

reviews.
Overall rating: