EasyShip empowers the eCommerce entrepreneurs with their solution by worldwide shipping. It is their mission to break the barrier of international eCommerce. They believe that whether a big business or a small business should have the capability to send worldwide. They offer round the clock service to provide the best shipping solutions. It constantly updates, cuts edge, and it is tailored for eCommerce.
They ensure transparency, simplicity, and available for everyone. EasyShip is happy to support you! They all you need is your trust. There are more  than 15, 000 companies worldwide who trusts them.
Affordable rates of EasyShip
EasyShip provides a calculator to let you estimate the shipping rates. You just have to select your origin (Australia, Hong Kong, Singapore, and, United States), provide your Zip code, the destination of your package, and weight of your package in kilograms (kg) or pounds (lbs).
They will suggest their pick (DHL eCommerce – Packet Priority), cheapest (SF Express – Express Economy), fastest (FedEx – International Priority) international couriers for you. Do not worry! There are still 100 international couriers you can choose from.
If you plan to ship in bulk or high in volume, contact their experts!
What are the features of EasyShip?
Easy Ship Feature: Shipment
You can import orders from your clients, choose the best international couriers, and generate documents and pre-filled labels with EasyShip. There are three methods you can choose to create shipment.
Single Shipment
You have to fill out the details of the shipment. There is a list of international couriers in your dashboard to pick up the package for you. EasyShip recommends this method to those who are new.
File Upload
You have to upload an Excel file with the orders you have. EasyShip recommends this method to those who have large number of orders.
Sync Your Store
In one click you can create a shipment order. You have to connect your store and download all the orders.
For international shipments, EasyShip will produce all the documents needed to avoid errors at customs. They will provide shipping labels without any additional fees. The package automatically have an invoice based on HS code, category, and country.  More so, they will ensure a commercial invoice to ensure that the package is appropriately declared.
EasyShip Feature: Checkout
EashyShip offers a real-time shipping rates plugin that suggests the cheapest and best value for international shipping options available at your store's checkout. You do not need to worry about the courier. EasyShip provides an automatic tailored shipping quotes to your customers in their carts. This feature includes the tax and duties.
What are the benefits of Checkout in EasyShip?
There is an increase in conversion 3.1 times. This feature converts more visitors because of the international courier options they show and the its full cost visibility.
In addition, there is a decrease of problems at the international customs by 91%. This is because they offer a pre-filled custom documents in each package. It does not matter in which country it is destined.
Moreover, EasyShip helps you increase your revenue times 5. This gives you the opportunity and the fortune to introduce your products and business to the world.
Customers are highly satisfied with this feature. It decreases the customer inquiries about their shipping costs by 43%.
Their real-time rates are available on:

Shopify
Woo Commerce
Magento
Shopmatic
Open API
EasyShip Feature: Tax and Duty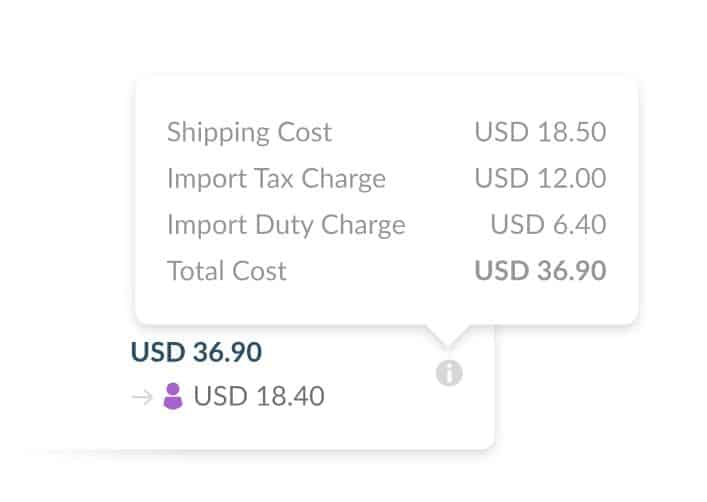 Shipments around the globe are subjected to local customs regulations and tax. Moreover, the shipments are charged with tax and duty charges. How do they calculate the tax and duties from the shipments? It is based on the type and value of the item.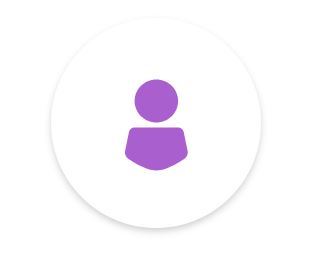 Increase in Conversion
The agreement for the shipping is used to calculate for the tax of the items. Thus, this increase the conversion of visitors.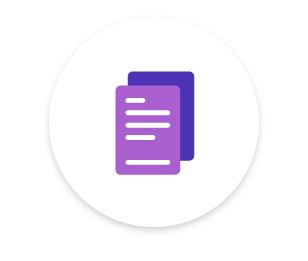 Import Tax
The agreement for the shipping is used to calculate for the tax of the times. Thus, this defines the amount of the import tax.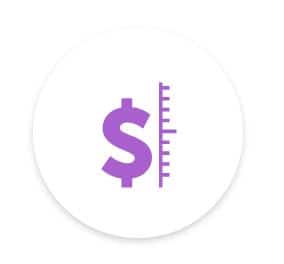 Threshold
Based on the threshold, an amount of tax will be applied if it exceeds above the number limit.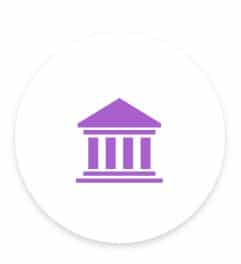 Value-Added Tax (VAT) / Good and Services Tax (GST)
Moreover, there is a Value-Added Tax (VAT) or Good and Services Tax (GST) in each country based on the value of the shipped product.
However, international shipments with EasyShip are no hassle. They will work every tax and duty of your shipments. They understand that processing the taxes and duties of a shipment is really complicated. It can cause delays of the shipping, make unexpected costs, ruin the experience of the customer, and make the sellers lose their clients. Thus, EasyShip thought of this feature.
This feature is paperless. You do not have to prepare for a pen and paper. Each document is sufficiently generated by EasyShip. If you want to have knowledge about the local customs and the tax and duties. Check this out. EasyShip prepared these information for you.
EasyShip Feature: eCommerce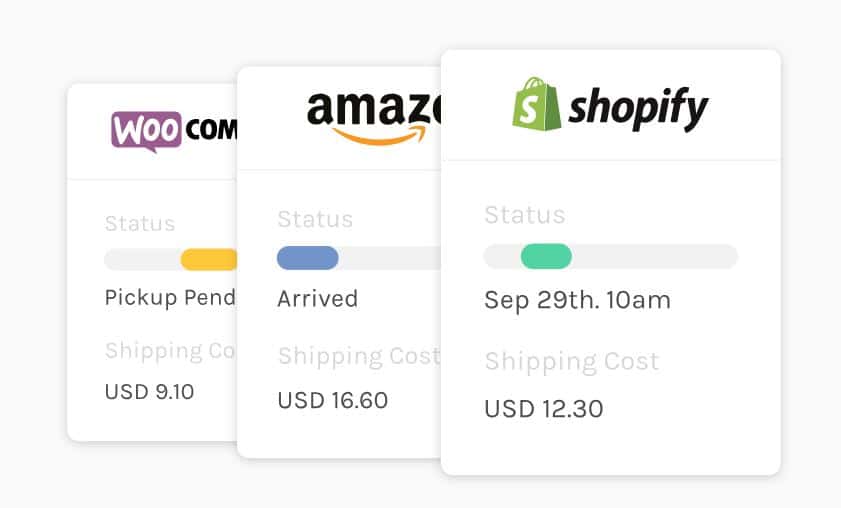 With EasyShip, you will start saving more time and money. The sync-store integrations brings your business to the next level.
It gives you an updated tracking information about your store. This feature enables you to automatically update the courier name and tracking number in your eStore. Moreover, you can send automated and customized emails about the tracking information to your customers. Without the hassle, you have given your customers the right and updated information. This will surely increase their trust and interest on you.
You have the feature to sync all orders in just one click. When your eStore are linked to EasyShip, you can produce all the needed documents. This feature makes your business paperless. You do not need any pen and paper.
EasyShip Feature: Crowdfunding
EasyShip offers solutions for your warehouse, shipments, and tracking needs. What are the important steps in an automated logistic solution?
In every shipping address, they estimate the costs and taxes.

Your goods will be kept safe in the warehouses around the globe.

There are over 100 different international couriers you can choose from.

EasyShip packs and ships your orders.

Tracking updates are sent to you and your team.

You can monitor and track all of your shipments.
Competitive rate
With over a hundred of international couriers to choose from, they offer a 70%!
Bulk shipments
Dropshipping gives you another 50% discount! A consolidation will be given and direct routes are given to EU and US destinations. Moreover, EasyShip handles the local customs and organizes the local delivery for you. This is the most cost-effective solution for those who have large bulk shipments.
Calculate the logistic costs
Include the logistic cost in your campaign price. Thus, it is important to be aware of how much it will cost. EasyShip developed a tool for you to estimate all the incurred fees, from warehouse, shipment and taxes.
Global presence
Location is important. Take the advantage of the facilities near your manufacturing sites in Asia or those who are near to your customers.
EasyShip Feature: Dashboard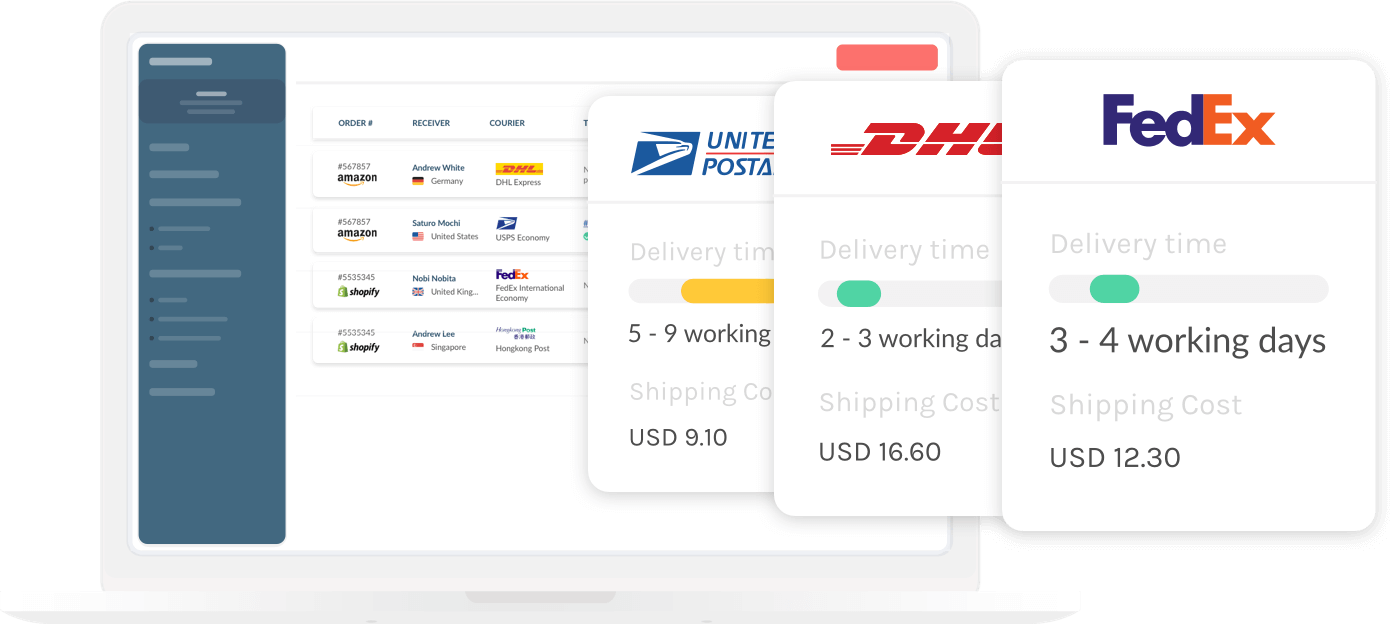 Everything is on your fingertips with EasyShip.
Manage Shipments
Starting from the filled out orders until the shipment delivery, you will have a detailed and updated information. The dashboard feature will help you organize the necessary information of the shipment. Moreover, it gives you the full visibility of the costs, taxes, and estimated time of delivery of the shipment.
Instant and Updated Tracks
All of the international couriers in our options receive an instant tracking notification of the shipments on the dashboard feature. All of the couriers are in one page. You do not have to check on various websites of the couriers.
Automated Shipping
The automated feature makes everything faster and efficient. There is a Shipping Rule that set up specific rules to choose a courier based on the shipping destination, type of product, and weight of the item.
Manage Finances
You can easily manage and keep your finances. You just have to download all the past invoice, receipt, and transaction statements from your dashboard.
Invite your Team
EasyShip has amazing features. Share this with your team so you can manage your shipments better.
EasyShip Feature: Efulfillment
EasyShip makes everything better and easier. There are no additional fees incurred and most importantly the warehouse are strategically located around the globe for a faster shipment.
Why EasyShip?
With the shipment feature of EasyShip, with more than 100 international couriers to choose from, you can save up to 70%! They uphold transparency. Thus, they will show you the delivery time, tracking event frequency, insurance, and the number of delivery attempts in each international courier.
They even have a real-time shipping rates plugin that suggests the cheapest and the best courier available for their store checkout. There are no delays with EasyShip. They take care of the taxes and duties.
The EasyShip dashboard makes organizing and managing shipments easier and better for you and your team. When the products are shipped, their eCommerce feature provides an updated tracking information that can enhance the trust and interest of your customers.
Nevertheless, EasyShip offers its rate at an affordable price. No setup fees or pre-negotiated discounted fulfillment rates.
Everything is in control. Everything is under your hands. EasyShip makes the impossible become possible. They are the best choice for handling shipments across the globe.