A very crucial aspect of any eCommerce business that is operating globally is logistics – how to deliver your products from your suppliers or manufacturers to your customers from all over the world.
If you have long been in the eCommerce industry then for sure you may have or are sourcing your products in the manufacturing haven, China.  Then, you have your products delivered to your customers in other countries or marketplaces. If this is a familiar scene, unless you want to arrange the shipping on your own, you need the services of a reliable freight forwarder to ensure that your products are delivered on time and in good condition.   It is also recommended that your freight forwarder be one that's based in China for efficiency.
From among the Top Freight Forwarders in China, we come across this international freight forwarder, SINO Shipping by FNM Group Co. Ltd.  Let's dive deep into what this freight forwarder can offer.
About SINO Shipping
SINO Shipping is an international freight forwarder that is based in Hong Kong.  It was established in the year 2003 and right now, they have offices in all Chinese cities including Dalian, Guangzhou, Shenzhen, Ningbo, Tianjin and Qingdao.  It also listed as having an office in Malaysia.
They boast of themselves as being one of the top ten freight forwarders in China with a 97% satisfaction rating within the first quarter of this year.  While it may be a little difficult to prove that claim, one way to see is to know what are the services being offered by SINO Shipping.
Multimodal Freight Services

There are companies that only offer limited freight services, say exclusively for air freight or only for shipping.  SINO Shipping, on the other hand, offers multimodal freight services that cover sea, air, railway and trucking to ensure that your goods or products reaches your intended destination.  It's like an end-to-end logistics solution where all modes of transport can be combined for your goods to reach a common point, organized by a single operator.
Under this arrangement you are being provided the following advantages:
1. Faster turnaround at transshipment points
The change in the means of transport at transshipment points can be done in less time as the network being used is SINO Shipping's still.  Schedules and means of transport can be coordinated well since these are organized by a single operator instead of having to coordinate with several operators. 
2. Shorter lead time in delivery
With a multimodal freight service network, the shipping of your goods will not be confined to just one mode of delivery or transport that may be limited by geographical boundaries.  SINO Shipping takes advantage of the different modes of transport in its network so the shortest possible route for a faster delivery time can be taken. 
3. Savings on transport costs
Efficiency is the key here.  SINO Shipping can afford you with savings on transport costs since with a multimodal network, they are able to take the most competitive route meaning, the shortest route possible at the most reasonable cost.
4. Single intermediary
You would not have to deal with and coordinate with several operators since the shipment of your goods will be administratively organized by SINO Shipping.  You will just have one point of contact for matters relating to the delivery of your goods.
Multicultural and Multilingual professional team
Another advantage that SINO Shipping has is that their team of experts and professionals is diverse.  They are proficient in Chinese, English and French and are also well-versed with different shipping solutions that makes them reliable and credible advisers on the shipping modes and routes that will address your business's specific needs.
They will provide a dedicated expert who will, 24/7, give you updates as to the status of your delivery.  They have in their team reliable international freight forwarders and export agents.
Special services
Aside from the usual transport services such as Sea, Air and Railway Freight and Trucking, SINO Shipping also provides these following services which you may need:
Ship from China to Amazon FBA
Warehousing
Freight Insurance
Packing
Cold Supply Chain
Customs Clearance
Car Importation to China
Luggage or Baggage delivery
Express Delivery
Moving Services (To and From China)
Door-to-door delivery
Import/Export Licenses
Other value-added services
In its effort to become the #1 logistics company in China, SINO Shipping also offers these other value-added services that will provide you an all-inclusive platform to source, buy and ship goods from China.  The company will act as your local agent in China and do the following:
Vendor identification and qualification,
Factory audit,
Product development,
Laboratory testing and standard compliance,
Quality control,
Secured payment
Customized logistics arrangement
Strong partnership with industry leaders
The extensive network of SINO Shipping will not be made possible without its partners in the logistics industry.  For its sea freight, they are working with MSC and Maersk and other major shipping liners. For its air freight, they are working closely with global and regional air cargo carriers and airlines such as Air France, Etihad, Emirates and other major airlines.
Established many shipping routes from China
SINO Shipping with their many years of experience has already established the shipping routes that they made available as options for customers.  You can ship your goods from China to the following:
ASEAN

Pakistan

Mediterranean area

Red Sea

Black Sea

Middle East

Europe

Africa

Australia/New Zealand

Canada

America

South America

Japan

South Korea

Russia

Taiwan
Some Drawbacks We Saw
There's no doubt that SINO Shipping offers a very promising end-to-end logistics solution reducing the hassles of organizing and arranging your shipping and delivery activities, on your own.  However, there is the concern on cost which you can expect knowing that they relieve you of handling your shipping requirements. Of course, depending on the kind of services you require, you can assess whether getting a freight forwarder or export agent such as the team in SINO Shipping, is a worthy investment.  And, while they have no published rates and will just come up with a quotation depending on your requested service, you can always use the power of negotiation if the quoted costs are on the higher end.
We also saw that you can use SINO Shipping's services to its optimum if your supplier or manufacturer is based in China. Looking at the shipping routes they established and the value-added services they offer,  you can see that their extensive network almost always begin in China. But we have also seen efforts that seem to lead to an expansion. Among its several offices that are mostly in China, we saw that they also have an office in Malaysia.  Will they build more in other areas? We hope so.
Lastly, we hope that this logistics solution being offered be complemented by technology via an e-platform that will be easy to navigate. It would be easier to arrange the shipping requirement, contact your dedicated agent, monitor the status of delivery of your products and all other logistics-related activities if done in one clear, user-friendly and fully integrated dashboard.  SINO Shipping says that this is their next move as they engage and work with the following sourcing platforms as the recommended logistics partner:
www.ecer.com

– a sourcing portal for various products and services

www.lightstrade.com

– an industry specific sourcing portal for lighting products

www.e-cantonfair.com

– the official website of the Canton Fair in Guangzhou
In A Nutshell
SINO Shipping, as with any other logistics company, has its share of pros and cons.  While we detailed everything above, it's best to sum these up for easy reference later: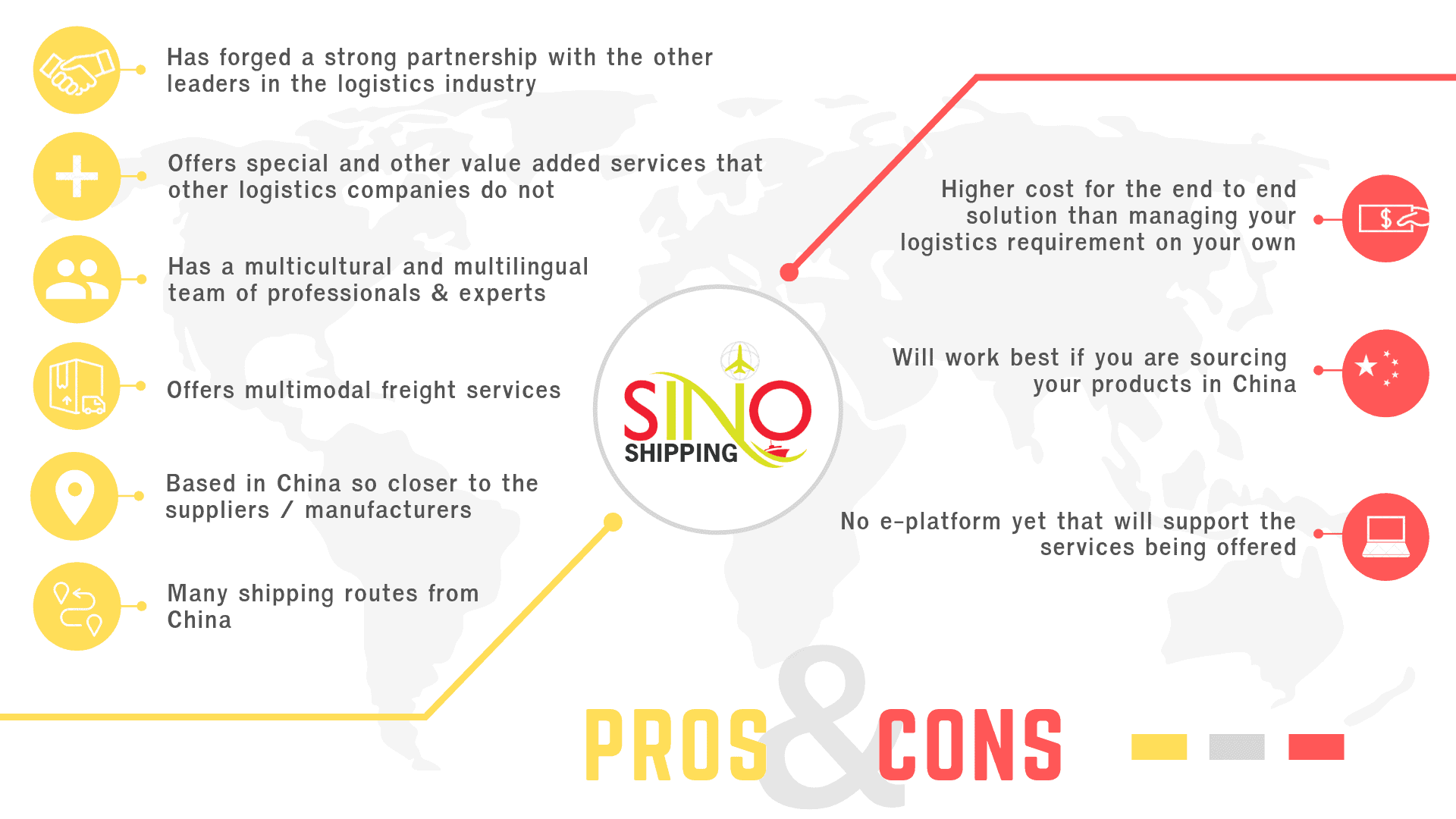 As the pros outweigh the cons, can we now tell for certain that SINO Shipping is the best from among the many freight forwarders in China?  We definitely cannot since it will still depend on your specific requirement on logistics. You cannot just adopt a standard mode of logistics thinking that it can be applied to your business.
Do your due diligence even in choosing your freight forwarder.  Look at the services being offered, their area of coverage, the modes of transport that they are using and their network.  These are just some of what you need to consider in deciding which freight forwarder to go to. But, if you feel that SINO Shipping is worth trying, then you check them out further below.
Reviews
"
Always give the best solution for my shipment, very satisfied with SINO Shipping
"
"
I received the goods, Sino helped me a lot in all these steps that I do not know very well, thanks to Louis for his support and his reactivity!
"
"
I did 3 requests for a prices on their website but never got any answer from them...
"
shipping agent china to India
★★☆☆☆
"
I guess this a good shipping agent china to India.
"
Best freight forwarder in China !
★★★★★
"
I imported cryptomachine from China to Germany. 10/10 best experience so far Cheers
"
2.7

out of

5

based on

21

reviews.
Overall rating: