About DocShipper
DocShipper is based on a – unique – business model challenging the archaic logistics methods & facilitating the purchase of goods worldwide. 
With the experience of the founders in international trade, they are redefining international logistics & procurement for SMEs and corporations. With the vision of shaking up an industry that got stuck in the pre-digital era, technology is one of the pillars of our model. 
Headquartered in Hong Kong, DocShipper now operates all over the world, providing its expertise in Africa, Asia, Australia, America, and Europe. 
DocShipper is combining 3 departments to fully handle the supply chain cycle: 
Sourcing

to help with the procurement process (supplier search, quality control, compliance)

International Logistics

to assist with freight needs (transport, packing, customs clearance)

3PL

to support E-Commerce players with their dispatch (warehousing, order fulfillment, Last-Mile

Delivery)
Testing our services doesn't require a lifetime contract. The client is free to compare DocShipper's prices with his current suppliers and see what the situation is. Note that DocShipper particularly focuses on the user experience: reactivity, assistance, advice… Putting people at the center of relationships! 
Naturally, The offer will be adapted according to the clients' needs. Same as for the package and services, the main aim is to match the clients' requirements.
Sourcing Services
The sourcing department assists customers throughout the production process: During the pre-production phase: 
Advice on drawing up project specifications 

Find the best-match suppliers (according to specifications) 

Send samples to test the product before starting production 
During the production phase: Monitor the supply chain, ensure that the supplier meets the deadlines and comply with what has been contracted. 
During the Post-Production phase: Conformity verification of the produced components as well as a full check detailed in a Quality control report.
Based on its experience, DocShipper created a network of more than 8000 reliable suppliers based in competitive countries with a strong industrial fabric. 
We have been witnessing a regionalization of purchasing for several years, which is why DocShipper does not only work with Asia, but also with suppliers based in other regions (Eastern Europe, Africa, Turkey, etc.). 
Nowadays, DocShipper creates a global supplier network, with whom the sourcing team collaborates in order to provide the client with the product according to his requirements: budget, product specification, delay, compliance, and standards.

---
When operating with DocShipper Sourcing the communications and services are fully transparent, So they can budget their business stress-free!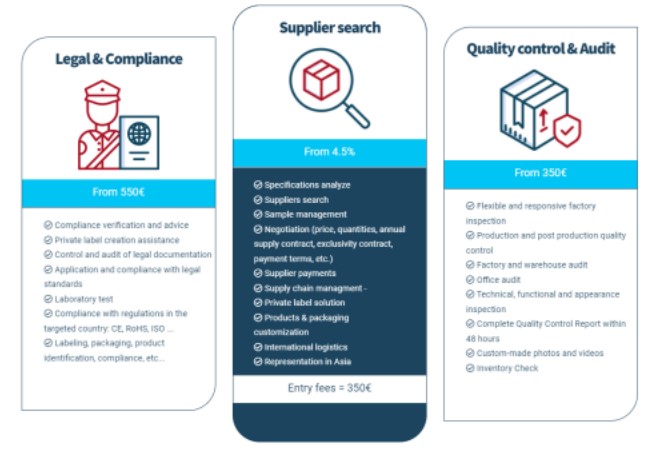 Procurement Step by Step
1). Technical Specifications
The first step to take is to specify the customer's needs, to do this the sourcing team communicates with the client in order to clarify: 
Pictures and/or reference links (AliExpress, Amazon, etc.) 

Minimum Order Quantity (MOQ) by reference 

Target price by reference 

Any technical specs 
2). Supplier Research
DocShipper created strong partnerships with reliable and trustworthy suppliers. In this second step, the sourcing team will collaborate with the shortlisted suppliers matching the requirements of the specifications (quality, conformity, price, MOQ…).
3). Legal & Compliance
This step is very important for the customer's project success. DocShipper experts will ensure the conformity of the goods and the suppliers. Also check the regulations (CE marking, RoHS standard, CEE, ISO…) related to the country concerned by the import.
4). Negotiation
DocShipper's team focuses on undertaking strict but cordial negotiations with their supplier network, in order to provide the best deal to their customers.
5). Quality Control (Optional)
In order to avoid bad surprises, it is highly recommended to not neglect the quality control step that will minimize the risks to impact the supply chain. 
The quality control covers two axes: 
Verification of quantity and dispatching (references, sizes, colors, etc.). 

Visual appearance (design, dimensions, weight, etc.). 

Labeling, marking and instructions for use. 

Packing and product packaging. 
Performance (voltage, amperage, lumens, battery, etc.) 

Status of functions (IP standards, operation, lights and indicators, etc.)
6). Supplier Payment
The main objective of DocShipper is obtaining the best terms of payment with the suppliers. While handling the negotiation, we suggest comprising a 30% deposit before production. We will proceed with the QC (if needed) once the order is ready to make sure you pay the remaining balance when everything has been approved.
7). International Logistics
DocShipper is acting as a global freight forwarder, so we are able – through our logistics department – to handle your shipments. We also offer Door-to-door services, an all-inclusive package combining trucking, packing, storage, customs clearance and international freight (sea / air / rail).
8). Supply Chain & Treasury
After the success of your sourcing project, DocShipper's new mission is to help the customers draw up a schedule to manage the inventory optimally and avoid lack of stock.
9). 3PL Services (Optional)
Thanks to 20 years of experience in the E-Commerce industry and super-competitive shipping prices, DocShipper manages the clients stocks and the distribution of their products. Providing inventory management, order fulfillment and Last Miles Delivery.
"DocShipper is providing a turnkey solution delivering an international procurement and logistic process for key accounts and SMEs worldwide that is personalized and trusty for every transaction and in which all parties are beneficiaries." 
Pierre Rahme – Co-Founder & Head of sourcing
Shipping Services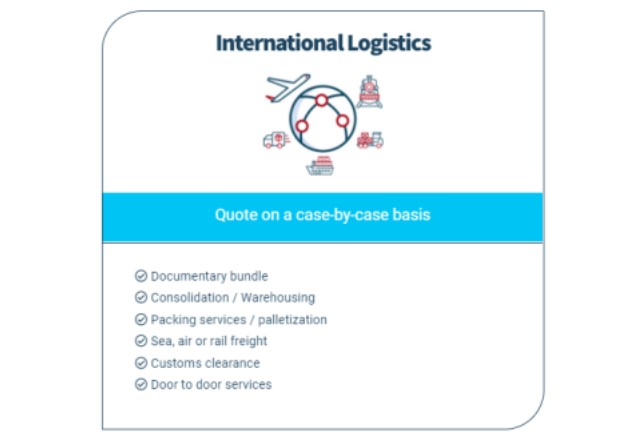 While providing each of its services, DocShipper always highlights developing close relationships with customers and partners.
In order to always fulfill its clients demands, DocShipper operates in different ways of transport. Among them, we can mention:
Sea Freight
Sea freight is simply the most used method of transport. It represents nearly 90% of global trade, so it is a must when we talk about import/export. To avoid technical details, we can break down this method in two categories:
Less Than container Load (LCL)

: Optimizing the costs, the cargos are grouped together with others shippers in one single container

Full Container Load (FCL)

: Solution for large volume, you'll book a full container for your cargo. You have the choice with 3 containers with different capacity: 20 feet (33 cubic meters), 40 feet (67 cubic meters) and 40 feet HQ (76 cubic meters)
Air Freight
Air freight is the fastest method of freight so far. It allows you to transport goods around the world in just a few days (if it's not less). Be careful, this mode of transportation is divided into 2 parts: 
Classic

: Depending on the available freight space within traditional airlines (such as Air France, Air China, Qatar Airways…)

Express

: Depending on the capacity of the courier companies (such as DHL, FedEx, UPS…)
Rail Freight
Shipping goods by train is a great balance between the competitive price of ocean freight and the speed of air freight. Rail freight is considered as a fast-growing means of transportation as it is directly boosted by Chinese investment who plans to put the Silk Road back in place.
Road Freight
Road freight is famous because you can use this method for a door-to-door service, for example if you have a cross border shipment on a short distance. Otherwise, the truck will be crucial even to link your cargo between origin/arrival and the different terminal (port, airport or train station).

This procedure may seem a complex experience for business managers who have not explored all means of transportation with the costs and the documents required especially for the customs clearance step. And this is how mistakes could occur, and the expedition could be ruined because of small unseen details. 
This is why each element matters! With DocShipper, all the steps of the freight process will be handled with professionalism.
3PL Services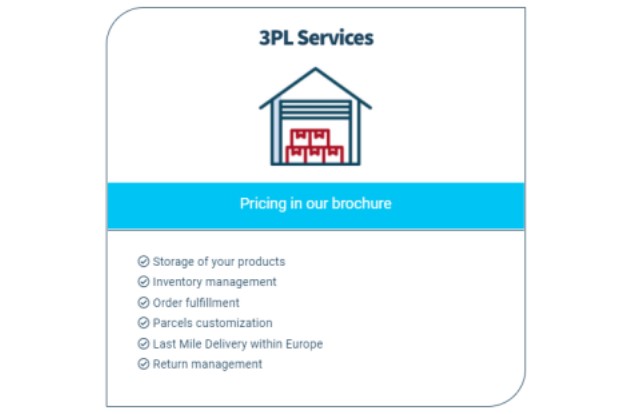 ---
DocShipper integrated a 3PL department in the scope of work. The main targets of this department are E-merchant and B2C players. DocShipper handles all the client's logistics needs: inventory management, order fulfillment, and last-mile delivery.

---
It is a flexible and customer oriented alternative to Amazon FBA. The advantage of 3PL with DocShipper is: no hidden fees, more flexibility, and parcel customization to develop the client's branding.
Success Stories
Thanks to the team's professionalism, DocShipper established a significant customers' portfolio. Among them, we mention Bouygues Group, Sea rates, Cybergun, Royal Ingredient, French Army… We assist them at different stages of the importation : Sourcing, freight forwarding and 3PL. 
"We want to redefine import/export standards, a bit like Airbnb was able to do with the hotel industry, Uber with taxis… Now is the time to bring down the losing traditional players of this archaic industry!" 
Nicolas Rahme – Co-Founder & CEO
Pros and Cons
DocShipper Pros
Upon our review of DocShipper, we have come across several pros and cons of their services.
For starters, they are the only company worldwide that offers a unique business model. This model combines three different departments that handle the entire product life cycle.
Apart from that, the attention and care they give their customers is a huge benefit. With customers at the heart of their service, they aim to tailor solutions to the customers needs.
Their customer service is also reflective of that, with a responsive team that responds within 24 hours, and is willing to meet clients on any platform they deem convenient. These include email, WhatsApp, Facebook Messenger, and more.
The final pro DocShipper offers is that their services are provided in many areas of the globe.
DocShipper Cons
We have also found several cons with DocShipper.
For starters, they lack a platform that facilitates the interaction between their team and the customers. While that is currently the case, this may soon be resolved as they are currently in the process of building an e-platform that will do just that.
Next, their 3PL solutions do come with certain limitations. Their 3PL (e-commerce logistics) services are currently available in Europe and North America, with plans of future expansions in the MENA and ASEAN regions in 2023.
The final con we have found is with their sourcing. While their service is quite extensive and provides sourcing in all industries, it lacks sourcing for the cosmetics and medical industries.
Why Choose DocShipper?
---
Reactivity

Contact the team and receive an answer within 24 hours maximum.

Competitive

Guarantee very competitive prices. Just ask and compare!

Dedicated Customs Services

A legal department that will guarantee a trouble-free clearance.

Multilingual Support

A multilingual team will assist the customers throughout the project.

Custom Service

Small or massive projects, the experts will manage all your needs!

Reliable

Shipments and suppliers' security, safety is a priority!

Flexible Payment Methods

Small transactions: Credit card, PayPal, or Western Union. 

Standard transactions: Letter of credit, Bank Transfer and Cryptocurrency
FAQ
Where is DocShipper located?
The headquarters is in Hong Kong, though thanks to the DocShipper Group© network, the company's services are spread all over the world providing customization, quality, and reactivity.
What are the advantages of sourcing with DocShipper?
Other than ensuring a presence in Asia, Europe, Africa, and America, DocShipper is also the one (and only) company managing the entire import cycle: Purchase, quality control, compliance, international transport and 3PL services.
What is the added value of DocShipper's services?
A unique business model as mentioned previously, but not only that… Contrary to its competitors, DocShipper places the customer in the heart of the project. The team also focuses on flexibility in communication, using all means that suit the customer (Email, WhatsApp, Live chat, phone call, or even Facebook Messenger).
What does a freight forwarder such as DocShipper do?
A freight forwarder seeks to combine a variety of logistical services in order to provide a solution that meets the customer's needs: storage, packaging, international transport, customs clearance, documentary bundle checking, and so on. Everything is taken care of by the freight forwarder! As a result, it will enlist the help of multiple experts in each element of the supply chain.
How to get a free quote online?
Simply fill out the online form or send your query to info@docshipper.com. A dedicated expert will reply within 24 hours to diagnose your project and build a custom solution which will suit your needs and your budget. In order to get a fast quotation, it is always better to detail your request.
Shipping Rescue in China
★★★★★
"
I had problems with my merchandise because the Chinese authorities did not want my merchandise to leave their country. I contacted Docshipper to clear my goods through customs. Thanks to their experts my high value goods were saved.
"
Professional and attentive
★★★★★
"
I became aware of DocShipper after reading an article they did. I needed a professional to help me with my move from France to China. Living in a small town, I had a hard time finding someone willing to help me. So I decided to contact DocShipper and in one afternoon everything was already almost settled. I had a long conversation with one of their employees, who explained to me the whole moving process and how they were going to accompany me all the way. Today, I am well settled, and it is thanks to them, so I wanted to thank them.
"
Help with my furniture
★★★★★
"
I needed someone to help my small business move our supplies. Not being familiar with the logistics transportation business, I needed help very quickly. Fortunately, I came across a DocShipper guide that explained step-by-step how to get my goods from point A to point B. I decided to give them a call and was met with competent and polite staff. Since then, my goods have arrived safely, and I am satisfied.
"
"
Thank you for helping me during my purchasing process with their advice and guidance, I was able to benefit from a reliable supplier on the Asian continent. Today, my project has resulted in a long term partnership with the supplier, and we are experiencing significant growth in my company.
"
An efficient shipment
★★★★★
"
I had to help my daughter move to Thailand. This was my first time moving supplies overseas. Fortunately, thanks to DocShipper I was guided through the whole process. They answered every question I had, reassured me when I thought things were not going to go well. Their professionalism was matched only by their attentiveness.
"
My company thanks you
★★★★★
"
I run a small appliance company. I needed to import plastic parts from China to my factory in France. DocShipper supported me throughout the entire process with unparalleled responsiveness. I thank them for helping me develop my business.
"
"
I contacted DocShipper just one month ago, as I was looking to move from Switzerland to Thailand. I was struggling to find the right company to move all my belongings... This was a particularly difficult time for me. I wanted to find a company that would take care of everything, so that I could focus on the other things I had to deal with. I was really pleasantly surprised by the whole team. I was contacted by a the Sales Manager at DocShipper Leo, who helped me throughout the process, giving me all the advice and guarantees I needed. My stuff arrived safely and at the right time. I would definitely recommend DocShipper if you are planning to move.
"
"
I am a cabinetmaker, so I needed raw material to work with, but my supplier decided to stop working with me, so I decided to call DocShipper to find me raw material. They did it very quickly and since then I have been working with them for two months to find raw materials at the best price. So if you need raw materials, I advise you to work with DocShipper because they can meet your expectations quickly.
"
"
I am a farmer in France and for a few years now I have decided to sell my wheat abroad where the demand is higher. In order to ship my grain, I called DocShipper because I had heard of them. I asked for a quote to export my goods to the Netherlands, I got a reply within 24 hours with a reasonable price and a short delivery time despite the fact that I decided to export my goods by sea. My goods arrived on time without any problems during loading or unloading. If you want to organise a shipment of goods, I recommend DocShipper.
"
"
In order to export the products I sell with my company from Brazil, I needed a professional and experienced forwarder to be reassured during my shipments. Indeed, my products are very valuable and fragile. I asked a number of companies but none of them caught my attention. When I came across Doc Shipper, I knew right away that this was the right company. Their website gave me confidence and during the negotiations everything went extremely well. To carry out this expedition, I worked with a professional and reassuring team as I wished. It is with pride that I recommend this company!
"
"
Recently I had my first move. I was living in France and I wanted to move to Canada. It's true that it's a big change but I wouldn't think that it was so stressful. I had a hard time finding the right company to move all the furniture, especially the car. After 2 months I still had no solution, the problem persisted. So I decided to call Doc Shipper to take care of all the shipping. This way I could focus on other things that needed to be prepared. To be honest, I was really surprised by the whole team. A woman named Wiem contacted me and she helped me through the process and gave me all the advice and peace of mind I needed. My stuff arrived safely and on time. If you are planning to move, I highly recommend Doc Shipper.
"
"
I had to move from Spain to Japan a month ago and struggled to find a company that could help me at a reasonable price. I came across DocShipper's website, they gave me a quote and explained that they would take care of all the logistics. The move was quick and very professional, I suffered no loss and nothing was broken. I would therefore highly recommend DocShipper if you are planning to move.
"
Great and Serious Team
★★★★★
"
I went through Docshipper because I wanted to get a particular car part for one of my customers. Excellent service, they managed to find it for me and it was delivered very quickly to my premises in Frankfurt, Germany. I highly recommend them!
"
-
Joshua CACHULO DA TRINDADE
"
I contacted DocShipper just one month ago, as I was looking to move from Switzerland to Thailand. I was struggling to find the right company to move all my belongings... This was a particularly difficult time for me. I wanted to find a company that would take care of everything, so that I could focus on the other things I had to deal with. I was really pleasantly surprised by the whole team. I was contacted by a the Sales Manager at DocShipper Leo, who helped me throughout the process, giving me all the advice and guarantees I needed. My stuff arrived safely and at the right time. I would definitely recommend DocShipper if you are planning to move.
"
A competent and very responsive team!
★★★★★
"
DocShipper managed the shipment of goods from my supplier in Shanghai to my warehouse in Dijon, France. The shipment of a 20-foot container was perfectly managed, with no problems to report. The communication was particularly smooth and very professional, I was in contact with Skander who I highly recommend.
"
Shipping from Taiwan to England
★★★★★
"
I was looking for a company to ship my products from Taiwan to England, after conducting a research I found DocShipper and I sent an email explaining the type of the products I wanted to ship, the quantities and all related information, and I was surprised about how fast they got back to me. Their Customer service team is top-notch, they answer all your questions and put you in contact with the right person that's going to take care of your shipping process ! I was afraid of dealing with customs clearance problems as it was my first time shipping products, and I wasn't sure on how it worked ! But with DocShipper I didn't have to deal with any issue related to that. On top of that, everything arrived on time and not a single product was damaged ! Thank you, DocShipper, for your help.
"
Perfect and easy international relocation
★★★★★
"
I contacted DocShipper two months ago since I wanted to relocate from Thailand to Germany. I was having trouble finding the right company in order to move all my furniture and specially my car. With all the stress that I was dealing with for the process of relocation, I wanted to find a company that would take care of everything, so I can focus on the other things that I had to prepare. I was really surprised by the whole team honestly, I was contacted by a lady called Wiem, and she helped me throughout the whole process, giving me all the guidance and reassurance I needed. My belongings arrived safely and at the right time, I really recommend DocShipper if you're going to relocate.
"
"
I've contacted DocShipper regarding my sourcing needs. I wanted to purchase electric bike in China to import them in the US. They have done everything for me, from finding the supplier to the delivery to my warehouse. Moreover, they also assist us on quality control and compliance side. Everything was very smooth, so I can only recommend Docshipper if you have import needs.
"
Perfect logistics services
★★★★★
"
I was in touch with the Account Executive Leo Labarre. He was super prompt to answer my questions, even during the weekend. It was a real pleasure to deal with DocShipper as they really take care of my project, trying to understand and advise during the whole process. I'm very confident to recommend their services! Thanks again Leo if you read this message.
"
5

out of

5

based on

19

reviews.
Overall rating: