Looking for a cross-border payment solution (ewallet) that has been a pioneer in the industry?
Then look no further than Payoneer! The classic go to source for Amazon sellers.
Today we will take a deep dive into it, but first, a quote from a Wechat group forum on why he still uses Payoneer, even with so many choices out there
Paying all contractors/suppliers from Payoneer, 
free VAT payments in Europe etc
Multiple cards 
What's not to like?
Seller group chat

Watch Video Review Of Payoneer
Lyka from GFA shares insights on Payoneer in our GFA video review below.
Scroll down if you'd like the text version.
The Background of Payoneer
Payoneer is a leading global financial service that was founded in 2005.
It offers various services/products such as cross-border payment platform/ money-transmitter, integrated payments API, billing service, e-wallet and re-loadable prepaid MasterCard debit card.
Many huge companies use Payoneer to send payouts like Airbnb, Google Adsense, Upwork, Fiverr and Amazon. Payoneer operates in over 200 countries, supports 150 currencies and 35 languages and has a 4M user-base as of this writing.
Basically, Payoneer works just like PayPal and any other online financial services. You build up a cash balance in your Payoneer account, and then withdraw or buy stuff with the money.
3 Simple Steps to Get Started with Payoneer
Looking to get on the fast track? here are the three simple steps to get yourself going.
Create a free account at Payoneer: (click here for a signup bonus)
Receive payments locally and internationally (from Amazon, eBay, Upwork, etc)
Withdraw your money from your local bank account or thru your Payoneer Mastercard
Simple as that!
Signup & Get $100 USD Special Bonus
We have worked out a special deal for new Payoneer users – Receive a $100 USD bonus (rebate) when you load your first $1,000 USD.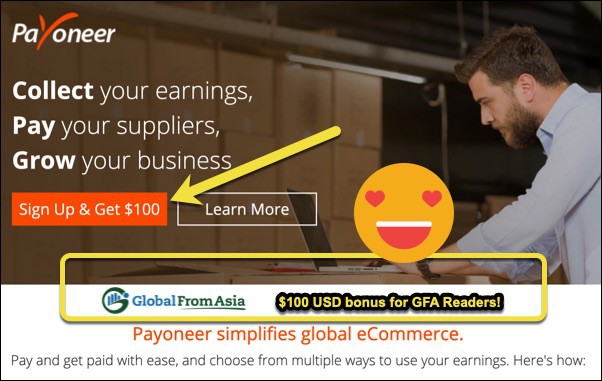 After Signing Up – Link Your Local Bank
Once you get your Payoneer account open, you will need to link it to your local country's bank account, per the screenshot below.
This is how you will receive the funds you receive from your online selling and services.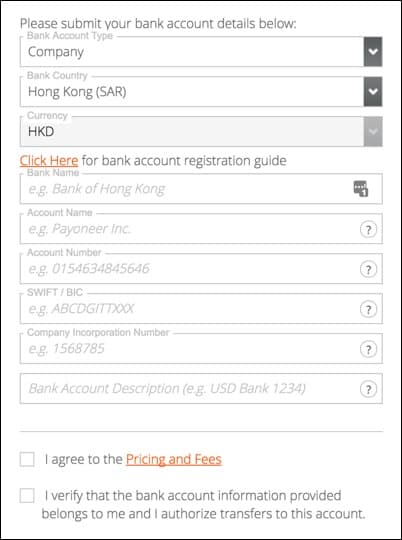 Now – Curious How Payoneer Works?
Let's dive in to each feature and the pros and cons.
Where can you use Payoneer?
Payoneer can be integrated with Freelancing websites such as Upwork, Elance, Fiverr, 99designs, Getty images, People per hour, and many other
Shop online and pay using your Payoneer account
Get a virtual US Bank account
Create an invoice for free using
Payoneer's online tool
Global payment service
Send money or make payments for free
Easily integrate Payoneer with your platform with their cutting edge APIs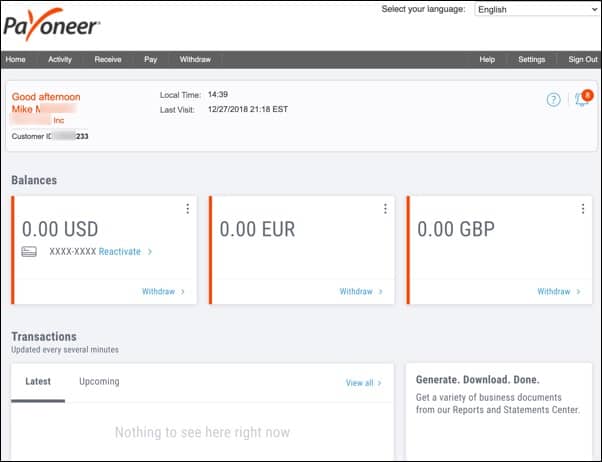 Why Use Payoneer? (Advantages of Payoneer)
Signing up to a Payoneer account is FREE of charge.
Payoneer offers a Mastercard debit card you can use to directly withdraw money from your Payoneer account thru local ATM machines
Low and competitive fees
Payoneer is regulated by the Financial Conduct Authority in UK, by the Financial Services Commission in Gibraltar, the Customs and Excise Department in Hong Kong, and by the Money Transmitter License in USA
Easy to use
Payoneer has a mobile app in which you can easily access e-wallet, payment transactions and history, and currency comparison. In addition, the mobile app is available in 19 languages and can be installed to any iOS and Android devices
Payoneer is multi-awarded
Payoneer has 24/7 customer support via Community Forum, live chat, e-mail and via phone
Some Disadvantages of Payoneer
Payoneer has a massive clientele that sometimes they become unable to cope up with all the customer queries – although this should not be an excuse
Payoneer no longer allows accounts with no local bank account – on signing up, you will be required to input your bank account details for verification
Forex rates are low compared to Paypal
Payoneer Mastercard comes with various fees such as Activation Fee, monthly card account maintenance and ATM withdrawal fee
How to Make Payments in Payoneer
You can pay do a few things:
Make a Payment To A business or person
1) To a recipient's Payoneer account. Pay for free!
2) To a recipient's bank account. Pay via bank transfer
Pay for Amazon services.
* Pay an Amazon Advertising invoice. Pay via bank transfer.
* Pay a Transparency invoice. Pay via bank transfer.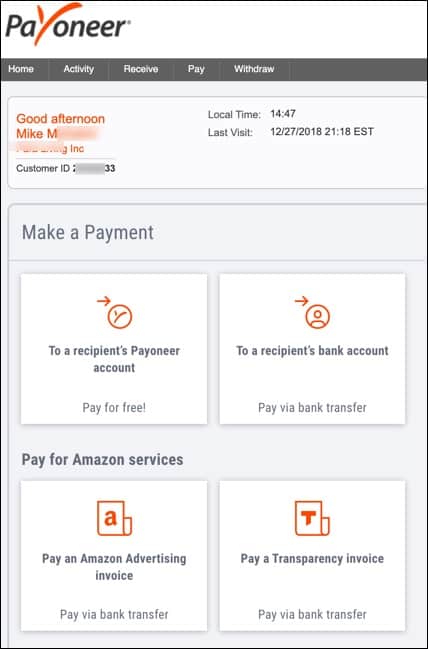 How To Withdraw Money From Payoneer
There are two ways you can withdraw your money from Payoneer
Option 1. Withdraw your money thru your local bank account
3 simple steps:
Log on to your Account
Click Withdraw tab and choose "to bank account"
Fill out the withdrawal form and click Next to submit – withdrawn amount shall be credited to your local bank account in 2 to 4 days
Option 2. Use the Payoneer Prepaid Card
Using the card to withdraw funds at any ATM machine that accepts MasterCard. Note that there fees associated in withdrawing your funds via ATM machines including the following:
ATM withdrawal fee
A currency conversion/cross border fee.
A surcharge imposed by the owner of the ATM you are using.
How To Fund a Payoneer Account
Besides earning and receiving money from online freelancing websites, you can fund your Payoneer account thru the following ways:
Option 1. Fund your account through Paypal
Because Paypal and Payoneer are two different payment processor companies, you can't simply transfer funds directly between these two payment platform. Instead, you can link your Payoneer Mastercard to your Paypal account and withdraw the money thru it. If the money is coming from a different Paypal account then this is definitely not an option to do so.
Option 2. Payoneer Referral program
Payoneer has a referral program in which you can earn $25 for each referral. To do this, you'll need a unique sign up link that you can send to your friends. You can get your unique referral link by logging into your account and by following the on-screen instruction under "Refer a Friend" in "My Account". The $25 reward shall only be credited to your account once the referred customer's balance reach a minimum of $1000 during the first year.
Option 3. Receive money from another Payoneer account
Sending and receiving payments between accounts are free of charge. To send money to another Payoneer account holder, you will simply need to log on to your account, select 'Make a Payment' in the dropdown menu under 'Pay' and complete the form with your recipient's details and the amount you wish to send and then submit. Funds shall be available in not more than 2 hours.

Option 4: Get Paid Through Payoneer
You can have your customers pay you to your Payoneer account as well.
Request Your Payoneer Prepaid Debt Mastercard
Looking to use the debit card so you can buy things online and offline?
Then login to your Payoneer account and navigate to your settings –> Payoneer cards to request a card. Multiple cards can be issued upon special consideration.
The screen will look similar to below.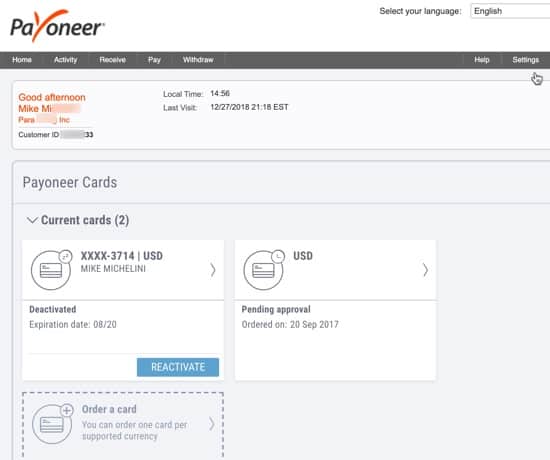 What Do You Think? Payoneer Worth it?
Payoneer is highly recommended to freelancers, affiliate marketers and to companies that do mass payout. Payoneer makes it easy for anyone doing business online to receive and send payments internationally.
People would usually compare Paypal to Payoneer but they don't completely work the same. Paypal can be easily funded by linking your bank account to it and use the fund anywhere you want – Payoneer, on the other hand, doesn't really encourage "self-loading" so it kind of disabled its account holders to link their Payoneer account to their bank accounts.
Payoneer is basically made for business owners and freelancers who wish to pay and get paid as easily globally as they do locally. Every day, the Internet is creating new business opportunities all over the world, and Payoneer's main objective is to connect entrepreneurs, business owners and freelancers around the world by being the preferred medium of payment.
Special Bonus from Payoneer For GFA Readers
We have worked out a special deal for new Payoneer users – Receive a $100 USD bonus (rebate) when you load your first $1,000 USD.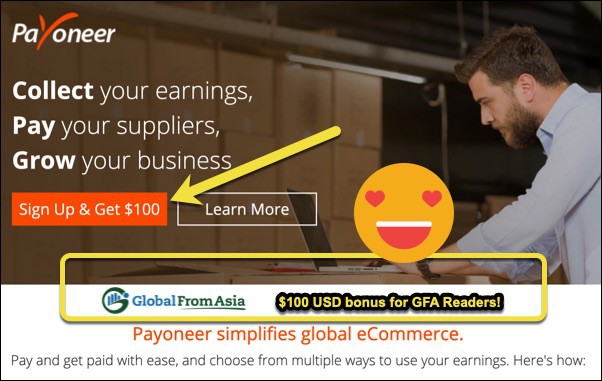 Great for freelancer like me
★★★★★
"
Payoneer is a service to use especially for a freelancer like me. It's so much easier to use this service when receiving payments for the projects done for different international clients.
"
3.5

out of

5

based on

2

reviews.
Overall rating:
Leave Your Review