TransferWise: Company Overview
TransferWise is a UK-based financial service company offering global peer-to-peer money transfer. It was founded in January 2011 by by Kristo Käärmann and Taavet Hinrikus in London, United Kingdom.
TransferWise aims to let people send money abroad at the lowest possible true cost by offering only real exchange rates or mid-market rate and very minimal fees. TransferWise, as said on their About page, was born of frustration –  founders of this global fin-tech unicorn basically believed money is meant to flow freely – hence ending up with the idea of starting up an affordable international money exchange service.
TransferWise is regulated by FCA (UK Financial Conduct Authority) and maintains bank level security. Today, over 2 million people use TransferWse. It supports over 47 currencies and moves over £1 billion every month. As of this writing, there are over 50 countries you can send money to including the following:
| | | | |
| --- | --- | --- | --- |
| Australia | Bangladesh | Brazil | Bulgaria |
| Canada | Chile | China | Colombia |
| Croatia | Czech Republic | Denmark | Europe |
| Georgia | Hong Kong | Hungary | India |
| Indonesia | Israel | Japan | Kenya |
| Malaysia | Mexico | Morocco | New Zealand |
| Nigeria | Norway | Pakistan | Peru |
| Philippines | Poland | Romania | Russia |
| Singapore | South Africa | South Korea | Sri Lanka |
| Sweden | Switzerland | Thailand | Turkey |
| Ukraine | UAE | UK | USA |
| Vietnam | | | |
How it Works
Transferwise uses smart technology that links local bank accounts in countries all over the world. In Transferwise, money never actually crosses any borders. For example, if you wish to send USD to China, you will simply need to log on and pay in your USD to Transferwise's Chinese bank account. Then, Transferwise's Chinese bank account sends CNY to the recipient. Transferwise manages to make international money transfer using its advance technology infrastructure.
Basically, Transferwise holds bank accounts in each country where it operates. Each bank account has a positive balance so that whenever a user needs to transfer money (for example, USD to China), Transferwise takes a part of the balance from its Chinese bank account and transfers it to corresponding bank account of the recipient.
Transferwise moves over £1 billion amount of money all over the world – making it this infrastructure works efficiently. This method does not include financial intermediaries hence certain fees are avoided.
How to Send Money with Transferwise
Sign up: It takes not more than 5 minutes to sign an account up.  

Once signed up, log on to your account and click Send Money.

Input the amount you wish to transfer and the currency. On this page, you'll quickly see how much your recipient will actually get in his/her local currency. Right below it, Transferwise also indicates when the money should arrive on your recipient's account. Click continue to proceed.

Input the details of your recipient including: Email, Full name of the account holder and their bank account details. Click confirm to continue.

If it's your first time to send money using Transferwise, your account shall undergo certain verifications. If you're a US citizen, you will be prompted to enter your US Social Security Number (SSN) for security purposes. For non-US citizens, Transferwise will have to verify your identity by submitting a valid ID such as Passport or Driver's License. This is a completely secure, one-time only verification and, once successfully verified, you will not be asked again.

Review your Transfer.

Pay Transferwise, wait for confirmation, and you're done. Money is usually transferred in as fast as 24 hours, depending on what time you sent the money and which country you are sending the money to.
New Feature: TransferWise Borderless Account
Say goodbye to those bank fees! TransferWise offers you one borderless account to send money, receive money, and spend money around the world. What's the catch? It is eight times cheaper than the banks!
Without any incurring fees, you can get paid from over 30 countries. The borderless account allows you to have an instant international bank details and enables you to receive money from over 30 countries around the world without any fees! With this feature, you will also have:

An Australian account number and a BSB code;

A British account number and a sort code;

European IBAN; and a

US account number and routing number.
These personal details enables you to get paid from the United States, the United Kingdom, Australia, and any other countries in Europe. There are no incurring fees to be paid.
Moreover, you can use the TransferWise Debit Mastercard to spend currencies anywhere you want in the world. It offers a low conversion fees and zero transactions. What other benefits does this include?
You are free to pay with currencies in your account.

You are free to withdraw ATM withdrawals up to £200 in each 30 days.

You are only have to pay low conversion fee when you convert your money. It only ranges between 0.35% to 1%.

You can automatically convert your money at the real exchange rate.

Your card is accepted anywhere that accepts Mastercard.
As mentioned, TransferWise is a borderless account and there are over 40 currencies available in TransferWise. You can hold and switch between currencies in seconds. You do not have to worry! You will get the real exchange rate and the low transparent fees.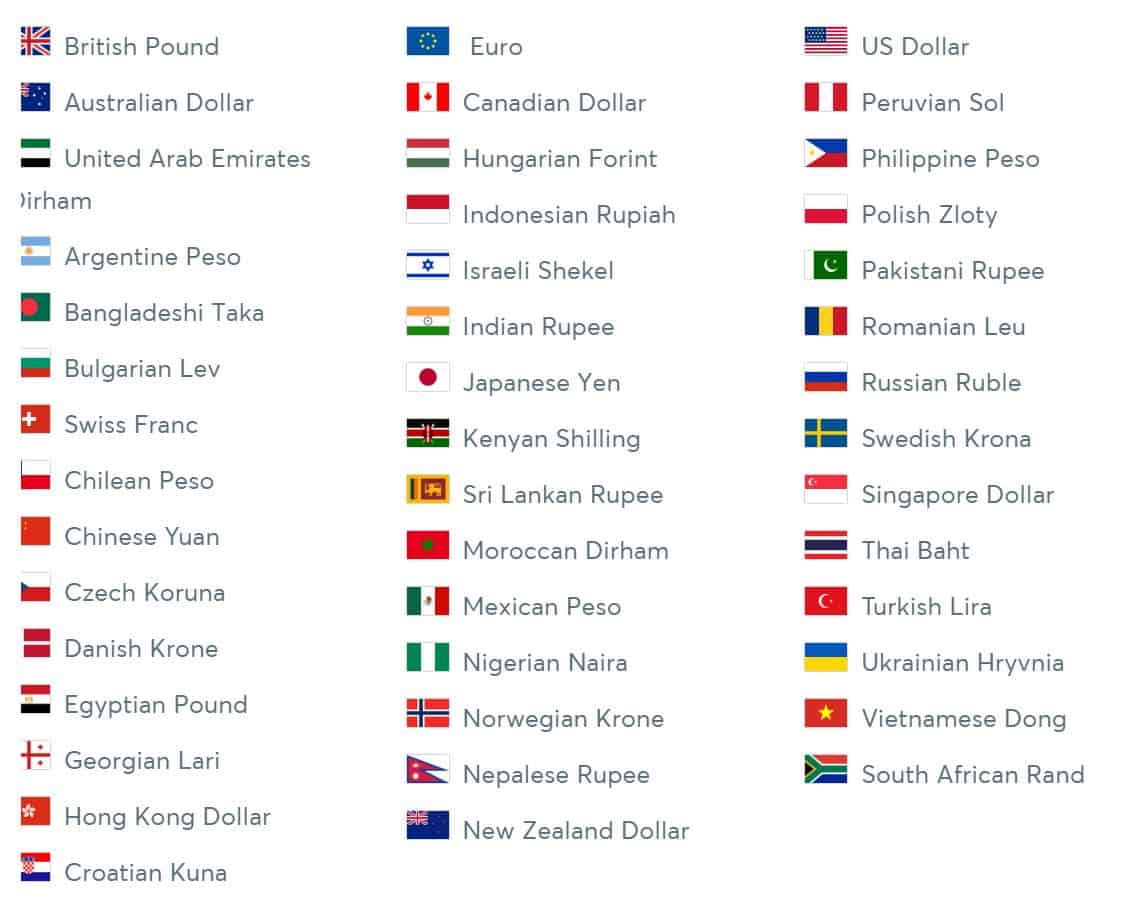 TransferWise depicted in their website a comparison of their borderless account to 21 banks worldwide. The independent research agency compared the UK current accounts for managing the money in Europe currency.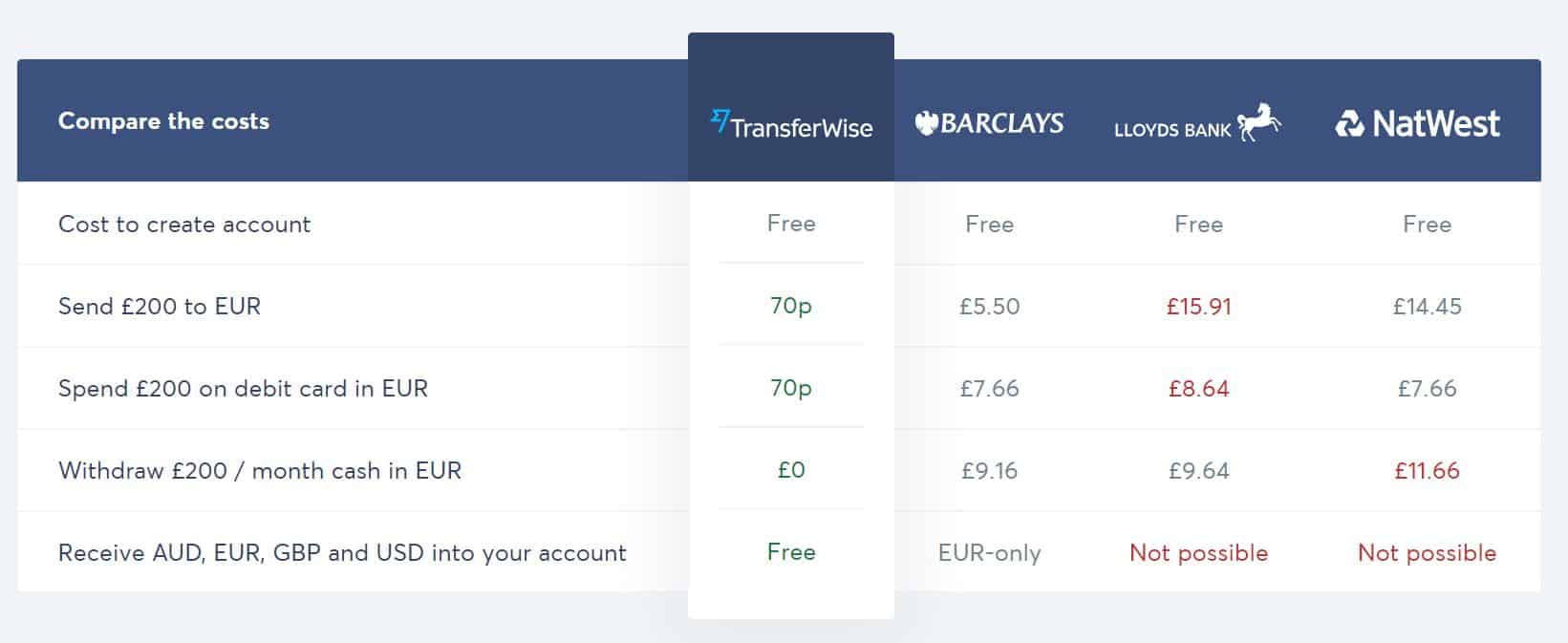 TransferWise Advantages
Trustworthy: TransferWise is an authorised Electronic Money Institution independently regulated by the Financial Conduct Authority (FCA) in the UK.
Transferwise comes with a handy mobile app available on Android and IOS devices
Debit Card: Transferwise issues debit cards by invitation-only to some customers; but soon they'll be available to everyone in UK, EEA and Switzerland.
TransferWise is up to 8x cheaper compared to banks and very transparent with the fees associated in all transactions.
Easy to use: Transferwise's straightforward and simple interface makes the whole process self-explanatory
TransferWise Disadvantages
TransferWise does not handle checks.

Quite strict with verification process – SSN is required for US citizens and non-US citizens are required to present a valid ID such as passport or driver's license
Bottomline
Looking over Transferwise's customer reviews, it's quite impressive how a lot of people are actually happy with their service. In fact, out of 41,810 reviews from TrustPilot.com, Transferwise got 9.1 starts out of 10 – most of the feedbacks were positive. Transferwise's cutting edge infrastructure and transparent fees basically made it to the top. No wonder why
it quickly became the hottest global fintech unicorn and became the most popular choice for International payment platform along with Paypal and Payoneer.
Transferwise Now Supported in Hong Kong
As of July 19, 2018 we received an email that transferwise is now in Hong Kong – more to come.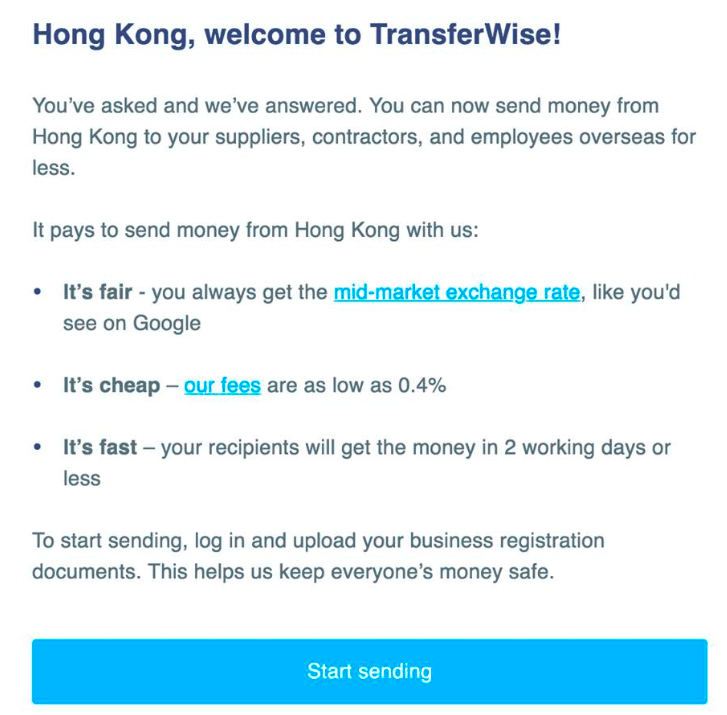 0

out of

5

based on

0

reviews.
Overall rating: