Today, trust is so hard to earn. Scientific Seller is here to help you reach your goal with the use of their services. Their offered services will definitely match to the distinct needs of your business.
Individual members of Scientific Seller receives free account review, hints, and tips. Get your account and enjoy our unique services.
Scientific Seller believes that a small change can result into something big. A fraction of the increase in sales will matter between rankings. Moreover, missing keywords can affect your sales more than 10%. These may just be an example of the small things, thus, it is important to have the right data in optimizing!
What is with Scientific Seller?

Amazon Research Blog
This contains helpful information about selling in Amazon. Have a look, it might help you with your Amazon sales, it provides the latest trends in Amazon.
Free Keyword Research Tool
This is the main tool of Scientific Seller that provides the most accurate Amazon buyer keyword information.
Most of the keyword tools for Amazon are fast, meanwhile, Scientific Seller is known to be the slowest. But, that is how the turtle won over the race. It can find a few hundred keywords in a matter of seconds, but, this is not the real deal, it goes overnight searching for more than just the seed keyword.
You actually need more keywords because Amazon only ranks the product for keywords that are already indicated on the product listing. Thus, to increase your sales, your customers should find your product through the keywords.
Moreover, they are up-to-date with the most current keywords.
Do you want a FULL access of Scientific Seller?

When you have full access you can see more results, do more searches each day, export searches, save searches, and even search outside the United States. However, here is the complete features on each access.
Basic account
An unlimited results are shown in every search, however, it only allows you 5 searches and 0 exports each day. Isn't that enough? Search speeds is normal and it does not allow you to save your searches and research reports. The basic marketplace for search is only in the United States, and there are no available global marketplaces for search.
Nevertheless, you do not have to invest with the basic account. You can have access in this account for FREE.
Seller account
There are three unlimited features in this account, it provides unlimited number of results, searches, and exports per day. However, the search speed is only twice faster than the basic account. It gets better with this account because it allows you to save searches, but research reports is still not available in this account. Just like the basic account, it only offers the basic marketplace, which is the United States.
Moreover, you can have this account for $29.99 per month.
Power Seller account
The same with the seller account, this account gives you the opportunity to view an unlimited number of results per search, and have an unlimited number of searches and exports a day. Also, its search speed is thrice than the normal speed. Saved searches is available in this account, but the research reports is still on the process, just wait for the update! Now, it's obvious that the basic marketplace available is only the United States, but, it does not end there because there are global marketplaces available in this account.
You can search in Australia, Brazil, Canada, China, France, Germany, India, Italy, Japan, Mexico, Netherlands, Spain, and United Kingdom. This is a wide scope already, isn't it?!
Invest $49.99 per month to have this FULL access with the power seller account.
You do not have to worry if you are not satisfied with the services they offer, because they have a 30-day money back guarantee. Without question and hesitation, they will do a refund. You just have to contact their customer support.
Why Scientific Seller?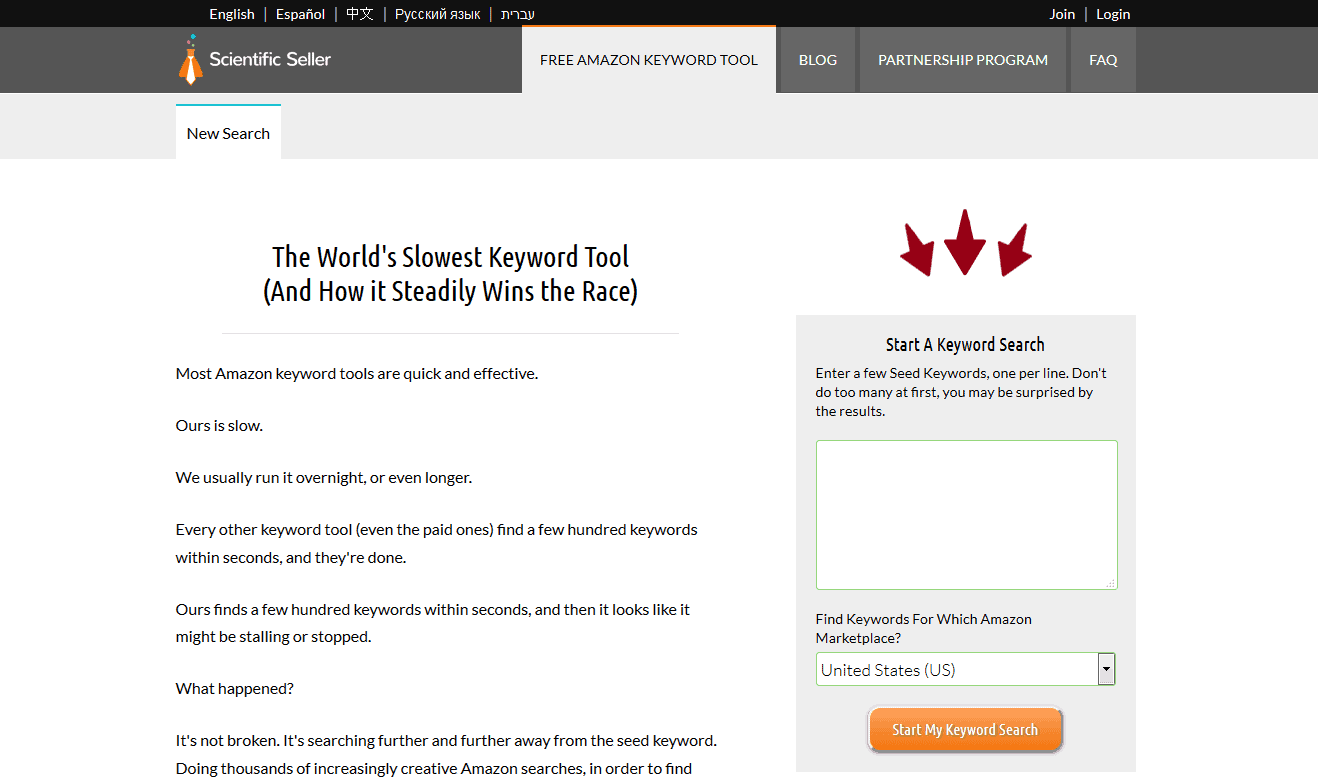 Who does not want an increase of their Amazon sales every month? You do not have to invest time and more effort. Using the smarter keyword software of Scientific Seller the Amazon sales have reached an increase up to 10% per month.
Moreover than the increase of sales, this keyword software is given for FREE. You do not have to be a subscriber to enjoy the free tool.
Other than that, the data and information are considered confidential matters. They utilize tight security techniques and do regular audit on their system. There may be times that they have to aggregate some of the information of the products to provide more results from the general research of Amazon. However, it assured that they will not use any specific data without your permission.
Reviews
0

out of

5

based on

0

reviews.
Overall rating: