Are you on the hunt for that next killer product for your e-commerce business?
Who isn't!?
Here at Global From Asia, we know that one of the biggest challenges of Amazon FBA sellers is finding that next product that will surely sell.
Today we are taking a look at Egrow https://egrow.io/) – an online software to help you uncover new product ideas, from category to specific product searches.
Let's dive in!
Watch As a Video Instead
What is Egrow?
Egrow is a web-based product research software developed for sellers of the largest E-commerce marketplace, Amazon. It analyzes millions of Amazon products day by day and collects the much needed sales data of hot performing products. It then delivers this data through easy to analyze charts and dashboards – a total upgrade from the physically exhausting and time-consuming manual research methods we have all used before. It is built to easily find products that will drive your business to new heights.
What's in it?
As any seller would ask before trying out a new product tool, it would be important to know what is under the hood at Egrow.  That's exactly what we asked before trying it out.
The video tutorials that comes with the site, though helpful, are not really necessary.  That's how easy it is to navigate Egrow's dashboard. What kept our attention to the site were the four major tabs in the header: Track, Research, Live and Keyword – these were the words that sparked our curiosity:
Product Tracker
Database Research
Live Amazon Scanner
KW & Niche Tool
Product Tracker
Simply fill-in the ASIN of the product that you would like Egrow to track and it returns the data about this particular product.  If there is a certain product that is not in Egrow's database, you just fill-in its ASIN, sit back and relax and in a day, Egrow returns all the data you need.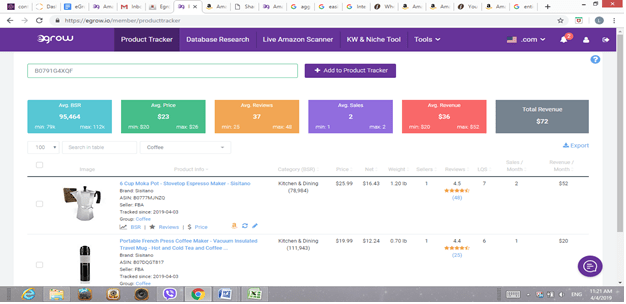 Another good thing that we saw in this tool is its organizing feature that will allow you to organize or cluster the products you tracked in a group.  For us, we grouped our coffee products under the coffee category, so, the next time we search for a certain coffee product, we just click on the group category it belongs under and we will be led directly to it – eliminating the hassle of going through the whole database.
We love that it shows the sales and revenues per month.  No need to call the finance team for updates or log on to whatever accounting software you're using.  We also use this tool to "investigate" our competitors' recent moves in the market and do a little speculation on new products to sell.
The quick return of data is something that we took full advantage of.  With just a quick type of our products' ASIN, we know in a nutshell how we are doing, where we've been and where we're heading.  Is it good to stock more of our moka pots? How did our french press campaign go? Questions like these are easily and quickly answered with the help of this tool.  Tracking made easy.
Database Research
This is fast becoming a product researcher's favorite.  It has become one for us. The database contains millions of pre-scanned products from Amazon which you can easily access.  You can filter your search from a more general level down to sub-category. More filters as you go through – price, product reviews and ratings, number of sellers, sales and revenues, best seller rank, number of images, listing quality score, among many others.  You can also choose the product size and the seller type, if it's from an Amazon dealer, FBA or another merchant.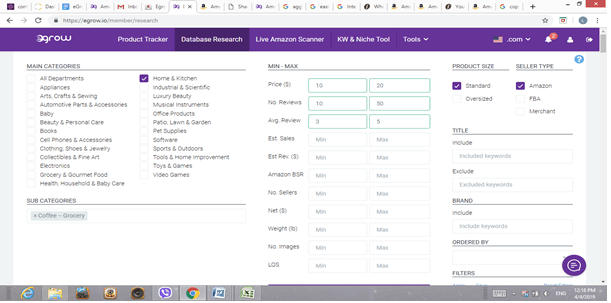 We played around this tool to find out the latest offerings for our type of products or deals – in our case, anything coffee.  We found ourselves wanting to amp up our search after every return of data especially since the data it gave us exactly what we're looking for.  The more filtered the search was, the more near-accurate the results were.
Live Amazon Scanner
As its name says – it's live!
When we first clicked on the tab, not much was shown.  It was just a clear interface that shows two fields where you choose a product category then type a keyword.  How could it possibly be more than just that, right? But after we did that, the returning results just rolled in great.  It really does pull out real-time data from Amazon. There was so much to see and so much to use.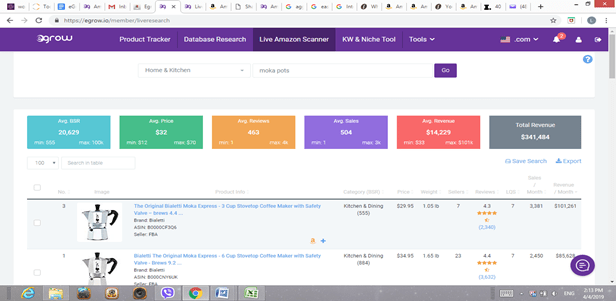 Another plus is, when before we used to go to another site of the merchant or to the Amazon site for our product data searches, now, everything is available without even leaving the Egrow page.  For people like us who would do anything to limit the number of open browsers, then this tool can help.
KW & Niche Tool
In our search for low competition keywords but with sufficient traffic volume, we found this Egrow tool a Holy Grail of some sort.  It works well with their very own keyword tracker. Before, we would just guess which keywords to use but with this tool, we were able to find the keywords we need, backed by statistics that Egrow gives. You can type in which keywords to include or to exclude.  No more guesses that usually turn out generic!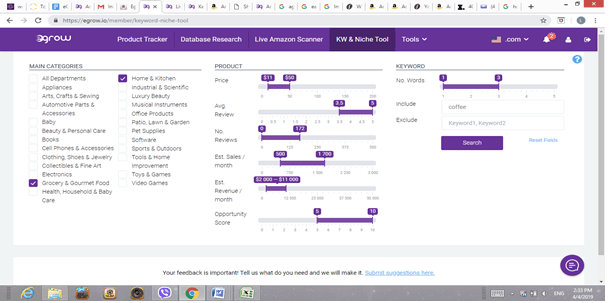 You will also get to find out who's trying to let themselves out there and going at it hard.  Just type in the keywords that you and your competitors use. Then type in the ASIN of the products and Egrow allows you to explore where you or they rank in terms of Amazon queries using these keywords.
It's pretty much spying but done the right way.
What's in it for me?
As entrepreneurs with foresight, we usually ask this before investing our hard-earned cash in tools that will either make or break us.  After using Egrow we found that we got more than we bargained for.
User-friendly dashboard
All-in-one browser
Wide and comprehensive database
Quick-results searches
Accurate and relevant product and sales information
Well-tracked keywords and products
Up to 90 days worth of product history
Secure data
Positive overall user experience
Free version available
Egrow Packages
If you are a budding Amazon seller or one who would want to test the waters before buying the real stuff, then at least, get the Basic Plan.  It still is as real as it can get but the basics which we believe are more powerful than they really are, are in.  For this plan you will get:
Access to 50% of the products from Amazon
5 Tracked keywords
5 Tracked products
5 Live researches per day
7 Days of product history
If you are satisfied with the kind of power you experienced with the basic plan and may want to up your game a little, then you can try the Standard Plan
 This will give you:
Access to 100% of products.
200 Tracked keywords.
100 Tracked products.
20 Live researches per day.
30 Days of product history.
But if your business has already grown globally with marketplaces here and there, you can get the mother of all plans, Eg Plus Plan:
Access to 100% of products.
1000 Tracked keywords.
300 Tracked products.
Unlimited live researches.
90 Days of product history.
International Amazon Marketplaces of Egrow
But before you rush out and sign up for this tool, it would be good to know beforehand if Egrow is relevant to your business.
Meaning, can you even use it?
While the features are great and the tools are cool, you have to know if it is available in your marketplace.  Because if it isn't, then this may not be the right tool for you. The updated version of Egrow is currently available in the following markets:
USA (.com)
Germany (.de)
India (.in)
United Kingdom (.co.uk)
Canada (.ca)
France (.fr)
Italy (.it)
Australia (.com.au)
Spain (.es)
Turkey (.com.tr)
Brazil (.com.br)
Customer Support
One thing that we are looking for in a product aside from the product itself is the company's response time in answering customer's queries.  We noticed in the dashboard its chat feature where you can contact the support team so they can guide you while you navigate. You would know that Egrow cares about their customers, hence, their feedback-us claim at the bottom of most of their pages.  It sounds just right to know that they want to know what we need and they will make it.

Is Egrow the best there is?
It's not entirely up to us to say if it is the best among the rest.  All we can say, for sure, is that it worked really well for us. We were trying to figure out what could be a tool flaw.  But, all we could think of is it's just a little less popular than the more widely-used Jungle Scout, Viral Launch and others along their line.  But that could still work in Egrow's favor since it can price its tool way below the industry standard, being less popular, that is.
There were reviews that said that they were hoping Egrow has more products in their database.  We didn't exactly encounter such problem since most of the products we searched were there. It still all boils down to answering the question, "Is it the right tool for your specific need?"  We all have different needs, different preferences, different products, different demands. So, the best way to know would be to test it yourself.
A good thing there is, you can do so for free.
Head on over to Egrow (https://egrow.io/member/login) and sign up for a free version. And  don't forget to tell us what you think.
Reviews
0

out of

5

based on

0

reviews.
Overall rating: