Global From Asia Affiliate Program
(Already our affiliate? Login here)
Do you have a blog or online business that caters to people doing international business? Want to find more ways to add some extra income for all that work you put in building it up?
Global From Asia's affiliate program is perfect for you!
(or if you want to learn about affiliate marketing in HK, check this out)
What's An Affiliate Program?

To give a quicky explanation for those not familiar, an affiliate system is a program where you can get a tracking code that is unique to you. You tell your friends and fans and followers (social media, blogs, etc) about that product or service. They then check it out on the Global From Asia site and decide if they will buy it or not.
If they buy, you get a cut of the deal!
No need for you to have your own webpage or sales page or checkout. Its all done for you here.
This creates a win-win opportunity for you and Global From Asia! We don't mind paying a commission to someone who refers us a quality client. And our services are pretty high value so you can earn quite a good commission!
You can login to our dedicated affiliate system web portal and check a lot of facts and figures. You can see how many visitors you have sent, how many have purchased, and how much commission you have earned!
If you're instead looking to offer this product or service on your own website? Want to deal with the client services, no problem! Please check out our Resellers program as that is more suitable for you!
How Much Commission Do We Offer?
So now that you get the idea of this affiliate program, let's talk some numbers.
We have a tiered payout program, which means that the more you refer to us, the higher level payout you will get.
As a base level affiliate, you will get 10% of the sales that the customer purchased. Once you reach the next level, it goes up to 12%, and the third and highest level is 15% commission.
Our average order is $1,500 USD – so that means you can earn an average of $150 US dollars on an average order size!
So we hope this is exciting to you. We want to make you excited, and want to make a long term win-win relationship with our affiliate partners.
Get Issued a Proper Tracking Code

The team at Global From Asia has invested to build out a proper affiliate system. We will issue you your own affiliate tracking code, and it will work on any and all pages and products on our website.
The cookie will last for 30 days on that visitor's computer. During that time, if the visitor makes any purchases, we will credit you your commission.
You can check in on the online dashboard to verify, and we will also send you email alerts when we credit you for a sale.
Your Own Account & Dashboard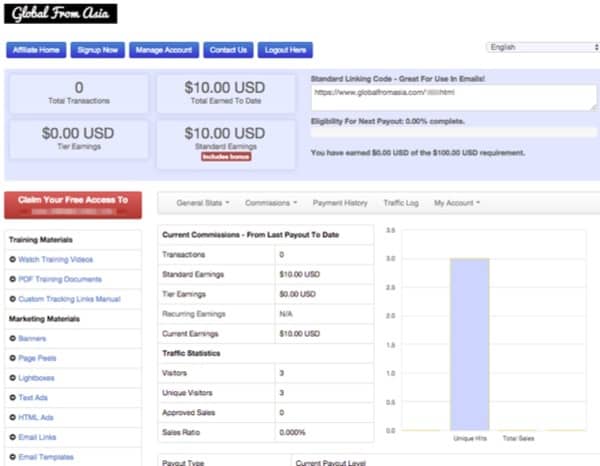 Here's a screenshot of our affiliate dashboard.
You can see how we want to share the details with you and give you an idea of how much traffic you are sending and how things are going.
On top of being able to login, we will also email alert you for new sales and other important notices.
We know how important it is for you to feel safe and secure we're tracking your traffic and sales – and have a full system for you to check real time!
Get Updates on New Products & Special Affiliate Offers
On top of being an affiliate partner, you'll also be one of the first to know about new products and services we are offering. That way you can tap into your audience and get them excited about a new deal.
We'll also have special offers just for affiliates, and also some fun competitions.
Again, we're doing this for the long term, and by you being part of it, you'll be on the inside of our business!
Quality Partners Over Quantity

So how can you be an affiliate partner? You may have heard a lot on the internet about affiliate scams and the like. We don't want to have anything like that associated with our brand and our company. So we will want to get to know you and your business a bit before things get started.
When you apply, your application will be in the pending approval status. Our team will check over your application, look into your website to understand what you are providing your website visitors.
While you may not have a website, that is fine! You can email your friends and use social media as well, just state that in your application.
If you're a current client of Global From Asia – that is ideal! Note that when you apply and we will give that the highest consideration. You know how our services work and will find the right clients to refer.
Again, quality of our affiliate partners is of the utmost importance. We will work with you to help you achieve your affiliate commission targets. But please don't want get too sleazy in your sales campaigns. In our terms, you will see that if you violate the policies, we will mark your account. We may even remove you as an affiliate partner.
But we know that won't come up! We take pride in having long term partner affiliates in our business and we're both on the same side!
Ready To Apply To Be An Affiliate, Here's How

So hope you are ready to apply. Its free and easy. Just go to our dedicated affiliate system at partners.globalfromasia.com/account and click apply now. We will even credit new affiliates $10 US dollars to get them started.
Once approved, we'll send you an email. You can then use the links with tracking code, as well as various banners to promote on your website.
Any questions or concerns, please do not hesitate to contact us!