Aureliapay is Now GoRemitHK
We just got this notice – March 2019:
GoRemitHK Reduction in Transaction Fee, 6th March 2019.
Dear Valued Customer,
We hope you are well. We are writing to reflect the recent re-branding from Aurelia Pay to GoRemitHK. This name changed have been successful and we also received many positive feedbacks from you, thank you.
Apart from this amazing transition, we are delighted to announce that we are offering Reduction in Transaction Fee. These reductions in fee are effective as at 6th March 2019.
• CNY pair (HKD/USD to CNY): fee is reduced to 1.2%.
• Non-CNY pair (HKD/USD to SGD, MYR, PHP, THB, IDR): fee is reduced to 2.5%.
We would like to make sure that we remain in touch, so please do not hesitate to contact us if you have any inquiries.
Thank you for your continuous support.
Company Overview: Aureliapay
Aurelia Pay is a leading cross border payment service provider based in Hongkong that is founded by Simon Lim. Aurelia Pay is registered and licensed as a Money Service Operator (MSO) in Hong Kong Special Administrative Region. It provides a money transfer platform focusing in Southeast Asia, Hong Kong and Greater China. The company's goal is simple: to make international sending and receiving remittance payments more efficient at a cheaper rate to boost your business performance. Banks could charge you up to 8% in hidden costs when sending money abroad. Aurelia Pay is up to 8x cheaper compared to conventional way of money transfer. Aureliapay offers competitive and transparent Foreign Exchange Rate following mid-market/real time exchange rate.
Basically, Aurelia Pay does an end to end payment network that makes the process of international money transfer a lot easier. It is able to manage collection and delivery, and does not rely on any third party company or any delivery party. To date, Aurelia Pay focuses on Southeast Asia including Hong Kong, Greater China, Malaysia, Indonesia, Philippines and Singapore and supports 7 currencies (HKD, USD, SGD, MYR, CNY, IDR, PHP).
3 Simple steps to send money with Aurelia Pay
Sign up: Signing up is easy, it'll only require you basic details like name, email address, and an active phone number where a verification code shall be sent.
Log on to your Aurelia Pay account and deposit the funds you wish to send to Aurelia Pay's bank account to pre-fund your account.

Make a Transfer: Aurelia Pay's dashboard is pretty simple and almost self-explanatory. Basically, you'll have 3 options on sending money: Bank Transfer, TopUp Alipay and TopUp Wechat.

BANK TRANSFER: Clicking Bank Transfer shall lead you to a page like below.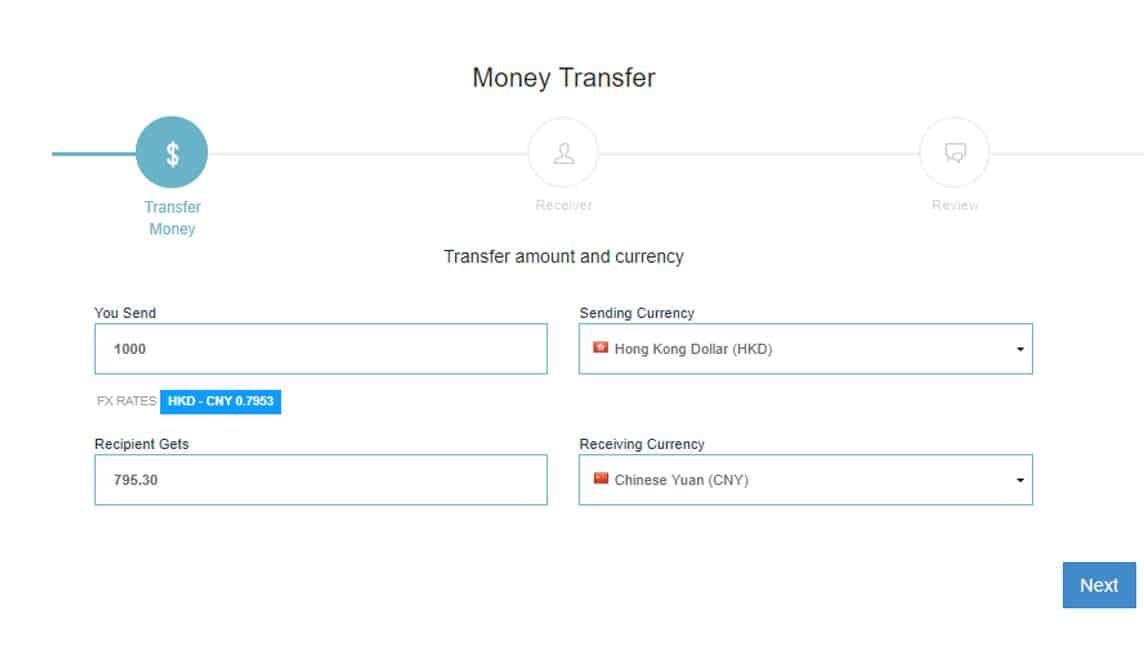 On this page you'll need to indicate how much and what currency you are sending and you'll be able to quickly see how much your recipient will actually get. Click Next to proceed. On the second page, you'll simply provide your recipient's details such as: Name, bank name, account type, Swift Code, contact number, bank account number, and recipient's national ID or Business Registration Number.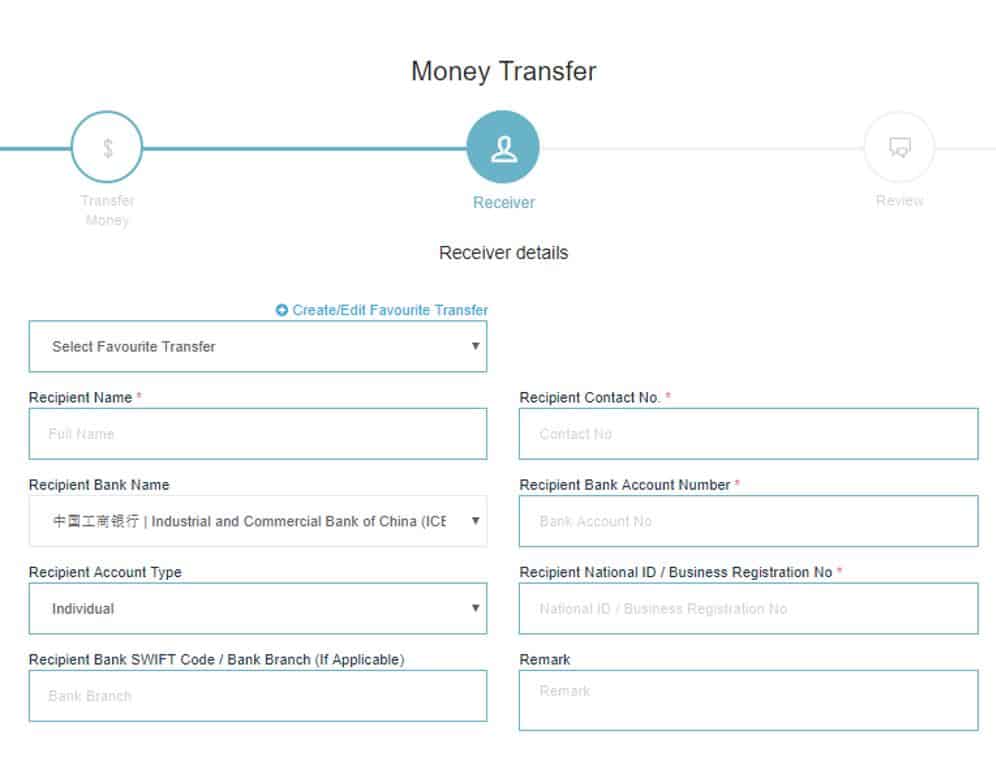 Click Next to continue. Review your transfer and then submit. Aurelia Pay will then process your request and send your money to your beneficiary or recipient's bank account in 1-2 days depending on the location and cut-off.
TOPUP ALIPAY / TOPUP WECHAT
To be able to send funds to an Alipay/WeChat account, you have to ensure your account has enough funds to send money. You can do this by making a deposit to Aurelia Pay's bank account.Once funded, you can topup by just keying in details like the recipient's WeChat username and phone number. For Alipay, you'll have to key in the recipient's name and phone number or email. The topup process looks like this: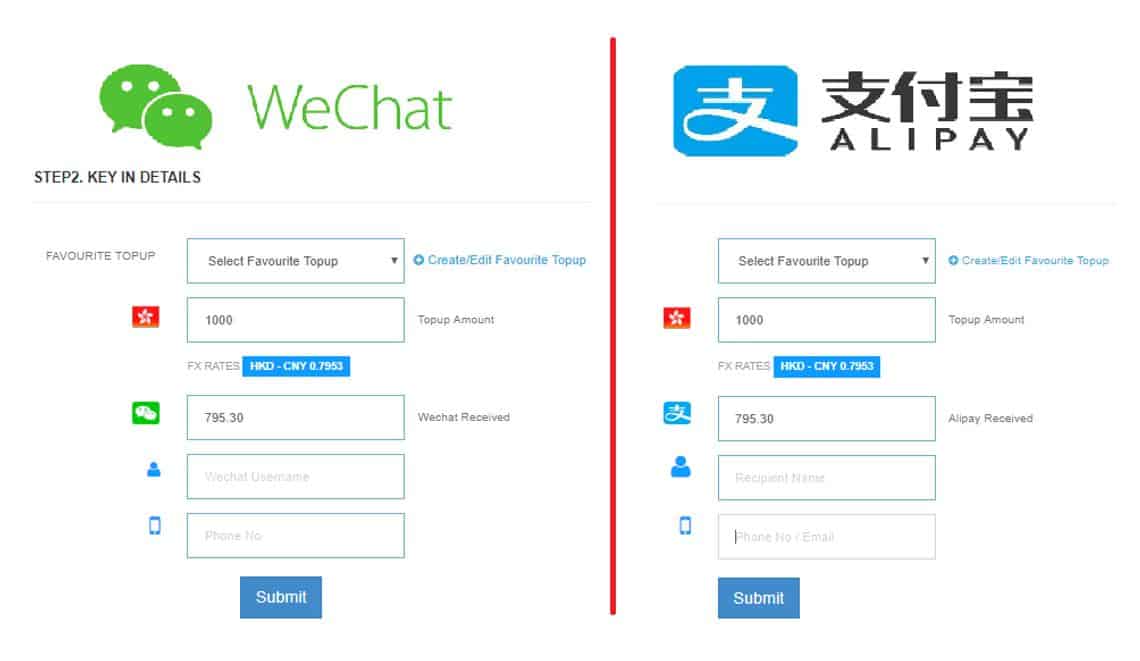 Where you can use Aureliapay
Personal: Send money to your relatives and friends from abroad.
Business: Paying a supplier from China? Or paying contractors and freelancers from various parts of China and Asia? Aurelia Pay can do that for you hassle-free and worry-free
Mass Payout: No matter to whom, partners, suppliers or merchants, rest assured that your transactions are safe and secure
Aureliapay Advantages
   

No hidden fees

   

Signing up is easy

   

Same Business Day Payout

   

Wechat/Alipay Topup
Aureliapay Disadvantages
    Few currencies supported

    Only focused on Asian countries
Bottomline
Let's face it, currency conversion is a pain – and companies like Western Union, Paypal and the banks take relatively higher margins when it comes to foreign exchange hence making it more costly. Today, many companies are emerging online offering the same service as WU and Paypal such as Aurelia Pay. It's a company we have personally tried and Aurelia Pay has been the answer to our struggle to find a fast, easy and safe way to transfer funds around Southeast Asia.
Common Questions and Uses of AureliaPay
In our GFA Member's community we get a lot of interaction and questions - here is some to note:
HK company without HK bank account can use Currenxie or Payoneer to send money to Aurelia

- yes that is correct. they can signup Currenxie or Payoneer under that HK company to accept fund and withdraw to Aurelia Pay

Non-HK company can't use Cross Border Payment Service to send money to Aurelia

- unfortunately, we can't accept due to compliance reason. We are looking for a workaround to support non HK company as i know that is a huge market to serve. We will update you once is available.
Update August 2018 in the payment industry to China
There have been a bunch of changes in the payment industry with China. Our guess (again it is a  guess) is that it is about the building trade war between USA and China. Maybe other currency control policies coming into place.  But whatever the reason, some payment companies are cutting off their connection for payments into China.
Here's a response from Simon Lim, CEO of Aurelia Pay:
Dear all Global From Asia members,

I have been made aware that there are couple of RMB payment provider will shut down by next week (more to come this month, Aurelia Pay won't be affected by this mass closure)

For better and uninterrupted service, I would recommend you guys to signup and verify your account at Aurelia Pay
soonest possible as we had spike in numbers of sign up for past few days.

Currently, we only support the following:
1) Hong Kong business + local HK bank account
2) Hong Kong business + licensed payment account (Neat/Currenxie)
3) Individual + local HK bank account
**support for HK business or outside HK businesses will be available soon

Please use Global From Asia referral link to signup for prioritized onboarding and fast approval
www.globalfromasia.com/reviews/aureliapay/

If you have any question, feel free to PM or message in group.

Have a good weekend everyone.
0

out of

5

based on

0

reviews.
Overall rating:
Leave Your Review