DealExtreme (DX) is yet another Chinese B2C drop ship online marketplace that offers a wide range of products, mainly electronic, that are made in China.
DX was founded in 2005, is headquartered in Hong Kong, and affiliated with MadeinChina.com.
Although it's a Chinese store, the majority of its customers are from the Western countries.
Today, DX has warehouses in the United States, Australia and the UK. It also has over 1 million users and 400 suppliers.
DealExtreme Pros and Cons
Pros
Free shipping worldwide: DX offers free worldwide shipping on all items, except purely power products such as batteries and power banks. We know free shipping drives more sales, as it effectively entices customers.
Affordable products + discounts and a lot of great deals: Just by subscribing, you already get a $3 gift card every month. Moreover, the site also has a page for daily deals where you can get items at up to a 50% discount.
Easy to Use: Make a purchase without even signing up.
Dropshipping! The best thing about DealExtreme is its dropshipping program, which is discussed below.
Best place for cheap electronics: Mobile phones and accessories, chargers, memory cards. You name it, DX has it.
Cons
Shipping takes 2 to 4 weeks: Sadly, orders with free shipping typically take more than a week. As explained in DX's FAQ, your order goes through several stages before reaching your door such as:
Payment Confirmation: 0-3 business days
Order Processing: 1-3 business days
Order Preparation and Packaging: 1-2 business days
Shipping via airmail: 9-14 days
Lost parcel: After reading hundreds of TrustPilot reviews, I've noticed multiple similar negative feedback regarding lost parcels. Lost parcels mostly happen with orders addressed to PO boxes rather than a physical mailing address.
Customer Service can be unreliable: Support is only available during Hong Kong business hours, which is 12 hours ahead of the US east coast and 8 hours ahead of the UK.
Security Issues: One thing I noticed on the DX website is that it doesn't even have an SSL certificate, which is worrisome, especially when you opt to pay with a credit card.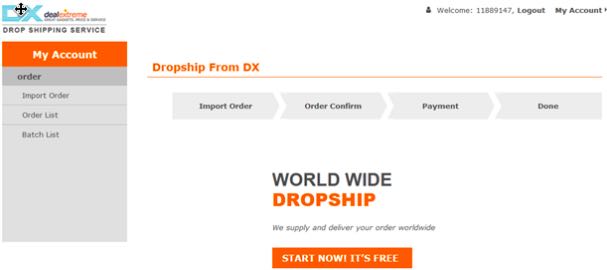 DealExtreme Dropshipping
DX has over 300,000+ products to choose from, it offers worldwide free shipping, bulk order discounts, no contract, and all packages are sent without the DX logo — basically, a great deal for a dropshipping business.
How to Dropship with DealExtreme
For Single Orders:
1. Sign up for an account and activate it by verifying your email account.
2. Sell DX products on your website, social media, or by other channels. Because this is dropshipping, you can increase your selling price to maximize your profit margin.
3. Assuming you've made your first sale, go to the DX website and select the specific product you have sold and add it your cart.
4. Submit the order and pay for the item.
5. Put your customer's address on the shipping address.
6. DX will then prepare the item and ship it out directly to your customer.
For Bulk Orders:
1. Sign up for an account and activate it by verifying your email account.
2. Sell DX products on your website, social media, or by other channels.
3. Create a CSV file containing the list of products you're ordering. You can get DX's CSV format from here.
4. Go to your DX DSS (Drop Shipping Service) account.
5. Import the CSV file / order and confirm it.
6. Complete order by paying for it.
7. DX will then prepare the item and ship it out directly to your customer.
Verdict
DX has been around for quite some time in the e-commerce world. Many users from around the world trust this website for its worldwide free shipping and cheap products — specifically electronics. However, if you ask me whether I'd recommend DX for a dropshipping business, I'd honestly have to say no. Today, there are so many websites just like DX that offer the same services, but faster and more reliable — take AliExpress or Oberlo for example.
Long processing and shipping time is basically DX's main negative point — and I believe time is vital for any business unless your customers can wait for their orders to arrive. To cut it short, DX is a legit website and you can safely purchase from them, but if your purpose is to dropship, DX won't be the best service to use.
Stop buying from DX.com !
★☆☆☆☆
"
They don't send out orders anymore, they don't answer email or phone calls. Messages to them on their web are also left unanswered. They just take your money and hope they get away with it. sales@dealextreme.com returns an error and when calling their number written on your receipt it says number does not exist anymore. STAY AWAY !!!
"
"
If I could give a 0 or less I would , deceptive advertising only buy from well known companies even if you have to pay more because the cheap comes out expensive
"
Lost item, no refund
★☆☆☆☆
"
Ordered a product that showed "in stock", did not receive it for a few weeks. Checked DealExtreme, they showed it out of stock. Contacted them, no support. Waited a month to get item to shipped status. Then item is delivered while we are away. They will not redirect to another address, so item is held. We try to pick it up when we get back, but item is now lost. DealExtreme refuses to refund. Opened a complaint with credit card company, still waiting for money back 4 months later.
"
Dealextreme scam website
★☆☆☆☆
"
Order Number: 190109100180438027 I bought mobile for 400$ on dealextreme.com next day i purchased they asked me id proof i sent all and they confirmed payment then after 17 days ago they are not shipped item and main horrible thing is no one reply to my msgs i tried lot of times but not responding any one msgs and also not shipping product. they don't have chat service even dont have support emails ,they have only facebook support that also they blocked when i asked about my product see how frauds these peoples my money struck in dx.. if u paid through direct on dealextreme.com then forget your money they never give u r contact u.. big frauds .. i paid through paypal so i just opened dispute but still pending coz they are not reply to them also .. Dont buy anything in DX be careful like these scam websites
"
1

out of

5

based on

4

reviews.
Overall rating:
Leave Your Review