Moneycorp is a company based in UK, it offers services such as foreign exchange and international payment to individuals and corporate customers. Best and comprehensive services to their customers are the utmost importance to them. Customer satisfaction is what they aim to deliver.
Choose Moneycorp instead of your own bank to make foreign exchange transactions
A more personal and tailored service is what they provide as foreign exchange specialist. A well trusted, well trained account management team equipped with timely information regarding the driving forces affecting the currency market will be provided to work and guide you in understanding your  needs.
Setting up a moneycorp account

For just a few minutes you can complete an Account Agreement online or you can request a copy from their team member by calling +44(0)20 7589 3000. A detailed personal information is required as well as identification documents to create an account. The verification process might take up a few days to complete depending on which country you reside. Opening an account does not mean you have an obligation to trade with them, but it saves time when your desire to trade arrives.
You can also download their application on to your smartphone for a faster transaction. With the moneycorp app, you can book a deal, make money transfers, check your account balance, and add funds to your account.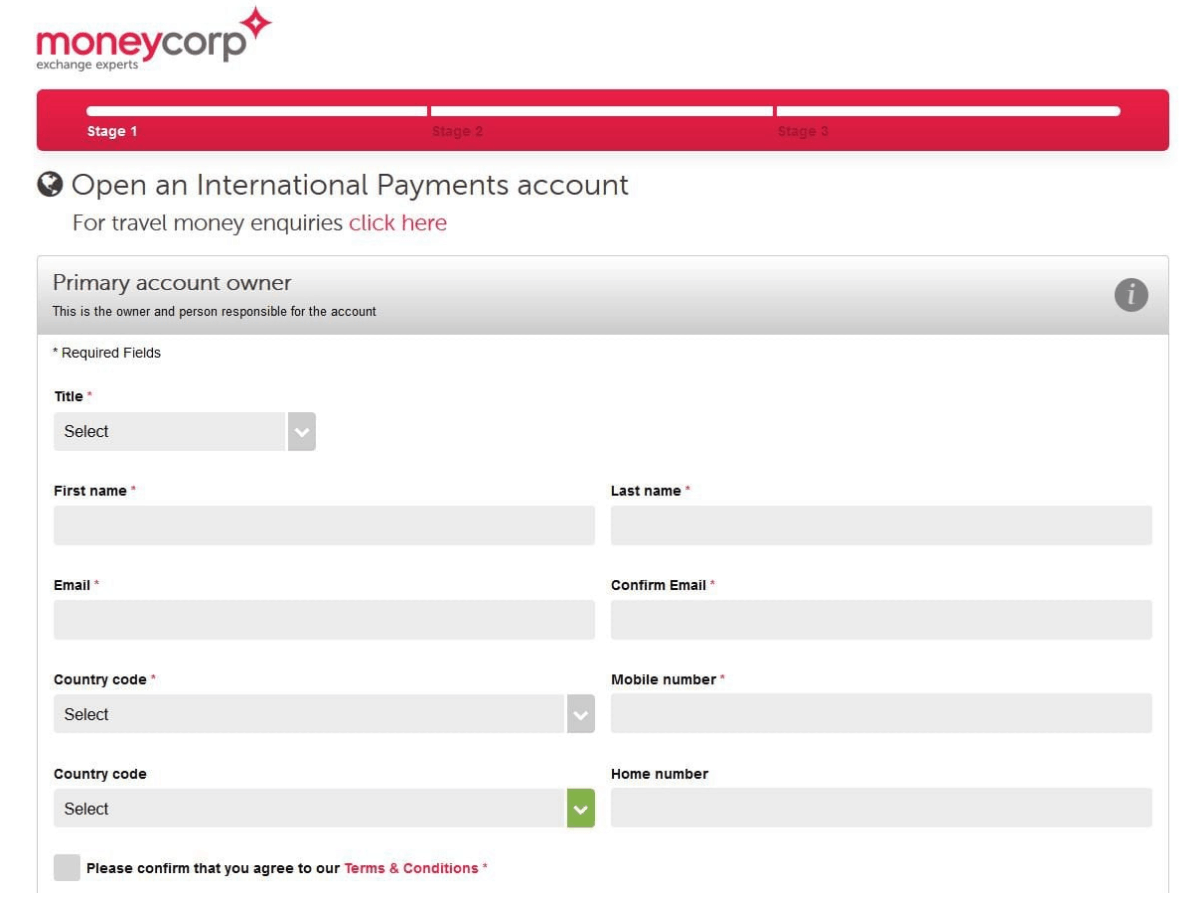 Sending currency using Moneycorp online
Just click on "Book a deal" on the home page and follow the given instructions, during the process, provide your debit card information and your recipients' detailed information. The data you provided will be stored for future use.
Ways to pay for your currency
To pay for transfers on Moneycorp Online, personal clients are given three ways
Bank transfer
Funds on Account
Debit Card
BANK TRANSFER
By bank transfer, you can send your payment to moneycorp by bank transfer to the account displayed when you login and click "Add funds to account". You can choose from the following bank transfer FPS, BACS, CHAPS.
Faster Payment Service (FPS): this is an electronic payments that can be made online, thru phone, in branch or through self service kiosk in 2-24 hours provided both banks are part of the FPS.
(BACS): For Direct Debits and Direct Credits from organizations, you can use this electronic system of payments directly from one bank account to another. It takes 3 working days for payments to clear.
(CHAPS): As long as the instructions are received by 2pm, this guarantees same-day payment. Your bank will usually charge for this service but there is no limit as to the amount of money you send.
For them to link your payment to your account make sure to quote your payment reference starting with CK in arranging the transfer from your bank. If you wish to use this method, before you book your international payment be sure to send your funds to moneycorp.
For a more detailed information on moneycorp's bank accounts, their customer service team will be happy to serve you dial +44(0)20 7589 3000 between 7:30am and 9:00 pm Monday to Friday, and 9:00am to 1:00pm on Saturday.
FUNDS ON ACCOUNT
Funds on account. You can use these to pay for your current international payment if you have paid funds into your moneycorp account by bank transfer or debit card. You will be asked to use these funds to pay in case you wish to pay for your transaction.
DEBIT CARD
Debit Card. Upon entering your UK debit card details, your currency is paid for after completing the Verified  Visa or MasterCard Secure Code authentication check.
It is required that the address you provided on your moneycorp account is the same as the billing address on your card. Credit cards are not accepted.
How much does it cost to make a transfer with Moneycorp
Moneycorp offers No Online Payment fees until 27th of August 2018, however deals booked over the phone are subject to a transfer fee of £15 and are sent express.
Factors affecting what rate to charge
Their rates are based on a combination of the following factors:
The current exchange rate

The amount transacted

The currency purchased
Whether you pay by debit card or pre-fund your account by bank transfer still you receive the same rate.From 10pm on Friday to 8pm on Sunday (both GMT) foreign exchange market are off hence, the exchange rate you receive on Moneycorp Online during this period will not increase or decrease. But at all other times the rate you receive depends on the current exchange rates.
Moneycorp Online offers transfers in 33 currencies. Express transfers are available in all of these currencies, and Standard transfers are available as indicated  below.
Standard
Express
Currency
Code
£5

2-4 days

£9

0-2 days

UAE dirham

AED

Y

Australian dollar

AUD

Y

Bahrain dinar

BHD

Y

Canadian dollar

CAD

Y

Swiss franc

CHF

Y

Czech koruna

CZK

Y

Danish krone

DKK

Y

Euro

EUR

Y

Y

Pound sterling

GBP

Y

Y

Hong Kong dollar

HKD

Y

Croatian kuna

HRK

Y

Hungarian forint

HUF

Y

Israeli shekel

ILS

Y

Jordanian dinar

JOD

Y

Japanese yen

JPY

Y

Kuwaiti dinar

KWD

Y

Mexican peso

MXN

Y

Moroccan dirham

MAD

Y

Norwegian krone

NOK

Y

New Zealand dollar

NZD

Y

Omani rial

OMR

Y

Polish zloty

PLN

Y

Qatari riyal

QAR

Y

Romanian Leu

RON

Y

Saudi riyal

SAR

Y

Swedish krona

SEK

Y

Singapore dollar

SGD

Y

Thai baht

THB

Y

Tunisian dinar

TND

Y

Turkish lira

TRY

Y

US dollar

USD

Y

South African rand

ZAR

Y
Amount Limit to Send with Moneycorp
You may purchase currency up to £100,000 but if above  £100,000 or the equivalent in another currency you are required to contact MoneyCorp's experienced dealers on +44(0)20 7589 3000. If via your dealer you have already purchased £100,000 you can transfer the full amount by clicking 'finalise your transfer'.
Danish krone and South African rand Standard transfers are subject to upper size limits of DKK150,000 and ZAR30,000, respectively, but you can send up to £100,000 thru Express transfers to these countries
Why Moneycorp?
They offer personal, corporate, and travel solutions for you. Moreover, they have currency tools that can help you decide and track the foreign exchange rates. You and your money is safe with them, they are authorized and regulated by the Financial Conduct Authority.
What are you waiting for? Sign up and experience better financial solutions with Moneycorp.
Reviews
0

out of

5

based on

0

reviews.
Overall rating: