Multiple merchant accounts is not a problem with Hello Profit. You can have a merchant account across various regions, yet you can access these merchant statistics and export its details. You will be updated from time to time as it updates the data from Amazon at regular intervals. Yes, that is how Hello Profit becomes a comprehensive Amazon Seller Tool.
It is not also a problem to have multiple brands in Hello Profit because you can categorize and group them to easily manage their stats. You can never go wrong with their advanced PPC manager that has Smart Filters to optimize campaigns in match with your metrics and pre-sets. Moreover, you can easily tweak some adjustments to your keywords and budget. It gives you an eye-opening information right through your eyes.
Thus, work with Hello Profit to value your customer's worth!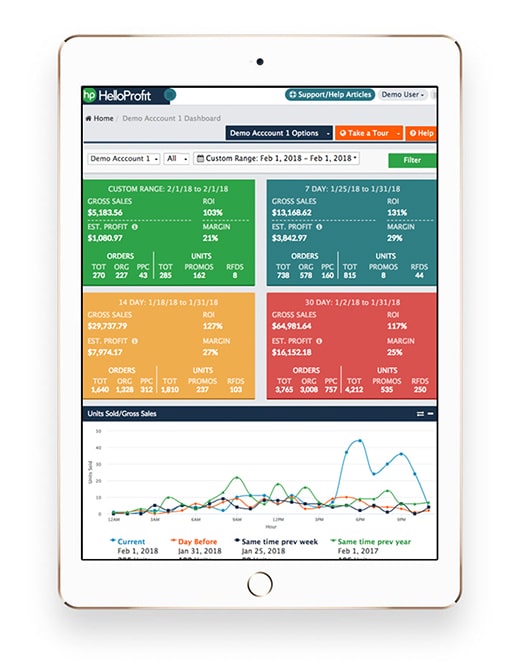 What are the features of Hello Profit?
Merchant Board
Even if you have different merchant accounts, you can view all of the data sales and profit in once comprehensive dashboard. You will not just see numbers but you can have a high level information that can help you understand what impacts the rise and fall of your sales. Every detail is shown from the name of merchant, marketplace and the date of transaction is shown. Moreover, you can view the SKU level data through product tiles.
Product Dashboard
The product dashboard of Hello Profit allows the sellers to have a full control in measuring the growth of its individual products. You have the freedom to classify and customize the products into groups. Moreover, you can choose to hide those data that you think are irrelevant and feature the area that you want to focus on for its growth.
It has a feature that compares the full price and promo sales to help you analyze the performance of product promotion. It has an itemized breakdown that aids you to easily identify the transaction types.
PPC Manager
This is the real change maker! The PPC Manager of Hello Profit exceeds the intelligence of the ACoS of Amazon. It helps you find the true profitability of your Sponsored Products campaign with its proprietary algorithms. It has a convenient in-app feature that allows you to optimize the campaign using the Smart Filters that recommends metrics and pre-sets.
You can now fully understand the advertising cost of sales which makes you confident in bidding with profits.

Payout Reporting
This is the eye-opener, it will provide you clear, organized, and aggregated bi-weekly reports to help you understand and analyze your Amazon business. A detailed breakdown of your SKU by SKU and ASIN by ASIN transactions are given. Thus, you can confidently excel in areas that needs more attention.
Instant Notifications
Hello Profit will immediately notify you when sales are beyond the parameters you have customized. There are instances that Hello Profit will notify when the maximum sales has already reached per SKU. These handed out information helps you understand the effective marketing efforts and to safeguard your inventory. Aside from the maximum sales, Hello Profit will inform you of the products that did not sale the number of expected units. This allows you to improve your listing.
Customers and Orders
There is a quick smart search that can aid you in looking through a thousands of orders. It provides you information that helps you decide on how to increase repeat buyer sales. You can also monitor refunds to know whether the unit has been returned or was it reimbursed.
How much is the plan subscription of Hello Profit?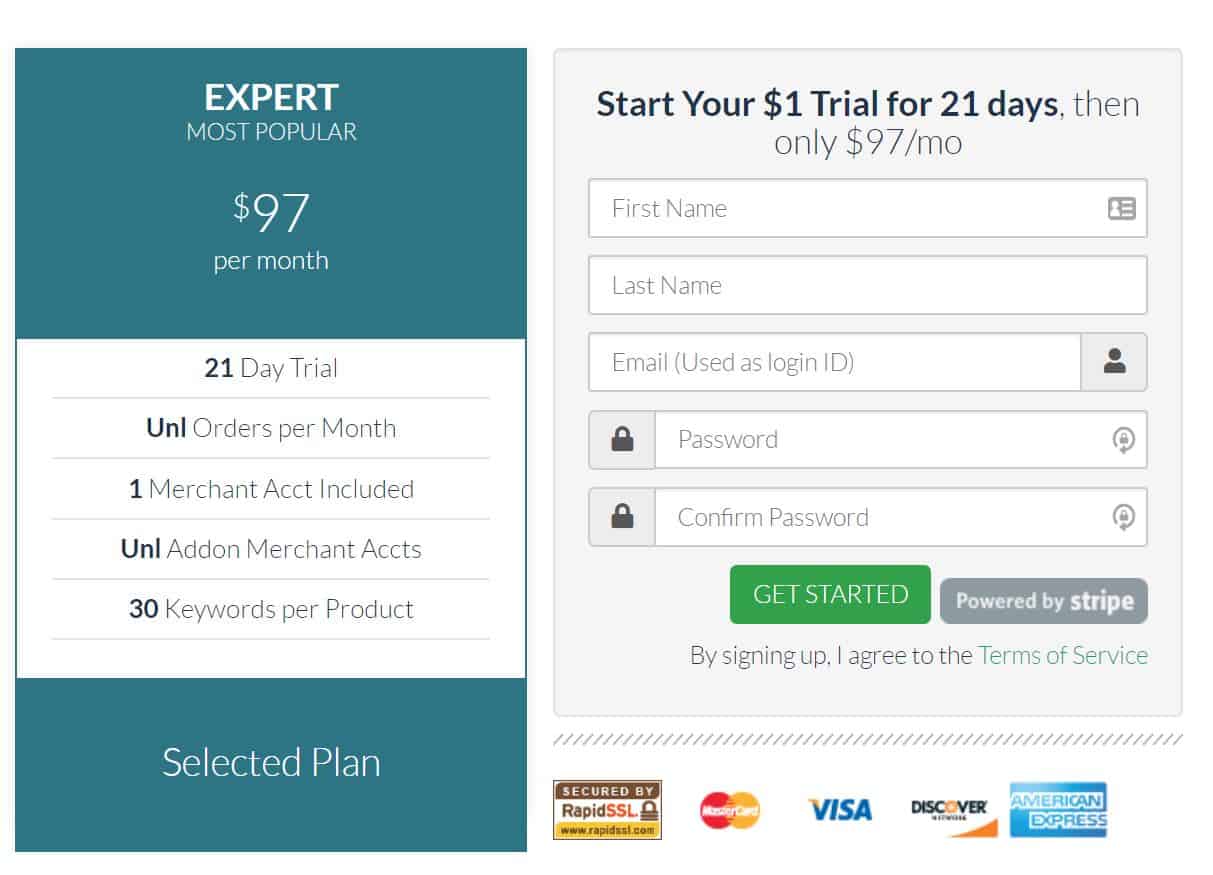 It is safe to use their free trial first to know whether their amazon software is right for you. Hello Profit offers a 21-day free trial for only $1! Once the free trial is through, you only have to pay $97 per month instead of the regular rate of $297 each month. This is the Expert Plan, the most popular plan subscription of Hello Profit. Do not worry! You can cancel the subscription anytime you want.
The plan includes unlimited orders per month, one merchant account but gives you the leverage to have an unlimited addon merchant accounts, and 30 keywords for each product. If you wish to upgrade your plan subscription, you may do so. Start tracking your profits now!
Why is Hello Profit right for your Amazon Business?
Literally everything that is needed and expected from an Amazon Seller Software is available at Hello Profit! It is a complete package of Amazon Seller Analytics that enables you to have a full control of your business. Imagine, you only have to login one account that has multiple powerful tools.
More than that, Hello Profit is a high-end technology that offers LIVE Sales Updates. You can view the statistics, profit, and ranking of your sales LIVE! You do not need to complicate yourself with graphical data. There is a visualized graph that helps you understand your data easier and faster.
Take your sales to the top! You can start a 21-day trial for only $1!
Reviews
0

out of

5

based on

0

reviews.
Overall rating: