Experience the power of a legend with SellerLegend
With the evolution, innovation and development of e-commerce, it is essential to adapt to the everchanging times. With SellerLegend, you can regain your Amazon Seller Central Independence.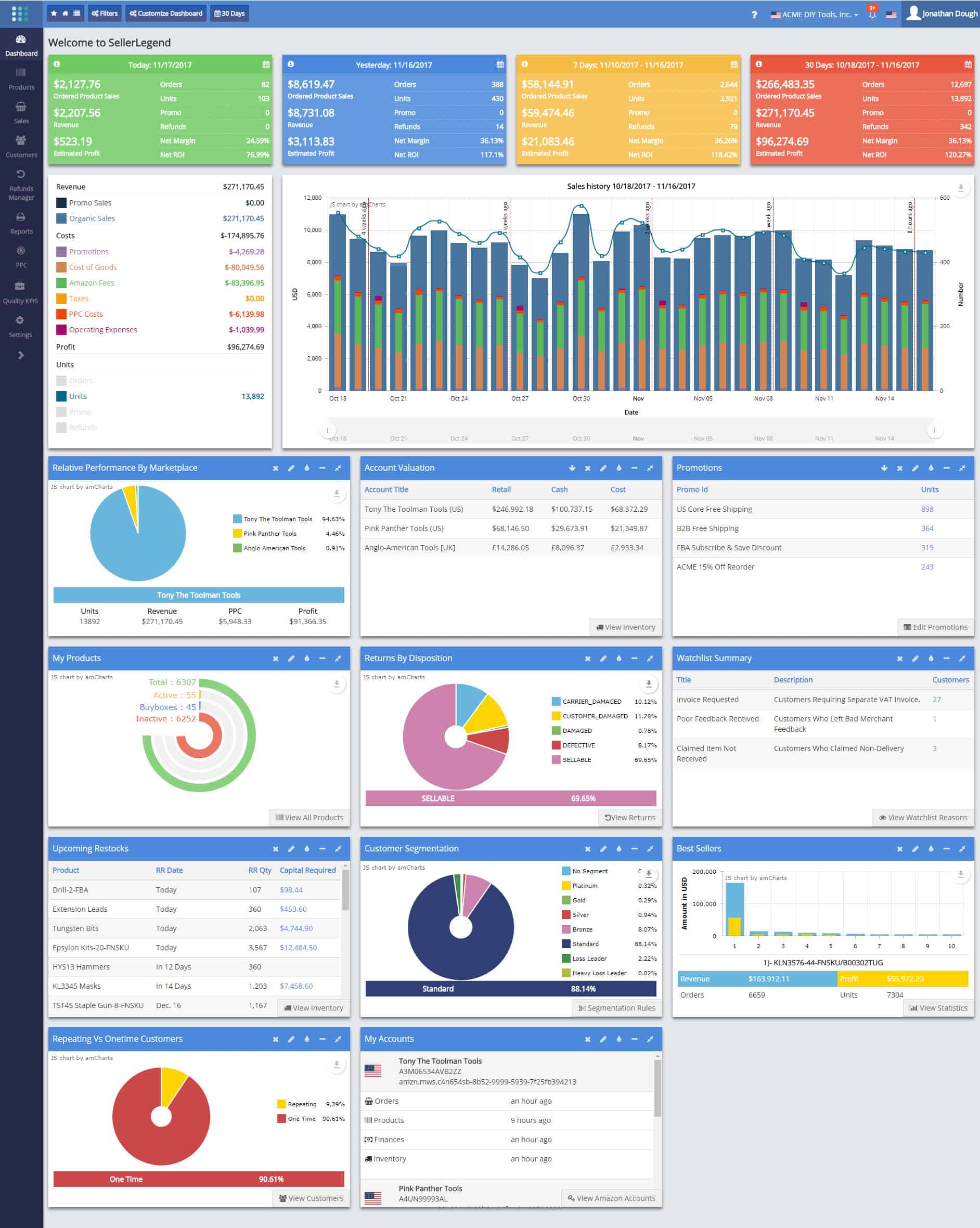 SellerLegend is packed with innovative features.

SellerLegend will change the way you run your Amazon Business forever. The advanced, powerful features make it possible for you to finally truly understand your Amazon sales, products, customers and financials like never before.
It features helpful key elements.
Near real-time orders download, intelligent KPI dashboards, Inventory Management, Notifications, Customer Watch listing, Refunds, Historical Cost Of Goods, Operating Expenses, All America & Europe Marketplaces, Financial Transactions, Europe VAT. SellerLegend got it all!
SellerLegend will help in finding a user's target audience.
Whether you have just started on Amazon or are a power seller, a Private Labeler or a Retail/Online arbitrager, selling in Europe and/or the Americas, SellerLegend is for you!
SellerLegend has a roadmap.
SellerLegend is built on a powerful and strong foundation and its expansion is continuous as it is ever growing.
First time users can also enjoy a 21-day trial free of charge. Thus, you can easily test the many features of SellerLegend for yourself and assess if it is well within your needs and wants.
A starter account is $49.99 per month, up to 2, 500 orders/mo, up to 300 SKUs, 1 year order history, sync unlimited central accounts, supports all NA, EU, AU, and JP stores.
An advanced account is $59.99 per month, up to 5, 000 orders/mo, up to 500 SKUs, 1.5 years order history, sync unlimited central accounts, supports all NA, EU, AU, and JP stores.
A professional account is $69.99 per month up to 15, 000 orders/mo, up to 1000 SKUs, 1.5 years order history, sync unlimited central accounts, supports all NA, EU, AU, and JP stores.
An enterprise account is $99.99 per month up to 50, 000 orders/mo, up to 10, 000 SKUs, 1.5 years order history, sync unlimited central accounts, supports all NA, EU, AU, and JP stores.

SellerLegend has top-of-the-line features that will surely cater to your own needs.
    Intelligent, Innovative Dashboards
SellerLegend has intelligent, innovative and interactive features that provides Unified Account, Marketplace and Customer dashboards. The dashboards are populated with user-selectable Widgets, which can be drag-and-dropped and positioned anywhere on the dashboard.
Multiple dashboards include those that show sale history, relative performance by marketplace, account valuation, promotions, my products, returns by disposition, watchlist summary, upcoming restocks, costumer segmentation, best sellers, repeating vs one time costumers, and my accounts to fully keep track of all relevant information.
    Themable, User-selectable Dashboard Widgets
SellerLegend ships with 32 great widgets to get you started with your dashboard. Each widget addresses important Key Performance Indicators which provide clarity and guidance about the state of your business. Each widget can be individually customized for even sharper levels of control.
    Near Real Time Orders Download
See all your pending orders as they arrive, including their coupon codes. View all your order details, including promotional discounts. Check every Amazon payout statement in excruciating detail, summarized by product, by brand or by product groups. See all your financial transactions and fees, as well as your unit returns, with their detailed disposition, return reason and status.
    Exceptional Product Performance Views
Featuring one unified view the collective performance of all your products either by SKU or by ASIN or by product group or by brand, aggregated by Day, Week, Month, Quarter, Semester or Year, over any custom period, graphically or in tabular form, with breakdown of a product per day over any chose period featuring various filters.
    Outstanding Product Management
List all your products and their details. Manage your inventory. Get daily product statistics emails. Gather daily Pay-Per-Click costs by product. Tally your end-of-month stock position and valuation by detailed disposition. Know all the Fulfillment Centers where you had Nexus during the month!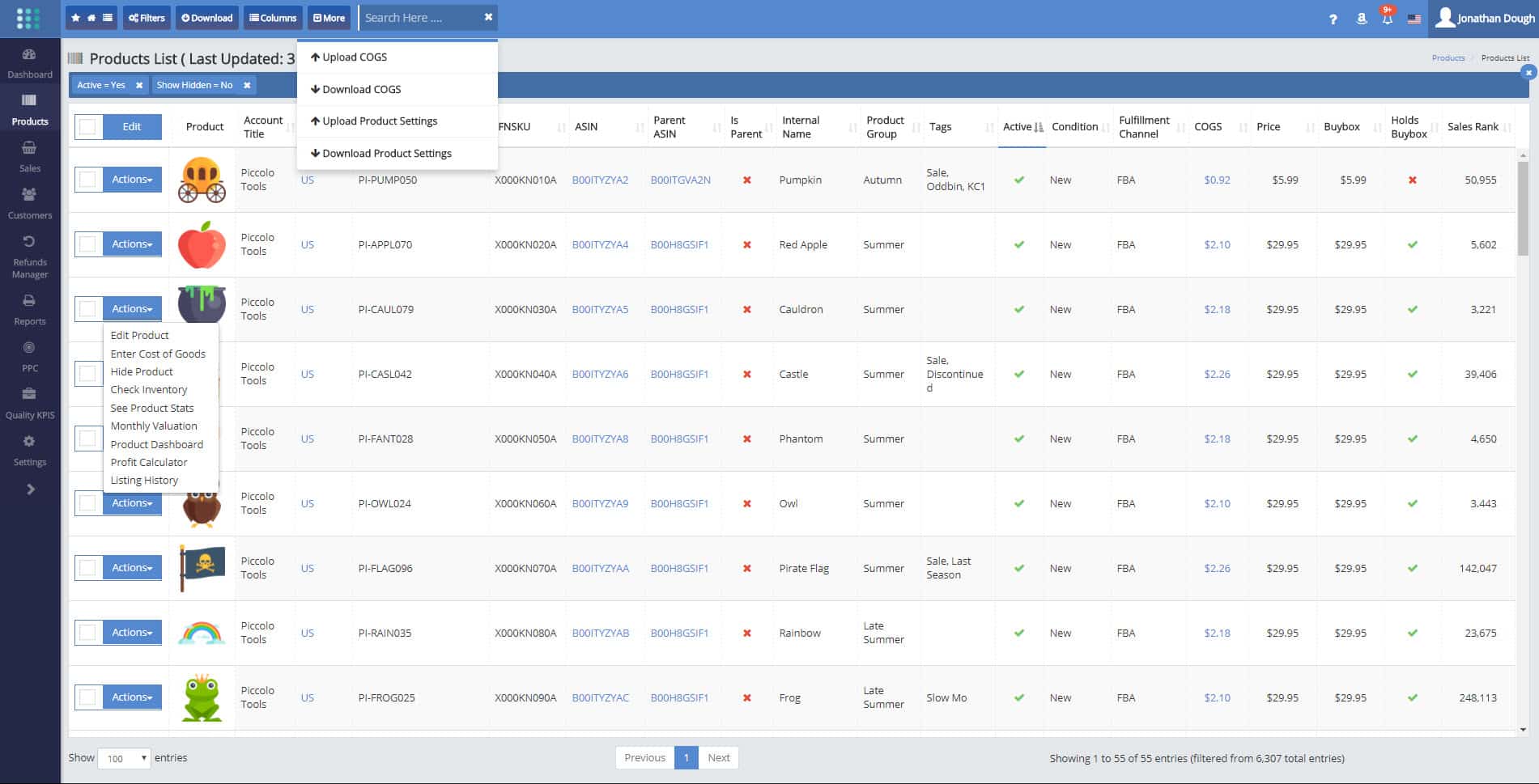 Precise Inventory Management and Forecasting
A feature that will allow you to  know how much product inventory you hold on hand, how much inventory is inbound, how much of it is in FC transit or pending for customer orders, what the age of your inventory is, how much cash is tied up, how many you are selling per day over any time period, how long the current inventory will last before you run out of stock, when to reorder, how much to reorder, how much the reorder quantity will cost you. You may also define the custom parameters which drive the forecasting and reordering process.
    Watchful Listing Change Monitoring and History
SellerLegend will alert you to any change to your product listings, whether it is performed by yourself, by Amazon or a by a competitor/hijacker. Alerts are sent to you via email or via the SellerLegend built-in notifications channel.
    Meticulous Costumer Management
With this feature you can list all your customers, their number of repeat orders, the number of returned units, the customer lifetime value as well as the customer/product cross sell. Segment your customer base by number of order, number of units bought, total revenue or total profit. Classify your customers in up to 10 levels. Watchlist VIP customers, likely resellers, troublesome customers, customers who experienced poor customer service.
    Revenue is Vanity, Profit is Sanity
Features the most detailed and accurate profit and loss statement.
 Crystal Clear PPC Performance Visibility
Through this feature you may access your PPC key performance indicators both in graphical and tabular view as PPC data us automatically downloaded daily.
 Unparalleled Flexibility and Customization
With this key feature you may customize SellerLegend to behave exactly as you desire. It can be your own personal space.
Why SellerLegend?
SellerLegend can give any user their own customized functionality through an advanced SellerLegend architectural design allowing to unique facilities to seller groups and individual sellers who have specific functionality needs.
All in all, SellerLegend excels with a variety of features tailored to the user's needs.
Reviews
0

out of

5

based on

0

reviews.
Overall rating: