That fear we all have. The notice that your Amazon listing has been taken offline.
It has happened a couple times now in our Amazon FBA business.
And I promise I will share the good, the bad, and the ugly.
So to continue our E-commerce Gladiator series, I will share with you some of the behind the scenes struggling you may have to deal with as an Amazon seller.
Our Moka Pot is Doing Well
First, the listing itself is doing well. So far mostly good reviews (did get some evil buyers, but can't keep everyone happy). The reviews as of writing this is 54 with a 4.5 star rating.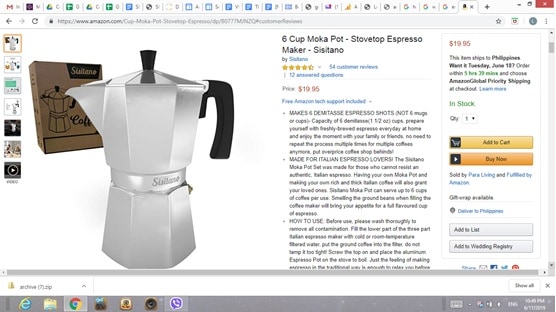 Yet Returns Are Bad For The Latest Shipment
So, we have been getting quite a bit of returns on the latest batch.
What do you mean batch?
If you followed our Ecommerce Gladiator podcast series you'll see we had quite the experience with sourcing and dealing with factories. But I would say a batch is a new order from the supplier. We placed a re-order in October 2018 and luckily made it through Christmas sales but Amazon ran out of stock in early January. We air shipped a bunch from China to Amazon USA (about 400 pieces) and sea shipped the rest (about 1000 pieces).
Then when we got our Amazon FBA listing live again, we noticed more returns.
So that is what I mean for batch.
Second Time Amazon Turned Off Our Listing
It was about mid February when the first time it came to us that dreaded email
Here is that email
Action required: Your listing of B0777MJNZQ has been closed due to a high rate of negative customer experiences

Mar 20, 10:50am

Seller Support (no Reply)

Hello from Amazon,

Your offer of (ASIN) has been closed because the negative customer experience (NCX) rate on recent orders-returns, refunds, customer service contacts or one-star product reviews-is considerably higher than for similar products. Click on either of the links below (or copy and paste the link into a browser) for more details, including the NCX rate and recent customer comments.
The closing of your offer does not affect your account. The action and this alert are to prevent further negative customer experiences and give you the opportunity to resolve any product or listing issues. After you have addressed any issues, you can relist your product immediately without contacting Amazon.

See details (sign-in required):
https://sellercentral.amazon.com/concession-andon/

Try the new experience (sign-in required):
https://sellercentral.amazon.com/voice-of-the-customer

Product information

-Product name: 6 Cup Moka Pot – Stovetop Espresso Maker – Sisitano

-ASIN:

-MSKU:

To see the negative customer experience (NCX) rate, Customer Experience (CX) Health and customer comments for other listings, click on the link below (or copy and paste the link into a browser).
https://sellercentral.amazon.com/voice-of-the-customer?ref_=xx_vocsum_link_email

Thank you for selling on Amazon.

Yours sincerely,

Amazon Services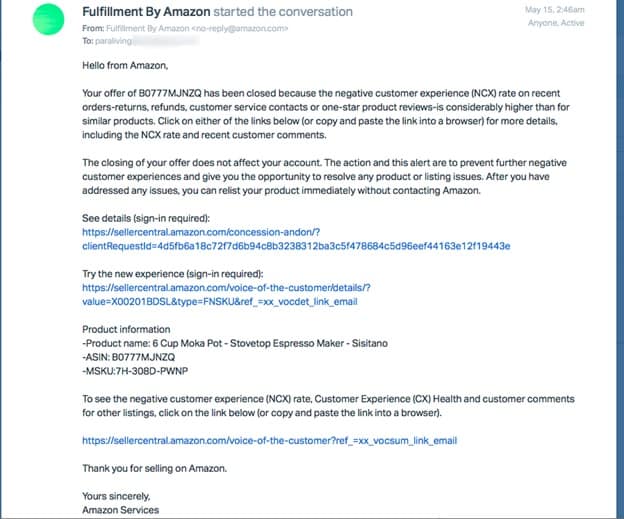 The first time, we simply said we fixed it (praying that it was a problem of air shipping those first 400 pieces from China). Maybe they were damaged in transit. We sold out about 400 by now so hopefully those by sea were the ones being shipped out.
When these were reshipped to Amazon, the third party warehouse gave us this as a final report:
We have completed a total of 1,007 pots. We have 943 ready to return to Amazon and 64 that are broken.

There are 3 different box sizes and are skidded as follows:

52 boxes with 15 pots/each – Dimensions 22 X 18 X 12.5 – Weight = 20lbs.
16 boxes with 10 pots/each – Dimensions 19 X 15 X 12.5 – Weight = 13lbs.
1 box with 3 pots – Dimensions 13 X 10.5 X 8.5 – Weight = 4lbs

There will be 4 skids all skids are standard 38 X 42.

2 skids will hold 20, 15ct boxes and height is 67″
1 Skid will hold 12, 15ct boxes and is less than 67″
1 Skid will hold 16, 10ct boxes and 1, 3ct box is less than 67″

I hope this is enough information. please let me know if you need anything else.
Also we turned off the ability for Amazon to re-ship returns. It is crazy that it is a default setting in Seller Central to have Amazon re-sell returned items. So we enabled the option to destroy returns not to re-stock and re-sell the items.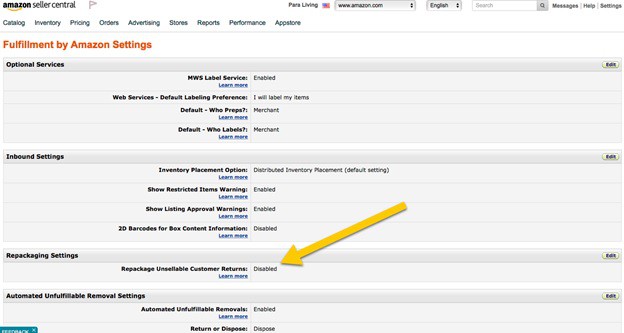 Go to settings>Fulfillment by Amazon. Find "Repackage Unsellable Customer Returns" on that page and set it to disable. Make sure to set "Repackage Unsellable Customer Returns" to disabled
Identifying Where The Product Issue Came From?
So where did we get the issue with the product? This is our second manufacturing run, same factory.
Of course, I first think to contact the factory. Sending her a Wechat – they know we are selling it on Amazon so I don't hold back and simply show the sales rep of the factory the image of Amazon and the high return rate with the problem being the handle broken off.
Now, would you expect the factory to say it was their fault? Obviously not. She says that their quality is perfect and that it isn't their problem.
I've been in the game long enough to expect that.
But it is worth asking around.
Speaking to our QC partner Insight Quality, I also sent the screenshots to Ino on Wechat. He said that next time they can do a 100% inspection, but of course it will cost more.
Talking to partners in the company, we also felt maybe it was that we took out those bundle accessories (we used to have a spice pen, coffee spoon, and other items inside). By having less "stuff" inside it may have affected how the product is during transit. Less stuff means the pot can move more easily and the handle can be broken off.
Where could it have been broken off?
From the factory to Amazon (B2B shipment) – maybe the 400 pieces sent by FedEx.
It is hard as an Amazon seller to know exactly where in the supply chain things can break – as we often times do not see the product!
After Deeper Research & Development – We Pulled It From Amazon, Repacked, And Sent Back

This blog post was written over the course of months! While we did resist the pulling of the item from Amazon, on the third alert from Amazon on the item having over 7% return rate, we made the hard decision:
We pulled 95% of the inventory from Amazon and send to a third party warehouse in USA. We kept 5% (a few weeks worth) to keep the item in stock and selling so that it wouldn't be out of stock.
Explaining the situation clearly to the US warehouse, they were ready and waiting to evaluate the issue and collect the items. They first wanted to wait until Amazon sent them everything so they could tell us how bad it was.
All The Items Came With A Handle Connected (Nothing Was Broken)
So here's the story – the products were breaking from Amazon to end customer. This was made true because when all the 1000 or so moka pots arrived to the third party warehouse, they were in working condition.
Phew – that is a relief!
But they could see how it would be broken. No bubble wrap, no extra padding inside the box. Some of the boxes had the handle or the spout poking outside of the box.
Here are some images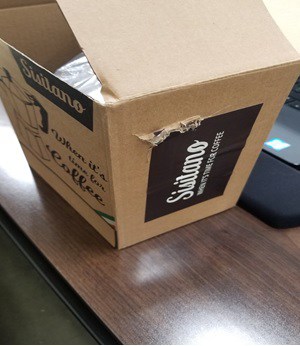 Handling This Shipment – Separating and Bubble Wrapping
So now that the goods were received back in the third party warehouse, we could now have them fix the issue – once and for all!
We had them take the moka pot and unscrew it so that it was 2 pieces. Then once it was 2 pieces we had it setup so that it could be wrapped individually and fit "snug" inside the box.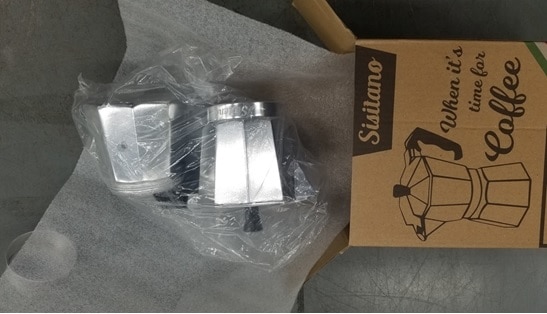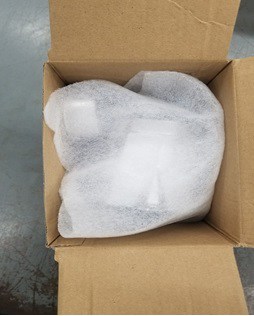 Once they had the orders and we were on the same page, we could move forward and have this started.
Expensive Lesson – Do Not Assume Your Factory Will Know How to Package
Factories in China do as they are instructed. You need to tell them clearly what you want for the packaging.
The first shipment / manufacturer order – we had them shipped with bubble wrap. The second, seems we were rushing – and we didn't ask.
So the core issue is – to have a clear specification and requirement document for your order. This way, when you are re-ordering, you are making it the exact same way.
In fairness though – the second order we removed a lot of the accessories as well. Things are rapidly changing and you need to stay on top of the order. Another thing at the Ecommerce Gladiator series we have had a lot of turnover at the top of management in the company, and each new person needs to re-learn the process.
You need to have a product manager – who should be the CEO in a product based business. This person has to know their market, their product line, their customer avatar very clearly.
Solving It Going Forward – I Saw The Factory
How to fix this for the long term?
Sure, you can blame the Chinese factory and say it is their fault, etc etc. Or you can go the other way. You can take responsibility, go to the factory, and work alongside them to fix this issue for the next order and the long term.
That is what we did – and you can read the blog post about "The Importance Of Visiting Your Factory – in China or Anywhere" for the next segment.
Short Term Pain and Loss For Long Term Value and Brand (Wealth)

Of course there was discussion in the team to simply re-list the item on Amazon again after the third time they warned us for the above 7% return rate warning. Some did want to do that.
But I had to draw the line. Yes, it will be expensive. Yes it will be painful.
But it will make the most money long term. If you are serious about building value – building a brand- you are going to have to take these painful hits sometimes and pull out items that are not up to your quality standards.
Because this isn't the kind of customer experience you want for your customer, right?  A brand is about customer experience, and you need to be responsible for that as an Amazon seller – as a brand owner.
To be honest, I am afraid to calculate how much money we lost on this mistake – from the cost to pull out all the goods from Amazon (they sent in so many separate shipments it just kept on coming to the third party e-commerce warehouse), to the repacking costs, to the shipping fees back to Amazon – thousands of dollars.
But by avoiding more negative customer reviews and returns – we hopefully can save this listing and make good money for fourth quarter – because Christmas is where the ecommerce sellers make money.
What Would You Have Done? How Will You Prevent Product Recalls?
This was a tough blog to write up.
But it is one that many are too shy to admit they went though. I can say after discussing this with other successful Amazon sellers, they have had similar nightmares. It will happen. You need to plan for it and have a strategy.
Are you going to do the short term thinking and just keep selling it when you know it could be better?
Or will you make the expensive, and painful, decision to pull it and fix it – which will help in the long term.
Preparing yourself in advance will make it hurt a bit less, but I hope you never have to go through what we just did. Yet it is over and it seems the returns are lower and let's push forward with a new re-order of moka pots from the factory.
Happy selling!