Most people check out reviews online before making a purchase. Product reviews have a huge impact on consumers' purchasing decisions, it has become a standard method for finding more information needed to make confident purchasing decisions. Customers will always go for a product that has a lot of positive reviews. One single bad review for a product may immediately affect one's sales. Bad reviews can hurt a business.
Amazon used to be a great place for honest and trustworthy product reviews written by consumers. However, some sellers have sought to maximize their positive reviews. some desperately beg for positive reviews by means of free/discounted products offered under the table. This has led to some reviews being less trustworthy.
Amazon Review Scams

In order to boost sales, some sellers actually invest in positive reviews by means of giving their products away for free or at a deep discount in exchange for positive reviews. Having more positive reviews and high ratings increases the visibility and exposure of these products, hence boosting sales volume.
Is this just a marketing strategy? More like a horrible tactic in exchange for short-term gain that will eventually backfire for both sellers and consumers.
Amazon Fake Review Groups
Amazon is in a battle against fake reviews, but it seems like a hard battle to win. Today, there still are websites that offer this kind of service such as:
Fiverr.com: Fiverr is actually a website that offers various freelance services such as web design, digital marketing, programming, and any other minor tasks. And there still are freelancers there that offer to write Amazon reviews in exchange for pay. Prices start at $5.
In 2015, Amazon sued over 1,000 people who were providing this kind of service; most of them were from Fiverr. Sadly, two years has passed and there still are freelancers there offering the same service.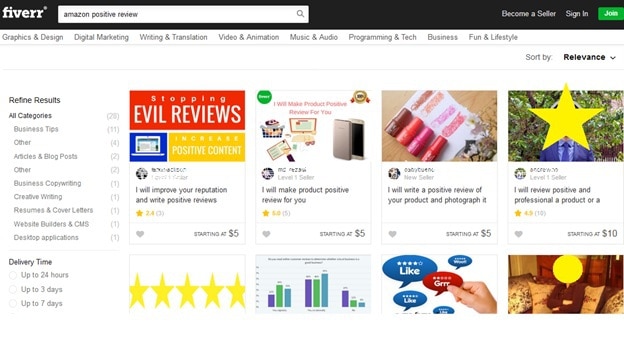 Facebook Groups
Log on to your Facebook account and search for "Amazon reviews." You will be surprised how buying fake reviews is so "open" here. People from these groups think of it as a win-win situation for both sellers and buyers without realizing its effects on e-commerce in the future. I wish Amazon could look into these groups, because there are thousands of members here taking advantage of this scam.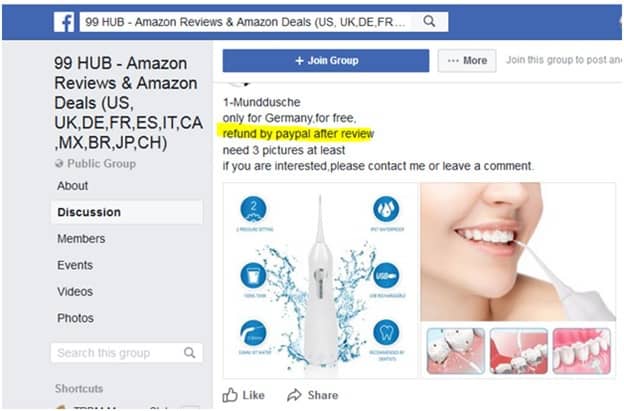 Craigslist
Craigslist is known for various products and services posted for sale/lease. This is also one of the places to look for freelancers offering to write fake Amazon reviews. Prices start at $5.

How Sellers Scam and Get Fake Reviews
Sellers get fake reviews in 2 basic ways:
They offer a deep discount: Sellers offer consumers discounts of up to 90%.
They offer free products: Sellers refund what a consumer paid through PayPal in exchange for a positive review.
Sellers even get rid of negative reviews by requesting consumers delete an unfavorable review in exchange for a gift card or free product. Some even pay others to give their competitors negative reviews in order to sabotage them.
What a big scam, right? Although it's still small in number, I hope Amazon can put an end to this scam permanently, because it will eventually harm e-commerce dramatically. Shoppers could have trust issues over products posted online, Amazon thereby loses its customers.
How Amazon Deals with Fake Reviews

From Amazon's Community Guidelines:
Any attempt to manipulate Community content or features, including by contributing false, misleading, or inauthentic content, is strictly prohibited. If you violate our Guidelines, we may restrict your ability to use Community features, remove content, delist related products, or suspend or terminate your account. If we determine that an Amazon account has been used to engage in any form of misconduct, remittances and payments may be withheld or permanently forfeited. Misconduct may also violate state and federal laws, including the Federal Trade Commission Act, and can lead to legal action and civil and criminal penalties.
This fake Amazon review scam may be a quick-win, but the stakes are high; you may gain some but may lose some more. Indeed, as the saying goes, "nothing worth having comes easy," so are sales; there are really no shortcuts to business success. Buying fake reviews isn't always the solution to draw customers to buying your products, there are better ways to gain positive reviews such as:
1. Provide excellent customer service by being a responsive seller.
2. Send a follow-up email along with a thank-you after an Amazon purchase. Nowadays, you can automate emails using online tools like MailChimp or FeedbackFive.
3. Provide an honest product description. Don't let your potential customers expect more than what your product can offer to avoid disappointment. Amazon doesn't take this scam lightly. In fact, they have sued over 1000+ fake reviewers, and sued companies that promise glowing reviews.